A Brief Guide on Artificial Intelligence as a Service (AIaaS)
Artificial Intelligence (AI) is being used in numerous industries such as autonomous vehicles, healthcare, aviation, finance, entertainment, education, and heavy industries. Although adoption of this technology has become imperative for most data-driven industries and businesses, implementing AI models from scratch requires expertise in machine learning and AI, thereby making it extremely expensive. AIaaS is one solution that can cater to the needs of data-driven industries with cost efficiency and scalability.
The following article covers everything that organizations need to know about AIaaS.
What is AIaaS?
AIaaS is a third-party offering of AI outsourcing that enables individuals and companies to experiment with their technology domain for various purposes without large initial investments and with lower risks. Today, numerous vendors outsource AI as a service and offer different types of machine learning (such as supervised learning, unsupervised learning, and reinforcement learning) and AI services. Organizations can decide the type of service they want by comparing features and pricing offered by different AI service providers.
AIaaS in Relation to Patents
A recent report published by the World Intellectual Property Organization (WIPO) revealed some interesting insights into the AI landscape.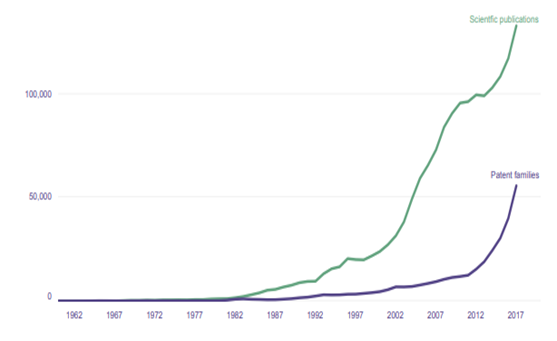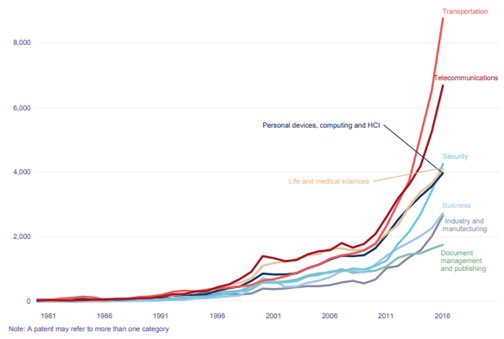 Another interesting observation from the same report is that industry sectors such as telecommunications and transportation were early adopters of AI and continue to do so. But from the early 2000s, other key industry sectors – life and medical sciences, personal devices, computing and human-computer interaction (HCI) have emerged as major applications of AI. Therefore, AIaaS can be a major game-changer in bringing down technology costs and promoting advanced services in these sectors.
Key Players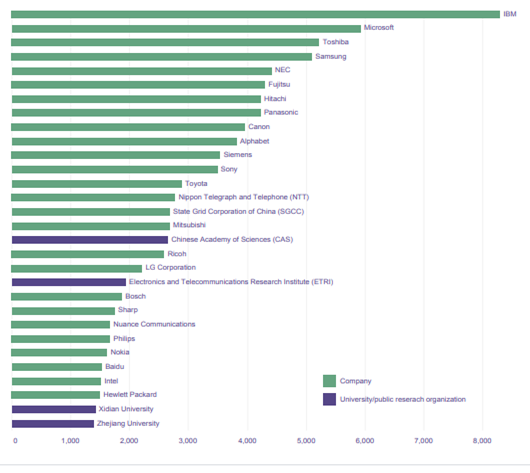 The key technology players in this field who have filed the maximum number of patents over the years include IBM, Microsoft, Toshiba, Samsung, NEC, and Hitachi (Figure 3 above).
Some major vendors providing AI as a service include Amazon Web Services (AWS), Microsoft Azure, Google Cloud, and IBM Cloud. Each of these vendors offer different types of bots, APIs, and ML frameworks. Other types of AIaaS include IoT solutions, robots, sentiment analysis, supplier risk assessment, text recognition, speech-to-text conversion, computer vision, and augmented reality.
Market Analysis of AIaaS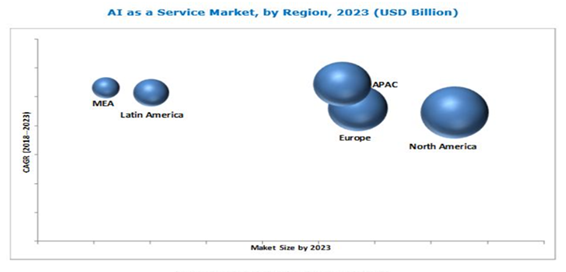 Based on the market analysis shown in Figure 4 above, the global Artificial Intelligence as a Service (AIaaS) market is expected to grow up to USD 10.88 Billion by 2023, at a compound annual growth rate (CAGR) of 48.2% during the forecast period (2018-2023). AIaaS has immense potential for innovation and growth due to the increasing demand for AI-driven services – Application Programming Interface (API) as well as Software Development Kit (SDK).
Notably, the global AIaaS market has been segmented into some major geographic regions – North America, Europe, Asia Pacific (APAC), Middle East and Africa (MEA), and Latin America. Among these regions, North America is expected to be the largest revenue-generating region due to technological advancements, increasing need for intelligent business processes, and rising adoption of digital technologies. Furthermore, APAC is expected to be the fastest-growing region in the AIaaS market owing to increasing awareness of the service among various sectors and generation of volumes of data due to rapid use of digital technologies.
In terms of countries, India has recorded a high number of patent filings in AI and is among the countries that are leading in publications in specific classes such as computer imaginative and prescient as well as natural language processing. According to a recent report, India is one of the top 10 countries filing patents in the AI domain.
Merits of AIaaS
Advanced infrastructure with minimal cost: Organizations that need to use AI in their daily tasks, invest excessively in AI gear as the technology often requires many parallel machines and high-speed GPUs. However, they can use AI with minimal cost by accessing AI from a third-party as a service. This also allows them to focus on their core businesses.
Pay for what you use: Many AIaaS providers offer AI as packages. These packages allow an organization to select and buy a package that fits their need, thereby enabling them to pay only for what they use. Furthermore, as AI consumes large amounts of power, some AIaaS providers offer access to AI only when it is required. This helps in saving the energy resources of an organization.
Ease of use: Even though many AI models are open source, it is difficult to implement them. Therefore, organizations need expert software developers to implement AI. On the other hand, accessing AIaaS does not require an expert software developer as many AIaaS providers offer AI implementation packages along with AI.
Options for salability: Organizations can begin with small projects to check whether AIaaS completes the given tasks profitably. When the organizations are satisfied, they can scale-up their ventures as per their needs. This option of scaling-up ventures is offered by nearly all AIaaS providers.
Demerits of AIaaS
Reduced security: The use of AIaaS demands organizations to share their data with AIaaS vendors as AI models are dependent on quality data to provide requested services. Therefore, organizations need to securely transmit their data to ensure that it is not stolen or shared improperly.
Increasing reliance on third parties: AIaaS by default implies that the organizations rely on third-party vendors to provide them with AI. In some cases, organizations may suffer if they fail to properly communicate their requirements.
Long-term costs: Organizations must check whether accessing AIaaS is more cost-effective than building their own AI models. This is because continuously accessing the services of AIaaS providers may lead to long-term costs for the organizations.
Reduced transparency: Usually, AIaaS providers offer AI models as black boxes to organizations to help them input data and get the required output. This may lead to misinterpretations or confusion between the organization and the AIaaS provider as the organization may not know how their data is being used to obtain the output.
Conclusion
Although AI is being rapidly used in some major industries, its implementation is still complicated and expensive for others. As an alternative to the implementation of AI from scratch, organizations can avail Artificial Intelligence as a Service (AIaaS) to fulfill their business needs. AIaaS is an effective solution as it allows organizations to use AI for different purposes with low initial investments and minimum risks.
-Aastha Uppal, Karthik Narasimhan, Mohan Babu, Mohit Chimankar (ICT Drafting) and the Editorial Team