F3 Analysis: A Solution for Strategic Optimization of Patent Portfolio
An effective patent portfolio management is imperative for an organization. It ensures the risks are mitigated and profits are maximized, while adhering to the organizational policies. During the process of patent portfolio management, the strengths and weaknesses of a patent portfolio are identified to develop a collection of high-value patents. Such a high-value patent portfolio helps businesses to establish their position in the market, safeguard their R&D projects and generate revenue. Additionally, it helps in various settlements or cross-licensing agreements. In this article, we will cover the role of F3 analysis in optimising a patent portfolio.
Building a Strong Patent Portfolio
It is well-known in the IP industry that patents are expensive. Therefore, one must aim to create a solid and effective patent portfolio which is in line with the business goals and budget requirements. In order to do so, one must seek advice from skilled and seasoned patent professionals who understand the company's business strategy.
Established businesses have numerous patents to manage and it is not always possible to develop and maintain a well-structured portfolio. In fact, they often struggle to decide which patents have a strong potential. Therefore, businesses need to establish a strong strategy for patent portfolio management in order to remain competitive.
Portfolio management can be done in multiple ways. The most common methods are statistical analysis and detailed analysis. In case of statistical analysis, most of the patents are distributed into different sets. This distribution could be based on technologies, the different business units where they originated from, bibliographic information, and other parameters which are part of different patents. While this method ensures a quick analysis, one may miss out on the individual merits of the patents while using it.
On the contrary, detailed analysis is time consuming since it offers comprehensive insights about each patent. However, it might miss out on providing a bigger picture of the patent portfolio.
The Need for F3 Analysis
Sagacious IP's award-winning and innovative F3 Analysis model was created to bridge the gap between these two methods. It offers in-depth insights into each patent and a macro-level insight into the complete portfolio. This eventually results in saving both time and money.
This model uses a combination of artificial intelligence (AI) and manual analysis which helps organizations assess their patents and categorize them according to their potential. Patents are organized into three major categories:
Fundamental Patents
Future Patents
Fringe Patents
Such categorization offers absolute clarity into the company's patent portfolio.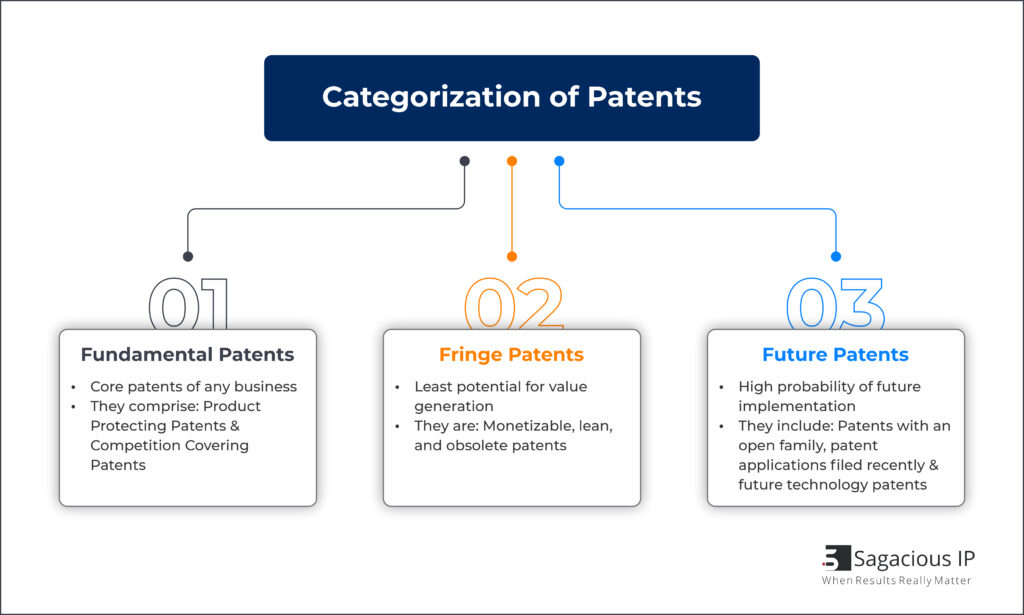 1. Fundamental Patents
These are the core patents to any business. They comprise of product protecting patents and competition covering patents. Product protecting patents cover core features for all products and the supplementary features of core products. On the other hand, competition covering patents include the ones that have a high probability of infringement against competitors. Moving further, these competitors can also be divided into three categories:
Tier 1: Direct competitors of your company
Tier 2: Direct competitors of your component providers
Tier 3: Companies that offer similar services and products but are smaller in size.
Advantages of Fundamental Patents
They offer the highest potential to be out-licensed for revenue generation.
They can be cross licensed to save money.
Lastly, they can be used in defensive litigation against infringers to emerge as market leaders.
2. Fringe Patents
These patents have the least potential for value generation. However, there are different methodologies which can be used to resolve this issue. The fringe patents comprise of patents that can be categorized under: monetizable patents, lean patents, and obsolete patents. The patents that can be monetized are relevant to start-ups or companies in a domain other than your core business domain.
Lean patents are the ones that have no family member under prosecution and wherein infringement could not be proved in any of the cases. Furthermore, such patents can be packaged with other patent set for transaction.

Lastly, obsolete patents are the ones that are not used in any of the current product/services. These patents represent the technology that was pivoted at some point.
Advantages of Fringe Patents
Patents that have the least potential to be sold can be used by pruning to save maintenance fee.
Lean patents can be used for out-licensing/sales. They can be packaged with other patents for better licensing price negotiations.
3. Future Patents
Future patents include: patents with an open family (ones which have at least one family member under prosecution); patents for which applications have been filed recently; and future technology patents. Next, recently filed applications are open applications which are currently under prosecution with no granted family members. Lastly, future technology patents are the patents that have a high probability of implementation in the future. They correspond to technologies that are currently under research.
Advantages of Future Patents (Especially Patents with an Open Family)
You can perform strategic prosecution (also known as directed prosecution) wherein you can draft directed claims which are targeted specifically at your competitors.
Such directed prosecutions would convert the future patents into fundamental patents.
Hence, after studying the need for F3 analysis, it can be said that the concept originated with the intention of maximizing value from the complete patent portfolio.
F3 Analysis for Monetary Benefit – Sagacious IP Impact
Sagacious IP undertook a project to help a fortune 15 Cloud infrastructure company which had a portfolio of over 10,000 patents. The objective of the project was to either save money or generate revenue.
After an exhaustive F3 analysis, Sagacious IP delivered the following:
More than 170 mappings were created from the fundamental cases which helped in cross-licensing negotiation, licensing revenue and saving litigation costs.
More than 100 strategic prosecutions were created which helped with over 40 patent grants after strategic prosecution and more than 60 patent applications were under examination.
Lastly, over 100 patents were pruned which helped in generating patent sales.
Final Thoughts
Over the years, Sagacious IP has been instrumental in offering IP services and solutions to its clients across the world. This award-winning model is a new offering which enables companies to navigate the challenges associated with a sizeable patent portfolio. Notably, this strategic approach has helped companies get the best out of their portfolio by effective management. Click here to know more about the F3 Analysis Model.
-Arshjot Gill (ICT Licensing) and the Editorial Team
Having Queries? Contact Us Now!