Fast Science: An Innovative Tool for IP Knowledge Management and Collaboration
Patents are the biggest source of information in the world of technology. While they are crucial to gain in-depth technical knowledge, they are often too complex for R&D departments and individual inventors to understand. This is because both inventors and R&D teams are generally unaware of the different sections or legal and technical jargon used in patent documents. The inability to learn about relevant patents not only slows down the innovation process, but also hampers collaboration within an organization. In order to counter these issues, R&D teams and inventors are always on the lookout for solutions that can help them comprehend patents contextually.
The following article covers how Fast Science can help to effectively manage IP knowledge and enhance collaboration within an organization.
What is a Patent Summary and why is it needed?
A patent summary is a short and easy-to-understand description created by techno-legal experts to unravel a patent's hidden value in an inventor-friendly language. If you are wondering why inventors need this summary, here's the answer. Inventors refer to patents on several occasions and often take printouts of patent documents and drawings to understand the invention, as well as collaborate with fellow inventors. This often leads to difficulty in harvesting an innovation while solving a problem or designing around an invention. With a simplified summary, inventors can save the time invested in reading and understanding patents, thereby smoothening collaboration within the teams of an organization and accelerating the innovation process.
All About FastScience
Fast Science™ isaknowledge management and collaboration tool that offers access to interactive patent summaries. These summaries are contextual and thus help companies and inventors to understand patent information quickly and stay on top of changing technology landscapes and developments. Sagacious IP has partnered with Fast Science's co-founders Vineet and Peyman to make IP intelligence simpler and accessible to everyone.
How Does Fast Science Work?
Fast Science's technology scans thousands of patents and uses machine learning (ML) to rank and simplify them. Thereafter, an editorial team of experts and researchers use the Fast Science publishing platform to make these summaries available to the users. The main idea behind this tool is to cut down on the time required to read and understand patent documents.
Fast Science has something to offer to everyone. For instance, it allows companies to identify the most relevant inventions, thereby helping them to find potential partners and track competitors. Furthermore, it offers secure collaboration features to enterprises that are concerned about security and privacy. These features enable their teams to share information privately and make important decisions quickly.
What are the Key Features of Fast Science?

Highlights – Each patent summary within the Fast Science tool is divided into a set of highlights, which are essentially the key points that a user must know about a specific patent. The aim of providing these highlights is to reduce the total reading time.

Interactive Hotspots – Besides highlights, this tool also offers a hotspot for each of the diagrams present in a patent. This makes it easy for the user to grasp the key concepts and collaborate.
Mapping – Fast Science also maps the diagrams to claims to further enhance readability and ensure that all the important patent information is covered.
Easy Access – Unlike PDFs or patents that are generally published, patent summaries available on Fast Science are interactive, immersive and can be easily read on any mobile device.
Other Features:

This tool allows users to organize relevant patents into collections so that different teams can focus only on the patents they are interested in.

Users can also discover the topics their peers are reading or the ones they consider important.

Additionally, users can have contextual conversations on components described in inventions. They can also tag their team members to start new conversations even if those members are not in their project collection.
A Glimpse into Patent Summaries on Fast Science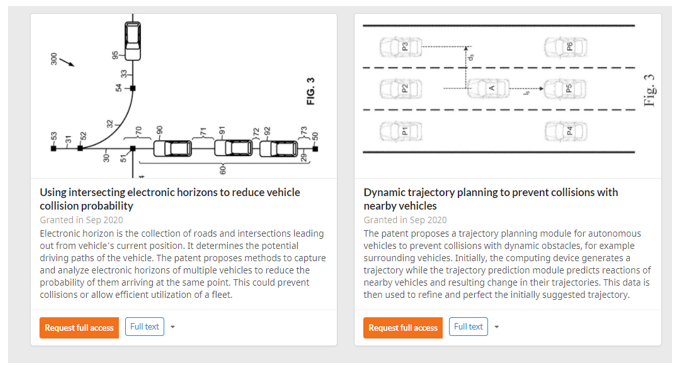 Fast Science tool allows users to view all the listed patent summaries (Fig.1). Each summary consists of a featured image, a simplified title with 12 words or less, and a 60-word description that lets them shortlist relevant patents. Once the user selects and opens a summary, he/she can view the title and description of the patent. Besides, they can also see all the highlights from the summary on the right-side panel (Fig. 2). Users can click on a particular highlight to get more details.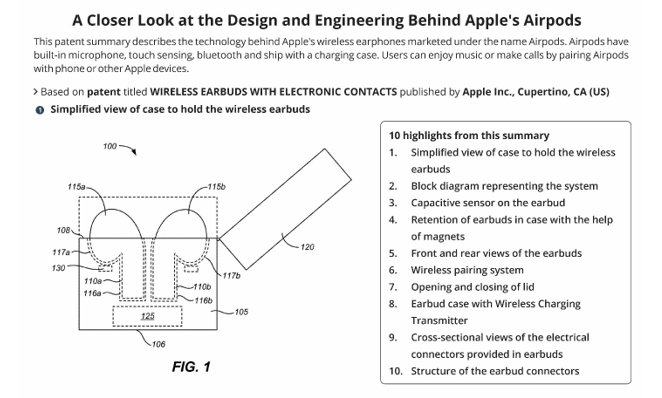 Fig. 3 below shows a diagram of the invention that opens up on clicking the highlight titled "Block diagram representing the system". This diagram is overlaid with a set of hotspots (purple circles).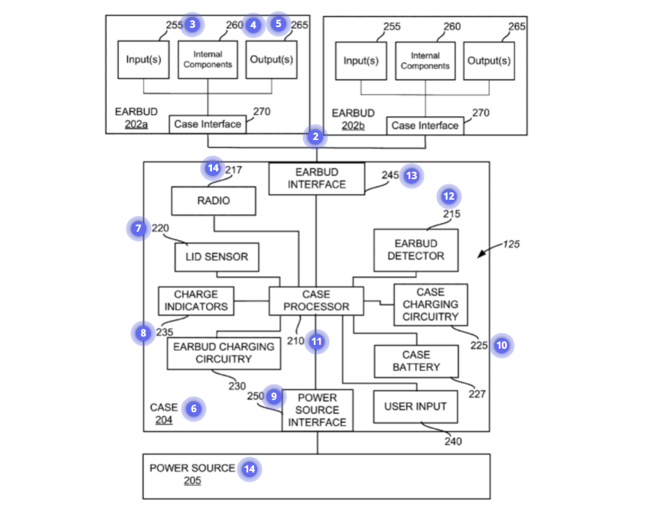 By hovering over the hotspots within a summary, users can understand the different aspects of the invention. They can also click on the hotspots to learn how they map with the claims, which are broken down and mapped to different highlights.
At the end of each summary, there is a comments section that helps users to collaborate with their peers. Here, they can rate the viewed summary and add comments.
Benefits of Fast Science for R&D Teams and Inventors
Collaboration – R&D teams can do away with PowerPoint presentations and printouts to discuss important components of a patent. Through functionalities such as comment, threaded conversation, and tagging, inventors are better equipped to discuss technology and inventions.
Optimizes Time – Patent summaries on Fast Science significantly reduce the average time required for reading a patent. R&D teams or inventors can use this saved time to focus on innovation.
Increases Awareness – This tool has made reading patent information interesting and easy. As a result, R&D teams and inventors who regularly study patent summaries stay updated on the latest developments in their areas of interest.
Helps Prepare IP Reports – Inventors or R&D teams can get the summaries of the top study findings of novelty searches, Freedom to Operate (FTO) searches, or even invalidity searches using Fast Science. These summaries help in interpreting technologies and the 'design around' scope.
Conclusion
Using patent information is crucial for spotting key technology and market trends, tracking activities of competitors, and even identifying potential partners. However, this can be an arduous task when R&D teams of companies or even inventors fail to comprehend patents. One easy way of understanding patents is by using patent summaries.
If you are looking for summaries of patent documents, getting guidance from experts can help. Sagacious IP's Patent Summary service helps clients get simple summaries of the patents identified during patent portfolio analysis, IP Audit, technology/IP due diligence, etc. These summaries not only help R&D teams and inventors understand inventions better but also smoothen collaboration within teams. Click here to view the webinar on the topic and click here to use the Fast Science tool.
Tanmay Mittal (IP Solutions & Customer Engagements) and the Editorial Team