Business Standard – Innovation remains a distant dream for Indian entities
When Infosys co-founder Narayana Murthy recently pointed to India's abysmal record in innovation, he wasn't off the mark.
While delivering a convocation address at the Indian Institute of Science, Bengaluru, Murthy had lamented the lack of "earth-shaking" innovations from the country's premier institutes. "Is there one invention from India that has become a household name in the globe? Is there one idea that has led to an earth-shaking invention to delight global citizens? Folks, the reality is there is no such contribution from India in the past 60 years," he had said.
Data from the Geneva-based World Intellectual Property Organisation show of the 214,500 applications filed last year, Indian companies or academic institutions accounted for only 1,394 patent cooperation treaty (PCT) applications. While that was an increase of 5.6 per cent over the previous year, the number is dwarfed by the 45,090 and 25,539 patents filed by the US and China, respectively. A regional comparison shows India accounts for only 1.2 per cent of the overall patents filed from Asia.
Typically, patent filings are considered the benchmark for assessing a country's scientific progress, innovations and inventions.
Perhaps, the trend becomes more obvious when one considers the companies with the highest number of applications. No Indian entity features among the top 50 companies that filed for patents last year. The case of Indian academic institutions is no different.
While China's Huawei Technologies leads the list of companies (3,442 applications), the list for academic institutions is topped by University of California (US), with 413 applications.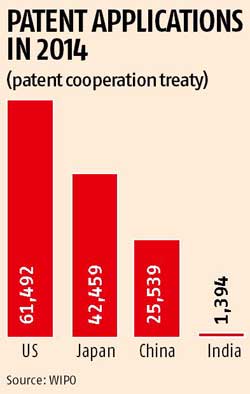 Indranil Manna, director of Indian Institute of Technology (IIT) Kanpur, says in terms of the quality of research and education, IITs can be compared to top global institutions. He adds though these entities have filed patents, these haven't translated into products and technology. "Compared to premier western institutes, industry support to the IIT ecosystem has diminished through the years; not many major R&D (research & development) centres have been set up inside the IITs by industry," he said.
The situation looks continues to look dismal if one considers data provided by the Indian Patent Office. According to the latest data provided by the Office of the Controller General of Patents, Design, Trademarks and Geographical Indications, only one Indian entity features on the list of the top 10 recipients of Indian patents; two are domestic subsidiaries of foreign conglomerates.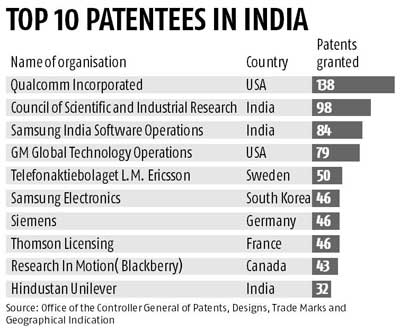 Collectively, the IITs filed 342 applications.
Experts say India's weak intellectual property (IP) laws are the primary reason why companies are reluctant to file for patents in the country. "While there are no incentives for filing for IP in the country, the enforcement process is also quite dissatisfactory; infringement cases aren't settled easily," says Anant Kataria, co founder and chief executive of Sagacious Research, an IP consultancy firm. He cites the example of China, where the government has generated awareness about the benefits of filing for patents. "The awareness (in India) remains low; the government has to put substantial efforts in this regard," he says.
The current situation, experts caution, might lead to complications for Indian companies as foreign companies will patent their technologies in the country to gain an upper hand on Indian competitors. In 2013, for instance, Ericsson had dragged Indian mobile manufacturer Micromax to court, claiming about Rs 100 crore in damages. It said it had to take legal recourse because Micromax had refused to enter into a licensing agreement covering its patented innovations across several wireless technology standards. "The 'Make in India' dream depends on strong innovations and strong IP laws," says Kataria.
Originally published on https://www.business-standard.com/article/companies/innovation-remains-a-distant-dream-for-indian-entities-115071900005_1.html