IP Diligence: Factors European Innovation Companies Must Consider While Entering Indian Market
The world is currently grappling with the after-effects of the pandemic. In this scenario, the main challenge for a company lies in exploring various new ways to keep the business going. Projected to have a high gross domestic product (GDP) and a strong start-up ecosystem, India is emerging as a lucrative market for companies that are eyeing expansion.
With European Union being India's 3rd largest trading partner and European companies looking at India to expand their footprints, the following article explains the factors companies should keep in mind while entering the Indian market, in order to play a decisive role in determining the outcome of such a move. The article summarizes few points for understanding why India is a critical destination for European innovative businesses.
Why India is a Crucial Market for EU Innovative Businesses?
India is going to be one of the top destinations for European businesses in the coming years. In line with this vision, the Business Support to EU-India Policy Dialogues, a project between both countries, has been initiated to increase business involvement in strategic areas of bilateral cooperation. With the strong partnership prospects in sight, here's why European businesses should see India as a critical market.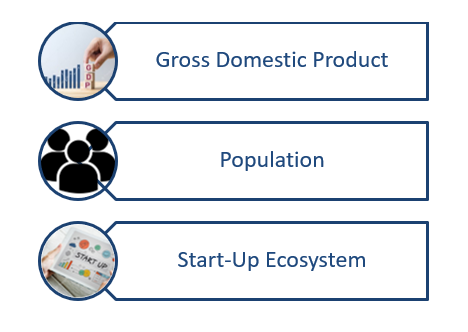 1. Gross Domestic Product: India is a 2.7-trillion dollar economy and Indian government projects it to be worth 5 trillion dollars by 2025. So, there is likely to be a massive infrastructure growth in India. Furthermore, as per this statistic, India would be the third-largest economy in terms of purchasing power parity in coming years. This makes the country one of the top destinations for investment.

2. Population: India is likely to have a population of 1.5 billion by 2030, with the average age of 29. Therefore, a rich demographic dividend makes India a high-consumption economy. Having said that, the country would stand as the third-largest consumer economy by 2030.
3. Start-Up Ecosystem: Being home to the world's second-largest ecosystem, India has nearly 26 unicorns. These include well-known companies like Swiggy, Ola, and Paytm. Resultantly, India climbed the ease of doing business index as it holds 63rd position among 190 nations. India has been picking up on this statistic consecutively for the past few years.
Factors to Consider While Entering Indian Market
The Indian government published new intellectual property rights (IPR) policies in 2016 which led to massive development of IPR in India. This development has been reflected on the global innovation index wherein India bagged 48th spot in 2020 among 131 countries, moving up by four positions. However, despite all these developments, European companies may face certain challenges while entering the Indian market. Hence, they must keep the below-mentioned factors in mind.

1. Local IPR Legislation and Regulations: AsIndia is a bureaucratic country, the rules and regulations can be a bit complex to understand. Therefore, while entering the Indian market, European innovative companies must have suitable assistance to address IPR rules and regulation-related issues. It can facilitate the companies to obtain adequate protection for their IP and mitigate risks associated with it.
2. Product and Service Adaptation: While entering the Indian market, European companies can adapt products and services to meet the requirements of the local population. For instance, McDonald's gained ground in India after they customized their menu in order to cater to Indian taste and requirements.

3. Suitable Pricing: Given the size of the Indian population and market, it gives immense opportunity to companies to scale up. Having said that, European companies must be cautious of pricing the products and services in this developing country. For instance, corporate giants such as Uber, Netflix, and Spotify offer lower prices in India in comparison to other countries.

4. IP Strategy: IP Strategy is a course of action that identifies IP assets, drives innovation, obtains financial gains and more. Accordingly, European countries need to adopt suitable IP strategies to avail adequate IPR protection and mitigate risks. One needs to decide whether to adopt an offensive, defensive, or commercialization IP strategy in line with their business goals. A professional IP service provider can help with this requirement.
Conclusion
For successful internationalization of European countries to India, it is crucial for them to understand the specific challenges and opportunities associated with the region. They must also gain insights into the IPR laws of the country to enhance market access. To help with the same, IP consulting firms play a crucial role in guiding businesses throughout the IP process and lower the risks.
Sagacious IP is one of India's leading patent filing companies which offers searching and prosecution services handled by well-qualified experts to enable a company to secure invention adequately and minimize IP risks. Our highly skilled patent practitioners can help companies looking for expansion in India with all types of IP-related services in India. To know more about this service, click here. To watch a webinar on the subject, click here.
Vivek Singh, Shweta Sharma (IPP) and the Editorial Team