IP Search Partner: 3 parameters to consider before Onboarding
Most of us who operate in the intellectual property sector are aware that the multi-step process of acquiring patent protection begins with patent search. It sets the foundation for a successful patent application. Oftentimes, organizations prefer to outsource patent search to IP search partners. This is in order to obtain high-quality outcomes, save time, and minimize cost.
To achieve these objectives, it becomes essential that we choose the right service provider who boosts our chances of securing a patent grant. Tune into this article that lists three parameters you must not overlook while finalizing an IP search partner.
Patent Search and Importance of IP Search Partners
Several patent authorities and offices across the globe have experienced a huge surge in patent filings in technological domains, such as, artificial intelligence. That is why, it becomes important for you to optimize the patent search process. This helps to survive competition, obtain desired results and minimize costs. The right IP search partner, with its expertise and skills in this niche segment, fulfils all these objectives. Additionally, they enable you to focus on your areas of core competency. In order to select the right search partner, make sure that you evaluate them based on the below parameters: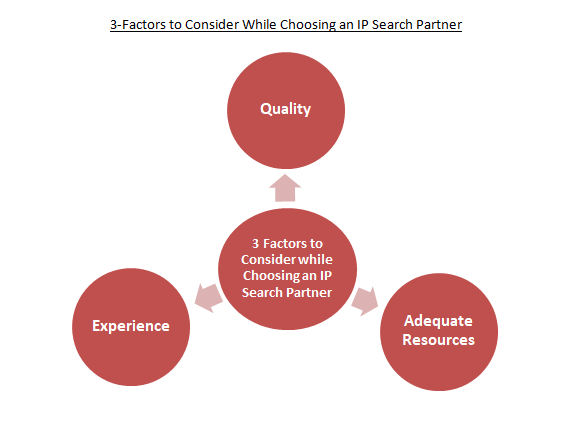 While selecting the Intellectual Property search partner, the quality of their search results should be given utmost priority. A competent IP search partner should be able to search the most relevant prior art for any given technology. Therefore, look for a service provider who has a team of qualified prior art analysts. Moreover, the search partner should have an in-depth understanding of the technology domain you operate in.
Apart from these basic requirements, an IP search partner should also maintain consistency in the quality of search reports they deliver. When it comes to quality, consistency of search results is important because it helps you to make strategic business decisions. The right search partner will be able to deliver on these parameters.
IP search partners who deploy open-source and free-to-use IP search databases and analysis tools are not always recommended. These tools are based on open-source platforms. There is no guarantee that you would derive specific industry-oriented results from them. Therefore, the use of subscription-based tools for search is not just a benchmark of professionalism, but also an indicator of resource availability to deliver projects. So make sure that your IP partner uses commercially available subscription-based search tools to optimize results.
Also, commercially available IP search tools and platforms guarantee accurate prior art search results. It can help organizations to develop IP landscape reports. This can be beneficial for your research and development (R&D) processes. Similarly, it is advised to select an IP service provider employing analysts who hold certificates of merit from recognized organizations. They should also have extensive training and development imparted by their employer.
Last but not the least, a professional IP search partner who has sufficient experience in the industry has the highest probability of providing you with full-fledged IP/patent services without compromising on quality. Experienced strategic partners bring broader and wholesome perspectives to the table. Let's assume you want to perform a freedom to operate search. An IP partner who has adequate experience in infringement identification is then likely to add more value to the results while conducting the search.
Conclusion
We can conclude that selecting a professional and reliable IP search partner is crucial for any organization that leverages IP for its growth. For this objective, there are several parameters that one shouldn't ignore while evaluating the IP service provider. Additionally, having a long-term partnership with external search partners further facilitates the delivery of reliable and consistent results, helping you to make strategic business decisions to promote the growth of your company.
Sagacious IP's patent information search services are focused on delivering the most relevant prior arts to businesses in a cost-effective manner. Our comprehensive package of patent search services includes patentability searches, invalidity searches, freedom to operate searches and more.
-The Editorial Team