NFT Trademarks: A Complete Guide
A non-fungible token, or an NFT, is a digital asset that stores digital information in a blockchain. NFTs are a relatively new technology with the ability to transfer ownership by selling or trading. However, when one creates, monetizes, promotes, sells, trades, transfers, and stores NFTs, it might raise trademark, patent, and copyright implications. Protecting NFTs with Trademarks helps protect brands from infringement.
This article will uncover information about NFT trademarks, protecting NFTs with IP rights, how one can file trademark applications for NFTs, and much more.
What are NFT Trademarks?
It is a trademark for a non-fungible token representing virtual goods, digital media, digital collectibles, and other crypto assets that one can buy, sell, exchange, and transfer using blockchain technology. A footwear brand trademarking its name for the following reasons is an example of NFT trademarks:
Downloadable digital media, namely, digital collectibles, digital assets, digital tokens, and NFTs.
Provision for an online marketplace and registry for buyers and sellers of digital assets, digital collectibles, digital tokens, and NFTs.
Selling of digital assets and digital collectibles as NFTs.
How Can One Protect an NFT as a Trademark?
Trademarking the name and logo you use to market an NFT is the best approach to protect it. Trademark registration helps protect brands, including NFT brands, from infringement. Brand owners should assess their existing trademarks and, if necessary, apply for trademarks of digital assets, crypto-assets, and virtual commodities authenticated by NFTs to gain the maximum trademark protection for an NFT.
Now that we have understood how trademarking safeguards NFTs, let us dive into the reasons behind trademarking an NFT.
Why Should You Trademark Your NFT?
Trademarks benefit businesses and brands in several ways, and the same stands true for NFTs as well. Here are the biggest reasons to trademark your NFT:
· Trademarking your NFTs guarantees that your NFT name and logo does not conflict with any other NFT trademark. Every trademark is registered after thorough research to ensure no same or similar name, mark, or logo exists. Thus, the trademarking process confirms that your NFT name and logo:
o does not infringe any existing NFT trademarks, and
o are available for your exclusive use.
· Trademarking your NFT will prevent anyone from registering the same or similar name for their NFT. Generally, only one person can own a trademark in the industry, including NFTs. So, trademarking your NFTs ensures that no one else can trademark or infringe it. This is excellent insurance against ever having to rebrand.
· Your NFT's worth and the value of the property it represents increase if you trademark the NFT.
· You can legally use the ® trademark symbol with your NFT name and logo if you trademark them. The ® symbol (the registered trademark) serves as a "public notice" that the trademark law protects your NFT's name and logo. This increases your brand reputation and alerts competitors to avoid your marks, which increases trust in NFT's authenticity.
After registering your trademark, you become its official owner. No one in the future can use it (or anything similar) without your permission. Let us now take a look at an NFT trademark example.
Example of NFT Trademarks
In-game skins, avatars, and powers are products that gaming companies offer to gamers. With the advent of blockchain and NFTs, gaming companies are authenticating these digital assets using NFTs and their brand. As an outcome, customers are more inclined to purchase NFT-secured in-game items, boosting sales for companies. Mattel Inc. is doing this with its HOT WHEELS NFT GARAGE by selling NFT Hot Wheels designs for collectors and fans. The company also filed a trademark for "HOT WHEELS NFT GARAGE" in mid-2021 (US Trademark Application No 90767267).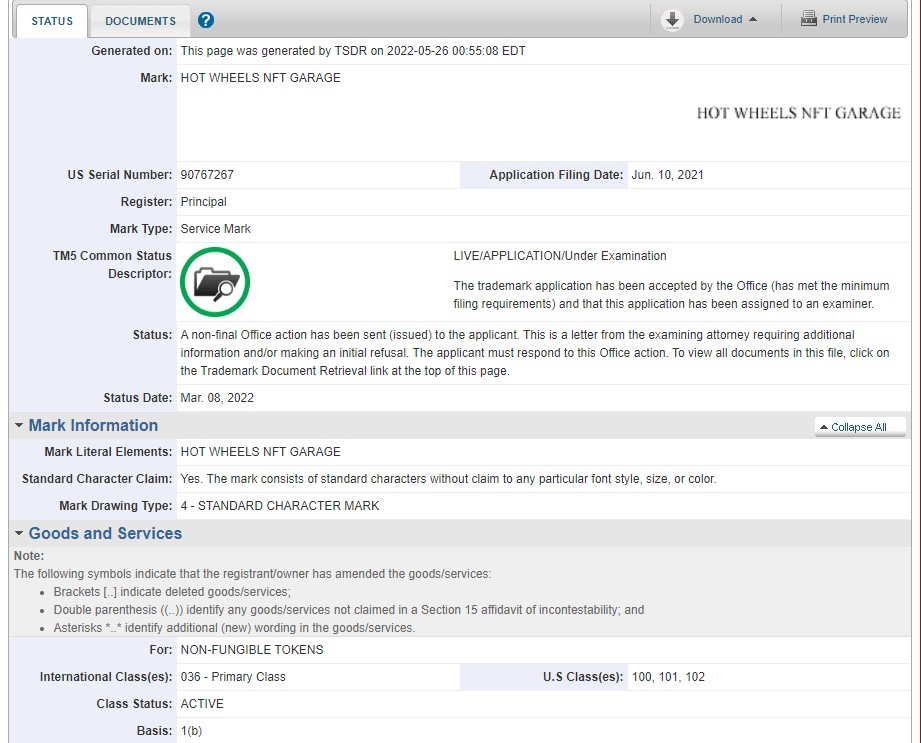 What Parts of NFTs can be Registered as a Trademark?
You can trademark the name and logo you used to promote the NFT or the property your NFT represents. You can also register a trademark related to NFT services. Some examples include:
Financial services like NFT trading or issuance of digital tokens.
Selling non-downloadable virtual items online, such as digital art, photographs, videos, or audio recordings.
Creating an online retail store for others to make hosted crypto collectible and blockchain-based NFT stores.
How to Trademark an NFT Name?
One can register NFT trademarks at the United States Patent and Trademark Office (USPTO). Trademarking with the USPTO typically takes about 12 months from filing to approval. So, the sooner one applies for trademarking the NFT name, the better.
Here is how one can trademark the name of an NFT: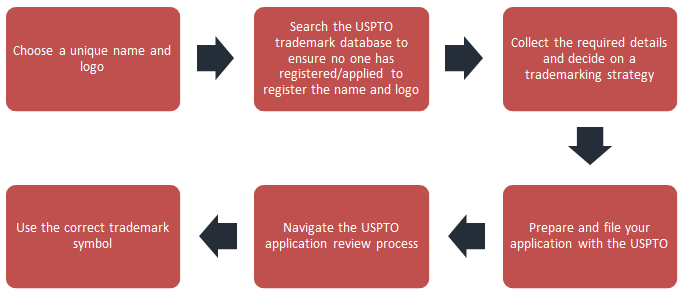 How to File Applications for NFT Trademarks?
The process is as follows: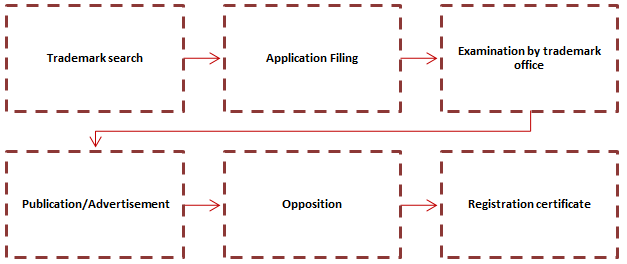 – Trademark search: Before beginning the registration process, IP experts recommend conducting a trademark search to see if any existing marks conflict with the proposed mark
– Application filing: You can file for a trademark in one or more of the 45 classes of the Nice Classification, depending on the goods or services that require protection. Each class of interest requires a separate trademark application.
– Examination by the trademark office: The trademarks office examines all applications to ensure that it adheres to all prescribed guidelines, checks for mark's eligibility for registration, and looks into any potential conflicts with earlier registrations or applications. The examination process currently takes nine to twelve months from the filing date.
Following an examination, the trademarks office will accept, reject, or specify the terms under which it may accept the application. In case of conditional acceptance or a preliminary refusal, the applicant can make representation before the Registrar to overcome any objections.
– Publication/Advertisement: The trademark application is published in the Patent Journal for opposition purposes once formally accepted. Third parties have a three-month window to object or express an intention to object to the trademark's registration.
– Opposition: This step only happens if a third-party objects to the trademark registration or announces an intention to oppose.
– Registration certificate: If no third-party objects during the opposition period, or the objections have been resolved, then the trademark office grants the application and issues a registration certificate to the applicant.
Which International Classes Should Be Included in NFT Trademarks Applications?
The USPTO registers trademarks for a variety of NFT-related products and services. Applicants should consider incorporating the following classes in their NFT trademark applications:
– International Class 009 (Downloadable media, computer software)
– International Class 035 (Business services)
– International Class 036 (Financial, banking, and real estate)
– International Class 041 (Education and entertainment)
– International Class 042 (Scientific and technical services)
Conclusion
Most IP experts advise registering your NFT trademarks. A major reason behind it is the fierce competition in the NFT market. By trademarking your NFT, you can ensure that your NFT name and logo are available for your exclusive use and does not infringe other trademarks, saving you from legal troubles. A trademark also enhances the trustworthiness of your NFT and steers clear of the need to rebrand anytime in the future.
A trademark is crucial in preserving a separate identity from your competitors as trademarks ensure exclusivity and deter infringement. If you have a brand that needs protection in the real or virtual world, then Sagacious IP can help you register your mark in different classes and jurisdictions. Our trademark team can help you in trademark filing and prosecution for a seamless and hassle-free trademark registration process.
– Unnati Tijare, Swati Bahad (Trademark) and the Editorial Team