Offshoring Patentability Search – Ensuring Compliance with Export Control Regulations – Webinar
US-based organizations are attracted to the opportunity of reduced costs and increased speed associated with offshoring patentability search and generating hundreds of thousands of inventions every year with their active R&D departments. However, they are sometimes concerned about export control compliance of such offshoring.
In this webinar, patentability search buyers in organizations will learn widely used, industry-accepted, legitimate best practices for saving costs by using a combination of on-shore and off-shore outsourcing.
We invite you to hear our experts for getting the answers to the below questions:
The information which falls under which export control regulation.
Differences between ITAR, EAR, and OFAC (also NRC, DOE).
Will an NDA be sufficient to handle such matters?
How do I comply with the export control regulations for exporting IP management services?
Key-note Speaker:
Anant Kataria, CEO at Sagacious IP
Ben Pezzlo, US Patent Attorney & Director at Search-Center LLC
Anchor:
Abby Woods, Global Key Accounts Manager at Sagacious IP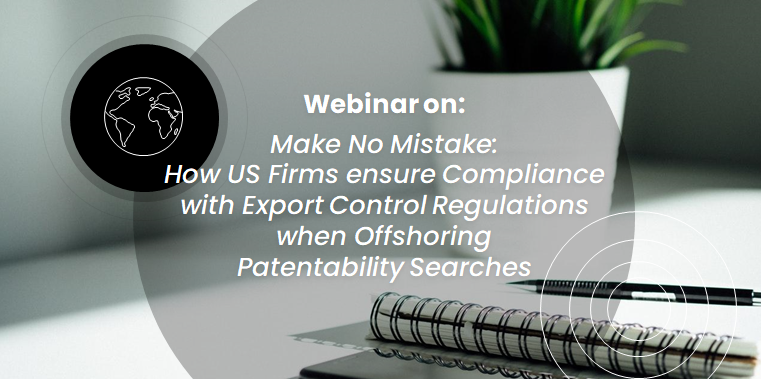 Submit Your Information to watch the Webinar Video Recording:
Webinar Transcript
Faiz Wahid speaking: Hi everyone, this is Faiz Wahid. I am Regional Head, Europe, Sagacious IP. I'm very delighted to welcome you all here today. Moreover, I'm very glad that you chose to spend your valuable time with us on this webinar. The current times are unprecedented, and I hope that you are all doing well and having a wonderful time.
The topic of our webinar today is to 'Make no Mistake: To Identify How Do US Firms Ensure Compliance With Export Control Regulations When Offshoring Patentability Search'. This topic is quite deep and technical. However, we would like to bring, to it a perspective from the expertise of some people. They have driven such projects successfully.
Introduction
Moreover, we have seasoned experts from the Search-Center, US-Based Search Firm, as well as Sagacious IP on speaking panel today. I will now move on to introduce them. However, before I do that, let me just introduce Sagacious and Search Center in a quick summary.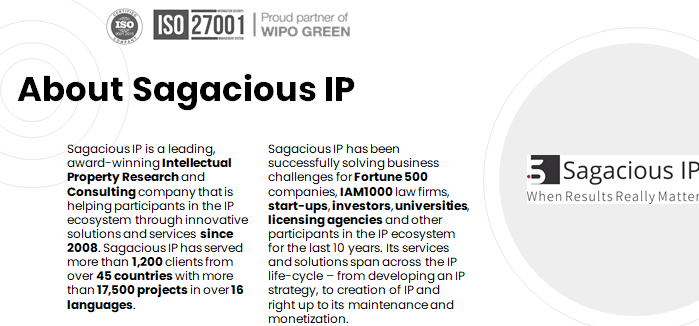 Sagacious is an award winning IP and innovation consulting firm. It has been enabling value creation in the innovation and the IP ecosystem for the last almost 12 years. Within the 300 member team in US, Canada, Europe, India, China, and Japan, Sagacious has had the opportunity to serve prominent IP law firms. Moreover, it has also served fortune 500 companies, startups, investors, universities, and also other players in the innovation ecosystem. It is split across 65 different countries, and searches have been conducted in over 16 languages. The company works very closely with the US-based companies and supporting their offshoring patentability search operations.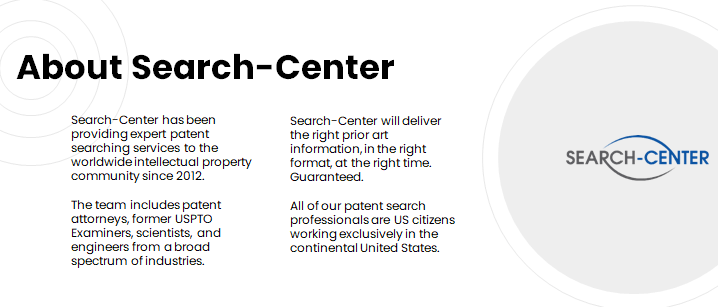 Our other speaker is from Search-Center. Search-Center has been providing expert patent searching services to the worldwide IP community since 2012. All of the patent search professionals at the Search-Center are US citizens working exclusively in the continental United States. Together, these two have a lot of in-depth experience to address this particular topic. Let me introduce our first speaker of the day.
Introduction to the Speakers
Our first speaker is Mr. Anant Kataria. Anant is co-founder and CEO of Sagacious Research. He started his career with Suzuki, India in their R&D department, and he has been in the IP research field since 2005. Currently, he is based in Toronto, and is responsible for the North American business for Sagacious. He has North-American customers including US law firms and companies who all order thousands of patentability search with Sagacious every year. Welcome to the webinar Anant.
Anant Kataria speaking: Thank you Faiz. It is my pleasure to be here.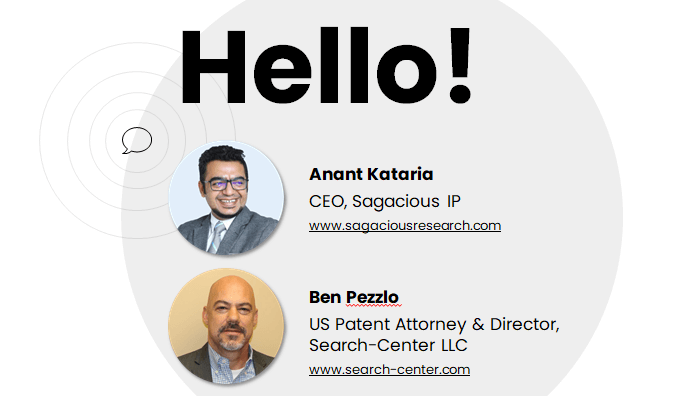 Faiz Wahid speaking: Great, glad to have you. Our second speaker today is Mr. Ben Pezzlo. Ben is the co-founder and director at Search-Center, LLC. He's a US patent attorney, and he's in the business of patentability search for the last 20 plus years. He's based in the US and his local team delivers expert patent information search solutions to clients. Ben, welcome to the webinar.
Ben Pezzlo speaking: Thank you very much.
Faiz Wahid speaking: Thanks. Thanks, Ben, for being with us.
Export Control Regulations – Introduction to the Topic
Today's topic, many people believe that achieving compliance is an expensive affair, and it definitely incurs a lot of costs, more than the costs of creating a workaround. If handled rightly, one can achieve cost savings while still staying compliant. The main agenda for this webinar today is to empower you with the understanding, to be able to save costs, while complying with export control regulations in the US. To do that, we have broken this webinar down into sections.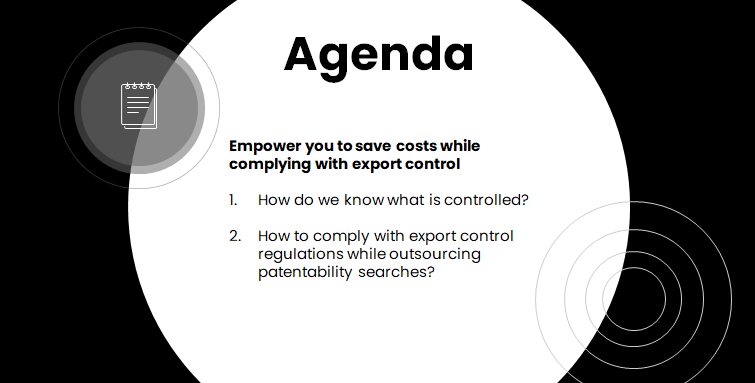 The first section addresses how we know what is to be controlled. The second part is around how we comply with the export control regulations while offshoring patentability search. Post addressing these two questions from our speakers, we will move on to a Q&A session. I invite you to keep sharing your questions as and when you have them during the course of the session. You can share the questions via the GoToWebinar question box on the, I think the right side of this presentation window.
I will pick up those questions and ask them to our speakers at the end of the presentation. Please feel free to write down your questions during the course of the presentation. Let us now get started. Before we move on to the presentations, let me quickly ask Anant to give his initial remarks and talk about what is an export. Anant, over to you.
What is an 'Export'?
Anant Kataria speaking: Thanks Faiz. An export is any item that is sent from the United States to a foreign destination. It is done regardless of the method used for the transfer. The term 'item' here, has a broad coverage. It covers everything ranging from clothing, building material, automotive parts and electronic components. Moreover, it goes right up to retail software packages, design plans, technology, technical information, and all these things.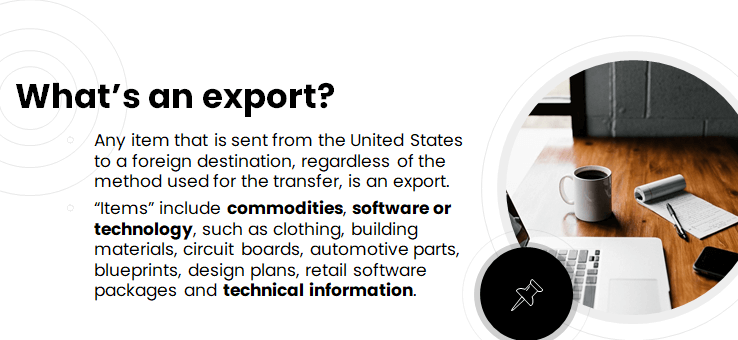 Furthermore, it essentially boils down to technical information. So, Faiz, regardless of the method used for transfer, it covers any modes of transmitting such technical information. It includes sending it over e-mail, and other content sharing platforms like Dropbox, Google Drive, etc. For those in the audience here who have been offshoring patentability search, or if they've outsourced any service outside of the US, they will appreciate that in any of shooting process, the information is hugely exchanged by e-mail or such document sharing platforms or using on-premise secure storage systems.
However, all of these means, they are considered export. Moreover, quite interestingly, anything published on a website that's accessible outside of the US is also an export. We may post any technical information on our Facebook page, or LinkedIn, Twitter, blogs, or any of the social media. However, unknowingly, we're actually exporting information on a daily basis.
Even though, these posts are exports. However, we kind of engage in them very freely. This is probably how I would give a take on exports.
Faiz Wahid speaking: Thanks Anant. The question arises of course – what the US government calls the exports and how do they want to control it. However, how does one by themselves identify what we should control? How do we know what is to be controlled? Anant, let me ask you to share your views on that.
Export Control- What is to be controlled?
Anant Kataria speaking: Faiz, almost all businesses have an international flavour to them. Even if something is designed in the US, and sold in the US, there are high chances that it is being manufactured in China, Mexico, Vietnam, Sri Lanka, India or any of such other low-cost manufacturing countries. Export of information in the form of product drawings, bill of materials, etc, is happening daily.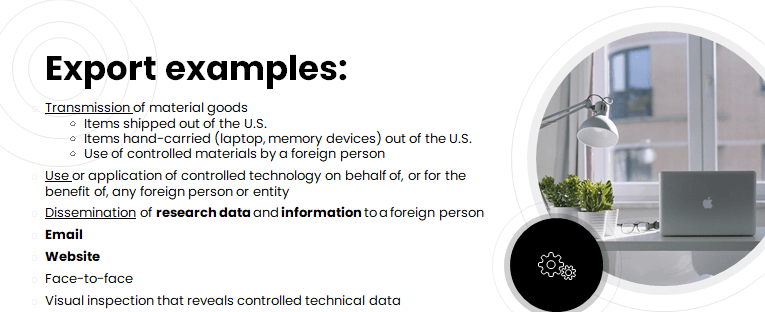 If not a lot of it, then at least some of it is happening without anyone checking if that export is controlled or not. This happens mostly because of the unstructured and decentralized nature of such information sharing. However, it's easier. Even this information can be checked for control just by simply passing it through a five question text.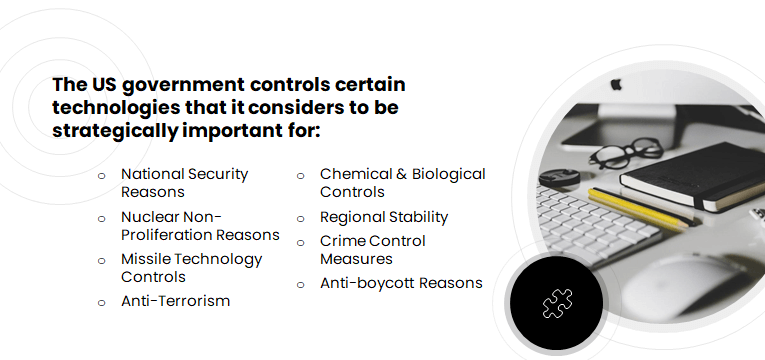 Fortunately, in the context of offshoring patentability search, the information or the invention disclosures are already captured in a structured way and mostly as a part of a company-wide process. It's even easier to apply this five question test that we'll come to, that we see on our slide right now. This will help us to check whether a disclosure is controlled or not.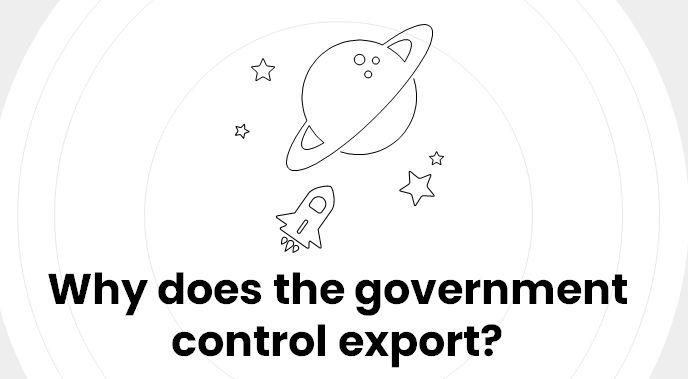 These questions, as you can see, are: What is the destination country? Who will receive the technology? Who will benefit from it? The fourth question is: What's the end use of the item? What is the technology? Is it controlled or not?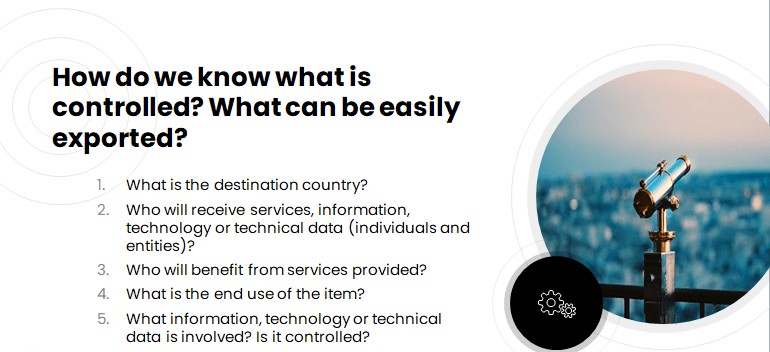 3 Most Important US Government Agencies
There are three key sets of US export control regulations. These are governed by three US government agencies. One is OFAC or Office of Foreign Assets Control, which is governed by a Department of Treasury. Second is ITAR, which is governed by the Department of State, and EAR, which is governed by the Department of Commerce.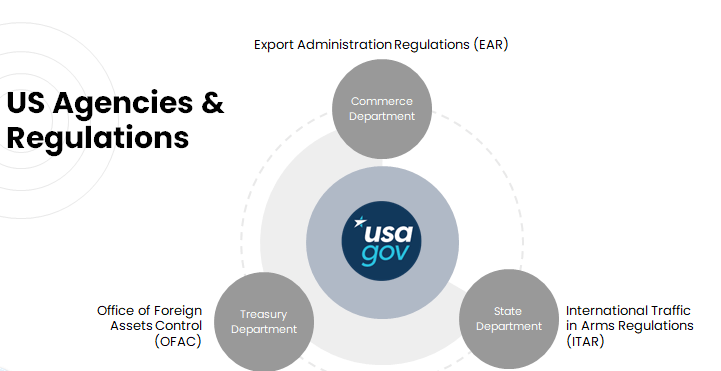 OFAC prohibits transactions with countries, entities, and persons that are subject to boycotts, trade sanctions and embargoes. ITAR controls transfers of defense articles and provision of defense services. It focuses on inherently military technologies. EAR, it controls the exports of commodities, software, equipment and technology.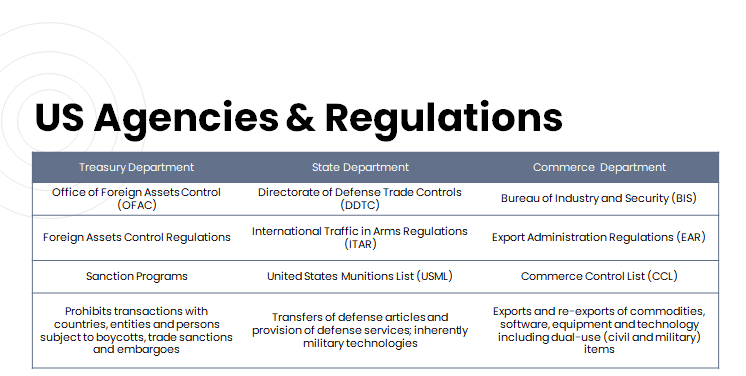 This is the most interesting or the greyest kind of area here where the dual use items or items, which may appear to be of civilian application, can also fall under control. That's where you need to check.
5 Questions to Determine if a Technology is Under Control or Not
We will go through the five questions, Faiz. These will be the five questions to determine if a technology is under the control or not. So, we'll address all these three sets of regulations.
Moving on to the first question, 'What is the destination country?' With reference to OFAC, it does not actually maintain a specific list of countries that US persons cannot do business with. However, they do list all the sanctions programs on their website. Our team briefly reviews the sanctions and also refers to the compilations of such country lists by various universities. Accordingly, we prepared this list of countries that you'll now see on your screen.
These are the countries that have some sort of sanctions applied to them. If you see, there's Cuba, Iran, North Korea, Sudan, and Syria that have stars marked with the names. They have comprehensive sanctions applied to them, whereas others have limited or some sort of targeted sanctions. An OFAC license can still be obtained by case basis for exports to even these countries except for the stars one.
However, as a rule of thumb, if a country is not listed here, then the OFAC country level sanctions do not apply to it. There is an important point to note here. From the perspective of offshoring patentability search to India, we kind of see that OFAC sanctions do not pose a concern as India. This is because it is not a part of the list.
With reference to ITAR, they maintain country specific defense export policies. We obtain the list of these countries for which such policies exist. They have been listed on the Directorate of Defense Trade Controls website. Similar to what we did with OFAC, we also went through compilations of such lists by universities. Accordingly, we prepared the list that you see on the screen here.
As a rule of thumb, if a country is not listed here, then we are fine at the country level with respect to ITAR Export Control Regulation. This will root its base from the context of offshoring patentability search to India. We see India is not on the list, so we have a green signal here as well.
However, EAR, Export Administration Regulations doesn't have a separate list. So, they highlight the five countries that had comprehensive sanctions in the OFAC list. Those countries are the countries of concern.
In summary, from all three of these regulations, we obtain a finite list of around 30 countries- exporting to which can be a concern. India is not one of them, and that helps us get a favorable answer to question one out of our five question test. This makes its aim for offshoring patentability search to India or for checking a disclosure or for export control. I'll ask Ben to take up the next question on our Q&A.
Who will Receive Benefit from this Export?
Ben Pezzlo speaking: Thank you Anant. We've covered the question, 'what is an export and what countries are capable of receiving excellence'. Moreover, it's also important to consider whether the technology is going to be exported to as to who will be receiving the benefit from the export. Once this person or entity is identified, the person actually gets checked against a blocked person's lists.
Further, as we go to the next slide, OFAC also provides country specific site for checking whether certain persons or entities are on the OFAC sanctions list. This is only on the following slide. Additionally, the ITAR also controls the lists of debarred parties and a list of such parties is provided on the next slide. Similarly, EAR provides list of entities subject to the license requirements as well. Moving on to the next questions in the five question test, I'll pass it on to Anant.
Anant Kataria speaking: Thanks, Ben for covering the aspects of the entities to whom the export is going or who are benefiting from the export. There are these portals provided by these three entities, where one can quickly go and search the entity name. They can see if some of these are in the list of de-barred entities. Fortunately, none of the key entities you might hear about in the IP space appear to be in such list.
As a rule of thumb, broadly, working with a patent firm outside of US or offshoring patentability search products outside of the US, with respect to question number two, and three, also, if that thing is going out to India, you kind of already get in the green.
What is the End Use of the Item?
The next questions in our five question test are, 'What is the end use of the item? What information technology or technical data is involved, and is it controlled? ITAR maintains a list called US Munitions List. It's a list of defense articles or defense services. If a technology pertains to defense, it should not be exported. That's a rule of thumb. We can take a look at the US Munitions List categories on the next slide.
Most of these categories are pure play defense categories. Firearms, guns, ammunition launch vehicles, so on and so forth. Officially, it's not that such technologies cannot be exported at all, they can be. However, then you will need an export control license to do that. In the context of our presentation, I would advise keeping those technologies that pertain to any of these defense categories within the US. Just for the sake of offshoring patentability search, there's no reason to go through a license program. We will just keep all those things within US, not send them out at all.
I'd like to highlight two categories here. The first one, category seven here, which is named Ground Vehicle. The name of this category is slightly misguiding. This is because in ITAR's context, it only covers defense-related ground vehicles not regular ground vehicles like commercial cars, etc. Technologies related to regular vehicles are still free to go out of the US in the context of ITAR's regulation.
The second category that I want to highlight is category 13, 'Materials and Miscellaneous Articles'. You'll see that it covers cryptographic devices for military or intelligence. Now, my view is that even though category talks about military cryptography, it's advisable to keep any kind of cryptography related inventions in the US and not export or outsource them.
In summary, with respect to ITAR, or as long as the technology in question is not a defense technology, our question 4-5, or 4, and 5 are favorably answered. This is done with respect to screening and invention. While, at the same time, I would advise that any invention related to cryptography is still kept in US.
NLR- No License Required Items
Moving to EAR, it covers an interesting set of regulations: the ones with dual use. So, even a technology that may appear to be a non-defense or a civil technology may still be controlled under EAR. This is only if Department of Commerce has identified such technology to have a dual use. They maintain a commerce control list, which has 10 categories, category 0 to category 9 that you see here. Then, there is another category called '99', which is, straightaway, no license required category.
The silver lining here is that apparently, most of the civil technologies will not require a license. What you see on your screen is a snapshot from a document from BIS, Department of Commerce. It lists that most exports from US do not require a license and may be exported under the designation NLR. This means no license required. There's a simple decision process that can help easily determine if technology requires a license with respect to EAR or not. I'll invite Ben to take it forward and elaborate the Export Control Decision Tree for an EAR.
Export Control Decision Tree for an EAR
Thanks Anant. The Export Control Decision Tree is provided by the Bureau of Industry and Security for compliance with the Export Administration Regulations. This decision tree is guide to help determine if the so-called 'dual use item' is eligible for export to a given country or not. Anant mentioned earlier, dual use technology is technology that does not violate US export laws and other laws of countries.
So, first step is to determine the exported subject to the EAR. So, you determine if the export is subject to the EAR. The next iteration is whether the item is classified under an Export Control Classification Number. This is essentially a two number designation. The first number is a broad category, and the second number is the subcategory. It is relevant to a technology and analogous to a genus-species relationship.
The BIS provides Commerce Control List Index to help identify the ECCN. Once we must propose if we have an ECCN. The next step is to determine if the items are subject to a general prohibition. If not, the ECCN is checked against the Commerce Country Chart. This chart is then used to determine if the item is eligible for export to the proposed country, as it can be seen. If it says it's not a 'no license required item', the next step is to determine if a license exception is available.
If no exception is available, an application for license may be submitted to BIS through their website, which we show on the next slide. Applications are made through what they call the Security Simplify Network Application Process or SSNAP. Now, this is something worth repeating here. As a general rule of thumb, most exports do not require a license because it's not on the Commerce Control List. There's no prohibition on sending items to the destination.
We've discussed the US export laws generally. So, we can take a look at some specific examples which are specifically relevant to the topic.
Faiz Wahid speaking: Ben and Anant, thanks for juggling between these slides. You really made it easy for handing it out to the audience in terms of how to really look at export control regulations and what they represent. Let's come to the second part of our presentation in terms of offshoring patentability search. How do we map these Export Control Regulations in the context of offshoring patentability search? I request Ben to continue with the presentation and address at that point.
How to Map the Export Control Regulations While Offshoring Patentability Search?
Ben Pezzlo speaking: Thanks Faiz. A company facing the opportunity of offshoring patentability search has a choice. He could either do an export-compliance in-house or hire a third party to perform an export control compliance review of the disclosure. In the partnership between Sagacious and Search Center, we have an export control screening process. That includes a review by a third party export control analyst.
Generally, if the technology is not clearly eligible for export to Sagacious in India, then the technology will not be exported and the search will be performed in the US by Search Center.
Faiz Wahid speaking: If this is possible, then that releases a lot of burden from the inventor organization. The burden goes around being able to identify which ones are to be searched within the US and which ones can be sent out to India.
That's where the cost optimization point comes into picture. Probably, let me ask Anant to elaborate a little bit more on the cost optimization part. Generally, it is so that you know how that cost optimization can be achieved with the simple yes-no decision making. This is subject to condition: if implemented at the time of offshoring patenability search.
How to Achieve Cost-Optimization?
Anant Kataria speaking: Thanks Faiz. As Ben mentioned, thanks Ben, for indicating it very clearly. It's like just this decision bugs, it's essentially, all the invention submissions that are happening, if you have a way to screening them, just by asking these five questions that we just discussed, and it's easy. It's very straight forward; it's not a complicated process. Many companies do it in-house.
We work with several companies, Fortune 500 and various sized companies. They outsource patentability search and the disclosures we receive are already pre-screened. There's an answer to this question that's already there in those disclosures. They've been identified as NLR, and that's why they've been sent out. So you're not risking anything, you're just sending the NLR out.
So if it's not exactly NLR, any gray area, just keep it in. Don't send it out to India. This is one way you have your in-house process setup. At the time of invention submission, maybe the inventor answers a few more questions. That elves this automatic determination or let's say the inventors are submitting everything and the information comes to the IP department. There's a process instituted at the IP department where someone there is answering those questions, those five questions, and doing that screening.
Once that happens, you just send it out to India or to US and you are optimizing your cost that way. What we've tried to do is we've tried to take an example. This example scenario is to showcase the kind of cost benefits that can be obtained. Let us say, we take in the scenario of a company that gets 500 disclosure submissions. They want to get searches done on all of them. The table depicts the option when the company chooses to get all the searches done in US, and hence, stay export compliant.
Being 100% Export Control Compliant
The key thing is being 100% export control compliant, and optimizing cost in that manner. Let us say, if you're not using a hybrid onshore-offshore novelty search model and doing everything in the US. You are compliant. The column number two depicts that scenario where all the 500 searches are done in the US. We've taken the US novelty search price, or cost to be $1200, just for the sake of calculation here. Therefore, the overall spend comes out to be $600,000.
Let us say, the Chief IP council of this company attended this webinar and he found the idea interesting. He implemented this hybrid onshore-offshore novelty search process covered with an export control screening process. From there, let's say in the screening process, it's determined in column three that you will see. It's a scenario where the screening process determines that 250 out of these 500 searches are NLR and can be sent out to India. Just by doing that, they are able to save $112,500 out of those $600,000 or around 19%.
We've considered that an equivalent search in India would cost around $600. Moreover, we have also considered that the screening process is not implemented in-house, it's being done by a third party. Furthermore, the third party has a fixed cost of around $75 per screen for disclosures. So, you are still compliant, because all the disclosures go to this third party, they screen it, they send it to US search company, for example, Search Center– if it's not NLR.
Third-party Screening Process
If it's an NLR, it goes to an Indian search firm, for example, Sagacious. Despite doing this, you'll save 19% and nothing changes in terms of process that you are not implemented anything in-house. It will not change anything. It's just that the e-mail to which you were sending or offshoring patentability search, has changed from a US search provider to an export control screening agency.
In the third scenario, which is in the last column, we change the assumption. From our experience, we realized that around 70 to 90% of invention disclosures too fall in the NLR category. What we have tried to do here is that we considered a scenario. There are 380 out of these 500 searches to be done in India, and 120 in US, and hence, the savings jump to $190,000, or almost 31%. This is just an example, Faiz- just to highlight the kind of savings that are possible. Faiz, over to you.
Faiz Wahid speaking: Right, this is great. I think this brings us to a good conclusion in terms of what we started with to understand export control laws in the US. However, at the same time also we are able to map it to offshoring patentability search and the outsourcing there. Additionally, we also saw how you really achieve cost benefit out of it. Let me ask Anant, a question which one of the attendees, has posed to. I think he specifically typed to this particular question, or maybe Ben could take it up.
Sagacious-Search-Center Model
Like, you talked about the model, which Sagacious and Search Center has in terms of having this export control screening agency in place. This is to be able to filter out, or make this decision for the client. Thus, if there is a request for a search, will the user be informed about whether this search will be done in the US or in India? Will this be done before or after the search is done? Ben, would you like to take this question?
Ben Pezzlo speaking: The answer to that question is that we try to provide as transparent a process as possible. Once we learn how the invention disclosure has been categorized, we would immediately convey that information to go ahead. Assuming that we had the go-ahead to move forward with the patentability search, either way we would provide the information. We would then move forward with the search work.
Conversely, we would convey the information. Then we'll determine if we had authorization to move forward with the search only in the US. That is also if the invention is not categorized as an NLR search.
Faiz Wahid speaking: However, prior to that let me take the opportunity to ask the attendees to share their questions in the in the window. This particular session is in the series of ICT searching webinars, and there are more upcoming webinars. I'll talk about them also after we have these great Q&A's identified, and answered from our speakers.
You give an example of a company with 500 novelty searches achieving cost benefit with the screening procedures kept in place. Can a company also achieve the same kind of or similar kinds of benefit at lower volumes of searches?
Achieving Benefits at Lower Volumes of Patentability Search
Anant Kataria speaking: I think, I would say yes. As long as the number of searches is – I can't put a number to it, however, let's say a reasonable number. It will be such that engaging an export control agency is possible. Then, it's the same savings, because, all of these three entities are key three components to the overall cost. They are fixed. So, the screening is $75. The searching for US is a fixed price, searching in India is a fixed price.
Assuming that the company that's trying to, institutes at a process is not in the defense sector. So, there probably 100% of their searches would still be required to be done in US. It maybe any regular company that we see, maybe it's a software company, or a new household product that has come out. Any companies, in general that we see around, in the markets want to set up a process. If they have only 50 or 100 patentability search a year that they want to get done. Hence, theoretically, it's possible for them to have the same benefits that we've shown in the table.
Faiz Wahid speaking: That's good to know. I think that could be a question that arises in the minds of many. Certain times the cost benefits are very easy to achieve at volumes, however, at smaller numbers, they might not exist. Therefore, it's good to know that someone can expect some benefits even at lower volumes.
Significance of a Non-Disclosure Agreement
Now, one question I have is for Ben. Ben, does having a non-disclosure agreement in place with the service provider, will that replace the need for such an elaborate screening process to be in place?
Ben Pezzlo speaking: Not necessarily. It depends on the contents of the NDA. If it's a part of a larger contract requiring performance of patentability search within the US, it is in export. Therefore, export control is being addressed, then perhaps, the answer is no, it would depend on the contractual language.
US Export Law in Compliance with Offshoring Patentability Search
Faiz Wahid speaking: Okay, maybe this follow-up question to you, Ben. This person says that they manage offshoring patentability search for the company. If they are offshoring patentability search to a US search company, are they automatically in compliance with the US export law?
Ben Pezzlo speaking: This is a good question. Not necessarily, if this is of concern. For example, your invention disclosures may include technologies that have a military application or encryption technology that may be subject to a ban on export. Then the downstream activities of your chosen patent search vendor may result in a violation of the US export law. This may happen if your provider is sub-contracting to foreign nationals, although, it's a US search provider.
However, the important point here is to verify that the provider is maintained in the technology with the US personnel. Or it would be verified that the provider has an export control compliance process in place that will prevent the technology from being disclosed improperly.
Faiz Wahid speaking: Right, Ben- that does make sense. Anant, here is a question for you. You talked about a company meeting, the cost benefit analysis, that's the question coming to you again. You've talked about the patentability search that are being outsourced. Within the IP industry, there are a number of things that are outsourced. These include novelty searches, invalidity searches, and freedom to operate searches and so on. I'm sure you're doing a number of such services yourselves.
Services Under the Blanket of Export Control Regulations
Is there a specific set of services, which really get affected by for export control? Or is it applicable to it as a blanket to all kind of outsourcing that involves that particular kind of technology?
Anant Kataria speaking: Thanks, Faiz. I think this is a very, very good question. We should have addressed this in the beginning, during the presentation itself, however, it's a very good question. Quite interestingly, if there's a patent that's already been filed and now the patent application is filed. Then, there is 18 months of lapse till the application is published.
Now, as the application is published, it is accessible on the USPTO website, it's out there in the market. Any service that pertains to things that are already published, that does not fall under the export control umbrella. If US Patent Office has published a document, in a way, it's already exported. It's available for everyone worldwide to look at.
Invalidity Searches, FTOs & Landscape Reports
Invalidity searches: if you want to get a patent invalidated, that's totally green. You can just send it out. Anyone in India or elsewhere can do it for you. FTO's: you are disclosing some information about the product, however, as long as that product that's out there in the market, that's where what you are disclosing. So, what do you want someone to search against? It is not something that's absolutely new and, not out there in the market. Hence, there could be chances of export control there. However, broadly from my understanding of working with companies and doing FTO's with them, I believe pretty much that green- FTOs can be sent out.
For landscapes reports– they are green. You just want some research and you tell people that this is the technology area, and I want some research done on it. Firms like us go out, look for patents and scientifically literate in that area and are deported back. In all these things, it's the offshoring patentability search bar that falls under this export control compliance umbrella. Does that answer your question to some extent is, did I miss something Faiz?
Faiz Wahid speaking: I hope it does for the audience to understand. I think it was very pertinent to know that. It is stated so, because, when we talk about searches, we can very easily misunderstand it for all the kinds of searches that we do in the IP world. However, thanks for making that clarification that things, which are already disclosed may not necessarily be impacted by this screening process. Probably that brings me to the next question that I have for Ben, and that's related to the screening process.
No-License Required Screening Procedure
You talked about the no-license required screening procedure, and you explained it in one of the slides very beautifully. You mentioned about a third party export control compliance agency. So, the question is around whether a third party is really needed. Can someone do it in-house, or can the patentability search provider do it by himself? Furthermore, what is the real need of having a third party in place?
Ben Pezzlo speaking: That's another good question. Thank you, Faiz.
The third party is in place particularly for volume and for questions where we have a lot of searches. It may involve a lot of technologies involved in the search that may have to be used. It becomes somewhat an administrative load to perform that in house. That's where the benefit of using a third party really comes into play. Moreover, just as a good business practice, it is a best practice to have a disinterested party is always a good idea. In that scenario, if you have a questionable area it'd be better to rely on the disinterested third party expert.
The Provision of third-party Expertise
Faiz Wahid speaking: Right, so, this third party expertise is provided by multiple agencies out there or is it some special type of expertise that someone should have?
Ben Pezzlo speaking: Our third Party, the way we use, has a special expertise navigating the rules in-house. For somebody with low volume of searches, it may not be worth the effort to gain the expertise necessary to make these decisions. It is so, particularly when you have sensitive technologies involved in the determination.
Faiz Wahid speaking: Okay, I mean, the model is pretty interesting in terms of how you're able to implement it external to the organization. However, you will ensure that there is a third party involvement which can take the liability of the risks involved. I think that could be a very useful solution for companies to follow up with.
What does one have to do in order to implement this solution or engage in the solution? Is it just that they start sending out to this agency, screen it, and based on the agency's decision, decide whether to keep it with a provider in the US and or to export it out? How is the engagement on the collaboration between Sagacious and Search Center going to streamline this whole process?
Sagacious-Search-Center Collaboration
Ben Pezzlo speaking: The first question is exactly right. It is regardless of whether the search is evaluated for export control compliance with the originator, with the customer client, or with Search Center-Sagacious. The process is basically the same. It goes to the third party for clearance. In the case of our partnership, the patentability search obviously comes to Search Center first, and then out to the third party.
Then once we receive the inter-war indication, the search is crude and sent off to Sagacious. If not clear, then, of course, the search remains with Search Center. We complete the search and then move on to the next inquiry.
Faiz Wahid speaking: Right, great, I think that's the topic well covered. We have a few more minutes left. So maybe I can ask you for your closing remarks. Starting with Anant, if you have any closing remarks on this particular topic in terms of what you advise companies to do as next steps subsequent to what they learned here. Please feel free to share that.
Anant Kataria speaking: The first question here is someone has asked, 'Can the slides be provided to the attendees? Can I share it with others in my firm'? I think at least the link to this recording will be provided to you, and feel free to share it. As a standard process, the PPT's I'm not sure if they are sent out, however, we'll be happy to send that out. We'll take note of who this question was from, and we'll send that out.
Is Sagacious Accompanied with an Export Control Screening Tool?
I see another question, which is about, I think it's a direct question, asking, 'Do you guys have an export control screening tool as well?' I can answer that. There are two modes of implementation we discussed. First one, being a company's in-house screening tool that enables screening at the time of invention submission, or by the IP department. Now, we do not have such a tool of ourselves, however, such tools do exist in the market.
Moreover, we work with several companies including big companies, Fortune 500, who have been offshoring patentability search outside of the US. They have a screening process that's implemented in-house as a part of the invention submission workflow. So, there are definitely tools out there. We can have a discussion and guide you do those tools, however, we don't have those tools ourselves.
The second method is the one that Ben and Faiz were discussing earlier. That is like engaging export control agency. That can also be a very streamlined workflow. After having discussions together, it can be created in a way that the invention disclosures from your site go to this agency, and this agency does the determination of control. The NLR's go to Sagacious and non-NLR go to Search Center.
Hence, when you send the inventions out to this agency, you can be rest assured that it's going to the right party. Whatever the cost differences are for each the patentability search, you've agreed to that. Thus, it can simply be processed that way as well. We can implement that, however, we don't have a search tool of ourselves.
Faiz, you wanted me to give a closing remark, however, I ended up taking these questions. I think we will move to Ben if he has any closing remarks. Then, let's just go ahead and thank everyone and close for the day. Ben, do you have any closing remarks for this?
Closing Remarks – Speakers
Ben Pezzlo speaking: Yes, I'll be quick at that. I would just like to re-iterate that the vast majority of searches involve NLR- no-license required technologies. Even with that said, I would encourage, these to enquire of providers whether they have an export control compliance process in place to address this important question. With that, I'd also like to say thank you, again, for having me on the webinar today. Thank you.
The Webinar Series
Faiz Wahid speaking: Great, thanks Anant and thanks Ben, for this wonderful session. I'm sure our listeners had great takeaways from this session. They will be able to use several of these pointers when working on innovations in their businesses. we have not been able to cover some of the questions that we received from the audience- they were more logistical, like the PPT, etc. We'll take care of them post the webinar.
I would like to thank all the attendees who helped us start on time and finish on time, as well. We highly appreciate that, and thank you so much. Please join us on our next webinar. This Webinar is part of a series of webinars, which we will be hosting around searches, and export control being an important aspect of that. We covered it at first instance.
Then we have the similar kind of webinars coming up for contemporary novelty searches and contemporary invalidity and landscape searches. There we're going to talk more in detail about the mixed approaches on conducting these kinds of searches. I invite you to do those webinars as well. Thank you again for joining us, and have a great day ahead. Thanks a lot.
Submit Your Information to watch the Webinar Video Recording: