Patent Drawings: Illustrations That Impact Patent Applications
Drawings in patent applications are visual representations that help to better understand the inventions. Flow charts, chemical equations, and different views of the invention are some common types of patent drawings. Since these illustrations are an integral part of patent applications, their presence or absence can critically impact the grant of patents.
In this solution article, we cover a couple of drawing-related issues that may lead to rejection of patent applications and how you can counter them.
Why are Patent Applications Rejected?
While there can be many reasons for the rejection of a patent application, submission of informal drawings or absence of drawings are the two major ones. In both these cases, the patent examiner is unable to understand the invention. This leads to rejection of the application and release of an Office Action.
Types of Office Actions on Patent Applications
Filing a Patent without Drawings
One reason for receiving an Office Action (OA) on a patent application is the absence of patent drawings. Sometimes, an inventor files a completely descriptive application, i.e., he/she explains the whole invention only using words.As a result, it becomes difficult for the patent examiner to understand the overall invention, its parts, and how it functions.
To respond to this OA, the applicant must file the patent application containing formal patent drawings. While creating the drawings, he/she must abide by the rules a­­­­nd regulations provided by the patent jurisdiction to reduce the chances of receiving a second round of OA.
Since responding to an OA increases the overall patent prosecution time, it is advisable to steer clear of them in the first place. This can be done by hiring a professional patent illustrator with proper knowledge of patent office rules for creating drawings that match the inventor's requirement. Appending formal drawings help the examiner to understand the perspective of the inventor, as well as the important details of the specification.
Filing a Patent with Informal Drawings
Another reason for receiving OAs is filing patent applications with informal drawings. This is because patent offices do not accept informal illustrations such as coloured pictures and hand drawings.
To respond to this OA, it is necessary to create drawings that are acceptable to the concerned office. For doing so, inventors must hire professional patent illustrators who can take reference from ­­­­­­the informal images and recreate them keeping the patent offices' drawing rules in mind. In case of design patents, the drawings should contain different views and parts. These can include perspective, front, rear, top, bottom, left, and right views. The below figures are examples of formal and informal patent drawings.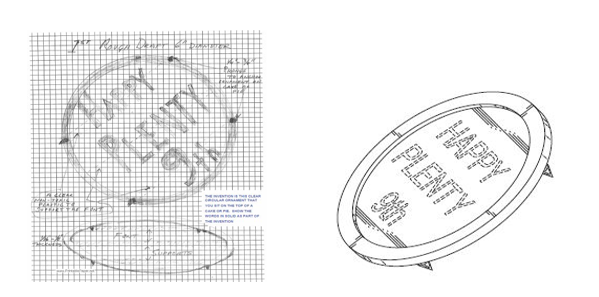 The illustration below depicts basic guidelines that must be taken into account while creating formal patent drawings.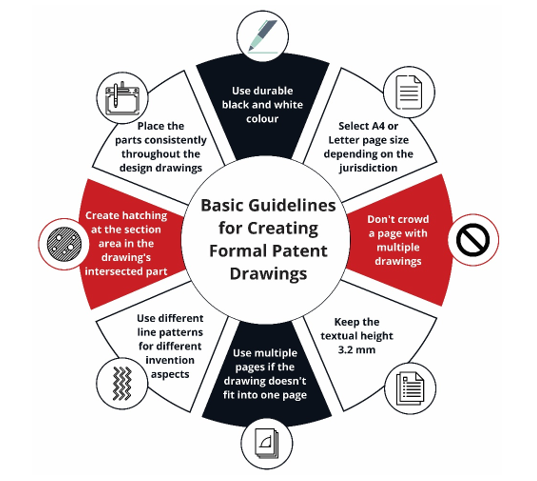 Conclusion
Drawings play a crucial role in the acceptance or rejection of patent applications. Therefore, it is advisable to create them carefully with the help of professional patent illustrators. These individuals are not only experts in preparing drawings but are also aware of the necessary patent office rules.
If you are a business that needs help with patent drawings, Sagacious IP has got you covered. We offer patent drawings that are created keeping the patent drawing rules of the concerned patent office in mind. Click here to know more about this service.
Punit Mehta (Illustration) and The Editorial Team