Patent Search in India – Detailed Guide on India's IP Regime
This article throws light on patent search process in India. It's a detailed guide on India's IP regime. The Indian economy is witnessing multiple business-friendly economic reforms these days. Thus, Indian market has become more interesting as compared to other developed markets. According to the World Bank's Ease of Doing Business Ranking, India has jumped 14 places to 63 in 2019 from 77 in 2018. Moreover, India has also improved its ranking in the Global Innovation Index by five places, from 57th position in 2018 to 52nd in 2019.
With the release of the National IPR policy, it is evident that the Indian Government is serious about implementation of IP laws and acceleration of R&D efforts of Indian businesses. Due to these recent developments, we can consider this era as the best time to set up new businesses, increase R&D activities and launch new products to bring innovative products to the market.
Benefits of Filing Patent Applications in India
Some of the benefits of filing patents in India are as follow:
Cost of Filing Patent Application in India
The cost of filing patents in India is extremely low as compared to other countries due to lower government and professional fee. The overall cost of filing a patent in India from "Filing" to "Final Decision" lies within the range of USD 1500-2000.
Language of Patent Applications
Applicants can file a patent application in English or Hindi at the Indian Patent Office (IPO). Therefore, additional translation efforts or translation fees are not required.
Reduction in Official Fees
The Indian government has taken initiatives to increase filings by reducing fees for PCT applications as well as MSMEs & Start-ups.
General Patent Trends in the Indian Market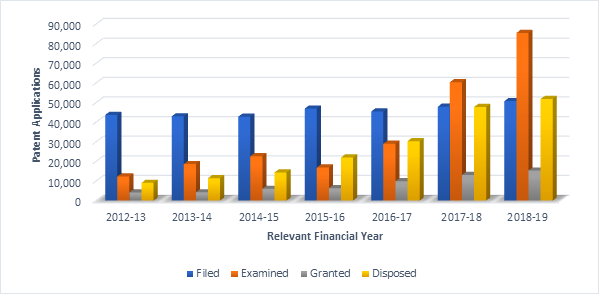 Graph 1: Overall Filing, Examination, Grant, and Disposal Trends (2012 Onwards). The graph shows that patent filings and grants have been increasing since 2012.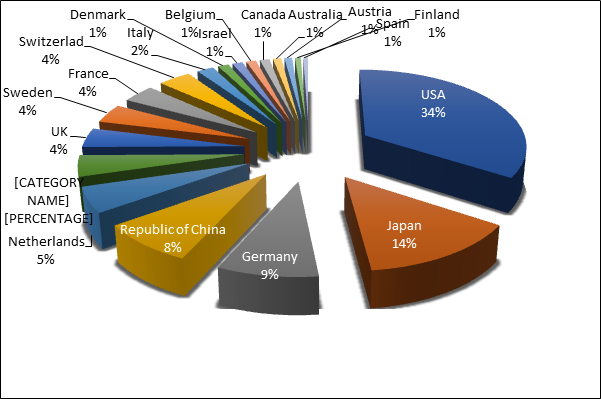 Graph 2: Top Countries from Where India Receives Maximum PCT National Phase Entries. The graph shows that one third of the filings are from the US, followed by Japan, Germany, China, and others.
Comparative Study on Patent Databases
Sagacious IP performed a comparative study on the quality of patent search in India. The study evaluated the readiness of India in the field of patent search and analysis. We conducted three types of searches on paid patent databases. Furthermore, we compared the results with a similar search on Indian Patent Office's search engine.
Classification-based Search
During this search, we compared IPC classifications tagged by examiners of other countries vs. Indian examiners vs. actual relevant classification for the same technology and same patent families. Thus, it helped us gauge the accuracy of IPC classifications in Indian patents that have been granted.
The Indian patent office has a restrictive search engine for searching IPCs. Therefore, it is advisable to use paid databases and truncations to get maximum results if the search strategy is based on classification.
Assignee-based Search
The engine of patent search in India does not have the corporate tree function. If a search strategy is based on Assignee, then we recommend you to use paid databases and the associated corporate tree function in the databases to get maximum results.
Keyword-based Search
Our keyword-based search was restricted to the Indian jurisdiction and helped us understand the coverage offered by various databases to do patent search in India. Therefore, if the search strategy is based on keywords, it is advisable to use paid databases and truncations to get maximum patent results.
Legal Status of Indian Patents
Legal status of patents in the Indian Patent Office (IPO) can be categorized as:
Alive & Granted
Alive & Pending
Dead & Lapsed
Dead & Expired
Our study showed that the legal status of patents in IPO is more accurate than other paid databases. Therefore, it is advisable to refer to the legal status displayed on IPO when working on critical FTO or product-based searches.
Conclusion
Patent searching has always been instrumental for inventors and organizations around the world. A good patent search involves a combination of broad and narrow approaches to cover all the relevant patents. If the search strategy does not include spelling variations, synonyms of keywords, parallel search strategies, then the strategy becomes too narrow and relevant patents tend to be missed. Sagacious IP's Patentability Search Service offers the right prior art, at the right time. Click here to know more about the service. Watch our webinar – Search Indian Patents Comprehensively.
Rajat Gulati and Rohit Joshi (Engineering) and Editorial Team