Patent Trends in Big Data Analytics: Dominating the Digital Era
For decades, relational data management tools have been storing and processing traditional data that is structured in way that makes it easier to manage and manipulate. With globalization and ease of accessing the internet, people are generating enormous amount of real-time data, that is spread across tons of social media platforms and streaming services such as Facebook, Twitter, LinkedIn, Instagram, YouTube, Netflix, Hulu, Amazon Prime Video, etc. Big Data Analytics helps in examining this vast amount of data to find hidden patterns, unknown linkages, industry trends, and client preferences to make informed business decisions. Companies are already innovating in the Big Data Analytics space to gain an edge over their competition. Patent trends play a key role in understanding the growing interest in Big Data Analytics and its role in the future.
This article will explore the concept of Big Data, how AI helps dig into Big Data, and offers valuable insights into the patent trends that spark innovation, as well as mentioning the major players in Big Data Analytics.
The Age of Big Data
Big Data is a vast collection of data that continues to grow dramatically over time. The data is complicated and massive in amount that none of the usual data management solutions can properly store or process it. By January 2021, almost 60% of the world population was using the internet and this figure is growing at an unprecedented rate. It was estimated that every individual will create around 1.7 MB of data every second in 2020. That is over 140 GB daily. This number will rise to 460 Exabytes per day by 2025 – far beyond human comprehension.
The five Vs are the inherent properties of Big Data: volume, velocity, variety, veracity, and value. Almost all companies, from small to large, have grasped the chance to use this data to create a seamless experience for their targeted clients, tailored to their interests.
User activities on multiple social media and interactive platforms are the main sources of massive data, such as streaming content, data captured by the various IoT and smart devices, E-commerce, and, online transactions. Even a single corporation like Google can collect a large amount of user information, such as user location, advertisement preferences, applications used, internet browsing history, contacts, bookmarks, emails, cloud storage metadata, calendar events, and payment activity.
It is worth noting that the exponential increase in the revenue of Big Data drove its market size. Every industry, including healthcare, agriculture, banking, retail, education, IT, etc., is looking forward to digital solutions based on Big Data and intelligent business analytics. This is pretty much evident from the figure below: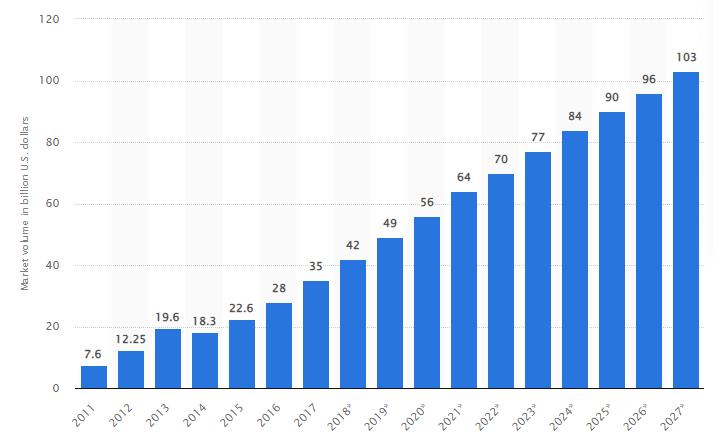 Big Data Lifecycle and AI
The rapid increase in the flow of information can assist in understanding and predicting human behavior. Big Data can be used for revolutionary purposes, but it can also overwhelm existing infrastructure, if not handled properly. AI can heavily assist in all the phases of the cycle, from data aggregation to goal management. It can speed up the process of data preparation and exploration, identify anomalies and biases, and learn context-specific nuances. AI and Machine Learning (ML) are extensively used tools for performing analytical and statistical inferences.
The lifecycle of big data can comprise various steps that use intelligent analytics, such as:
Data Identification and Acquisition – Identifying the correct data to be sourced is important for getting accurate insights for any business objective. The process of data generation is happening everywhere. The required data should be acquired without initial tempering.
Data Processing – After capturing the data, it should be cleaned and transformed from its raw form into a usable format, a process known as data wrangling.
Data Analysis – To gain significant insights, various tools, techniques, and strategies can be used. The complexity of this step varies depending on the available data, the value to be derived from the data, and the methods used to perform the analysis.
Data Interpretation and Visualization – The resulting information can be visualized for better representation and to communicate the story to a wider audience. A visual context can greatly convey the significance of the analysis and the implications. The final interpretation can be closely aligned to the business objectives and how the results will be leveraged in decision-making.
Data Storage and Management – Since the data must be stored at every stage, it should be set up in such a way that retrieving information is simple at all times. The same data can be used to achieve a variety of business objectives.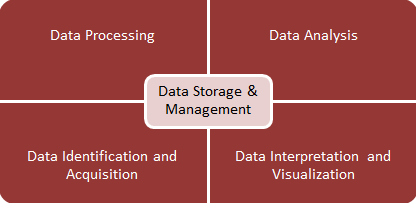 Digging into Big Data with AI
Big Data and AI are interdependent and work in synergy. The massive collection of data is used by the AI systems to learn, adapt and improve. AI is utilized by Big Data Analytics to deliver advanced analytical capabilities for determining actionable insights. To become a data-driven company, it is essential to incorporate the convergence of both paradigms. This can significantly improve business performance by capitalizing on emerging market trends, automating the customer and sales funnel, and providing personalized customer focus.
AI interactions have become omnipresent in our day-to-day lives. The combination of AI and Big Data makes it easier to identify hidden and unusual patterns, and perform real-time analytics, speedy computations and intensive learning on the vast amount of available data; all beyond the human capacity to comprehend manually.
Big Data Analytics uses both AI and ML, to combine, analyze and utilize massive datasets to harness the true business potential. The benefits of Big Data Analytics include improved decision-making, accelerated innovations, competitive edge, focused marketing, and product price optimization, among others.
Let us familiarize you with the types of Big Data Analytics:
Predictive analytics: It involves analyzing the historical and current data to make predictions for trends. It uses ML models to access future outcomes, helping organizations identify growth opportunities.
Prescriptive analytics: It is the process of using the available data to determine an optimal and recommended course of action. It helps businesses to make weighted decisions.
Descriptive analytics: It investigates historical data to better understand the changes that have occurred in a business. It looks at data statically to determine the hidden trends and patterns.
Diagnostic analytics: It uses techniques for deep inspection of the data and uncovering the reasoning behind certain results. It can help gain insights into the causes of patterns observed in the data.
Cyber analytics: It can be used to isolate vulnerabilities and hacking attempts in an organization using a data-driven approach. The massive amount of gathered data can help in identifying potential threats and attack patterns. Cyber defense is an emerging area that can detect, prevent and predict cyber attacks.
Streaming analytics: It is the processing of continuously fast-moving live data from a variety of sources that provides real-time analysis.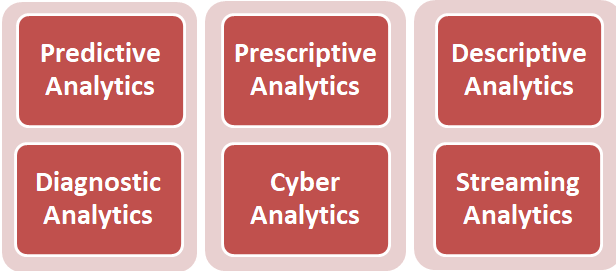 The benefit of Big Data Analytics is leveraged by many businesses, big and small, across various industries. It is advantageous to explore the several use cases prevalent in the market today.
Benefits of Big Data Analytics
Customer Focus – In today's digital era, customer acquisition is getting competitive, due to the decreasing attention span of the customers and the abundance of options. Customers leave a variety of digital footprints that reveal a great deal about their preferences and purchasing habits. The myriad amount of Big Data available to the business enables them to identify consumer patterns and tailor their products and services accordingly. This ensures customer satisfaction and loyalty that could lead to a substantial boost in sales. Big Data Analytics can further empower the business to arrive at an optimal customer retention strategy. The businesses employ targeted and personalized marketing campaigns across the demography to cater to maximum customer needs.
Security Intelligence – Organizations are extensively using Big Data Analytics for cyber security to detect and prevent potential threats. Further, customers are using real-time surveillance intelligence to fortify their assets. Currently, traffic cameras and in-store cameras are capturing and processing massive data in real-time that can be used to dynamically manage and control the environment.
Personalized Recommendations – Almost all E-commerce, music, streaming, banking, healthcare, and other digital platforms are using recommendation engines in one way or the other to deliver customized service based on real-time interactions with each customer.
Healthcare – The bulk of data can help save the lives of millions of people around the globe. Hospitals and health-oriented companies are increasingly relying on smart wearables to capture an individual's habits, routine, diet, exercise levels, heart rate, and pulse rate among other vital signs. The number of such devices is immense in the market, in terms of manufacturers, models, and the range of functions they can perform. The collected data not only provides personalized fitness recommendations and real-time aid in case of emergencies but is also extensively used for biomedical research to innovate new solutions.
Time-critical Systems – The dependence on AI can be assessed by its usage in time-sensitive and mission-critical use cases that drive the global economy and human safety. In terms of severity, real-time analytics and near-real-time analytics can lead to entirely different results. These systems should be in continuous operation, be resilient, and provide high availability with very little room for errors to avoid catastrophic damage. The application areas include space missions, nuclear power plants, road safety, emergency response, disaster mitigation, and recovery, among many others.
Entertainment Preferences – When a user picks a movie or a TV show to watch on any of the streaming platforms, it provides direct access to the user's sentiments and entertainment choices. It provides quantitative and qualitative insights on consumer needs that can be leveraged to provide precise recommendations.
E-commerce – The digital era has transformed the shopping tendency of people, with everything available to order at their fingertips. E-commerce corporations can collect a huge amount of customer data and provide them with a smooth and tailored shopping experience. The gathered data can comprise browsing trends, purchase history, wishlists, reviews, feedback, landing page conversion rate, seasonality, trending data, etc.
IoT and Smart Devices – All the data collected from the various sensors, types of equipment, IoT, smart wearables, surveillance devices, automotives, personal assistants, etc. can be analyzed to provide optimal quality of service and assist users in making reliable and timely decisions.
Operational Efficiency – The intelligent analytics of logistical and operational data can greatly improve the sales forecast and inventory management. It can boost profits through targeted marketing and increased customer retention.
Banking – The timely detection of fraudulent and suspicious activities can make the transactional journey more secure than ever. Financial forecasting provides the customer with the best advice for investing money and ensuring the best returns.
Patent Trends in Big Data Analytics
The present Big Data and AI landscapes are capable of disrupting various industries by providing exceptional analytics to improve the quality of service. This comes as no surprise as it is predicted that Big Data Analytics is going to see exponential growth in the coming years. To uncover future technological trends, it is imperative to examine intellectual property data. It serves as an indicator to measure innovation and research in the domain.
We, at Sagacious IP, have collected and analyzed the patent data from Questel's Orbit Intelligence platform to discover the key dynamics that drive the growth trends in Big Data Analytics. We identified around 84,092 active patents in our mining exercise where we used variations and combinations of key concepts such as Big Data Analytics, Artificial Intelligence, Machine Learning, Predictive Analytics, and Prescriptive Analytics in the full text of the patent literature.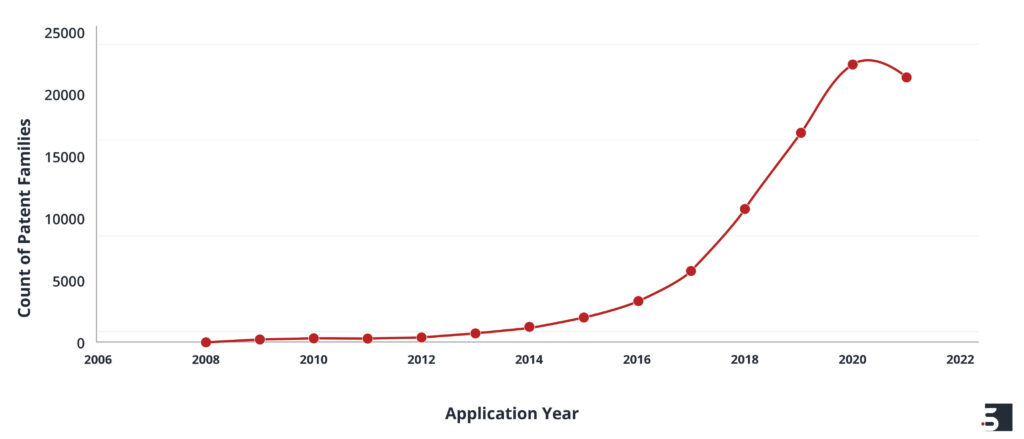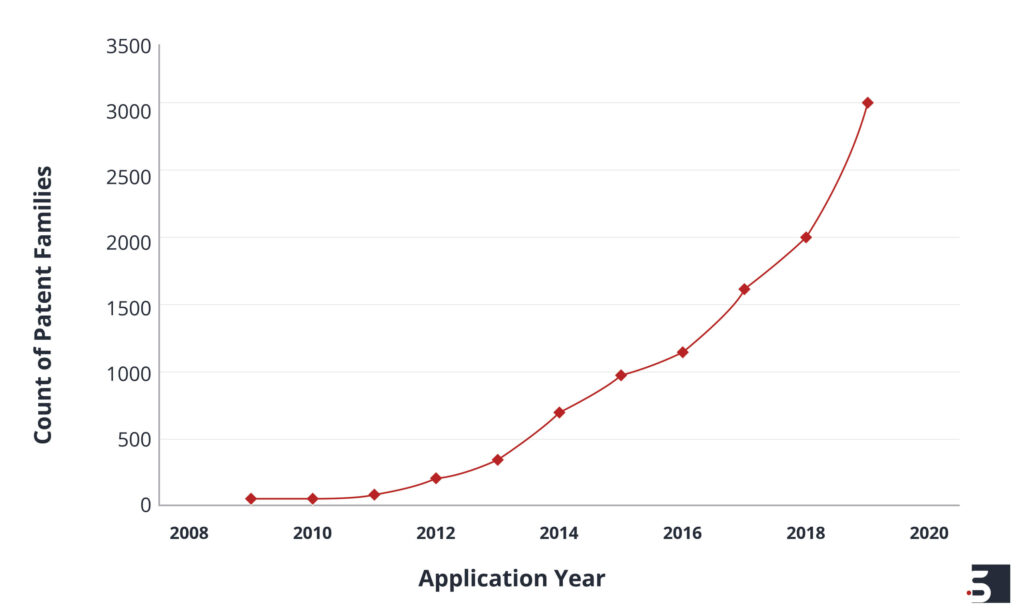 As can be seen in Figure 4 and Figure 5, the recent patent filing trends for Big Data Analytics illustrate an exponential growth in the last decade, both globally and in the US market. With the current proclivity of the organizations towards harnessing the true potential of Big Data, this trend does not seem to be flattening in the near future. The patent filing trend in Big Data Analytics will follow the same pattern, as it will provide stakeholders with competitive intelligence and better business valuation. This rapid growth can be attributed to the advancement of storage technologies and computational power to store, handle and analyze exabytes of data. The organizations' latest trend is to incorporate business information into their decision-making process and to achieve a data-driven culture. According to a study published by NewVantage in 2021, with 85 Fortune 1000 companies, almost 99% of businesses reported active investment in Big Data and AI, and 91.9% reported that the pace of investment was accelerating. This supports the idea that Big Data Analytics is driving innovation and impacting key decisions.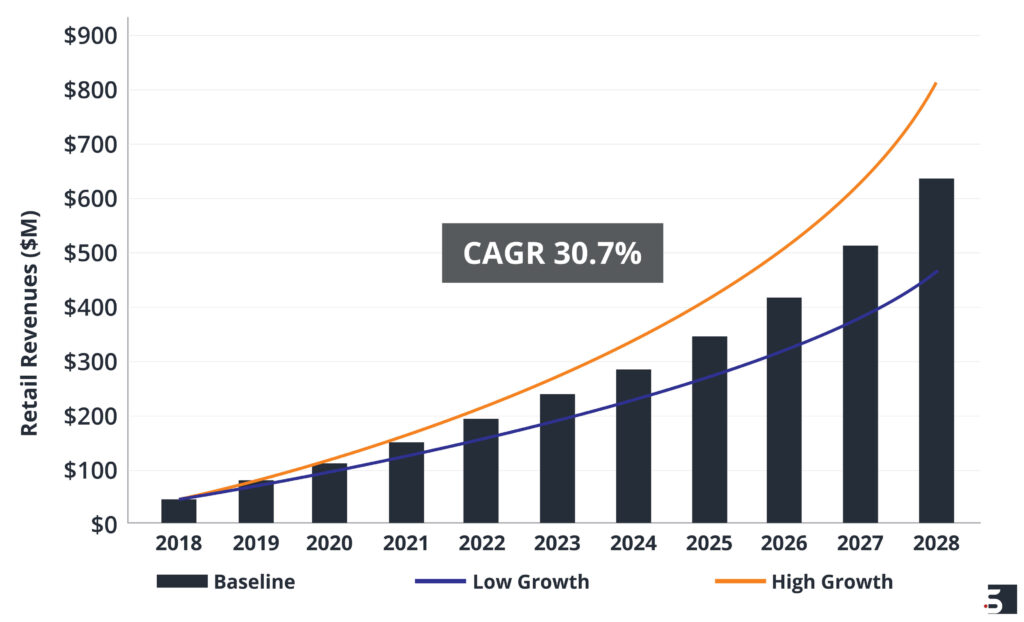 The sky-borne monitoring equipment, such as satellites, gathers diverse remote sensing data relating to the Earth Observation (EO) technologies. Various industries are integrating satellite data analytics to amplify their business processes. The market opportunity for Big Data Analytics via satellite is going to increase manifold in the coming years. The rich real-time sensing capabilities also enhance the remote operations-based industries. Figure 5 specifically focuses on the booming market trend of satellite-based Big Data Analytics in the services vertical with a CAGR of 30% in the future years. This vertical comprises the financial institutions and investment firms that are using satellite data to monitor the economic activities in the market for better investment opportunities. For instance, observing manufacturing activities in a zone can help predict the price and inventory movements in the stock market. Similarly, satellite-based Data Analytics for oil, gas, mining, agriculture, and other commodities can deliver deep insights into end-to-end value chain management.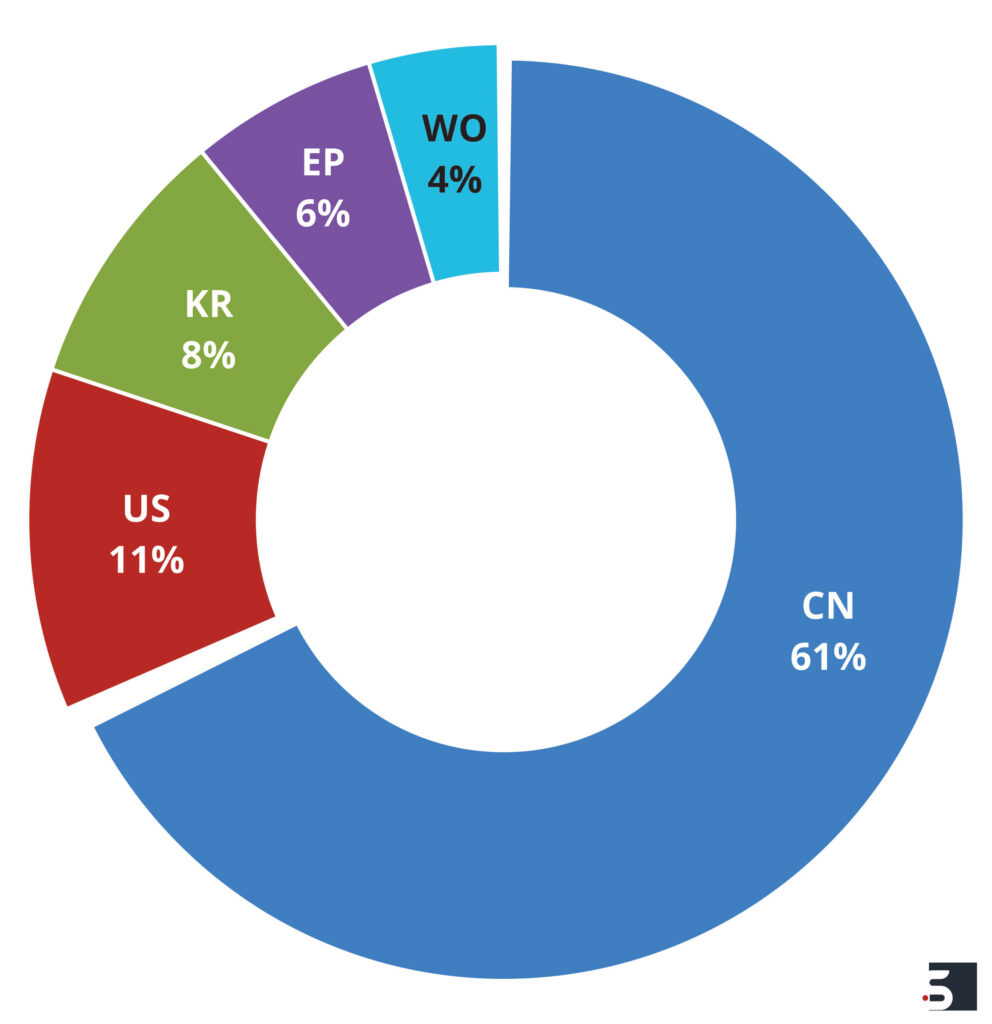 China has shown tremendous progress in the Big Data industry, with the largest number of patent filings in the last 5 years. It has a great potential to incentivize advanced Big Data-powered products and services, given its huge consumer market and the global supply chain. The industries across China are focusing on developing smart solutions leveraging the massive amount of available data to achieve higher efficiency and better results. The large market share (more than 50%) in Big Data Analytics gives China a competitive edge to capture the consumer market and excel in research and innovation. As the US takes the next big market share in Big Data Analytics with respect to the number of protected patents, it will disrupt the global market with cutting-edge research and development, and rapid technological advancements. The global Big Data Analytics market size is projected to be worth USD 549.73 billion by 2028 which will also pave the way for increased patent filings in that area.   
Top Assignees in Big Data Analytics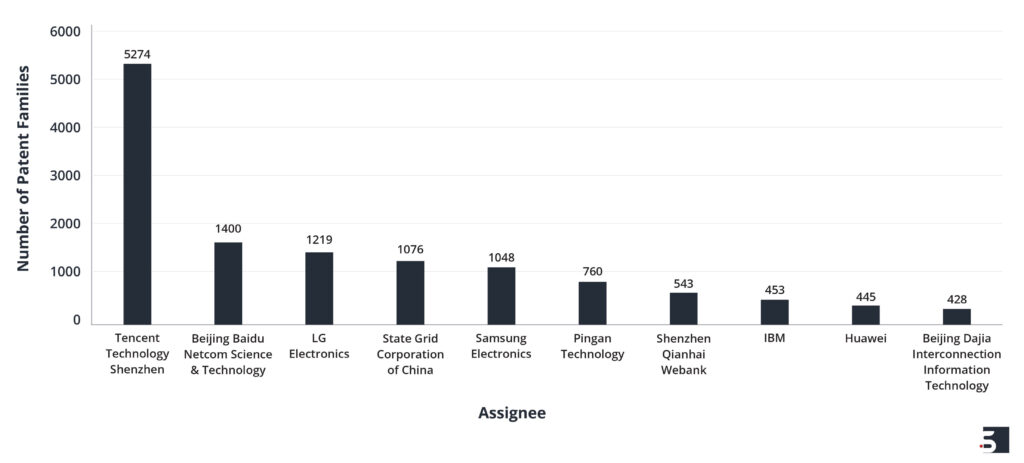 In the analysis of 84,092 patents, almost 14% of the Big Data Analytics technologies are owned by the top 10 global players (refer to Figure 8). Tencent and Baidu, China's biggest tech giants are aggressively contending to become the world leaders by using Big Data and AI-based technology in all their products. They actively invest in Big Data and AI-based startups in China as well as in the US. This strikingly contrasts the US tech giant's negligible market capture in China.
Tencent is leading globally in the gaming sector with AI assisted automation. Its patent filing in this area tripled between 2014 and 2019. The company has hinted at increasing investment in global IP protection for its gaming vertical. Tencent also has numerous US patents for smart assistants, facial recognition and voice-based analytics. Google has entered into a patent license agreement with Tencent for expanding its market in China. Tencent is further investing in Healthcare AI tech to lead in genomics and personalized medicine initiatives. The most notable investment is with the Unicorn iCarbonX that integrates healthcare with AI and biotech. iCarbonX has itself invested and acquired many US startups, to gather patient records to develop a better global healthcare platform. Along with Baidu, Tencent has also invested in Atomwise that aims to use AI in drug discovery.
Baidu has been applying for intelligent voice-based patents in Japan and Korea, hinting towards its future expansion plans. It has many patents relating to Machine Learning-based self-driving automotive technologies and aims to build a global autonomous driving system. In 2017, Baidu launched the Apollo project – an open platform for autonomous driving, demonstrating fully automated capabilities. The project has more than 95 partners, including Microsoft that will allow Apollo's partners outside China to take advantage of Azure Cloud solutions with AI capabilities to process huge amounts of vehicle data.  NVIDIA and Baidu have also announced a partnership to develop state-of-the-art technologies in self-driving cars and smart home assistants.
The Korean consumer electronics giant, LG Electronics, has secured several patents for 5G mobile communication, AI-based solutions, autonomous driving, and home appliances to preoccupy the future market. LG has developed an AI chip with a proprietary LG Neural Engine that greatly improves the processing of deep learning algorithms. LG ThinQ's line of consumer products is equipped with AI technology and is protected with a number of patents.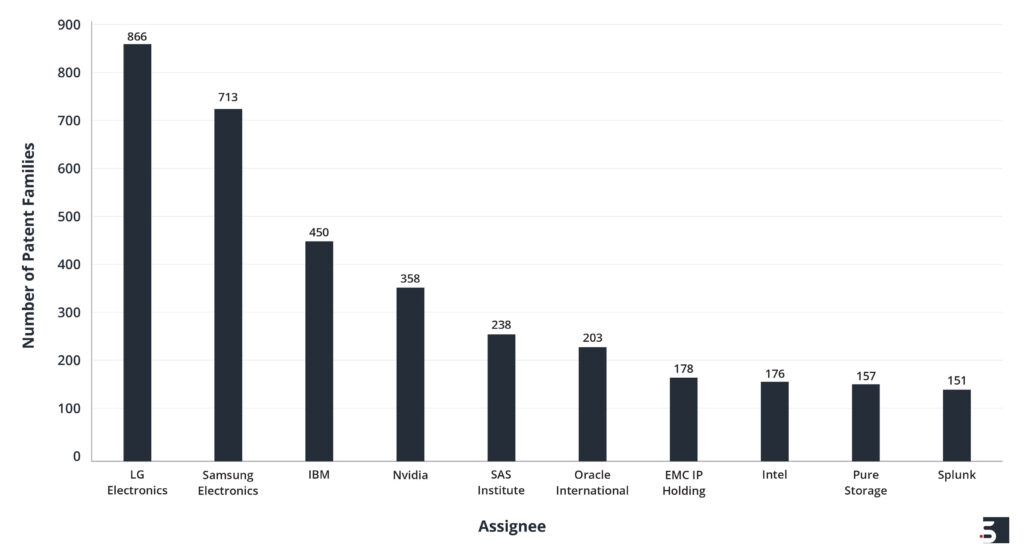 To put things into perspective, 28% of Big Data Analytics-related patents in the US are owned by the top 10 dominant players in the market. Today, organizations are marching towards embedding Data Analytics and deep learning in numerous internal processes and external applications, both for operational and analytical purposes.
LG Electronics made a significant investment in Silicon Valley-based company, Alphonso to innovate in smart consumer-device interaction with the focus on Big Data, AI, and Cloud Computing. IBM and LG Electronics have come together to lead the race in Quantum Computing. Google and LG Electronics are in talks to create a global AI ecosystem.
Samsung and Intel are collaborating to create the next generation of smart devices. Samsung has acquired various AI-powered platforms such as Viv Labs, Zhilabs and SmartThings. It has further captured the automotive market by acquiring Harman and is continuously developing in the field of Augmented Reality (AR) and Mixed Reality (MR) to be at the forefront of the user experience design.
IBM is expanding its patent portfolio with a number of AI and blockchain patents, in partnership with IPwe. IBM's in-house AI-powered data analytics processor, Watson, has helped transform various businesses. IBM recently acquired Instana which provides smart application observability for enterprises, and Turbonomic which supports AI-driven, cross-cloud application operations. IBM continues to invest in hybrid cloud and AI strategy for data analytics with the acquisitions of Neudesic, SxiQ, Cognos, Truven Health Analytics, and RedHat.

The accelerated adoption of advanced analytical technologies by the global market has led organizations to retain exclusive rights to the technology in multiple demographics. Samsung has stronghold in the Indian market with respect to the Big Data Analytics portfolio and usage of AI in voice, vision, and data intelligence. Outside of Korea, Bangalore in India is the largest R&D center. In the last five years, Samsung has filed more than twice the number of patents in India. Samsung's Indian market expansion will provide tough competition and pose a challenge to new market entrants in AI and data analytics domain.
Tata Consultancy Services (TCS) leverages MFDM (Machine First Delivery Model) that enhances human-machine collaboration to solve complex business problems, faster and better. The Cognitive Computing platform from TCS comprises tools that provide AI-driven business insights to reduce business process lifecycles. It is building proprietary AI solutions that drives business transformations for stakeholders across different industry verticals with products such as Algo Retail, TCS ADD, TwinX, Intelligent Urban Exchange, Decision Fabric, and Ignio, among others.
Oracle embeds AI and Machine Learning technology with its Big Data environment. It recently announced Oracle Cloud Infrastructure (OCI) AI services to deliver smarter decisions and drive innovations. Oracle acquired DataScience.com to realize the full potential of Machine Learning. It is also eyeing the healthcare sector by acquiring Cerner which provides cloud-based data analytics and AI technologies.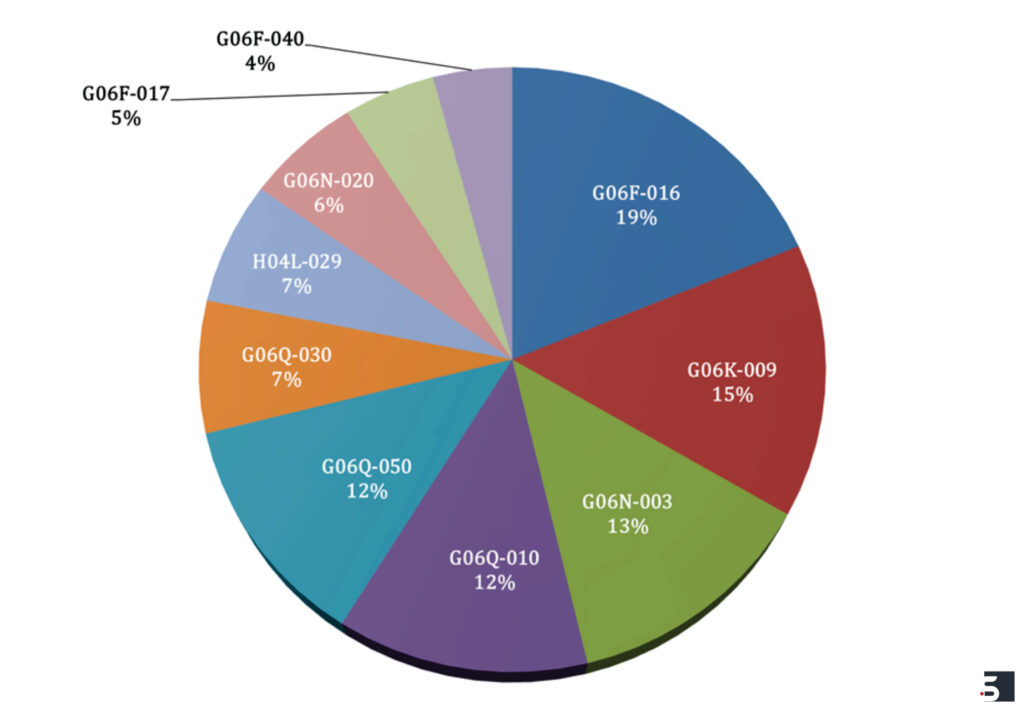 During the analysis, we retrieved the top 10 IPC codes prevalent in the Big Data Analytics patents. These patents generally relate to the use of advanced Machine Learning and AI techniques on Big Data for decision support, prediction, and analytics. The major IPC classes in Figure 11 fall into computational models, such as G06F-016, relating to the methods of information retrieval in database systems, G06N-003, relating to the use of Neural Networks and learning methods, and G06K-009, relating to the technology for image, video, and speech recognition.
This corroborates the fact that the recent innovations in databases point towards OPDBMS (Operational Database Management Systems) and DMSA (Data Management Solutions for Analytics) that integrate the Big Data storage with real-time processing. The various industry verticals are moving towards deep-neural-network-based solutions since they can efficiently handle a very large amount of data analysis with precision and accuracy. For instance, many organizations are eyeing the self-driving cars domain which extensively uses deep learning to model Big Data to support autonomous decision-making for safe driving. The top global assignees in Big Data Analytics are also pioneers in deep learning technologies, hence it looks promising to look forward to the amalgamation of both technologies in the global patent landscape.
Conclusion
To summarize, the growing use of AI in Big Data may present numerous opportunities for many businesses. Interested entities must first understand the specific challenges and get specific insights into Big Data to be successful. Currently, data-driven technologies are capturing the global market. Big Data Analytics is equipping businesses with actionable insights and speedy decision-making. As the data volume is astronomically growing, so is the technology for storing and processing. A prediction about the future of Big Data speaks about the rise of 'Fast Data' and 'Actionable Data'. Fast Data allows for processing in real-time streams that enables organizations to make business decisions and provide real-time interactions immediately when data arrives. Actionable Data fills the gap between Big Data and business value. Big Data can itself be unworthy if not put to proper use. Advanced analytical techniques can provide standardized and accurate information that makes the data valuable. Looking at the latest trends, several companies are trying to enter into the healthcare and fintech domain and protect their technology through patents in every market where the product will proliferate. Both Microsoft and Alphabet are exhibiting strong growth in AI-powered solutions. The positions of the leading players can see a shift in the coming years with the rise of new challengers in this highly lucrative and competitive space, especially from Chinese contenders. Big Data and AI are here to stay for a long time, and whichever domain they touch will manifold their potential.
Sagacious IP, a global leader in IP research and consultation, has assisted several clients in obtaining AI patents. We have a skilled team of over 300 individuals who specialize in a variety of fields. Our knowledge in the IP sector leads to appropriate solutions and recommendations needed to drive a business to new heights of success. Our patent information search service can help you discover patent documents, legal status of patent applications and business-relevant information before and during patent filing. Visit the service page to know more.
– Tanvi Gandhi, Aman Goyal (ICT Licensing) and the Editorial Team