5 Ways in Which Patent Search Can Boost R&D Process
R&D organizations consistently identify new ideas in order to boost their efforts. While they avidly look for inspiration from scholars, journals, publications etc.; public patent database is often overlooked – which may be an incredibly productive source to boost R&D efforts. If properly utilized, the knowledge contained in the vast pool of patent literature can accelerate the innovation of an organization in multiple ways. This article mentions the top five benefits of patent search that R&D organizations can leverage on to improve the overall R&D process.
Patent Search Overview
Before we dig into the benefits obtained from carefully conducted patent searches, let us quickly have a quick overview of the patent searches. Following are some most popular patent searches that are important for any business or technology.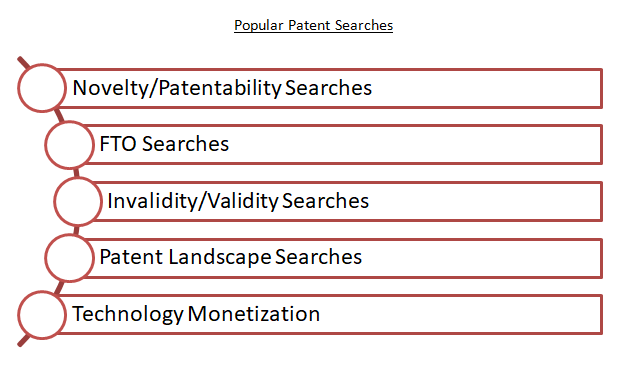 Novelty/Patentability Searches: This type of search is conducted to determine if an idea is patentable and non-obvious and whether the invention is worth the time and resources of the company.
Freedom to Operate (FTO)/Clearance searches: This type of search helps to predict any infringement conflict that may be faced during the launch of an upcoming product.
Invalidity/Validity Searches: This type of search is often used to check for prior arts that may challenge the validity of claims of the granted patent.
Patent Landscape Searches: In most cases, landscape searches assist companies in taking informed decisions by helping them understand the state-of-the-art, top competitors, emerging players, technology trends, whitespaces etc. in any domain of interest.
Technology Monetization: Patent searches also help to quickly identify the diamond patent assets among the pool of patents and related patent indicators help in patent monetization.
How Patent Search Boosts R&D Process
Deciding Innovation strategy
This can be done with the help of patent landscape reports which identify new areas of innovation around the existing patent landscape. Such landscape reports enable R&D teams to learn from the existing knowledge and create products/inventions with the least infringement possibility. Further, advanced reports such as new technology scouting and new application scouting help organizations to design their mid/long-term strategy.
Remain Relevant in the Competition
Patent searches help companies to get a fair idea of the competitor's R&D activity. Using this search, they can curate their R&D strategy to gain a competitive advantage. By understanding a competitor's R&D activity, a company can align its R&D processes to identify, create and protect the inventions in a particular technology area. Hence ensure they remain afloat in a competitive market.
Launching Innovative product without litigation threat
Freedom to Operate (FTO) searches can help companies to check any infringement. Based on the outcome of FTO search the companies can initiate a preventive action, such as, design around or licensing, etc. Also, FTO searches can be extended to identify dead, lapsed, or abandoned patents which may help in utilizing the existing free ideas in their products.
Innovation Collaboration
All companies require potential partners/collaborators/suppliers to succeed in any product/technology sector. Patent searches can be used to understand the relative strength of potential collaborators/suppliers. They help a company to decide the most appropriate collaborator. Also, in the scouting searches, the most important/future patents in any technology are first identified and then owners of those patents can be approached later for collaboration.
Hassle free Patent Prosecution
Meticulous patent searches can often help R&D teams to review all the potential prior arts. They also help them to decide whether to proceed for patent protection or not. Also, the recommendations from the patent search report helps patent drafters to determine the boundary of invention. These searches enable drafter to appropriately cover the inventive concept in the claims without limiting the claims too much. This saves both time and money during the patent prosecution.
Conclusion
Since intellectual property is an increasingly valuable resource for modern organizations, the global trend reflects the increasing importance of shielding these innovations with the help of patent protection. To do this, companies need to identify whether their R&D process is on the right track. Through these effective ways of patent searches, organizations can thus boost their R&D process to fully leverage their IP.
– Nitin Sharma, Rohit Kumar (Engineering searching) and the Editorial Team
Having Queries? Contact Us Now!