Why You Should Patent your AI inventions
Why You Should Patent your AI inventions: The ease with which you shop at Amazon and scroll though different products that are customised specific to your taste is the result of AI technology that analyses and predicts your shopping behaviour.
There are countless AI start-ups who are founded for the primary reason of using AI to make the world a better place. The challenges that the world faces today – primarily climate change – is a huge motivator for AI innovation. Every AI idea is bound to help us face such challenges.
In 2018, venture funding for AI grew to about 9.3 billion dollars in U.S. alone. This statistical data shows how a great AI, or a machine learning invention is hugely backed-up by Venture Capitalists. It's safe to say that the AI start-up trend has only just begun!
How AI Start-ups are changing the world:
Ease in Functioning of Hazardous Jobs
The introduction of AI changed the career paths for us as well as future generations. While a few argue how it's taking away human jobs, the positive impact it has made, especially in the case of hazardous jobs cannot be ignored. Take the removal of explosives – mines and bombs, as an example. These are life-threatening jobs that are better dealt with AI-powered robots.
Similarly, coal mining – one of the most dangerous jobs in the world, now uses AI-powered robots to extract, transfer and secure coal from underground mines. The health risks associated with coal mining include exposure to toxic chemicals and fumes. Such jobs are made safer by AI, thereby preventing casualties.
Human Language Translation
Establishing a universal language translation warrants a super complex technology. The switch to neural networks, also known as deep learning, results in highly accurate machine translation, without human intervention. Google, Amazon and Bing all use neural machine translation as part of their translation engines. These automatic translation technologies are protected by thousands of AI patents.
With plenty of innovation being harboured in AI, the need for protecting these inventions through patents becomes crucial.
Google's automated language translation system that was patented back in 1997, replaced human language translation system (manual). The AI tool translates spoken words of a first language into a machine recognizable code, and then further translates the machine recognizable code into a second language, in order to produce an audible translation of the spoken words from the first language to the second language.
Relevance of AI Patents
This patented language translation system is just one of 4000 patents and applications in human language translation alone!
Let's have a look at some of the common AI inventions that we apply to our day-to-day life:
Google relies on machine learning as well as pattern recognition as part of their search option for real-time translation of languages.
Amazon's Alexa is an example of conversational AI that interacts with humans in a conversational manner, solve problems and enhances user experience.
Cortana by Microsoft is powered by machine learning AI that allows a virtual assistant to build insights as well as expert analysis over time.
Siri – Apple's voice-controlled personal assistant is based on AI and natural language processing and adapts to individual preferences upon use to personalise the user experience.
Facebook uses AI to detect bots and identify fake users, as well as suggest photo tags and populate a user's newsfeed.
The above AI examples are protected by patents to safeguard intellectual property and to maintain a competitive edge.
AI Patent Trend Around The World
The graph below shows the US patent activity in the last 20 years. The past decade though has seen a gradual increase in the number of patent families in AI.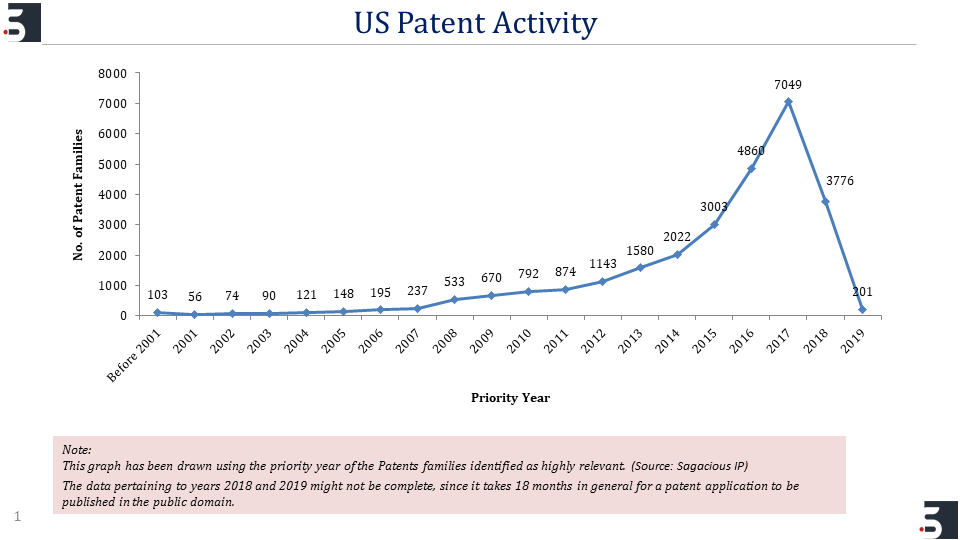 IBM, Microsoft and Google are the key players with the maximum number of patent families: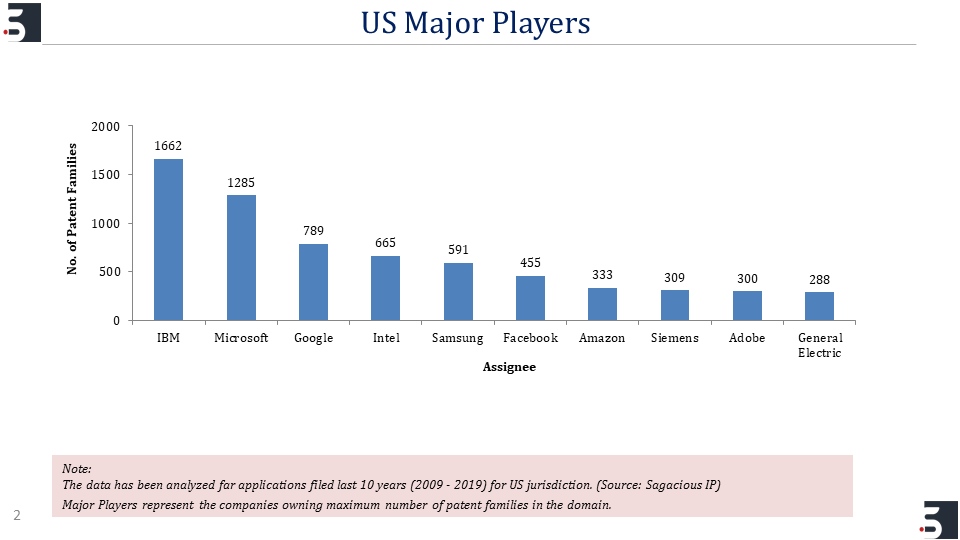 AI Patent Trend in India
AI patent trend in India is significantly lower than the rest of the world but sees a lot of potential with opportunities unfolding in diverse sectors such as finance & banking, e-commerce, healthcare, agriculture, autonomous driving and e-governance.
Listed below is the patent activity in India from 2001 onwards. The past decade has witnessed a gradual increase in the number of patent families with significant activity in the last five years: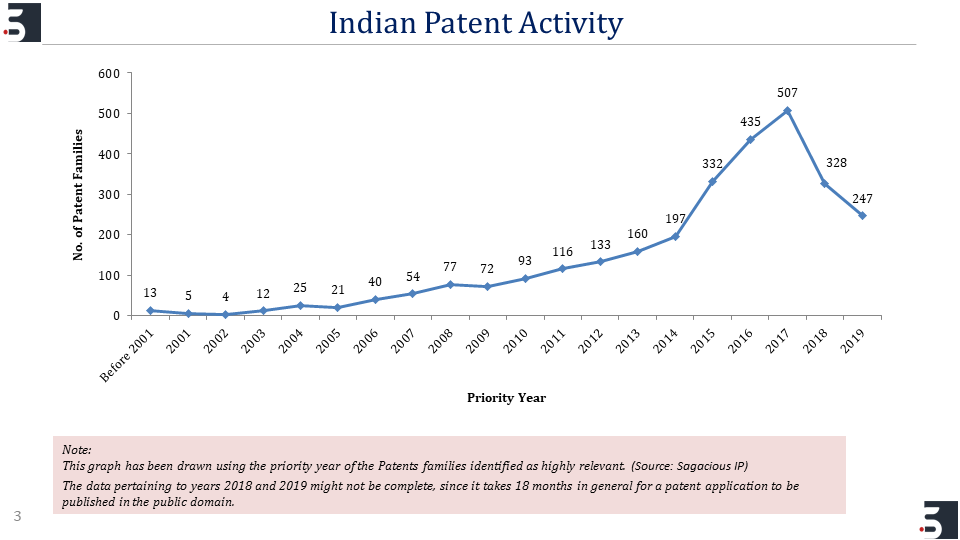 Now, let's also look at the top owners of AI patents in India as per the patent portfolio of each company. Tata Group leads the race with the maximum number of patent families, followed by Wipro and HCL Technologies.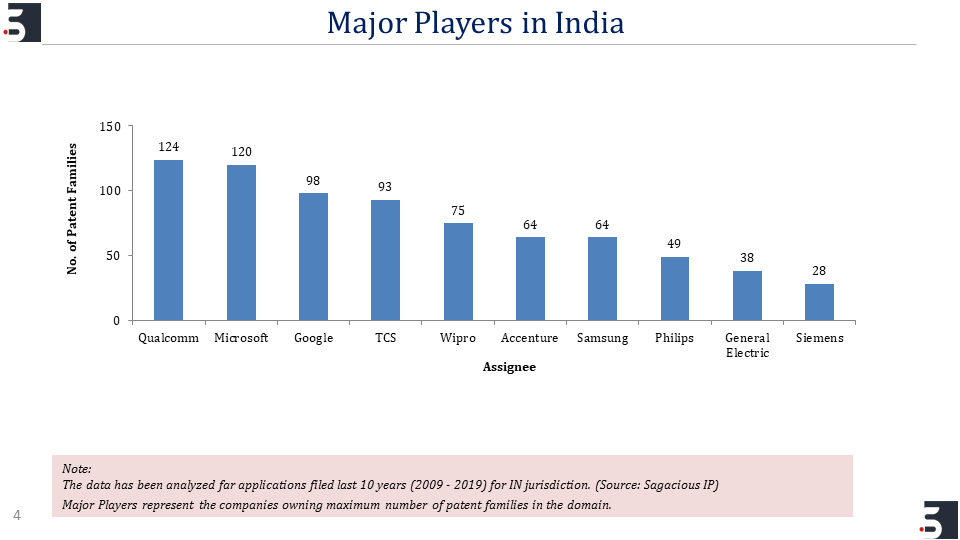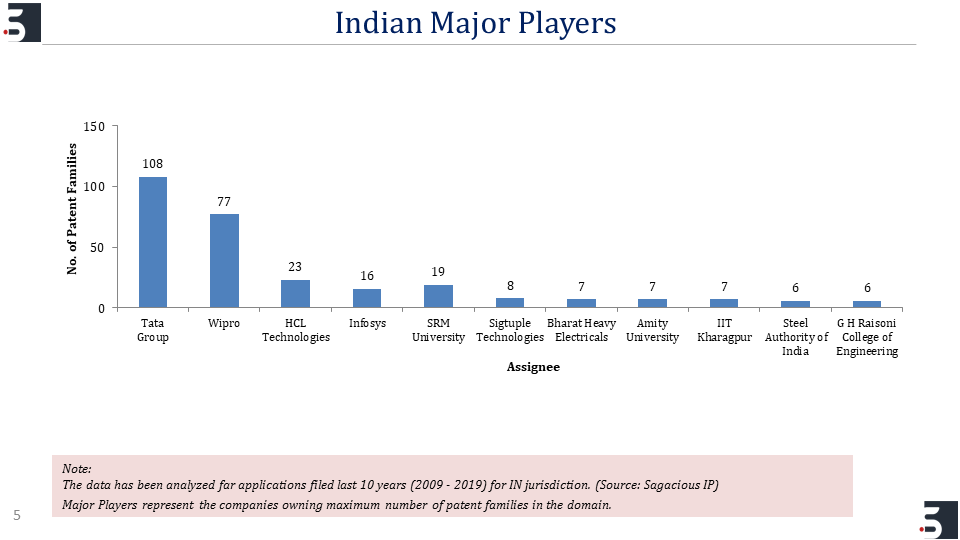 To conclude, AI has the potential to change the world. Their relevance and importance today is indisputable. With advancements in AI technology, it becomes imperative to protect your ideas and build your AI patent portfolio to generate revenue from your unique inventions. If you're an AI start-up, we'd love to connect and share our expertise.
-The Editorial Team