LG's Smartphone Patent Portfolio – A Treasure Hunt
With almost six years of consistent losses, a business decision to close the mobile phone division of LG Electronics was inevitable. While many would not have expected a total closure of the bleeding business unit – the pandemic and the current economic state only added to the inevitability. On 5th April, 2021, the news hit the headlines and LG finally announced the closure of its mobile phone business unit. Since then, there have been continuous speculations around decisions pertaining to their otherwise strong patent portfolio.
In this article we will understand the portfolio strength of LG and how its competitors can gain from it.
Portfolio strength of LGE
Besides the ever scouting Non-Practicing Entities (NPEs), LGE's competitors have already initiated their acquisition attempts. As reported by Korea Times, "A lot of NPEs have approached LG Electronics for the possible acquisition of its 5G mobile patents." No doubt, such advances to acquire a desired technology patent set from its ocean-strong portfolio are worth the labor. The strength of LGE's patent portfolio is implicit from its top rank in global 4G standard patents for four consecutive years (2012 to 2016). Looking at the numbers, the Asian technology giant has 22,501 alive/granted patent families in its US portfolio. This is numerically greater than Apple Inc., which has a total of 17,467 alive/granted patent families in its US portfolio. However, this numeric comparison should not be substantiated to draw any correlations about their respective portfolio valuation or technology landscape.
A deeper dive into LGE's mobile phone portfolio
The LGE mobile phone business and its underlying patent portfolio may be categorized into two segments:
Patents disclosing communication technologies and all the relevant SEPs.
Patents disclosing smartphone features and functionalities.
A lot of discussion around the technology and IP circles centers around the first set of patents, including its revenue generating SEPs. But LG has clearly hinted about retaining the communication technology patents and the corresponding SEPs in its official announcement and stated:
"LG will continue to leverage its mobile expertise and develop mobility-related technologies such as 6G to help further strengthen competitiveness in other business areas. Core technologies developed during two decades of LG's mobile business operations will also be retained and applied to existing and future products."
Basis the above official note, the second set becomes important and obtains focus. There are more than 10K active US utility patents for mobile phone features and functionalities.
For example, figure below illustrates LGE's US patent filings/grants from the second set of patents (2015 to 2019).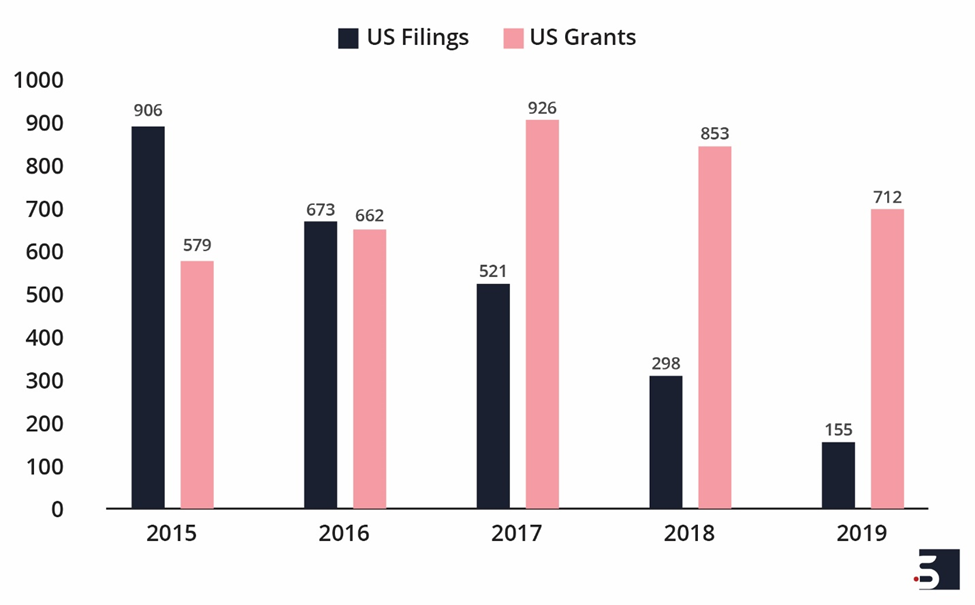 The above data showcases the freshness of LGE's mobile phone patent portfolio and anyone and everyone in the IP industry can unquestionably recognize its applicability in future smartphone technologies.
Mining the gems
Driven by our research pursuits, an analysis was conducted to uncover some of the finest gems from LGE's smartphone portfolio. While ranking the mined patent portfolio, using an in-house proprietary tool, the top-ranked patents were found to be applicable against leading smartphones. A snapshot of the ranking set is illustrated below depicting the top ranked patents.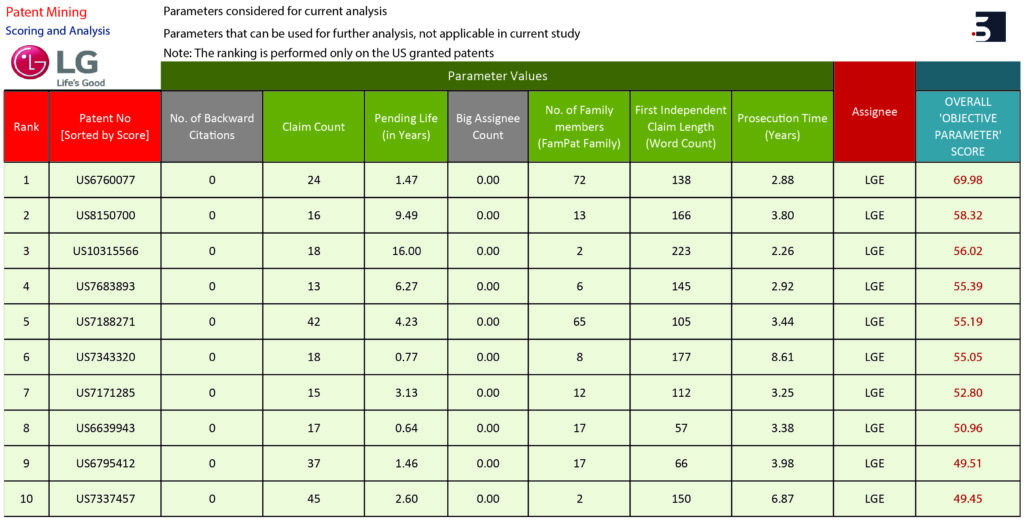 For example, one of the patents in the above ranked set is related to a smartphone with a dual-display wherein the two displays are utilized to enhance user experience while capturing images using the camera. In this way, the user can utilize the other display for comparison while editing, or simultaneously capturing both the video and still image. This patent may find a read in dual display smartphones recently launched in the market. Besides this example case, there are a good number of patents which disclose smartphone features and functionalities which are currently trending in available devices.
Further, there are many key patents in the mined portfolio that may present strategic importance to many smartphone market leaders. One can't ignore the market lead of Chinese and South Korean smartphone makers and the subject portfolio's strategic importance for their continued market dominance. However, at this moment when the next inevitable is yet to strike, the industry's IP stake holders have their part to play.
Mudasir Ibn Bashir, Dhananjay Kumar Das (ICT Business Development) and the Editorial Team
Having Queries? Contact Us Now!