How Asian Firms Can Save 50% of US Patent Prosecution and Preparation Cost
America is known as the world's largest economy, thereby acting as an indispensable business destination for IP-centric businesses. This makes it essential for companies to file patents in the US to remain competitive. It is especially imperative for Asian firms that led the US patent growth in 2018 and continue to lead global patent applications surpassing America. Given the economic repercussions of the pandemic, it can be challenging for these firms to file and prosecute maximum number of patents in the US. This article lists ways in which Asian companies can save nearly 50% of the US patent prosecution and preparation cost.
Importance of Patent Protection in the US
The United States is undoubtedly an economic superpower as the country's economy constitutes almost one-quarter of the global economy. Therefore, the importance of patent protection in the US cannot be emphasized enough. Furthermore, the country has well-developed patent protection and enforcement system in place to support the IP ecosystem.
Despite all these factors, Asian firms might refrain from filing patents because of the intimidating cost of patent preparation and prosecution in the US. Therefore, in the current pandemic-affected economic scenario, adopting methods/models discussed in this article can enable Asian companies to make informed decisions. The methods listed in this article will allow firms to reduce US filing and prosecution cost without compromising on the overall quality of the patent portfolio.
Challenges Faced by Asian Companies in Patent Filing and Prosecution
Majority of the Asian companies first file patents in their native language. Therefore, these applications adhere to patent preparation rules of their country. So when it comes to US filing, the application needs to be filed in English. Furthermore, since the rules of patent preparation in Asian countries may differ from that of the US, the application needs to be prepared/changed accordingly. Therefore, filing a US patent corresponding to a native language patent involves challenges related to translation and drafting of application.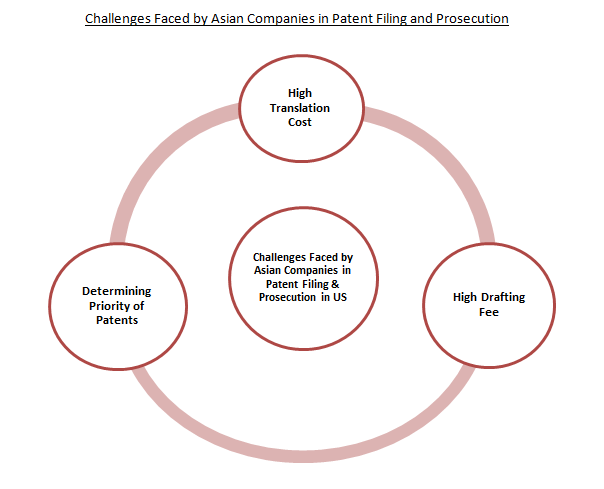 High Translation Cost: The process of translating native language patent applications in English, for US filing, involves a high cost. For instance, a Japanese company would prepare the first patent application in Japanese and then translate that into English to support US patent filing. This is likely to incur a huge cost depending on the method they choose for filing.

High Drafting Fee: High attorney fees, pertaining to the process of converting the translated application into a US application, is another challenge faced by Asian companies. Patent attorneys convert the patent application specifically as per the rules and best practices of the US patent filing. This leads to a high drafting fee.

Determining Priority of Patents: Since all patents are not equal in terms of technology and business impact, it is not reasonable to spend equally on all of them. Therefore, it is required of Asian companies to determine the priority of their patents to save prosecution cost and adopt the right patent preparation strategy.
Resolving Challenges Pertaining to US Patent Filing and Prosecution
How to Reduce US Patent Filing Cost
Hybrid Model 1: This model is used for preparing US patent applications for a corresponding native language priority application. The model highlights how firms can use a strategic partner to draft effective English language-based US patent applications cost-effectively. It allows companies to save the translation cost and US attorney fee pertaining to the conversion of the priority application into a US compliant patent application. Let's understand with an example how the model helps to save nearly 50% patent preparation cost.
Suppose there are 10 patent applications. Presumably, 3 of them are likely to fall under high priority category and the rest in mid-to-low priority. If a company uses a US-based law firm for all 10 patent application preparation, the total cost would amount to nearly $55,000. (Figures are based on Sagacious IP's years of experience in the IP sector).
However, if the hybrid model is used, wherein 3 high-priority applications are handled by a US-based law firm and the rest 7 by a strategic partner, the total cost would be around $27,000 ($16,500 for high priority application and $10,500 for 7 applications handled by strategic partner). Hence, the involvement of an IP partner saves nearly 50% of the cost.
Hybrid Model 2: Some Asian firms may prefer toprepare the patent application in English first and then convert it into a native language application. Therefore, to prepare patent applications under hybrid model 2, Asian companies often rely on the strategic partner to prepare the low-to-mid priority applications. It allows firms to save the cost of translation and US patent attorney fees.
Let's take the same example as above to compare the cost for patent preparation using Hybrid Model 2 and a US-based law firm model. Using hybrid model 2, the cost for preparing 3 high-priority patent applications by a US law firm will amount to $24,000, along with $17,500 to prepare 7 mid-to-low priority patents by the strategic partners. Furthermore, the conversion of these applications into the local language incurs $25,000. Therefore, the total cost can be around $66,500.

On the contrary, if an Asian firm uses only US-based law firms for patent preparation for all 10 applications, the cost can be around $105,000. Hence, using the hybrid model 2 reduces cost by approximately 37%. 
How to Reduce US Patent Prosecution Cost
Hybrid Model 1: This model saves the involvement of the US patent attorney in preparation of office action response, thereby saving costs. To state simply, the strategic partner prepares a draft strategy to file office action responses for low to mid priority patent applications and finalizes it after incorporating inputs and reviews shared by the company attorney at multiple stages. The final draft of the office action response is then shared with the US attorney for filing.
Assuming that an Asian firm receives two office actions per patent application, the cost of preparing responses to the 3 priority applications by the US law firm would be nearly $3,000 per office action, making it $18,000 in total. Similarly, preparation of responses for 7 mid to low-priority applications by strategic partners would cost $9,800, taking the total cost to $27,800. On the other hand, the cost of using only US-based law firms for all 10 applications would stand at $60,000.
Hybrid Model 2: In this model, the strategic partner works with a US law firm in conjunction with the patent attorney of the company. Here, the strategy for responding to the office action is shared with the patent attorney of the law firm. And, the strategy is finalized based on the feedback from the US attorney. Under Hybrid model 2, the strategic partner itself conducts the majority of patent work pertaining to office action response preparation, thereby saving cost.
Now, to understand how this model saves cost, let's compare the cost of using only the US-based law firm for patent prosecution. It would cost nearly $60,000 if Asian companies use only the US-based law firm model for all 10 patent applications.
However, using them for preparing responses for only 3 priority patent applications will cost approximately $18,000, and the use of a strategic partner to prepare 7 medium to low-priority patents comes out to be around $9,800, making it a total expenditure of $34,800. This includes the cost of a US-based law firm ($7000) to review the responses prepared by the strategic partner.
Determining Priority of Patents by Categorizing Them
Categorizing patents is an indispensable step to put the above-mentioned models to use. To divide patents as per high, low and mid priority, they should be evaluated on the basis of novelty, future business impact, and technological importance of the inventions. This will allow Asian companies to choose appropriate patent preparation strategies based on the priority of patents. To prioritize patents, categorizations can be made under these three segments.
Core Patents: These are high-value patents related to inventions that are central to one or more products of the company. These patents act as a key differentiator from the competitors' products.
Envelope Patents: These patents protect fringe inventions around the core inventions and revolve around alternative embodiments/technologies of the core patents.

Improvement Patents: These patents constitute slight improvements in the existing technology or the product. Therefore, their business value is not as high as the core and envelope patents.
An IP strategic partner's assistance often comes in handy in prioritizing and categorizing inventions. Furthermore, based on the prioritization, the partner helps one to choose the right strategy for one's patent preparation (Read: How to Strategically Build Patent Portfolio Based on Priority of Inventions).
How to Select Right IP Partner for Cost-Effective US Patent Filing and Prosecution
The above-mentioned solutions to reduce the cost of US patent prosecution and preparation require involvement of an IP partner. Therefore, this part of the article focuses on things to look for in a strategic partner before joining hands with them.
Adequate knowledge about patent practices in multiple jurisdictions
Qualified and highly experienced patent drafting team
Strong technical background
After ensuring fulfillment of these parameters, the firm should review the sample patent to gauge the drafting experience and skills of the strategic partner. Similarly, it should conduct technical interviews with candidates to ascertain their knowledge. Most importantly, the firm should first assign pilot projects with 2-3 patents to observe the quality of output, delivery efficiency, and other vital factors.
Conclusion
With countries reeling under the economic pressure created by the pandemic, it becomes imperative that Asian firms file patents in leading countries like the US at an optimized cost. It not only keeps them competitive but also opens up new streams of revenue generation for them. As stated above, IP partners can significantly minimize the cost of US patent preparation and prosecution by playing a strategic role in the process.
Sagacious IP's patent drafting and patent prosecution services are designed to assist firms in meeting the requirements of the patent office and building a comprehensive portfolio, respectively. Our team of experienced patent practitioners offers tailored and cost-effective solutions. To watch a webinar on the subject, click here.
-Tarun Kumar Bansal (President), Pankaj Garg (Engineering Drafting) and the Editorial Team