The Economic Times – Is weak IP law enforcement in India a deterrent to Indian industry and innovators?
Is weak IP law enforcement in India a deterrent to Indian industry and innovators?: IP laws or the intellectual property system plays a pivotal role in framing industrial, trade and financial policies, for scientific and technological development of any country. Strong IP legislations ensure the progress in varied fields and result in the growth of a country's knowledge bank. However, it is of utmost importance that the strong IP law must be ably supported by an equally strong enforcement mechanism, as without enforcement there is no enjoyment of an Intellectual Property Right.
A fair, strong and non-discriminatory IPR enforcement creates economic incentives that encourage innovation as well as helps attract new investment. On the other hand, weak enforcement of IP rights fails to provide relief against imitators and free riders, thereby acting as a major barrier to trade, investment in R&D and overall growth of a country's economy. This is unfortunately the case with the IPR enforcement in most of the developing countries, including India.
Importance of strong IP enforcement (example of developed nations like Europe and US)- Often, new entrants face competitive conditions that make entry into European and US market very difficult. These conditions or market entry barriers make the market less approachable for new entrants and therefore, existing players in the industry strive to create and maintain them. Situations like stringent licensing, government regulations, high skill requirements or high funding requirements are just some examples of potential barriers to entry. A country with high entry barriers for their industries is most attractive to investors and financiers. This is because the potential for profit and return on investment is higher. Fewer players in the market mean less competition and higher margins for the few companies offering the product or service to customers.
IP policies in Europe and US are much more rigid and enforcement is upright. Which make any foreign entry challenging. As most of us know, China is home to some of the world's biggest smartphone makers, take Xiaomi for example, but if you're living in Europe or the US, you might never know it. Up-and-coming smartphone makers in China have faced little headwind in this regard so far, but as they expand to more countries, they make themselves increasingly vulnerable to patent lawsuits. When a series of design-related lawsuits flared up between Apple and Samsung, the two companies had on-going court cases in South Korea, Japan, Denmark, France, Italy, Germany, Australia, the UK, and the US.
IP enforcement in India – current scenario
Indian IP policy despite being in compliance with the International standards provided by the TRIPS Agreement is often alleged to be weak and ineffective, particularly with regard to patent protection. As per latest GIPC Index released by the US Chamber of Commerce in 2015, India has marginally improved over the last two years in IP enforcement but it still has a long way to go – it currently comes up at second last position. It fairs very poorly in confirmation of patentability requirements to International Standards and in determining and granting damages upon IP infringement.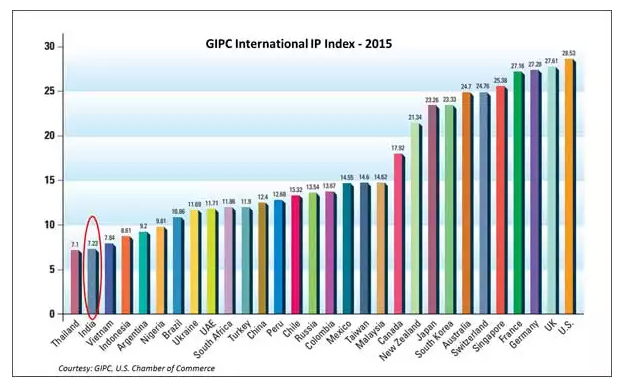 In particular, the scenario for Patent right is very demoralizing – the Indian courts do not easily grant injunctions and are not very generous in calculating and awarding damages. This often leads to a situation where IP right holders do not get the chance to enjoy their IP assets fully.
Weak IP enforcement – low entry barriers in India- India has one of the largest pools of scientific and technological pool in the world and thus the potential to be one of the world's leading markets for intellectual property (IP) based industries. A lot of technological advances and outputs are generated in India – but without corresponding IP protection. The infringement of intellectual property rights (IPR) has become a bane and is a major hindrance for India's economic development. The issue is observed not only in grant and enforcement of patent rights but other fields of IP as well – Copyright, Trademark etc.
For instance every year the film industry faces major losses due to unchecked copyright infringement. Further, lot of Chinese companies freely sell imitated or counterfeit goods in India as the fear of prosecution and consequent damages is low. Thus it is of prime importance that strong IP law be framed and complemented by an equally strong and substantive enforcement mechanism. It is imperative to have strong and equitable IP enforcement because it gives impetus to innovation, encourages innovative technologies and provides financial incentives to the owners.
Looking forward at the Indian IPR Policy
Thus, in conclusion, a strong IP law is not enough – enforcement is as important. The judicial authorities in India have made consistent efforts to ensure that intellectual property rights in India are adequately enforced and protected. Injunctions and damages are awarded wherever deemed necessary by the Courts. For instance a patent infringement suit was filed by Ericsson against the Chinese Manufacturer Xiaomi, alleging infringement of eight of its SEP's in the mobile handsets being sold in India last year. Here, the Delhi high court was quick to grant ex-parte injunction barring import, advertisement, manufacture and sale of Xiaomi devices in India, which came as a big surprise considering the precedence in India. On appeal from Xiaomi, the court has allowed Xiaomi to sell one of its product in India, provided it deposit a royalty of Rs. 100 per hand set sold, with the court while the suit is still under trial.
However more efforts could be done to do away with the blames of weak enforcement of IP. With the new government now in action and their focus on encouraging R&D and IP Protection – things can begin to look up for India. Notable in this regard are the new draft of National IPR Policy released by IPR Think Tank as well as the government 'Make in India' initiative.
-Anant Kataria is CEO and Co-founder, Sagacious Research, a global patent research organization.
Originally published on https://economictimes.indiatimes.com/small-biz/legal/is-weak-ip-law-enforcement-in-india-a-deterrent-to-indian-industry-and-innovators/articleshow/47862231.cms