How Patents Help Protect Pharmaceutical Innovation
In the pharmaceutical industry, patents are the most common forms of Intellectual Property Rights (IPRs). Unlike any other industry, the pharmaceutical sector is heavily dependent on its research and development segment and also responsible for medical product development, advancement, production and marketing.
In 2014, total pharmaceutical revenues in the world exceeded USD 1 trillion for the first time ever. Its positioning as a global sector is unquestionable.
Branded and patented medicines represent the largest share of pharmaceutical revenues worldwide in 2018. Oncology continues to be the leading revenue-based category. In 2018, cancer drugs generated almost USD 100 billion of global revenue while Humira, an anti-inflammatory drug, generated approximately 20 billion U.S. dollars of revenue.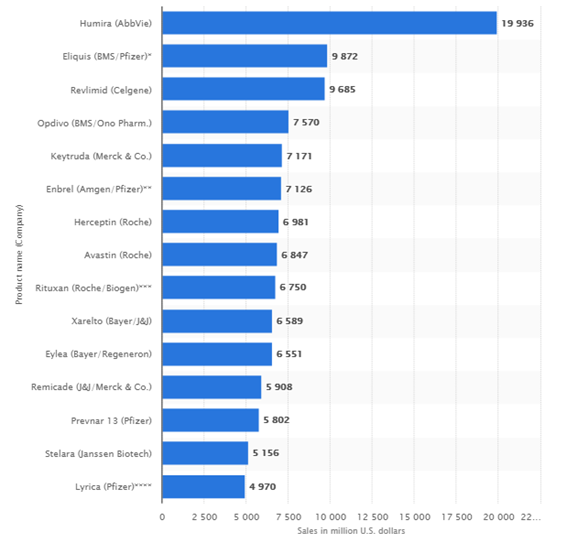 Pharmaceutical Innovation/Industry in India
India is the biggest contributor to generic drugs worldwide. The Indian pharmaceutical industry meets more than 50 per cent of the global demand for various vaccines, 40 percent of generic demand in the US and 25 per cent of all medicines in the UK.
Currently, Indian pharmaceutical companies supply over 80 percent of anti-retroviral drugs to fight AIDS (Acquired Immune Deficiency Syndrome) worldwide . The industry had a value of almost USD 33 billion in 2017. India's pharmaceutical exports amounted to USD 17.27 billion in FY '18, reaching USD 19.14 billion in FY '19. Pharmaceutical exports include wholesale medicines, intermediates, pharmaceutical formulations, biologics, herbal and surgical products. Even at current rates of 7%-8% CAGR, the industry's annual revenues can grow to about USD 80 to 90 billion by 2030. However, it could also set bold aspirations of eleven to twelve percent CAGR and grow to annual revenues of about USD 65 billion by 2024 and about USD 120 to USD 130 billion by 2030.
Indian companies received 304 abbreviated New Drug Applications (ANDA) approvals from the US Food and Drug Administration (USFDA) in 2017. The nation accounts for about 30 per cent (by quantity) and about 10 per cent (value) of the USD 70-80 billion generic market. India's biotechnology sector – comprising biopharmaceuticals, bio-services, bio-agriculture, bio-industry and bio-informatics, is anticipated to develop at an average annual growth pace of around 30% and to reach nearly USD 100 billion by 2030.
Utilize patent effectively during the conception of new drugs
The pharmaceutical sector has an important feature that sets it apart from other patent-dependent industries. In many technology-based industries, inventions can remain a secret until the marketing. The pharma industry is one of three technology-based industries in which the patent is practically the same as the product. This enables inventors to delay patent applications until the last moment and thus maximize the effect of the 20-year patent period following the filing of the patent application.
In contrast to industries producing products requiring expensive and complex manufacturing infrastructures. Small capital-investment copiers can easily and cheaply replicate Patented pharmaceutical products. As capital investment in the pharmaceutical industry is majorly directed towards laboratory research and clinical trials rather than the final product, patent exclusivity is one solution to protect that investment.
Importance of patented drugs
Over the years, the pharmaceutical sector has advanced, leading to introducing several drugs that have saved a million lives. These drugs also generated a significant amount of revenue for their commercial benefiters. Patent-protected drugs bear neither price caps nor competitors for about twenty years, giving the patent holder market exclusivity. In an ideal world, medicine would be accessible to all. To continually create new and better medications, however, somebody must invest in research for them. The financial capital required for the same is enormous. In 2014, the Tufts Center for the Study of Drug Development estimates came. They stated that it takes around $2.6 billion and a ten-year long-time commitment to develop and license a new prescription drug.
Without patents, some pharmaceutical companies would not be investing in research themselves but would instead wait for another group to discover and license the drug. These companies would then price the drug lower than their competition. This leads to a market failure, in terms of a positive externality. Also, other companies enjoy the research of one group without having to pay for it.
Also Read: FTO Search on Pharmaceutical Formulations
Benefits of Drug Patents
Patents in pharmaceutical business generate approximately 80% of the revenue.
Obtaining patent protection is crucial to safeguard the innovative approaches used by pharma companies.
Drug patents help to recover investments done during the research and development stage.
They can be secured against infringement instances, as rivals can readily duplicate drug manufacturing.
Drug patents help increase venture capital, improving the general financial development of businesses working in this sector.
Future Roadmap for Pharmaceutical Innovation
A stronger IPR regime helps pharmaceutical companies to protect innovation in the context of research and growth. IPRs also play a key role in mergers and acquisitions of the target SME and are autonomous commodities. These can be traded through licensing and joint ventures.
Medicinal expenditure in India is expected to rise by 9-12% over the next five years. It making India one of the top 10 nations in its healthcare expenditure. The Indian pharmaceutical industry, along with the economies of China, Brazil and Russia, will spearhead development in these markets. In the future, better growth in domestic sales would also depend on the ability of companies to align their product portfolio with therapies for chronic diseases. It includes cardiovascular disorders, diabetes, cancer and mental health problems like depression that are on the rise.
With the thrust on rural health programs, lifesaving drugs and preventive vaccines also look like a promising spectrum for the pharmaceutical companies. With greater IP protection, pharmaceutical companies can rise at a rapid rate. Research-based sector can play a critical role in development and ensure future competitiveness in an ever-advancing global economy.
Sagacious IP offers customised solutions to meet your individual needs. Based on our long standing expertise, we strategically address your business challenges and then propose novel solutions. Our consulting approach rather than a report-only tactic drives actionable results for businesses to adapt and grow.
– The Life Sciences and Editorial Team
Related Resource


Having Queries? Contact Us Now!