Patent Monitoring Searches: Real-time Technology Watch
Decision makers often conduct monitoring searches to keep a patent watch on the latest technology trends and to keep an eye on the patent filing trends of their competitors. Monitoring searches also become useful in keeping track on the status of filed patent applications or patents. Some organizations even use it to keep a track on the status of their own patent portfolio.
Ultimately, the main objective of monitoring searches is to help a business in investing its resources in a calculated manner. Monitoring searches comprise of updated competitive intelligence and landscapes that businesses use for sound decision making.
Types of Monitoring Searches:
Patent Watch – It is a process that allows the monitoring of newly issued patents, including pending patent applications. By monitoring/tracking the status of a particular set of patents, it is assessed whether any of the patents might be of interest or a potential risk.
Technology Patent Watch – This is done to carry out monitoring searches related to the technology of interest specified by the client. This search is useful in getting knowledge about the maturity or a filing trend of a technology. It also helps in identifying new players in the market for a particular technology.
Competitor Patent Watch – In this process, searches related to the competitors are carried out as specified by the client. Assignees are standardized manually through google search related to assignee subsidiaries, merger & acquisition and through SEC filings or annual reports of their competitors. Thus, the possibility of errors due to automatic fetching of assignee corporate tree from patent databases are eliminated. The search helps clients in getting the knowledge about the latest filings of their competitors. This will ultimately assist them in aligning their business strategies to withstand against their competitors.
Frequency of Monitoring Searches:
Weekly
Biweekly
Monthly
Quarterly
Half Yearly
Yearly
Process Methodology
Legal Patent Watch: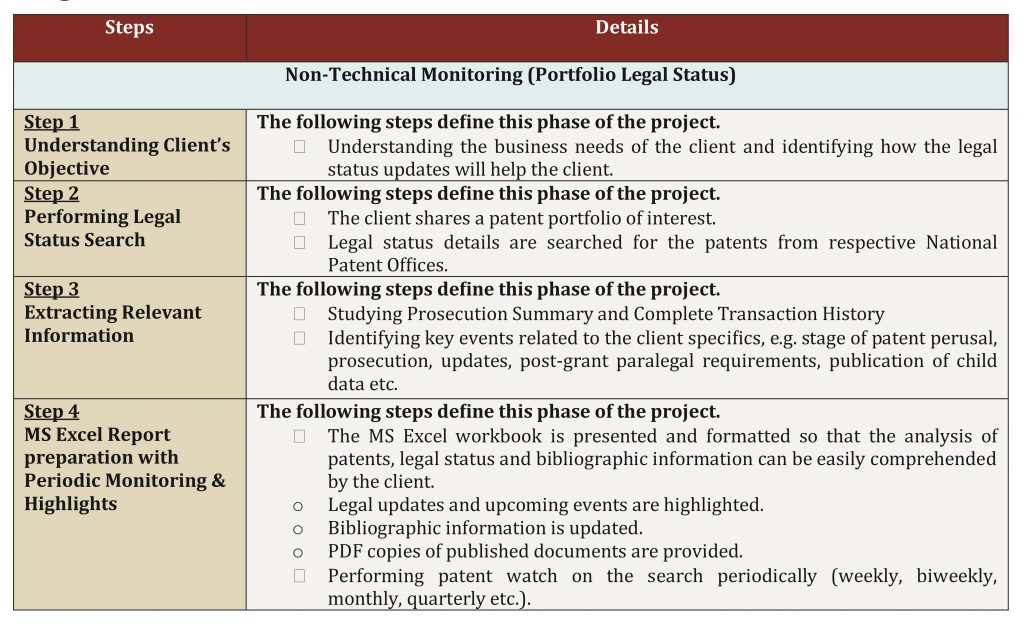 Tech and Competitor Patent Watch: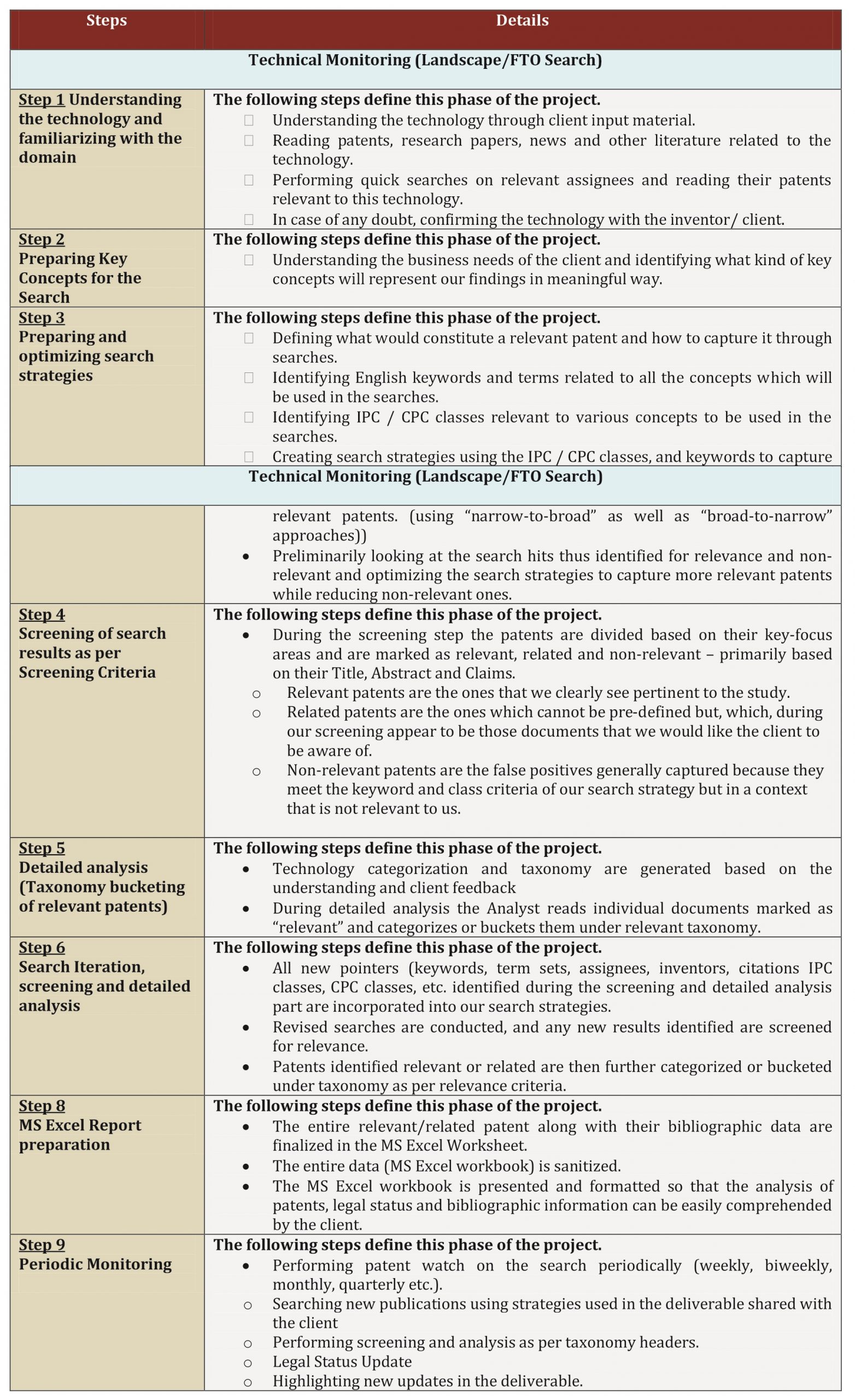 Benefits of conducting Monitoring Searches:
Awareness of latest technology trends or future IP trends.
Identify and monitor new developments in key technology areas for merger or acquisition, licensing or partnership opportunities. Thus, better decision making in the R&D expenditure.
Enable to identify and monitor other (individual inventors, competitors) patent applications which you may wish to challenge in opposition.
Through tracking/monitoring the status of patents, one can get to know about the time when a particular patent application is available for opposition, where they have grounds for challenging it for non-patentability.
Identifying and tracking critical patents for post grant opposition.
Tracking and monitoring the status of patents provide an opportunity for free to use of a patented technology of their interest.
Knowledge about early-stage potential patent infringement risks which could affect the future commercial activities. Further, through tracking the status of these patents, frequent amendments during examination are known. Thus, patent applications which may have appeared to be an infringement risk earlier, may not necessarily remain as such once they are granted.
Monitor IP lawsuits of a competitor. An IP lawsuit is a proceeding by a party or parties against another in the civil court of law. This is an add-on service based on the needs of a client.
Information extraction –
Knowledge about possible emerging competitors in a particular technology.
Knowledge about penetration of technologies and jurisdictions by a competitor.
Technology Search is also useful for the IP business units in getting the information regarding to the potential merger and acquisition opportunities.
To conclude, monitoring searches play a vital role in the competitive world, where detailed insights while reporting is an add-on service that businesses find truly valuable. Click here to know about our monitoring services.
-Shubham Tyagi (Engineering) and the Editorial Team