6 Reasons Why IP Heads are Relying on External Trademark Search Teams
Being a small business owner, a solo trademark practitioner or even a start-up, you often face numerous challenges ranging from unexpected workload, lack of resources, tight deadlines to reduced hiring capacity. Therefore, it is natural for businesses and individuals to seek solutions that help them deliver projects seamlessly. A prevalent solution that enables you to side-step these challenges is outsourcing your trademark-related projects to seasoned professionals. Read on to discover the six reasons why IP heads are increasingly relying on external trademark search experts.
External Trademark Search Teams
Though having the right talent in a team is essential for a successful business, hiring such talent is a daunting task for many solo practitioners, start-ups, and small law firms due to limitations associated with a local talent pool. The external trademark team model is the newest and most efficient way to counter this limitation and ensure that your business is a success. Under this model, you can hire trademark experts from around the world and outsource your trademark search and monitoring operations.
An external trademark team is essentially a dedicated team of experts which has been set up to perform and handle trademark projects as they possess the right skill sets for these projects. Not only do these teams meet client deadlines but are also flexible to perform iterations as per client's demands. Moreover, these teams are not disbanded after project completion, rather there is an ongoing co-operation between the employer and external trademark team.
Advantages of Onboarding External Trademark Experts
Here are six of the top reasons why IP heads bank on external trademark teams for their projects and organizations: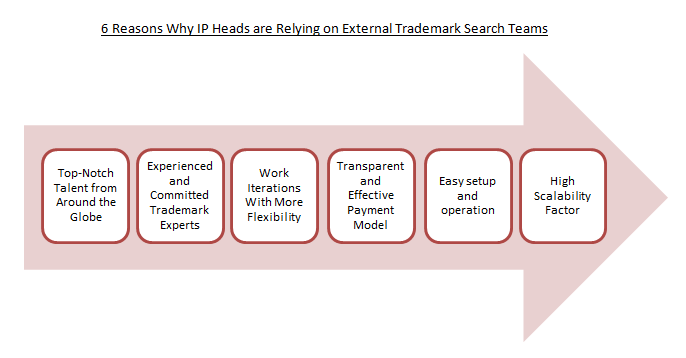 High Caliber Talent from Around the World
By hiring an external trademark search team, you have access to an international talent pool of experienced candidates for trademark search and monitoring projects. These candidates are well-trained on trademark processes and can effectively manage search and watch projects.
2. Seasoned and Focused Trademark Experts
An external trademark team consists of trademark experts who work on your projects round-the-clock. These dedicated experts do not juggle multiple projects rather focus their attention only on the task at hand. Gradually, they become an integral part of your company as they are aligned with your corporate culture and vision to work towards a common goal.
3. Flexibility in Work Iterations
An external trademark team primarily works according to the client's instructions. However, in case the client misses pertinent details related to the project, this team covers that as well. Additionally, if a client requests for modifications after project completion, the team is flexible enough to do iterations. The iterations can be done as many times as the client demands.
4. Efficient and Transparent Payment Model
These teams work on a fixed price model with no additional charges. Therefore, you can plan your budget beforehand and keep a better track of your expenses. Furthermore, you can suggest a payment model that suits your needs the best.
5. No-Hassle Setup and Operations
There is no denying the fact that establishing operations is an arduous task. Therefore, when you think about expanding your business, you need a team that can be established easily and can handle your trademark search and watch related tasks. Equipped with all the necessary tools, an external trademark team easily fits the bill.
6. High Scalability Factor
With the help of an external trademark team, you can easily scale up your business revenue as well as start earning recurring revenue from existing clients. For instance, you can start your trademark monitoring services for clients who already have registered trademarks and provide timely monitoring reports. In addition to this, you can handle sudden workload and big projects.
Final Thoughts
Whenever trademark projects are undertaken and managed in-house, resources have delegated the responsibility to handle everything from project initiation, follow-ups with clients to managing deadlines. Since businesses and independent trademark practitioners are often faced with challenges, it makes sense to share some of their projects with external trademark teams to lighten their workload. Sagacious IP's Trademark Search and Monitoring service is specially designed to provide clients the information they need prior to trademark filing as well as keep an eye out for a potential infringement. Click here to know more about this service and click here for a webinar on the subject.
-Gopal Singh Rawat (Trademark), Melvyn Thomas (Online Sales) and the Editorial Team