Wi-Fi 6, Wi-Fi 6E & its Patent Filing Trends: Indications of the Next Evolution in WLAN Technology
Wi-Fi 6, also known as 802.11ax, is likely to be the next evolution in wireless local area network (WLAN) technology. The term Wi-Fi 6 is part of a new naming convention. It was imposed by the Wi-Fi Alliance on Wi-Fi standards in order to make them more easily understood by users. This standard increases the strengths of Wi-Fi 5 (or 802.11ac) and adds flexibility, efficiency and scalability which allows new and existing networks to increase speed and capacity with next-generation applications.
The following article talks about Wi-Fi 6 and Wi-Fi 6E technology and the patent filing trends associated with it.
Understanding Wi-Fi 6 and Wi-Fi 6E
Wi-Fi 6 can be defined as the next-generation standard for Wi-Fi technology developed in response to a demand for a faster internet connection. It is wise to select a Wi-Fi 6 or Wi-Fi 6E router for indulging in high bandwidth instruments like VR device, multiple smart home devices or simply a range of devices in home or office. Wi-Fi 6 facilitates stutter-free VR and breath-taking crystal clear 4K or even 8K streaming.
Wi-Fi 6E is very similar to Wi-Fi 6 with an additional E which stands for "Extended". While the Wi-Fi 6 and the previous generation utilized the 2.4GHz and 5GHz radio bands, Wi-Fi 6E opens up new frequency band of 6GHz for transmission. It means the consumer experience of surfing and browsing internet applications will get significantly improved. New channels will enable seamless and faster transmission for users, exploiting the tremendous opportunity that the network-connected devices offer.
Now let us discuss the benefits and features of both Wi-Fi 6 and Wi-Fi 6E in detail and understand the underlying changes in the technology. We will also take a look at the patent filing trends for both Wi-Fi 6 and Wi-Fi 6E standards.
Key Benefits of Wi-Fi 6 Technology
1. Better Efficiency
Orthogonal frequency division multiple access (OFDMA) is developed in the earlier version of orthogonal frequency-division multiplexing (OFDM) used for Wi-Fi networks. As seen in figure 1, in OFDMA, Wi-Fi channels are further subdivided to achieve simultaneous data transmission to many users. Uplink OFDMA enables the communication of data frames simultaneously by multiple stations. Similarly, numerous data frames can be transmitted in a single data unit to multiple stations via downlink OFDMA. In OFDMA, one can assign resources based on a per-time and per-frequency basis, increasing spectral efficiency.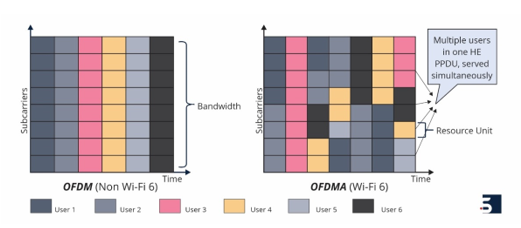 2. Increased Bandwidth
MU-MIMO (Multi-User MIMO) feature uses 8 streams in Wi-Fi 6. For downlink communication, IEEE 802.11ac has introduced MU-MIMO; however, it has been enhanced in Wi-Fi 6. Being a major innovation over previous standards, Wi-Fi 6 also supports UL MU-MIMO technology. In this, the data is transmitted on multiple spatial streams via multi-antenna technology of the transmitter and the receiver. This function significantly improves the transmission efficiency in multi-user concurrent scenarios as well as reduces application delay considerably. It means that a user can stream, download and play V.R. games without compromising on bandwidth.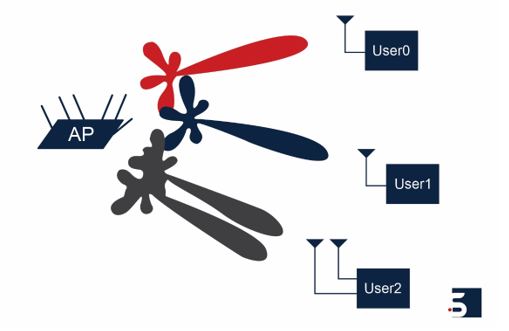 3. Reduced Power Consumption
Target Wake Time (TWT) allows devices to plan out communications with a router. It ultimately reduces the time they need to keep their antennas powered to transmit and search for signals, resulting in minor drainage of batteries and thus improved battery life. With the introduction of this technology, consumers can look forward to a better battery life – without worrying about charging on a short notice.
Wi-Fi 6 Technology with all its benefits is expected to change the face of the telecommunication and internet industry. Industry stakeholders have already identified the great scope of the technology and are competing for early patent filing. The utility of the technology is evident with numerous patents filed by some of the industry's leading names.
Top Patent Filers in the Wi-Fi 6 Technology
In Wi-Fi 6 standard-essential patent (SEP) families, the filing trend shows that Qualcomm, Huawei and Intel are among the top contributors to the Wi-Fi 6 technology standard. As shown in figure 3, Qualcomm holds about 120 Wi-Fi 6 SEP families and Huawei has more than 110. Thus, both are leading players in patents for the Wi-Fi 6 technology. The two companies are followed by Intel, LG Electronics, Newracom, Marvell/NXP and others.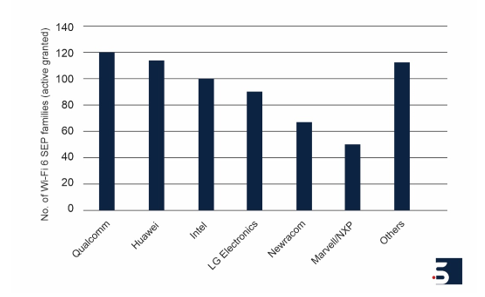 Furthermore, Sagacious IP analysed and aggregated the patents related to key technologies of Wi-Fi 6 such as OFDMA and MU-MIMO regarding the patent portfolio of various companies. Considering the two main technologies, i.e. OFDMA and MU-MIMO in Wi-Fi 6, the companies with their respective total number of patent families are shown below. Figure 4 shows the top patent-holders in this domain.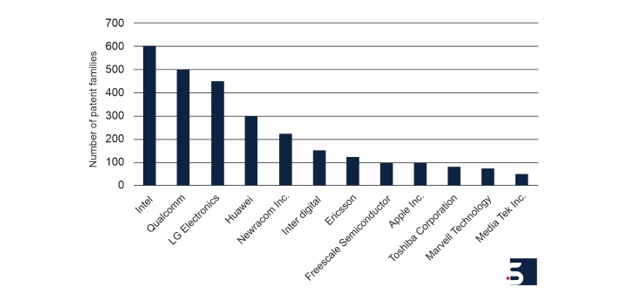 As seen in figure 4, companies having a larger number of patent families in OFDMA and MU-MIMO include Intel, Qualcomm, LG Electronics, followed by Huawei, Newracom, Interdigital, Ericsson and others.
One can observe that the top 4 players are common in fig.3 and fig.4 which also reflect their market readiness for the Wi-Fi 6 technology. Hence, companies like Huawei and Qualcomm launched their Wi-Fi 6 products, such as AP7060DN devices and IPP 8074 SOC, respectively, as early as 2017 when Wi-Fi 6 standardization process was moving into the mature state in terms of Wi-Fi 6 proposal submission filing trend (see fig.5)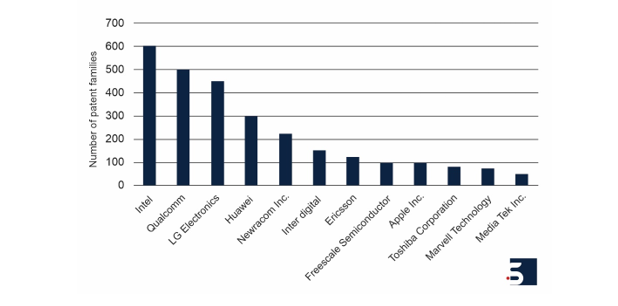 While observing the highest number of proposals being submitted in the ax group of Wi-Fi 6, one can derive a similar analysis wherein Huawei and Qualcomm are leading the race (see fig. 6).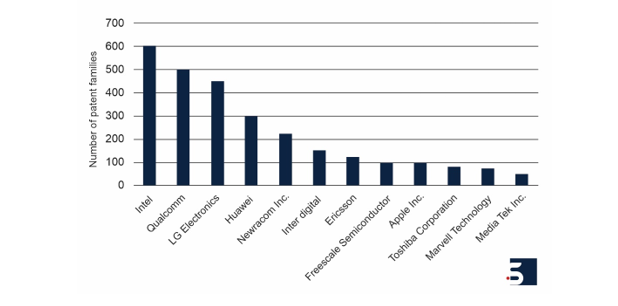 The patent filings in India related to Wi-Fi 6, reveal some interesting development. Sagacious IP observed that Qualcomm is winning the race by a big margin here as well (see fig. 7).
Any company willing to cater to the Wi-Fi 6 market in India needs to perform proper due diligence if they are implementing essential features like OFDMA and MU-MIMO in their products, considering related patents are already filed in Indian geography.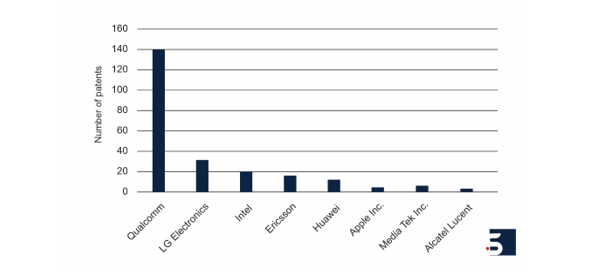 Now that we understand the Wi-Fi 6 technology, let's move on to discuss Wi-Fi 6E, which is an improvement to the existing Wi-Fi 6 (802.11ax) standard technology.
Introduction to Wi-Fi 6E Technology
The Wi-Fi 6E technology allows access to a new 6 GHz band. Whenever users face trouble connecting to their Wi-Fi network, there is a good chance that spectrum congestion is the problem. 6GHz Wi-Fi can effectively resolve this issue. It leaves enough room for up to seven maximum-capacity Wi-Fi streams to be broadcasted simultaneously without interfering with each other. Furthermore, it does so without using any of the previously available spectrums.
Benefits of Using Wi-Fi 6E
Under the Wi-Fi 6E technology, the 6GHz band provides internet speeds of over 1Gbps. Furthermore, an increase in spectrum results in lower latency (less than one millisecond) for online games, video calls, or virtual computing sessions requiring an instantaneous response to keyboard commands, voices, or mouse clicks.
Similarly, the increased spectrum also quadruples the amount of airwaves (14 additional 80MHz channels, and seven additional 160MHz channels) available for routers and smart devices, resulting in lesser signal interference.
Key Features of Wi-Fi 6E Technologies
Wi-Fi 6E delivers the following advanced capabilities of Wi-Fi CERTIFIED 6:
1. Multi-User Multiple Input Multiple Output (MU-MIMO): It facilitates the transfer of more downlink data at once. Furthermore, it enables an access point to transmit data to a larger number of devices concurrently. MU-MIMO evolved from single-user MIMO (SU-MIMO), commonly known as MIMO. The purpose behind the creation of MIMO technology was to increase the number of simultaneous users that an access point can support. Initially, it was achieved by increasing the antenna counts on a wireless router. MU-MIMO is also known as Next-Gen A.C. or A.C. Wave 2. The A.C. part refers to the 802.11ac protocol.
Until the advancement of MU-MIMO, every associated station had to wait for its turn through a normal contention process subjected to vendor class and quality of service. Moreover, high mobile clients like tablets and handsets are typically limited to one and at most two streams. As a result, the client usually has a demand for throughput well below that can be provisioned in a single transmit cycle from a given A.P. With MU-MIMO, three or four MIMO streams could be implemented with additional network bandwidth overall system capacity.
2. Orthogonal Frequency Division Multiple Access (OFDMA): It effectively increases channels to augment network efficiency and reduce latency for uplink and downlink traffic in environments with high demand. OFDMA is an improved version of frequency-division multiplexing (FDM) technology used for dividing packets of information into independent bands carried by separate signals. This mode of transmission and communication is an improvement over traditional phone carriers and a switch to 4G and 5G LTE. OFDMA uses carrier signal waves, also known as subcarriers, to move small information in a more streamlined fashion.
Some of the main benefits of OFDMA are listed below:
Allows flexibility as channels and sub-channels may be toggled on and off.
Allows lower interference between cells.
It facilitates better coverage over a network.
Greater diversity and efficiency of frequency.
3. Transmit beamforming: It facilitates greater network capacity by enabling higher data rates at a given range. Beamforming uses the science of electromagnetic interference to make the Wi-Fi 6E connection more accurate. A beamforming transmission focuses a wire signal towards a specific receiving device. As a result, the signal is not spread in all directions from a broadcast antenna (which is the case in standard transmission). The resulting connection because of beamforming is direct, faster and more reliable.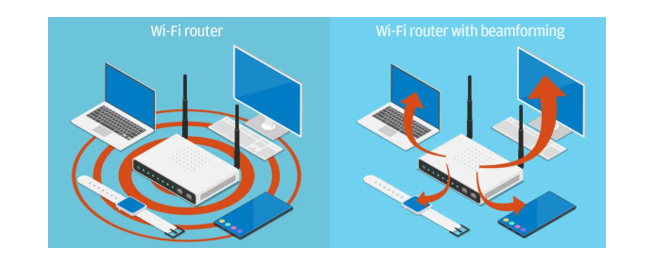 4. 160 MHz Channels: Increases bandwidth to deliver incredible performance with low latency. Wi-Fi 6E is expected to become popular across the globe, unlocking a new era of connectivity with an improved experience. Wi-Fi 6E supports up to seven 160 MHZ channels for supporting numerous bandwidth-driven user cases. This increase in spectrum bandwidth enables Wi-Fi 6E devices to achieve low latency, faster speed, and higher capacity.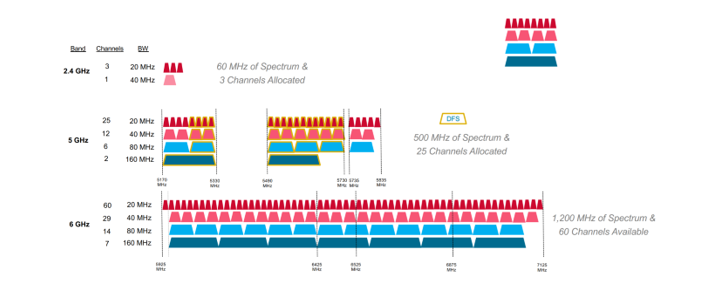 From figure 9, we can see that for 6GHZband (Wi-Fi 6E), 1200 MHz of spectrum & 60 channels are available, which is way higher than the previous 5 GHz and 2.4 GHz. Looking closely, we can see that Wi-Fi 6E can access 14 channels of 80 MHz, 29 MHz, 40 MHz, or 60 channels of 20 MHz.
5. Target Wake Time (TWT): TWT considerably increases battery life in Wi-Fi devices, specifically the Internet of Things (IoT) devices. Target wake time improves spectral efficiency of the connected device. The device can determine when to wake up for sending and receiving data. The technology facilitates the delivery of high-quality and consistent service for numerous devices with minimal overlap or contention. Essentially because of resource scheduling, the battery life of the connected device is better.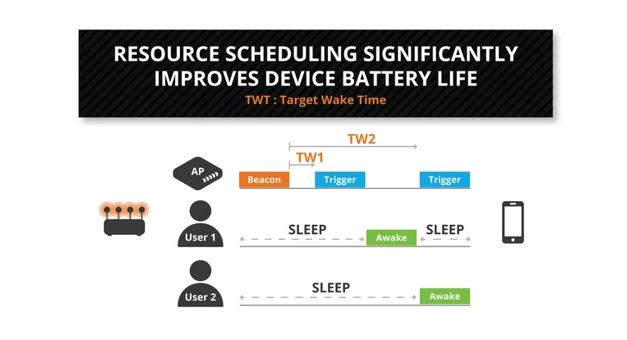 Impact of Covid-19 on the Wi-Fi 6 and Wi-Fi 6E Technology
For improving operational efficiency, manufacturing factories have been evolving significantly with the adoption of new technology and procedures. Augmented Reality/Virtual Reality (AR/VR), collaborative robots, Wireless IP cameras have wide applications in the manufacturing industry. Seamless operation of all these devices require enhanced wireless network connectivity. The onset of the Covid-19 pandemic accelerated the pace of digital adoption, promoting Wi-Fi 6 and Wi-Fi 6E Technology.
Overall, the Covid-19 had a detrimental effect on the Wi-Fi 6 and Wi-Fi 6E chipset demand and production across the globe. The virus's rapid spread forced the US, China, Japan, and German governments to enforce a strict lockdown. As a result, numerous manufacturing units had to shut down. The closure resulted in a decline of overall chipset production as well as the supply.
However, as the cases in the major economies began to decline, the production picked up again to the pre-Covid-19 level. By the start of this year, the manufacturing facilities had resumed, albeit with reduced labour capacity to minimize the spread of the virus. In the long run, the demand for Wi-Fi 6 and Wi-Fi 6E devices are expected to grow with work from home becoming a regular event.
Let us explore some of the top players in the global Wi-Fi 6 and Wi-Fi 6E Market.
Top Players in the Global Wi-Fi 6 and Wi-Fi 6E Market
Based on the market share and revenue, the major and emerging players of the global Wi-Fi 6E market include Cisco, Broadcom Inc., Wi-Fi Alliance, Qualcomm, Intel, Samsung, ALE international, Lenovo, Asus, TP-Link, Extreme Networks, Juniper Networks, etc. The total no. of public Wi-Fi hotspots is expected to reach 628 million by 2023. Wi-Fi 6 and Wi-Fi 6E will account for nearly 11% of all public Wi-Fi hotspots by the year 2023. Major applications of Wi-Fi 6 and Wi-Fi 6E hotspots include public transportation, airports, healthcare, retail, stadiums and intelligent cities. Chipsets over 60 million are expected to be shipped for the automobile by 2026. Wi-Fi 6 and Wi-Fi 6E will offer an augmented seamless wireless experience for an ever-growing number of vehicles. The sensors used in autonomous vehicles generate a massive amount of data (4 TB per day) which needs to be uploaded for analysis and progress.
Device Type Insight
WLAN infrastructure devices captured a major portion of market with almost 41% share in 2020. The high market is due to the increasing demand for WiFi-6 and Wi-Fi 6E chipsets used in next-generation routers, repeaters, gateways and extenders. With an appetite for higher bandwidth, global deployment of access points, as well as routers is expected to soar. Moreover, the desire to provide superior customer service will see massive investment in WLAN infrastructure and devices.
With the introduction of new wireless standards, the demand to integrate new consumer devices like laptops, smartphones and AR/VR headsets will advance rapidly. The breakthrough Wi-Fi 6 and Wi-Fi 6E technology enables the use of several new cases for consumer devices. The new use of the devices include cloud-based gaming, seamless video conferencing and 4K/Ultra-High Definition (UHD) videos. Hence, increased spending by consumers for new experiences will push the demand for Wi-Fi 6 and Wi-Fi 6E chipsets.
Application Insight
The commercial segment accounts for a major market share of 38.2% in 2020. By volume, the corporates/enterprise segment is expected to reach more than 1 billion units Wi-Fi 6 and Wi-Fi 6E chipsets by 2028. Credit for high growth can be attributed to the rapidly increasing demand for high-quality wireless connectivity across corporate offices. With acceleration in digital technology, employees collaborate with end clients via video meetings underscoring the importance of seamless connectivity. Hosting cloud applications and e-learning via streaming videos are other applications requiring high-speed and uninterrupted connectivity. Such new applications increase the demand for Wi-Fi 6 and Wi-Fi 6E enabled routers and devices.
Embracing the Internet of Things (IoT) has further accelerated the adoption of Wi-Fi 6 and Wi-Fi 6E enabled routers and devices across industry verticals. Verticals showing positive growth include manufacturing, healthcare, smart city, public sector, etc. As per the analysis, the number of IoT connections is expected to reach more than 30 Billion by 2028. This massive rise in IoT connections will need Wi-Fi 6 and Wi-Fi 6E devices as the backbone.
Regional Insight
Asia Pacific is expected to lead the race with approximately 50% share of the Wi-Fi 6 and Wi-Fi 6E in 2026. The market size in the region is estimated to reach a figure of USD 8,559 million by 2026 with an impressive CAGR of 25.6% between 2020 and 2026. Consumer devices like tablets, smartphones, laptops & P.C.s are going to be the major contributor to this growth. All these devices support next-generation wireless frequency bands to deliver a seamless network experience. China, Japan, South Korea and India are expected to be the key players in the Asia-Pacific region.
North America is estimated to be the 2nd largest market with a 25% share by 2026. The U.S. is expected to be the major contributor to the North American market. Wi-Fi supporting Customer Premises Equipment will witness a high adoption rate in the U.S., followed by Europe. The U.S. is demonstrating marked investment in implementing smart homes, smart cities and smart industries. Apart from this, the desire for high graphics cloud gaming, self-driving cars and smart transportation infrastructure is predicted to fuel the demand for Wi-Fi 6 and Wi-Fi 6E devices in the coming decades. The onset of Covid-19 accelerated the adoption of online healthcare technology. For smooth implementation of online healthcare services, unified network connectivity becomes paramount. This again highlights the importance of delivering quality services via next-generation Wi-Fi 6 and Wi-Fi 6E technology. (Source)
Conclusion
To summarize, Wi-Fi 6 enables users to experience high-performance Wi-Fi technology. It is likely to bring more capabilities to support smart homes, IoT and environments with large-scale deployments. Wi-Fi 6 can achieve speeds up to 4 times faster than previous Wi-Fi standards, thereby enhancing the user experience and performance of bandwidth-hungry applications like voice, video, and collaboration software.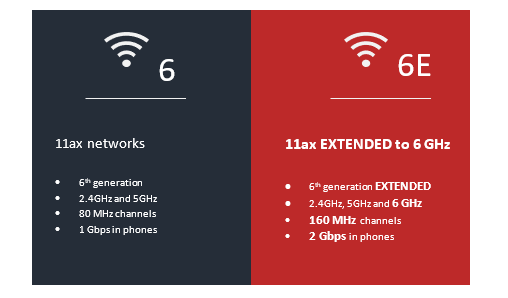 On the other hand, W-Fi 6E provides a higher performance and lower latency Wi-Fi technology to its users. OFDMA, 1024-QAM and MU-MIMO are some of the features of Wi-Fi 6E that will provide an enhanced performance experience than the previous Wi-Fi technologies. In addition, Wi-Fi 6E facilitates additional channels to its users, hence providing less interference and higher speed. Spectral congestion leading to intermittent network connectivity will be a thing of the past now.
Wi-Fi will get its most relevant upgrade since the past 20 years with the introduction of 6 GHz Wi-Fi soon. With the upgrade, there will be more open airwaves for routers and other transmitting devices for broadcasting Wi-Fi signals. If you ever had a problem connecting your device to a network, it was probably due to spectral congestion. With Wi-Fi 6E spectral congestion will be a thing of the past. The upgrade will open new avenues for new and old entrepreneurs. Conceiving an idea is one thing and its execution and implementation on the ground is another. Inventors can retain the novelty of innovation through a sound patent strategy – patent your novel inventions, especially in cutting-edge technology like Wi-Fi 6 and Wi-Fi 6E.
Sagacious IP, a global IP research and consulting firm, enables businesses to develop and protect their technological innovations via patents. In addition, our services like technology scouting can help organizations to identify upcoming trends in Wi-Fi technology and leverage them to boost revenue. Click here to know more about this service.
-Aman Goyal, Saloni Yadav, Surendra Singh (ICT Licensing) and the Editorial Team