Augmented and Virtual Reality Innovations and Patent Trends
Augmented reality (AR) and virtual reality (VR) are quickly gaining popularity and will change how we work, play, study, and live. Many consider these to be the future of social media and networking, besides growing applicability in numerous other industries. For instance, AR and VR are helping architects use virtual reality to design better homes, athletes to train better with real-time updates, and students to have an active e-learning experience.
The global revenue from VR video gaming stood at almost USD 23 billion in 2020 alone. Witnessing the growing popularity of AR and VR innovations, companies from around the world are investing heavily in R&D. They are also patenting their augmented and virtual reality innovations. The spike in AR/VR-related patent filings in 2021 reiterates this fact, as covered in the below article. Read more to know everything about AR and VR, including augmented/virtual reality innovations, market sizes, key players, top patent companies in AR/VR domain, and future prospects.
Introduction of AR and VR
The terms "augmented reality" and "virtual reality" refers to reality technologies that either enhance or replace a physical world with a virtual/simulated one. Augmented reality enhances your surroundings by adding digital components to a live view, typically using a camera on a smartphone. Virtual reality is an entirely immersive experience in which a virtual environment replaces the actual world.
Augmented and virtual reality have made impactful impressions on the world since their inception. These technologies not only touched the hearts of smartphone users but also caught the attention of emerging and established brands, making entrepreneurs and marketers look forward to investing in AR and VR app development. Mixed reality is a different type of technology that combines the real and virtual worlds to create novel habitats and visualizations in which actual items and virtual ones can coexist and communicate in real-time.
In this new digital environment, AR and VR are two concepts that offer significant advantages. Innovations in this field create new user experiences while enabling higher productivity in industries such as manufacturing, gaming, media, automotive, and healthcare. A wide range of other industries also use augmented, mixed, and virtual reality technologies, such as – manufacturing, remote assistance, education, and training.
Applications of Augmented Reality
Applications of Virtual Reality
Architects are using virtual reality to design homes that clients may tour before starting construction.
VR is helping in designing cars and other vehicles.
Workers in dangerous environments like firefighters, soldiers, and others are adopting virtual reality to train without putting themselves in danger.
Augmented/Virtual Reality Innovations in Headsets
Meta's Quest 2 is a real hit, selling millions of units and providing some hope to the industry that money can be made in the VR space. Consumer headsets for virtual reality and augmented reality are dominating the conversations and will continue to do so in the coming years. With Sony preparing to release the PlayStation VR 2 and Apple said to be working on mixed reality (MR) headset this year, customer interest in extended reality (XR), which integrates AR, VR, and other immersive technologies, will only grow. It's only a matter of time until VR and AR become household names, though that's unlikely to happen this year.
However, AR and VR are still rather specialized technologies that are yet to be widely accepted. Part of this is due to various obstacles. However, 5G and edge computing are helping overcome these challenges. With the commercialization of 5G, augmented reality and virtual reality encompass plenty of new use cases, which, when combined with edge computing, will provide significant value to industry and organizations. 5G's ultra-low latency and tremendous bandwidth are critical in supporting the use cases. For many industrial and enterprise customers, 5G solutions ensure that the applications receive the capabilities required to carry out mission-critical processes.
AR and VR Market Size
The global augmented reality and virtual reality market are expected to grow at a rate of 25.3% from USD 37.0 billion in 2022 to USD 114.5 billion by 2027. Partnerships between augmented reality device manufacturers and other service industries, as well as robust government financing, are supporting the market growth for AR and VR. The demand for virtual reality in gaming, e-learning, and medical training is on the rise, and these trends are also fueling the market's expansion. Moreover, applications for augmented reality are expanding in the fields of e-commerce, retail, and healthcare as well.
Top Market Players in AR-VR
The AR and VR market is dominated by a few well-known companies with a global presence, including Google, Microsoft, Sony Corporation, Samsung Electronics, HTC, and Apple Inc. These companies have strengthened their market positions via both organic and inorganic growth strategies, including product launches and developments, collaborations, contracts, expansions, and acquisitions.
Patent Filings in AR and VR
Over the past decade, there has been a dramatic increase in augmented and virtual reality innovations across the world. The rising number of AR/VR-related patent applications filed in various jurisdictions reiterate this fact. Figure 1 (below) represents the patent filing trend specifically for the Indian jurisdiction over the last two decades. As is clear from the graph, there has been an exponential rise in the number of patent filings over the past few years in the AR/VR domain in India. A similar trend has been witnessed across all the other key jurisdictions, including the US, Europe, China, etc.
Looking at current statistics, the third quarter of 2021 continued the pattern of increased augmented reality/virtual reality innovations and patent filings rose from the first to the third quarter of 2021. Around 2735 patents related to AR/VR technologies were issued globally in the third quarter of 2021. China and the United States continue to top both filing and grant volumes; with the Chinese patent office (SIPO) issuing approximately 1213 patents and the USPTO issuing approximately 780 patents, roughly matching their second-quarter numbers. Most IP offices around the world issued more AR/VR patents, which could be attributed to growing interest in the Metaverse.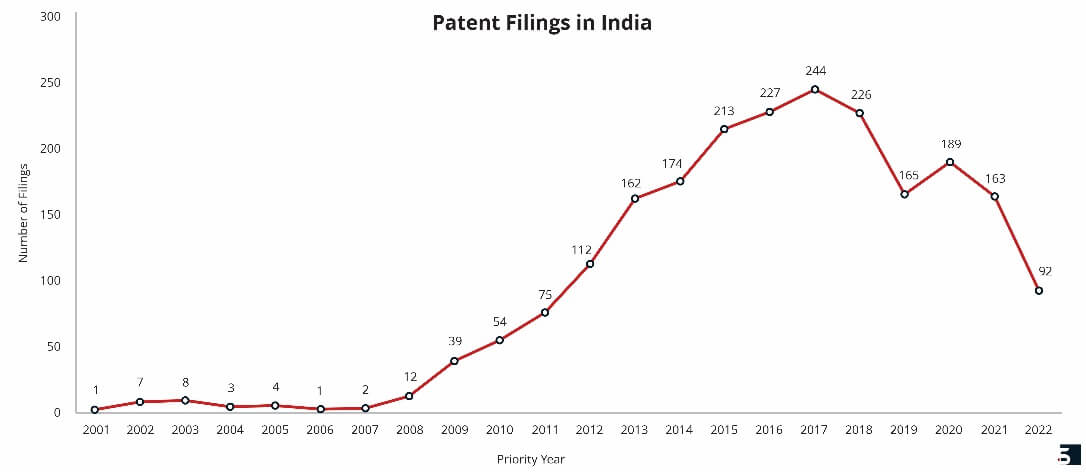 Sagacious IP reviewed the main/primary CPC's of the patents from some of the prominent players in the AR/VR field, including Sony, Microsoft, Facebook, Google, Apple etc., and identified that almost all the major players have been filing patents for tracking related aspects, such as eye tracking, hand tracking and head tracking. Moreover, companies such as Google, Apple, and LG Electronics have also been filing patents related to voice-based interaction in the AR/VR space. Some of the other areas of augmented and virtual reality innovations include HMD controllers, Haptic feedback, 3D animation, etc.
Intellectual Property Landscape in AR and VR
Sagacious IP used AR and VR-related top CPCs (Cooperative Patent Classifications) and keyword-based searches to extract top companies (assignees) operating in the subject domain. Figure 2 (below) depicts the top companies with the maximum number of worldwide patents in the AR/VR space.

Figure 3 (below) depicts the top patent assignees in the US, EP, and India jurisdictions in the AR/VR domain. Clearly, Samsung, Microsoft, and Sony are leading the pack in all three jurisdictions.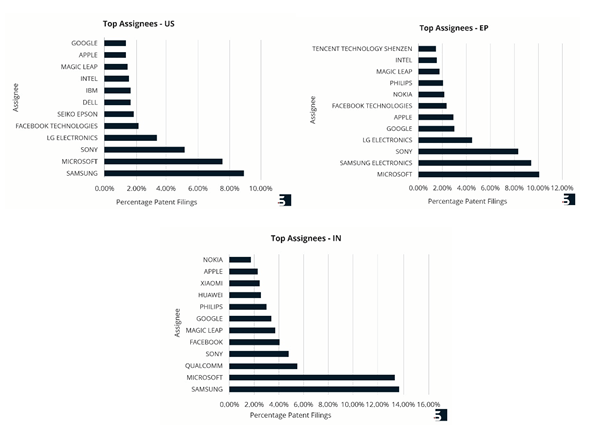 Future Aspects of AR and VR
With the AR and VR industry continuing to climb in market value, the technology's potential cannot be denied. Importantly, it is evident that AR and VR's influence extends far beyond just gaming. AR now extends to many different industries as the following chart demonstrates: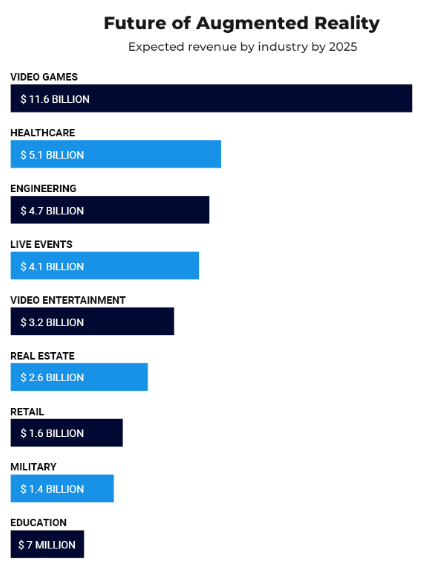 Sagacious IP reviewed the features of the existing augmented/virtual reality innovations and products to grasp an overview of the futuristic technologies that the domain will cover.
Many experts and companies within the AR/VR industry talk about the benefits of foveated rendering – the ability to only render (in high-quality) a portion of the scene a user is looking at. A few companies have implemented the technology to enhance performance on standalone VR headsets, such as HTC Vive Pro Eye, Oculus Quest, and Pico Neo 2 Eye.
There is no point in rendering the VR/AR display at full resolution if the users' eyes can only focus on a small area at full resolution at a time. The Sony PSVR 2 will bring several advances to home VR as it is supposed to have eye-tracking, which could improve the quality of VR graphics using foveated rendering and maybe even facilitate eye-based controls in games.
Some key features expected in the upcoming AR/VR headsets include:
Foveated Rendering
Infinite Field of View
Metaverse
Holoportation
Six Degrees of Freedom
Face Tracking/Eye Tracking
Conclusion
Future AR/VR technologies will offer personalized, easily accessible, and visually stunning experiences. There will soon be a platform shift when these variables take effect. In the coming years, we will see new, more advanced augmented and virtual reality innovations, such as AR glasses with LTE capabilities that will become an alternative to the smartphone. It is anticipated that the Metaverse will predominantly manifest itself through virtual reality in the coming years. This parallel digital environment may be used for several private and professional objectives. Recent high-profile announcements by Microsoft, Sony, and Meta (previously Facebook) all imply that consumers could choose headsets like Meta Quest or Sony PSVR to navigate interactive and social virtual 3D spaces.
The ecosystem of research, innovation, finance, and policy will be necessary for the Metaverse to grow in a variety of ways. As such, one can hardly say with certainty that a company will come out on top as AR/VR becomes a part of our daily lives. If the Metaverse expands as predicted, it will likely grow into situations we cannot predict. But, this makes it crucial to have foresight for future innovations and prepare/adapt to the changes. That's where Sagacious IP's technology scouting service can serve to be fruitful. Our team of expert IP professionals can help you find the best solutions to your technical problems and strengthen your patent portfolio.
– Amit Kumar, Pallavi Sinha (ICT Licensing) and the Editorial Team