How To Develop An IP Infringement – Free Product
How To Develop An IP Infringement-Free Product: The road to introduction of a new product post. Inception of a new technology is smoother if you have the IP checks in place. This article talks about some of the essential and superfluous aspects to keep in mind during your product development lifecycle. In this particular article, we'll understand how Freedom-To-Operate (FTO) searches maximize output from R&D teams and benefit fortune 500 companies. We'll also see how it also benefits large conglomerates and the likes during product development/product launch.
An apprehension faced by IP counsels of any organization is "IP Infringement-Free Product" or "Lawsuit" on their product. It takes considerable time, resources and endeavour to nurture an innovation to a point where the resultant technology/product is worth millions. To have a patent lawsuit against it, is probably the worst nightmare for anyone. Conducting a Freedom-To-Operate search, before pressing that launch button for your product is a necessary "stitch in time that saves millions" approach.
Freedom To Operate Search For IP Infringement-Free Product
What is a Freedom-To-Operate search In Terms Of IP Infringement-Free Product?
A Freedom-To-Operate search also known as FTO search is a method to identify prospective patent hurdles that might provide hindrance in bringing the product/technology/innovation into commercialization. In particular, FTO searches are highly jurisdiction restrictive and requires detailed & comprehensive claim analysis of the patents.
In short – A detailed & comprehensive FTO can usually be done in 10-14 working days. The content of the report helps a company to align its R&D efforts and eliminate the infringement risk.
Why should a Freedom-To-Operate search be conducted?
It provides a bona fide idea of the existing IP roadblocks (if any) in that technology/product and enables the inventor to successfully design around competition, if required, well in-time. So, in order to avoid common IP pit falls, it is of great importance to get good and effective Freedom-To-Operate search on time.
When should a Freedom-To-Operate search be conducted?
FTO can be carried out at any stage of product development e.g. design stage, prototype stage, etc. However, it is usually during the final stages of product development or after any major iteration/modification in a design/novelty parameter that an FTO search is conducted. It is to make certain that the R&D efforts are well aligned with the business strategies and the final product/technology is a go-to launch without any impending infringements.
How to decide if it is worth investing for you or not?
The necessity and usefulness of a Freedom-To-Operate search is mentioned earlier. However, if you are still unsure of its utility with regards to your product/technology, then there are certain parameters mentioned below which might better align its utility with your interests:
Is the product/technology pivotal for your business interest? – Technology/products that possess capability of generating higher revenues are subject to more criticism from competitors, hence deserve such defensive investments.
Risk analysis – Just like how a firewall ensures the security & integrity in computers, the same way a Freedom-To-Operate search safeguards the technology/product from any future infringement prospects. However, if the technology/product is not pivotal to the company's business interest, then maybe by-passing it won't be unfavourable.
How much infringement is prone to the product market/technology domain? – Certain technology domains such as – electronics or products (mobile phones, tablets etc.), are highly prone to IP Infringement-Free Product. Therefore, before choosing to opt out of this option, think carefully and evaluate the potential infringement risk your technology domain possesses.
Some Lawsuit Case Scenarios
Why is it crucial to avoid infringement scenarios?
Following are a few lawsuit case scenarios wherein parties involved were liable to pay for IP Infringement-Free Product damages:
DUSA Pharmaceuticals, Inc. Files Lawsuit Against Biofrontera Inc. for IP Infringement, Trade Secret Misappropriation, and Tortious Interference (Source)
DUSA Pharmaceuticals, Inc. ("DUSA"), a wholly owned subsidiary of Sun Pharmaceutical Industries Ltd. announced that it has filed trade secret misappropriation. Also tortious interference claims in an ongoing patent infringement lawsuit against Biofrontera Inc.. Biofrontera Bioscience GmbH, Biofrontera Pharma GmbH, and Biofrontera AG in the United States District Court for the District of Massachusetts. The lawsuit alleges patent infringement of DUSA's patents:
U.S. Patent No. 9723991 titled "Illuminator for photodynamic therapy"
U.S. Patent No. 8216289 titled "Illuminator for photodynamic therapy"
These patents cover DUSA's product, LEVULAN® KERASTICK® (Aminolevulinic acid HCl) for topical solution, 20% used with DUSA's BLU-U Blue Light Photodynamic Therapy Illuminator.
Chrysler asked to Pay Inventor $11.3 Million (Source)
Chrysler Corp. will pay $11.3 million for infringing patent which is related to intermittent windshield wiper. A federal jury found that Chrysler infringed on four patents for intermittent wiper systems designed by Kearns. However, the jury concluded that Chrysler's IP Infringement-Free Product was not wilful. Therefore, the jury ordered to pay 90 cents for every vehicle sold with the wiper system between May, 1977 and August, 1988 to Kearns. According to court documents, Chrysler sold 12,564,107 vehicles during that period. Kearns said he was seeking anywhere from $3 to nearly $30 per car, or $37.7 million to $377 million in damages.
Israeli start-up says Apple copied its patented smartphone camera technology (Source)
An Israel-based camera tech developer – Corephotonics filed a complaint alleging patent infringement against tech giant Apple Inc. It accused the iPhone maker of copying its patented smartphone camera technology. The patents involved in suits are as follows:
U.S. Patent No. 9568712, titled "Miniature Telephoto Lens Assembly".
U.S. Patent No. 9857568, titled "Miniature Telephoto Lens Assembly".
U.S. Patent No. 9185291, titled "Dual Aperture Zoom Digital Camera".
U.S. Patent No. 9538152, titled "High Resolution Thin Multi-Aperture Imaging Systems".
U.S. Patent No. 9402032, titled "Miniature Telephoto Lens Assembly".
Apple products which are accused of having the infringing technologies include the iPhone 7 Plus, the iPhone 8 Plus and the iPhone X. Corephotonics is seeking a permanent injunction on sales of the accused products, damages for an amount to be proved at trial and enhanced damages for Apple's wilful infringement.
The Efficiency & Methods For IP Infringement- Free Product
How should an effective Freedom-To-Operate search be performed For IP Infringement-Free Product?
Identify the differentiating key features: To have an effective search, it is very important to decide the key features/elements for which FTO analysis will be done. For example, if there are some modifications in the existing product that a client is already selling, client might want to conduct the FTO analysis only on the modified mechanism. Accordingly, differentiating key features will be generated based on this modified mechanism. It is always advised that the differentiating key features are agreed with the end client before conducting a search. This helps in targeting the search strategies in a more refined way.
Defining the Scope: Patents rights are jurisdiction-based rights and hence, FTO analysis is generally performed only within the jurisdictions of interest (where product will be launched). Further, only the active and granted patents serve as roadblock for launching a product. Hence, patents filed in the last 20 years in geographies of interest are considered relevant for this analysis. However, dead patents also provide insights about what exists in art which is free to use and hence help in suggesting the freedom to operate. Further, for WO/PCT applications, a time frame of last 31 months is considered with designating geographies of interest. This is because granted claims of these applications can be a threat in future and should be carefully reviewed.
These jurisdiction & date restrictions are run in combination with appropriate IPC/CPC and relevant keywords along with their synonyms and a regular discussion/interaction with POSITA/inventor would help in identifying relevant competitors and to build an effective search. Further, following few approaches help to capture more useful analysis:
Assignee and inventor search: Identify direct/obvious competitors and inventors, then look in their portfolios to rule out any obvious IP Infringement-Free Product.
Citation search: Citation search is performed on the patents that are categorized as potentially relevant. Analysing the forward and backward citations of these results often help in identifying a relevant document which might have been missed due to a keyword, class or assignee consideration.
Iterations: This step generally involves second level analysis to make sure that the FTO analysis is full proof. A seasoned patent analyst performs multiple quick searches based on the knowledge enhanced during the process. This helps to ensure the accuracy of search process.
A brief overview of the methodology that one must execute to extract the best possible results from the Freedom-To-Operate searches can be seen in the flow chart below –
Note: Timelines for conducting an FTO search generally vary depending upon the scope of search and nature of technology. The timelines above are suggestive of a medium complexity FTO project in 1 to 3 jurisdictions.
Classifying claims as relevant/related: FTO searches are exclusively claim oriented searches. Therefore, only those patents/applications are marked as relevant/related claims which are broad enough and where one or more key features of the product appear to infringe the claims. Independent claims are under focus while conducting the FTO searches. However, the dependent claims might also be of interest provided the independent claims are quite broad.
If the subject matter of the claims only contains one or more important key features of a product, then the claims are reported as Relevant claims.
If the subject matter of the claims contain one or more important key features of the product, as well as additional limitations, then these claims are reported as Related claims. It is always advised that the claim limitations of the related claims should be carefully considered with respect to the product features by a seasoned patent attorney.
Risk analysis based on the results and Rating the invention/product
Through a simple matrix, we can quickly present our insights to the R&D and Business Teams: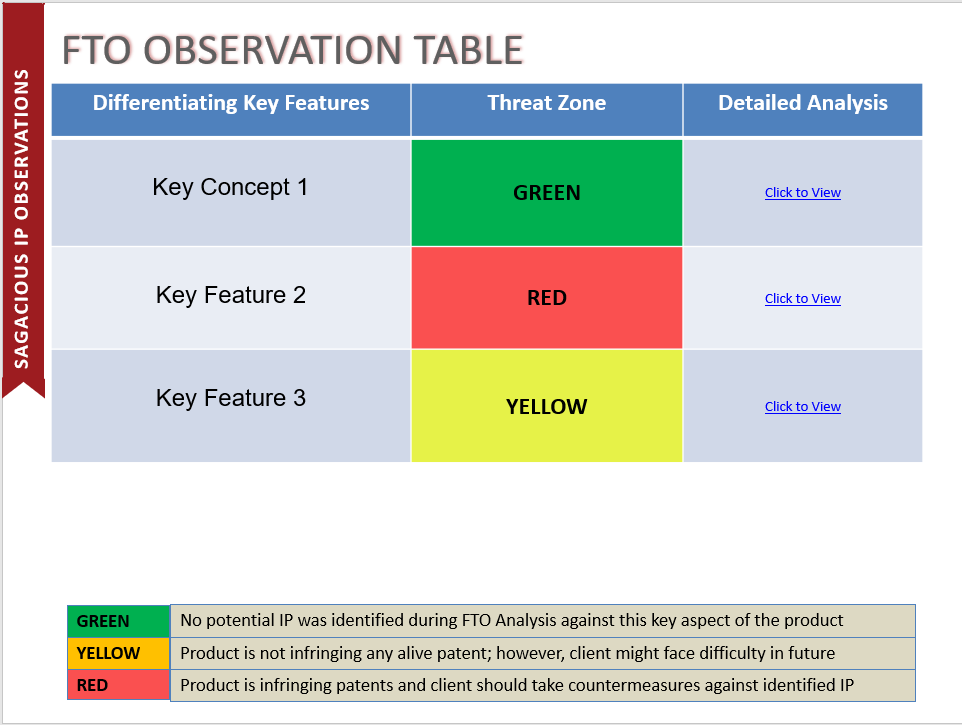 Download our sample report on FTO analysis to know more.
How to cope up with Infringement scenarios?
In scenarios where the product/technology has already infringed an existing patent/s due to sheer negligence or lack of awareness, there are still few possibilities which might prove beneficial. So, below are few outlooks of how one can deal with infringement scenarios:
For details please refer to their respective articles or kindly contact sagacious IP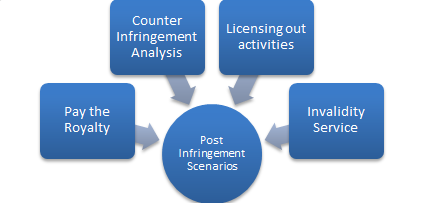 Conclusion
In a nutshell, we can say that conducting a Freedom-To-Operate search is a preliminary and one of the most essential aspect of any product development/product launch. It ensures the right amendments are made at the right time and creates a hassle-free and non-infringing environment for the product's market.
-Mayank Kak, Nitin Sharma and The Editorial Team