Metaverse and NFT IP Rights: Protecting your Digital Assets
In today's world, where new technologies are emerging like never before, subjects like Metaverse and Non-Fungible Tokens (NFTs) have become the talk of the town. They represent a new horizon in the intellectual property space as well. The developments in the domain of Metaverse and NFTs call for the need to understand the value of Intellectual Property Rights (IPR). Digital assets, such as NFTs can be bought, traded, or licensed – similar to physical properties. As a result, a virtual firm may have a virtual product design with numerous features that require protection under various intellectual property laws, such as trademark, copyright, and industrial design. Knowledge about fundamental IP rights will benefit all who are engaged in selling or minting digital assets, also for those who intend to curb misuse.
This article will discuss the terms "Metaverse" and "NFTs," the role of NFTs in the Metaverse, and the importance of IP in the NFT ecosystem.
General Overview of Metaverse
Metaverse is a relatively new concept. It recently became popular when Mark Zuckerberg announced rebranding Facebook to Meta. The definition of Metaverse varies, but as a concept, it aims at providing an immersive digital 3D virtual space. At present, Metaverse does not exist entirely; however, certain elements similar to the metaverse space exist. The Metaverse will base on virtual reality (VR), augmented reality (AR), and mixed reality (MR) technologies. It could also include multiple 3D spaces interconnected to provide a holistic experience for users.
Typically, in the Metaverse, each user can have a virtual character known as a virtual avatar. The virtual avatar could exist in multiple 3D spaces of the Metaverse. For example, the numerous 3D areas may include virtual conference rooms, gaming fields, shopping complexes, doctor's clinics, etc. The user may experience each virtual 3D space using VR technologies, such as the Oculus VR headset. Also, the user may enter the virtual conference, play in the virtual field, experience shopping, etc., by using the VR technologies, all from the convenience of their home.
Next, let's discuss the NFTs and their role in the Metaverse.
What are NFTs?
NFTs are a type of cryptographic element. Unlike a cryptocurrency, which is a form of fungible token that is not unique, each NFT is unique and cannot be duplicated. The NFTs are related to different types of digital and physical assets, such as digital art, a hand-drawn painting, a 3D gaming character, social media posts, videos, etc. Although the copyright of an NFT always remains with the creator of the asset, a user can purchase an NFT to become its owner. It is similar to owning a traditional painting. For example, if you buy a painting, you can hold it but cannot claim its creation. Similarly, one can transfer the ownership of an NFT the same way. However, the creator will remain the same.
NFTs exist on a blockchain. The most common blockchain used for NFT is the Ethereum blockchain. Other blockchains used for NFTs include Solana, Avalanche, Binance Smart Chain, Terra, Cardano, etc. Each NFT comprises a unique digital signature linked to it. The NFTs are embedded with smart contracts containing details about the digital or the physical asset relating to the NFTs. Some famous NFTs are CryptoPunks, Bored Ape Yacht Club (BAYC), RTFKT, Decentraland, Sandbox, NBA Top Shot, etc.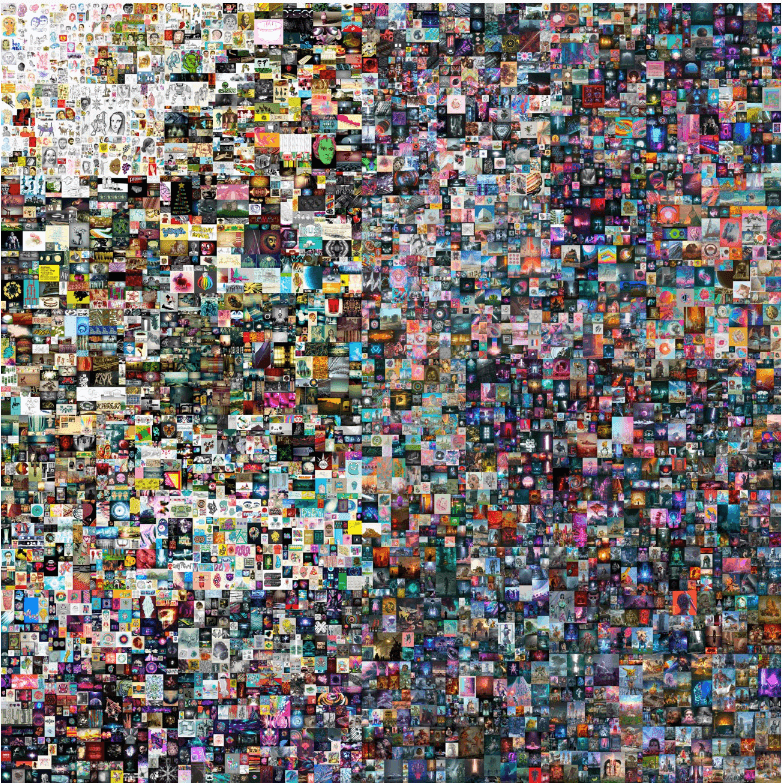 Role of NFTs in the Metaverse
NFTs (also known as virtual collectibles) are valuable elements of the Metaverse. With NFTs, a person can experience the virtual world of the Metaverse as they do with the actual world. NFTs combined with the AR, VR and MR technologies in the Metaverse could provide the user with an entirely new experience.
The in-game assets can also be NFT-based. For example, the virtual avatar of the user can be an NFT. The virtual shopping complex could include various NFTs, such as in the form of art, sneakers, etc. The NFTs can be viewed in the virtual space and can be purchased by the user entirely within the Metaverse. Let's say the virtual avatar (which is NFT-based) enters the virtual gaming field, and the user can engage in the game using AR technology, the virtual avatar then enters the shopping complex and views products (which are NFT-based), such as the sneakers, paintings, and so on. Music can also be linked to NFTs. Within the Metaverse, the users' virtual avatars would be able to listen to music.
The integration of NFTs and Metaverse is already gaining immense popularity. NFTs are being sold for massive amounts based on the current market trend. People are increasingly becoming more inclined to purchase digital assets, such as NFTs. NFTs can be bought and minted using cryptocurrencies, such as Ether on the Ethereum blockchain. Thus, NFTs hold a great value in today's world. NFTs, in association with Metaverse, have significant economic growth and an entertainment value, both of which are important to a user.
In the next section, we will talk about the importance of IP in NFTs.
Importance of NFT IP Rights
An asset, such as an NFT, with substantial economic and technological importance, needs to be protected with IP. Intellectual property can be of different types, such as:
Trademark
Patent
Copyright
Trade secret
Industrial design rights
In the context of NFTs, we shall talk about two types of IP that need to be protected, i.e., trademark and patent.
1. Trademark for NFTs
Recently, many business owners have been showing interest in trademarking their NFTs. Trademarks allow the brand name or the associated logo to be protected. By registering their trademark, a user can prevent third parties from misusing their brand name. For example, if an unauthorized party tries to sell or mint an NFT that includes a registered trademark, such as a logo, then selling or minting such an NFT is an infringement of the owner's trademark. Thus, it is important for business owners, small and large, to trademark their NFTs to prevent infringement by unauthorized parties. One such example is a trademark filed by CONVERSE on November 3, 2021. Another example is a trademark filed by CLINIQUE on November 9, 2021.
2. Patents for NFTs
Each patent needs to be novel, non-obvious, and should have an industrial application. Thus, a new technology that is used to generate an NFT can be patented. For example, a virtual avatar based on an NFT could have specific characteristics. The virtual avatar could have distinct physical attributes and skills, which may be unique. The technologies for developing such unique virtual avatars could be patented if they meet the criteria of being "novel, non-obvious, and possessing industrial application." An example of an NFT-based patent is a patent filed by NIKE titled "video game integration of cryptographically secured digital assets." Another example is a patent filed by Americorp Investments titled "Management Of Virtual Goods In Distributed Multi-Ledger Gambling Architecture." Such patents can then be sold or licensed by the patentee (i.e., the patent holder) to monetize their patent.
The Way Forward
It can be stated that NFTs, in association with Metaverse, are here to stay and will contribute to the advancement of technologies in the future. It is of utmost importance that IPR should be kept in mind, especially for NFTs, where anyone can misuse them. Moreover, enough understanding of an individual's fundamental IP rights will benefit all who are engaged in selling or minting digital assets, such as NFTs. Furthermore, the hard work and ownership of the creators of the NFTs can be protected only when their IP is protected.
Sagacious IP believes that technology has the ability to change people's lives. We have been developing technology to provide high-quality intellectual property (IP) solutions for several years. Our team of 300+ techno-legal specialists provides unrivaled IP solutions to some of the biggest companies in the world. Our technology scouting service assists organizations in discovering exciting new technical trends and profiting from them by filing a patent or investigating licensing opportunities.
– Shikha Pilania (ICT Drafting & Prosecution) and the Editorial Team
Having Queries? Contact Us Now!