Patent Watch and How Market Leaders Use It – Webinar
Key-points Covered in this Webinar (Patent Watch And Market Watches And How Market Leaders Use It) Session:
Different aspects to monitoring and how to use the information obtained through monitoring.
How does monitoring help in risk mitigation.
In what way monitoring helps in strategizing the way ahead for Research and Development.
How does monitoring help in commercialization/licensing strategies.
Case Studies on How Sagacious Helped its Clients in monitoring domains for effective strategic decisions.
Key-note Speakers
Devika Saini, Assistant Manager LSC, Sagacious IP
Moderated By
Ram Tenneti, EVP, Sagacious IP
Submit Your Information to Watch the Webinar Video Recording:
More details about this Webinar:
600,000+ patent applications are filed globally every year in varied technical domains and therefore to compete within the market and minimize risks, a strategy involving monitoring patents and products is vital.
Monitoring and analyzing details published through patent offices and in the non-patents, provide extensive information that shall contribute to a company's growth as well as protection.
Watching patents helps in keeping oneself up to date in technology areas and helps in being aware of any new developments even years earlier before the actual product comes into the market
Monitoring helps in being informed about any new entrants in the domain and what potential threat/ opportunity it might bring
Watching therefore provides an excellent value to stakeholders and enable decision makers to act
Observing further enables decision making in determining obsolete technology/patents and corresponding market significance
Webinar Transcript:
Introduction
Ram Tenneti – Good morning, good afternoon and good evening. Welcome, everyone, to the webinar.This is Ram Tenneti executive vice president business development at Sagacious IP. I am signing in from India to welcome, you all to our webinar today. Today's topic, which is one of the first in the series of three webinars is learn all about 4 types of Patent Watch and Market Watches and five ways how the global market leaders use it to their benefit.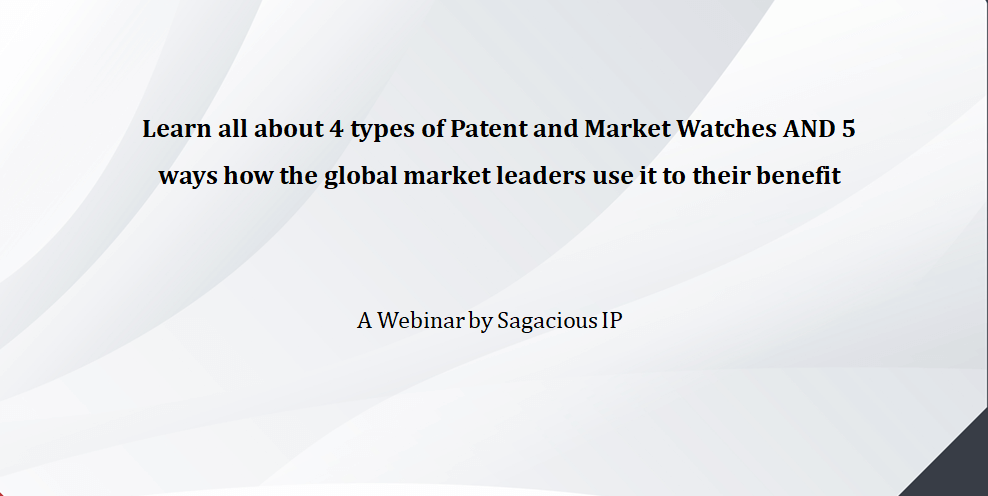 Now, before I go on to the introduction of the topic patent watch and market watches and how market leaders use it and the esteemed speaker of our session. I'm delighted to welcome all the participants. We have a mixed nationality here. There are people from the United States, the United Kingdom, Thailand, and India and so on. Thank you very much for your participation.
It's a great encouragement to the efforts and attempt that we are making to raise awareness and spread the knowledge that has been owned by our industry experts over several years, working with inventors, R&D organizations, IP departments, and various law firms as well.
Speaker Introduction And General Remarks
Ram Tenneti – Now, if I quickly introduce the speaker of the session patent watch and market watches and how market leaders use it , her name is Devika Saini and she's the assistant manager with the life sciences division within sagacious.
To give you a brief introduction, she's a qualified Indian patent agent and she has a total experience of over seven years in several projects, spanning patent analysis, competency in identifying and assessing IP in biotechnology, microbiology, biochemistry, genetic engineering, food technology, medical devices. So welcome to the webinar devika.
Devika Saini – Thank you for Ram for having me on the webinar patent watch and market watches and how market leaders use it.
Ram Tenneti – Now before we start off with the presentations today, let me ask Devika for her initial remark from today's webinar topic to learn all about four types of Patent Watch and Market Watches and five ways how the global market leaders use it to their benefit.
Devika Saini – Sure Ram. So companies, at any stage of innovation cycle, they come across a point where they wonder whether to go ahead or not. This go ahead can be investments, new stakeholders, new filings, or new product launches. So one of the key answers lies in monitoring or in patent watch and market watch integrated with various approaches that we will be discussing here.
Ram Tenneti – Okay, right, thank you. Thank you Devika for setting the context for this webinar patent watch and market watches and how market leaders use it.
General Information For Queries
Before we move ahead, I invite all our listeners to actively share any questions or queries that they may have during the webinar and during the course of this entire session. You can definitely use  questions in the GoToWebinar question box on the right side of the presentation window, that's the place where you can drop down things. I will pick up those questions and ask them to a speaker, after she's done with her brief talk.
Ram Tenneti – If you have any further queries, you can always drop us an e-mail later at webinar@sagaciousresearch.com, and we'll share the answers that we have or our expertise thereafter. Let's now get started with the main part of the presentation, and for that, let me quickly invite Devika to take us through the webinar. Over to you Devika.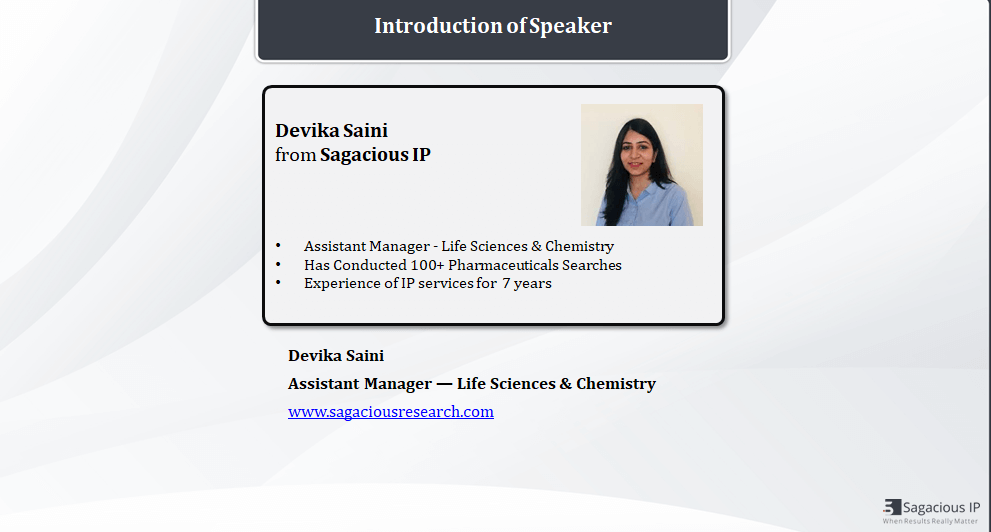 Importance Of Patent Watch And Market Watches
Devika Saini – Thank you, Ram. Beginning with how important monitoring tech space and competition is for businesses, we all know that business planning and decisions, currently, they are completely reliant on database intelligence and solutions. It's very critical that most business decisions are based on analytical insights and they increasingly become data driven.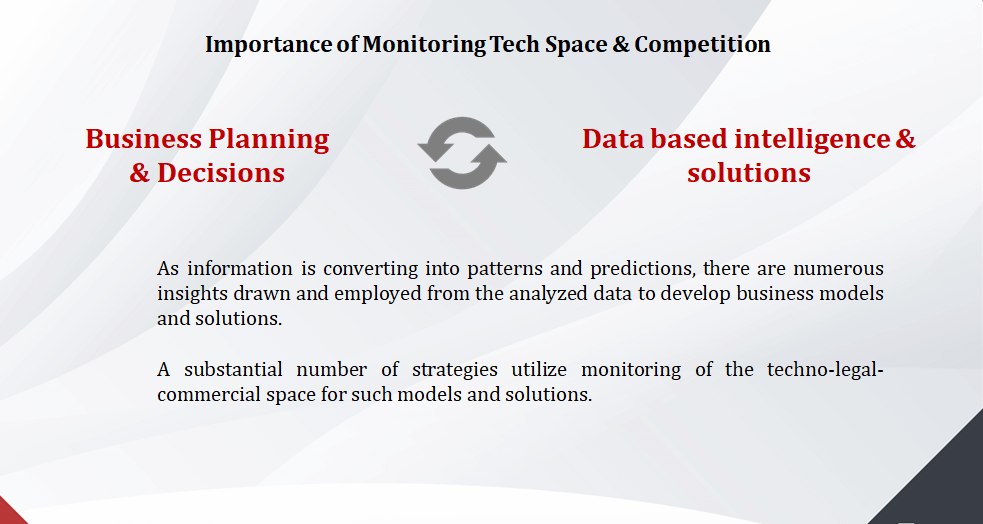 This brings decision makers to continuously keep tabs on technological space around them, and corresponding commercial and legal implications. Here is their monitoring or a patent and market watch comes into play since a substantial number of strategies that utilize monitoring of the technology, commercial, or legal space for improving on the models and solutions. A basic overview of monitoring search is monitoring in the simplest sense , it is a regular or a periodic search and analysis to cover any updated or new information.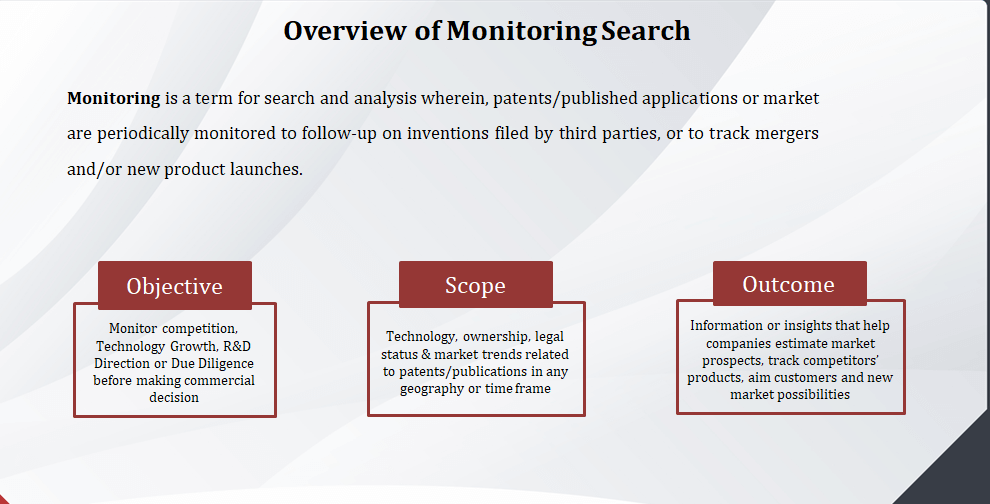 Now, this information can be related to patents or market of interests. They can be related to any mergers and acquisitions or any new product launch in the market. So their can be different objectives which are involved in performing such searches. So for example, the objective for behind performing such search can be R&D environment before investing or confirming where the competition is coming from.
Devika Saini – It can be anything related to new markets or geographies where an organization is interested. So the search can cover different technology areas or geographies and competitors as scope. The insights, which come out of the studies they are customized and in line with what the objective is, and they can present organizations with emerging trends and patterns, which can be very useful in making informed decisions regarding their business.
Example Of Google
One example, which I would like to share, is that of google. We all know that mobile and digital assistant space is highly competitive and google is one of the leaders in this area. Even after that the company is trying to lead in certain related sectors such as digital commerce and content. They're working on strategic partnerships and investments while maintaining focus on google's dominant business intact.
The gist of this example is that strategy for google has been an outcome of aggressive monitoring of innovation and market like this must have been derived from years of monitoring and tracking competition and the market which lies ahead the rivals which are there in the market and overall customer, the choices and what they actually demand.
Devika Saini – So all these things have been monitored over time by this company and this has helped this company to come up with certain strategies to run their business better and generate more revenue through patent watch and market watch.
Types Of Patent Watch And Market Watch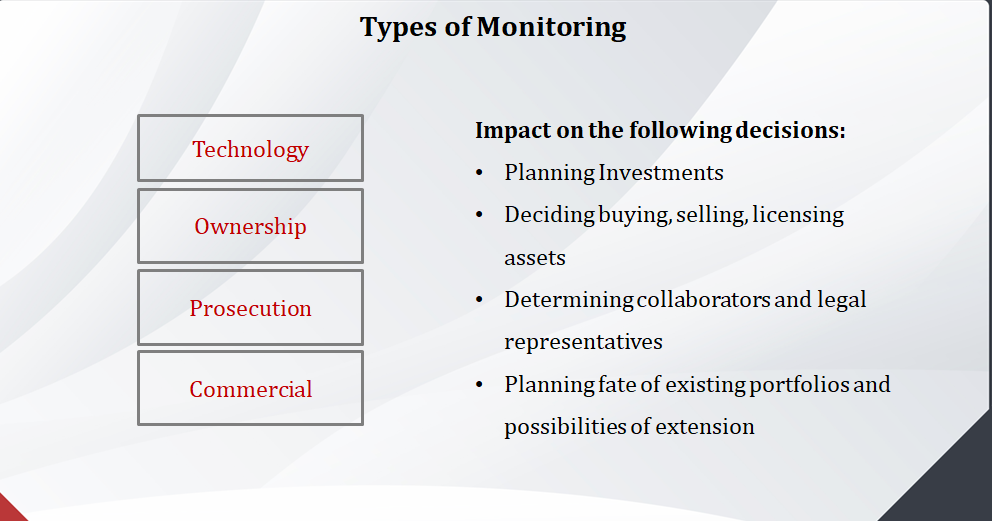 Moving on to the first part of this webinar, which is types of monitoring. There are basically four types of monitoring, which can range from technology, ownership, prosecution and commercial. These kinds of monitoring they can have different impacts.
They can have impacts on different decisions which are related to planning for investments, or deciding whether to buy, sell or license the assets or performing due diligence. Bringing some attorneys on board for Certain legal actions or extending legal team or taking next steps related to current portfolio at hand or extending that portfolio to new geographies, new filings, and new technologies, etc.
Technology Patent Watch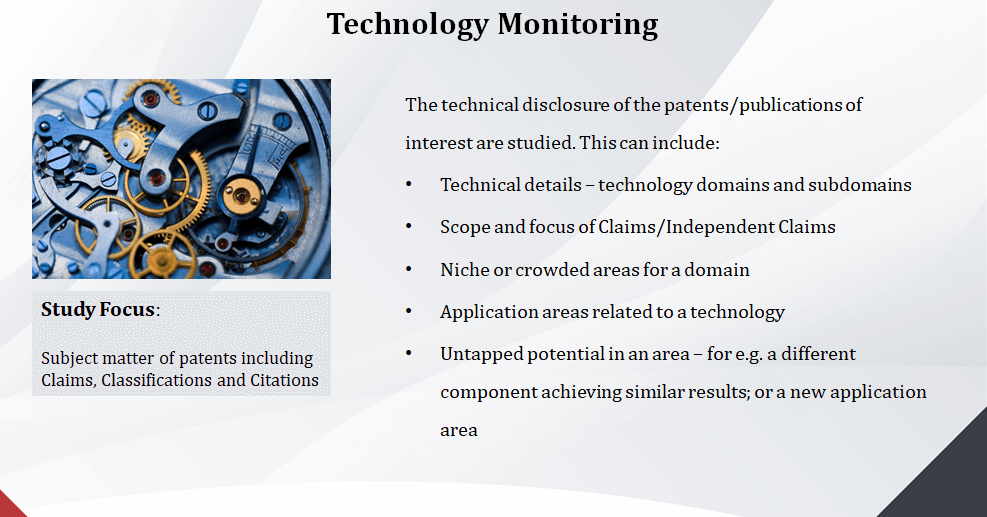 Devika Saini – Starting off with technology monitoring. This type of monitoring it covers the study of subject matter of patents which includes gains, classifications, and citations. The technical disclosure of patents can lead up to various insights related to the scope and focus of claims the embodiments of independent claims, niche and crowded area where there's a lot of saturation in the technology or newer hotspot of application areas where there is an untapped potential where, certain new filings can be performed or new revenues can be generated.
Examples Of Technology Monitoring
In this category there is an example which I would like to share is that of Apple and Samsung. Both of these are major players in there. Both of them have global reach. Based on their technology space, samsung has remained in the market longer and in more diverse industries as compared to apple.
However, apple has also experienced some swift rise which is mainly focused on design and user experience while outsourcing manufacturing process. So, the point is that based on different technical insights, decisions on business have been interest for both companies related to the areas, the technical areas where they could build on and information which has been generated based on niche areas and untapped potential they could get.
Ownership Patent Watch And Market Watch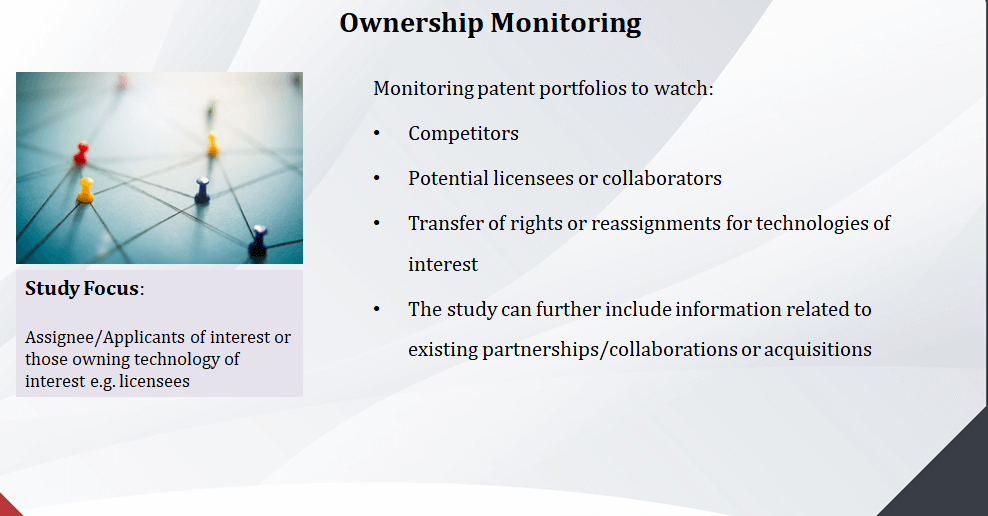 Devika Saini – Moving on to the next type of monitoring is that of ownership monitoring. So here different types of assignees and applicants of interests, or those owning technology through licenses, they are studied. The information is extracted through various sources and be it, patent sources or market sources and information or insights are drawn related to how well the applicants or companies are doing in terms of ownership of the technology or products of portfolios they have.
Example Of Ownership Monitoring
This study can further include information related to partnerships, collaborations or acquisitions. Now, an example in this case can be, there is a product giant who has a large customer base and can track new players in the market. They come across a new player who is developing or working on processes rather than products.
This product giant can actually tie up with this new player and integrate that process part to their product services, so that they can have a bigger ownership and a bigger integration of the revenue, which is coming out of from such categories. Such type of studies it monitors how well different competitors or owners and companies they are doing in maintaining their portfolio, and bringing about the best business decision.
Prosecution Patent Watch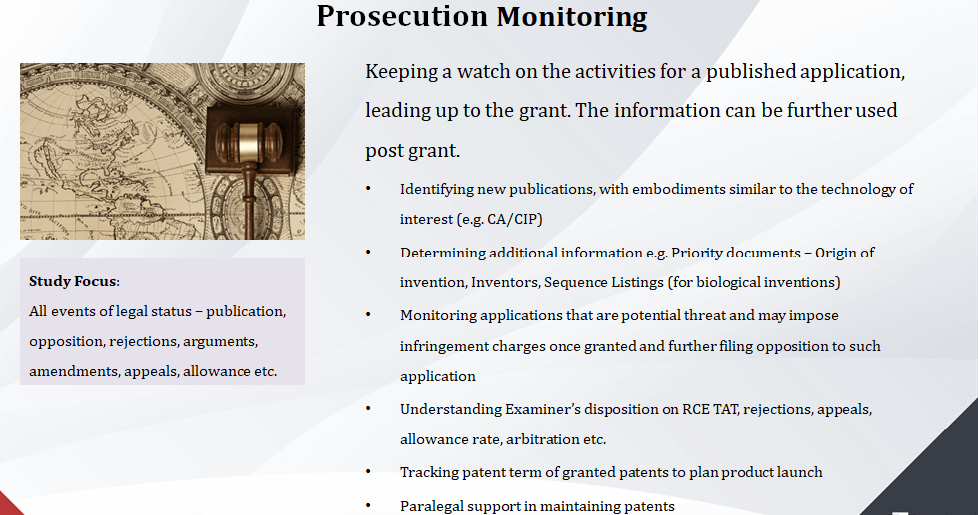 Devika Saini – The next slide is prosecution monitoring. This type of monitoring is about keeping patent watch on the activities of published applications till the time they're granted and this information can be further utilized during post grant.
This type of monitoring, it comes very handy when an organization wants to study how an examiner behaves during appeals, rejections or allowance of patents and how well arbitration activities can work, how well the turnaround time can come out and different threats which can come up during the prosecution of a patent.
Example Of Prosecution Monitoring
For example, a company can be in a threat from an infringement charged which another company can levy on this company once their patent is coming up and granted.
This can act as a buying time for certain companies to meanwhile get their products cleared and perform different kind of validity searches to understand which side or which company has better weight in deciding the assets which they have, and whether they can defend themselves pretty well, or they need to have better strategy to oppose or to fight this competition.
Devika Saini – Apart from like three grant notifications there can be more paralegal support in maintaining patents which is post grant checking about whether certain patents are getting expired or not, for example there is an organization who is interested to launch their products in the market and they are waiting for particular patent set or a portfolio to expire in a particular jurisdiction.
This information can come in very handy before clearance and overall any published information which is presented during publication of a patent. For example, sequence listings for biological inventions.
They are very useful in understanding how different documents are getting prepared and how different priority are taken up, for example, priority origin of country or priority dates are there. Overall this can help in strategizing next steps for both an opponent and the main clearer themselves in further defending or attacking their competition.
The study focus in such kind of monitoring or in patent watch is all events of legal status which can range from publication date, opposition, rejections, arguments, amendments and much more.
Commercial Monitoring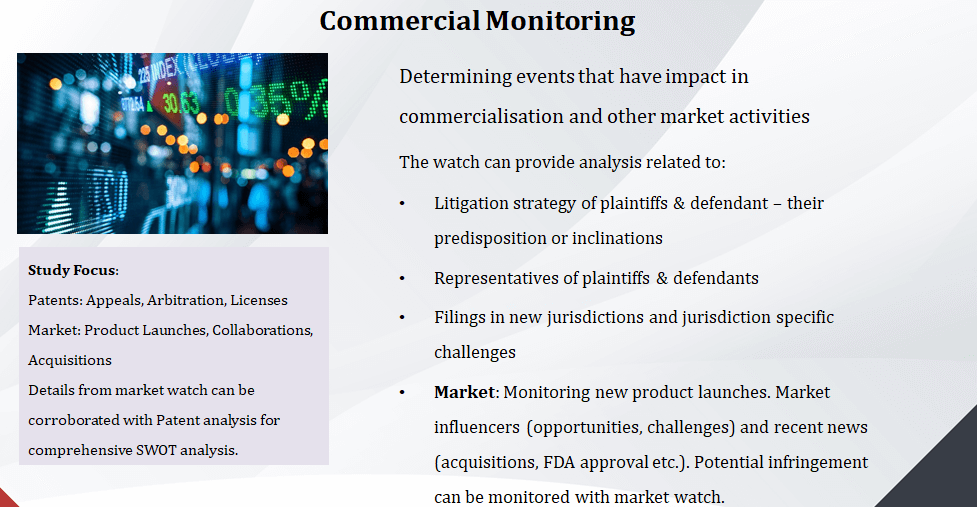 Devika Saini – Moving on to the last part of the types of monitoring is commercial monitoring. It covers different impact of commercial and market activities and this can range from information which is very useful such as behaviors of plaintiffs and defendants.
Various Examples Of Commercial Monitoring
For example, if a company is trying to get to know how two companies are behaving in litigation, the factors which interest them, the kind of empty niches, both of the parties have and what are important factors for them where they can negotiate and where they cannot negotiate all such kind of information can be useful to a third party as well who is closely watching this and developing their own strategy based on this situation and this type of monitoring is not just limited to patent monitoring.
It can also cover market information and information related to approvals. For example, regulatory authorities, changing approvals or for example, in life sciences, specifically, FDA approval matters a lot and different kind of updates regarding regulations and all. So it covers both patent watch and market watch.
Effects And Examples
Devika Saini – All of these can have a major effect in commercial viability of inventions and launch of products in the market. So such type of study focuses on both patents and market information and based on this information, comparative SWOT analysis can be prepared. So, in this type of monitoring what can happen is the insights which are identified from patent data, they can be corroborated with market data to bring about a comprehensive SWOT analysis.
To give you an example there can be an instance where ranking can be decided for major players on different parameters. For example, there can be factors that determine strength such as patent portfolio, citations, products in the market or weaknesses near map against technology is not implemented beyond pilot scheme.
Customer Demands Or Market Demands
When we talk about customer demands or market demands, they all are certain opportunities where companies can play around and they can develop their expertise around that.
Devika Saini – Threat can be a parameter, for example, in case a company is doing good but their competitor has actually a product launched in the market which this company does not have.
All these different parameters or factors can be mapped or arranged against each other to develop rankings and to get a comprehensive analysis which comes out for major players or major leaders and to decide the next steps or strategies for commercialization.
An example in this case is increasing consumer demand lately for sustainable and non toxic packaging. This is an opportunity for industry to reduce dependency on single use plastic but easier said than done. It is not very practical for a lot of organizations to do that instantaneously.
Devika Saini – But those organizations or companies which are working on packaging which are very close to natural or sustainable packaging they definitely have an edge in this area and they will definitely have an upper hand when it comes to SWOT analysis on this particular domain.
How Global Leaders Use Patent Watch And Market Watch
Moving on to second part of how global leaders use monitoring. There are basically five approaches which global leaders use while monitoring or while patent watch and market watch. These approaches are risk mitigation, commercialization, R&D, building IP, and maintaining patent and paralegal support.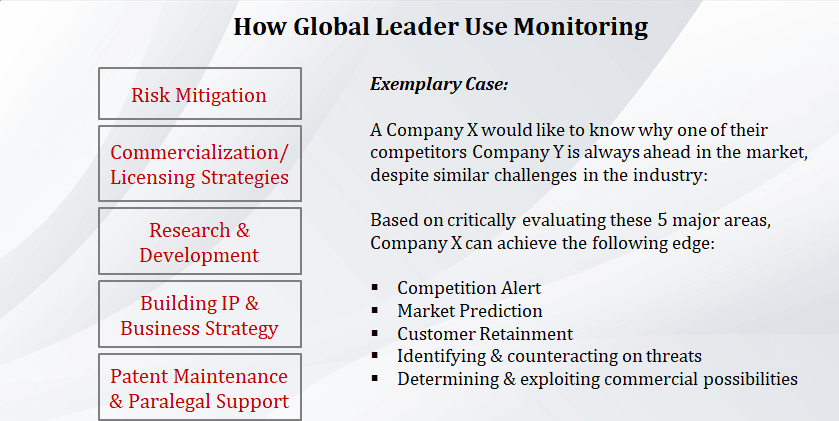 So an exemplary case in this scenario is, a Company X would like to know why one of their competitors which is company Y, for example, is always ahead in the game irrespective of the same challenges they both face.
Devika Saini – Based on these five approaches which Company X might use and utilize to understand various insights and patterns.
Based on all these approaches this Company X can gain certain edge over its competitors in terms of competition alert, market prediction, retaining customers, and navigating to different tricks and possibilities for further and solve their business.
Risk Mitigation As Part Of Patent Watch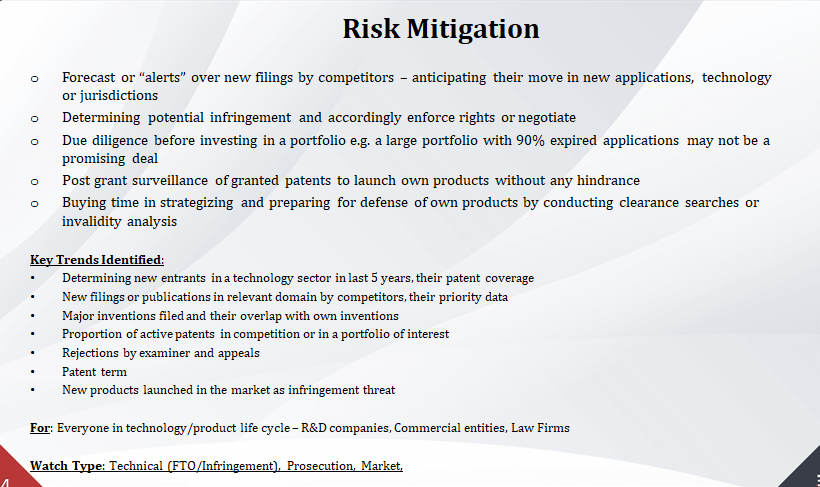 Moving on to the first category which is risk mitigation. This category, is very important in for a lot of people who are in technology or product life cycle irrespective of the kind of functionality they have.
Examples OF Risk Mitigation
Devika Saini – For example, R&D companies, commercial entities, law firms and all, the main focus of this kind of approach is to determine the next move of a rival or just buying time in strategizing defense against a possible infringement suit. Identifying patterns and trends to make informed decisions. So, if we take an example here.
For example, a drug development process which is very costly and it has very high risk involved and not to miss long duration. This is very critical to understand that stake holders and strategies which they are taking should be considered very well in advance before taking up or diving into any collaboration or acquisitions in this domain.
Because there's the level of risk or the percentage of returns is drastically different than a lot of other functional areas. Here risk mitigation approach or strategy is very critical in determining whether to pursue such kind of collaborations and stakeholders or not.
Devika Saini – So this risk mitigation type of risk mitigation approach involves various type of watches. It can involve technical watch such as adherence or infringement or prosecution and market related watch. The key trends which I identified can help companies and organizations in actively deciding what patents are there and how to mitigate risk to bring out the best decisions for the furtherance of their business.
Case Study To Explain Risk Mitigation
To give an example of how risk mitigation can be worked upon, we have a case study where sagacious helped a US based multinational in the field of FMCG and the service which they required were that of risk mitigation.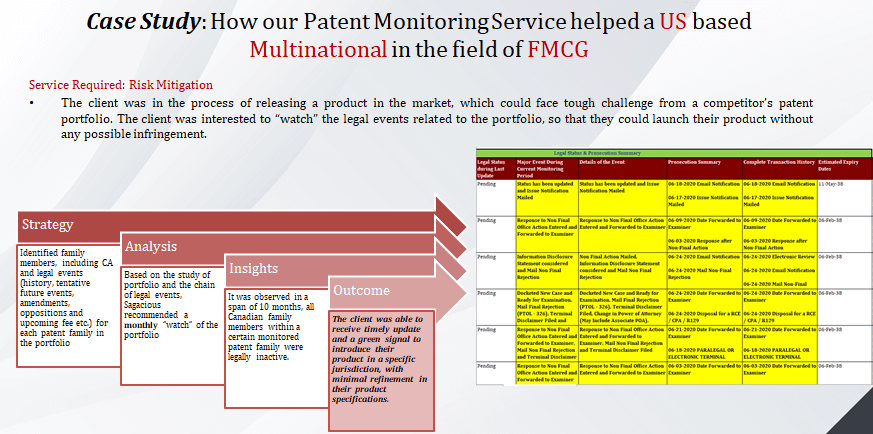 The client wanted to launch a product in the market and was facing a tough challenge from a competitor who had an active patent portfolio. The client was interested to watch legal events related to the portfolio.
Devika Saini – Based on the client's requirement sagacious developed a strategy to regularly monitor that patent portfolio and specifically the kind of legal events the client was interested to monitor, they were monitored and within a span of a few months there were certain patents identified for a particular kind of portfolio. Certain patents in a single family they got expired due to one like completing their term or abandonment.
Overall which helped with the client because that whole patent portfolio gave opportunity to the client to enter a new market a new geography and launch their product with minimal refinement in their product specifications.
This kind of monitoring was performed with a span of a few months and this was a monthly watch which helped the client in mitigating risk.
Commercialization Approach For Patent Watch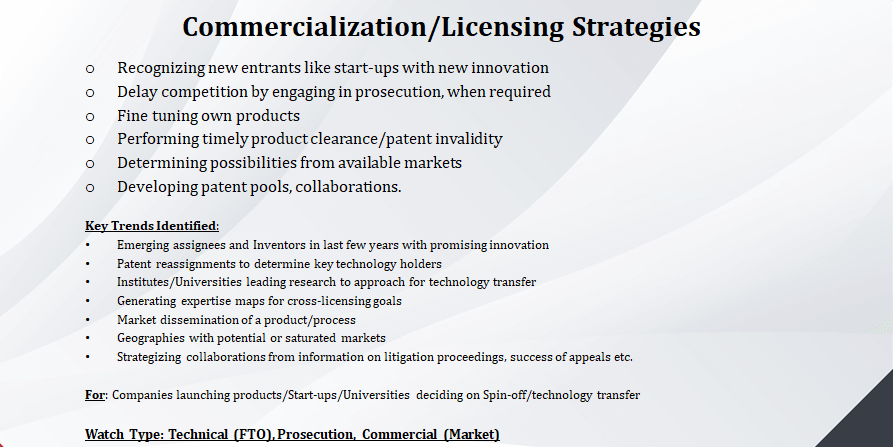 Devika Saini – The next category is commercialization or licensing strategies. In this case, they are information which are related to new startups, or new products in the market or possibilities of new available markets which can be decided upon and specifically decisions related to patent pools and collaboration can be taken.
Such kind of study is very good for companies which are launching products or startups or specially for universities which need to decide whether to go for technology transfer or to decide on spin off because this is an area where universities for example, would like to understand whether they should come up with their own company where they have full access to rights or completely transfer this technology to someone else.
In this case the approach indicates key insights related to cross-licensing goals and saturated markets, strategies on litigation and determining potential and promising prospects for buying and selling and different collaboration opportunities.
Devika Saini – This type of search is can be performed through technical monitoring or prosecution or commercial monitoring. Different kind of monitoring activities or studies they can be integrated to give the customized result.
Case Study : Commercialization
A case study and this is related to a client who is functional in smart variables and the client was basically working on a pilot scale product and required some technical support from specific universities and research institutes which were already working on this technology and the client wanted some R&D assistance or support in coming up with their own product.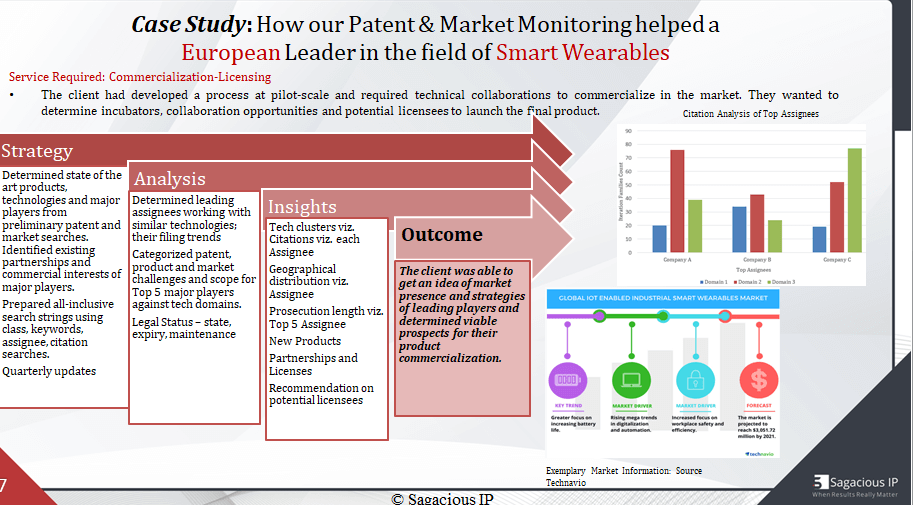 So based on their requirement we developed a strategy of providing them quaterly updates of different parameters which were useful for them which brought about different insights such as technical clusters with respect to each assignee or each university of choice then geographical distribution, prosecution length and new products and partnerships with recommendations for future licenses.
Devika Saini – The client was able to get an idea of market presence and strategies and determine prospects for commercialization.
R&D As Component Of Patent Watch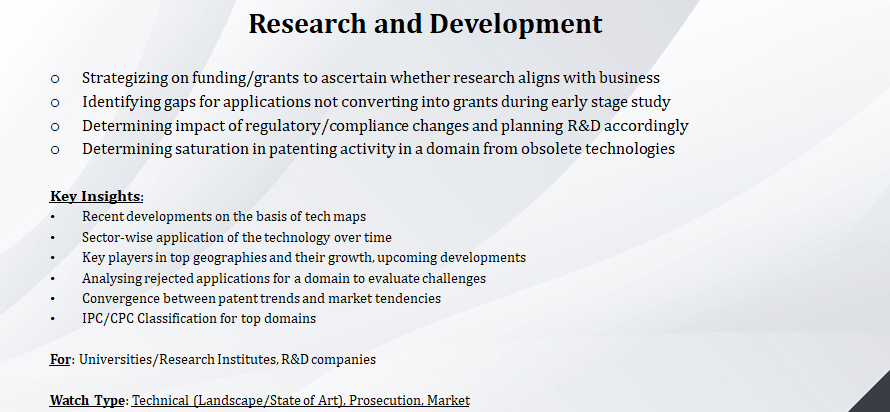 Next is research and development. So research and development is very useful when making informed decisions related to funding and grants. Identifying why a certain type of applications are not converting to grants or the impact of regulatory or compliance changes which R&D can have and further identifying obsolete technologies in a domain.
So this approach is useful for universities, R&D companies and institutes and the preferred watch type are landscape, state-of-the-art prosecution and market subjects.
Case Study: R&D
Devika Saini – A case study in this example is for a client working in material sciences and who required R&D support.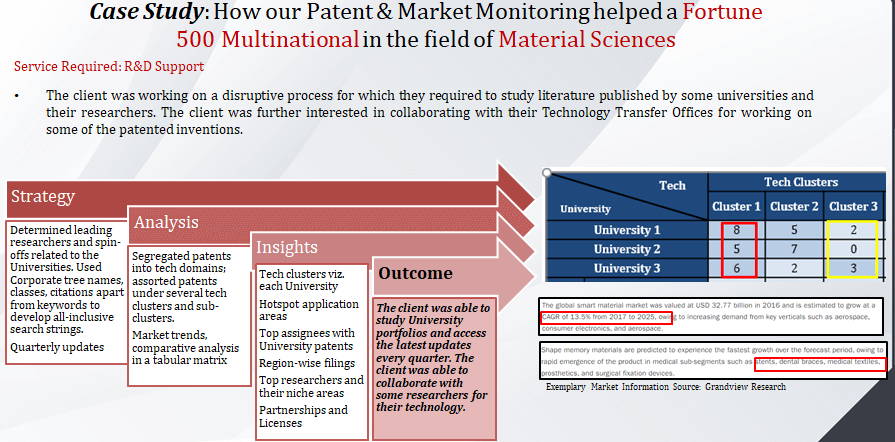 In this case, the insights were provided for all the technical information they wanted to have. Technical clusters on which there university of Choice were working on the hotspot application areas, the type of assignees with patents, region-wise filings and leading researchers with whom they could partner with.
So eventually the client was able to partner with certain leading researchers in the technology area and got very detailed and exhaustive insights related to how to pursue with research further.
Building IP And Business Strategy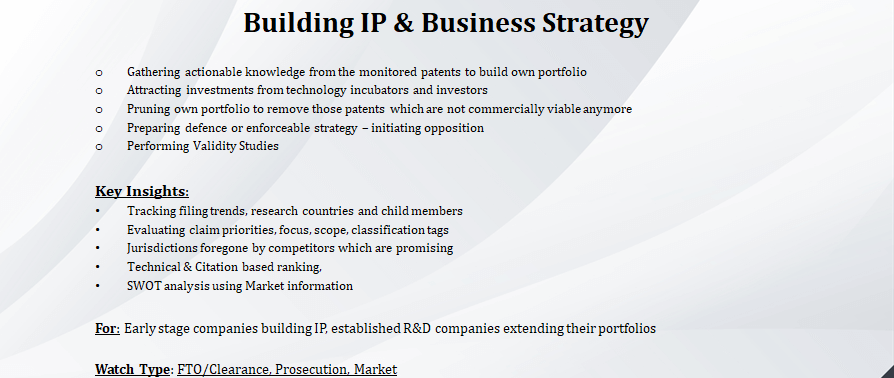 Devika Saini – Moving on to building IP and business strategy. Now, once there is an IP built already it is also very important to take care of that. Maintenance is also important to guard all the IP. Before that, there's always a need to attract investments or expand businesses and also to check whether to prune own portfolio to remove such factors which are not commercially viable anymore. Preparing a defense strategy in parallel is also very important.
So based on that, different kinds of insights can be, developed and this kind of study is very useful for any early stage company who's building on IP and also for established R&D companies want to extend their portfolios. The preferred watch type in this category is FTO clearance, prosecution and market.
A good example in this category can be taken from Netflix who was initially a provider or a platform for content streaming and now the company is actually generating content. So, the company has eventually build up on their IP and expanded their business strategy to take in more investments and finally getting more results.
Patent Maintenance And Paralegal Support

Devika Saini – The last approach in this category is patent maintenance and paralegal support. This is related to taking care of all the patent portfolio which already company has invested in and also keeping check of all the patent pools with third parties. For example, there is any cross licensing or any cross company.
Collaboration related to patents to keeping check on any docketing requirements or any requirements from the patent office, plant, expiry date, or fee maintenance. All that kind of information is taken care of in patent maintenance and paralegal support.
This kind of support is good for companies with large portfolios and patent pools to maintain and the preferred watch type is prosecution.
Summary
Devika Saini – So to summarize. This has covered up overview of monitoring services or patent watch and market watch that includes objectives and outcomes behind performing monitoring or patent watch and market watch, types of monitoring, how global leaders use monitoring and specific case studies where sagacious has helped their clients.
So all these points have been general aspects related to monitoring because this has been an introductory webinar and to follow up on detail aspect, there are some upcoming webinars which sagacious is organizing in the upcoming next two months. And the first webinar in this series will be mega trend or technical monitoring to identify which patents are filed in domains of interests.
So this is all from my side.If there are any questions, please let me know.
Q&A
Ram Tenneti – Great. Thank you Devika, that was a great presentation. Thank you for your time. Yes, I can see some good questions coming up. Let me quickly take through a couple of questions and then we can take things further. So, I have an interesting question here, if I may ask? How regularly monitoring can be performed?

Devika Saini – So, monitoring can be performed depending upon the objective. The end objectives which a company may have and usually it has been observed that prosecution related monitoring, they are performed regularly or more sooner than those on technical front because they are usually more major changes which can be reflected easily in the trends.
So, for example, a prosecution based monitoring can be performed bi weekly or monthly whereas a technical monitoring it can be reflected better with more insights on quaterly basis or half yearly basis.I hope this answers.
Ram Teneti – Yes, definitely.
Which Patent Watch And Market Watch Strategy Is Best?
All right, and there is another question the audience would like to hear how do you decide which monitoring strategy is good for a certain type of company? What to decide whether it is risk mitigation or R&D? How exactly would you strategize? What should be the kind of monitoring?
Devika Saini – Okay so, this is a good question. The study can be performed as per again, I would say, this will definitely depend upon the end objective and as per the requirement what can be performed is, initially technology , prosecution and commercial searches, they can be integrated to generate the best possible insights for patents which are useful to that company and based on how well the insights are helping or the pattern is coming up.
Based on that insight, the specifics such trends can be selected and then monitored from next monitoring onward. So, initially what we can do is we can integrate different types of searches to finally understand how the end objective is achieved.
Conclusion
Ram Tenneti – Okay. That was really insightful answer to an insightful question. I'm sure our audience must have liked it. It has been a wonderful session. Our listeners would have great takeaways from this session and they shall be able to use these pointers when working within their company or in aligning their IP business strategy.
Now, we have not been able to cover all the questions, we were scheduled for a quick 30 that we received from the audience but those which could not be covered they shall be answered in the write-up's which we shall publish post webinar.
So, thank you Devika and I want to extend a big thank you to all our listeners who have helped us start on time and finish as well. We really appreciate you taking the time and your consideration. Thank you very much. Please join us in our next webinar.
Ram Tenneti – Thank you Devika. Have a great day.
Devika Saini – Thank you.
Submit Your Information to Watch the Webinar Video Recording: