IP Search Partner :10 Important Factors-Webinar
Key Points covered in Webinar (Top 10 Evaluation Metrics to Select an IP Search Partner in 2020) Session:
Important parameters of evaluating your IP search partner that are relevant in 2020
Parameters that may appear relevant – but are not that relevant, at least in 2020
Pointers to enable you to get more from your existing IP search partner
How the right search partner can help you impact your topline, bottom-line and intellectual asset value
Hosted by
Anant Kataria, CEO of Sagacious IP
Sagacious IP is a global patent search and consulting company with 350+ IP research and analytics professionals. The company is headquartered in India with offices in US, Canada, Japan and the Netherlands. Moreover, it serves over 1,200 customers from 45+ countries, including 25+ Fortune 500 companies, 50+ SMEs/start-ups, most top law firms and 500+ solo/small IP practitioners.
Ben Pezzlo, President at Search-Center
Search-Center is a Virginia, US based high quality patent search provider to various US corporations and law firms. Over the past 10 years, Search-Center analysts have conducted 1000's of patent searches across a diverse spectrum of technologies. Additionally, our analysts, including multiple PhD recipients, former USPTO Examiners, Engineers, and Patent Attorneys consistently provide the right prior art, in the right format, at the right time.
More details about this webinar:
As someone responsible for serving the patent searching needs of your organization:
• Have you ever had a hard time picking one out of the multiple IP search / research suppliers available in the market? With options including local US-based search teams, overseas search teams, multi-lingual search teams, AI-based search tools – have you ever thought you might choose the wrong supplier and miss out on the next big thing?
• Have you ever wondered whether you are getting the best outcome from your search provider for your money?
• Have you ever been concerned that your competitors' search partners are helping impact their topline, bottom-line and intellectual asset value?
Submit Your Information to watch the Webinar Video:
Webinar Transcript
Faiz Vahid: Thanks for joining in today. Hi everyone. Welcome to the webinar.
I'm joined today by Anant and Ben for this webinar. This is Faiz Vahid , Regional Head for Europe signing in from Munich to welcome you all to our webinar on the topic of how to maximize the value of your IP in 2020. I hope everyone is able to hear me out and if you have any problems, please write in the chat window so we can know.
It was this topic that the esteemed speakers on our session today are really delighted to share. We have participants from different countries joining in today and this is a wonderful encouragement to the work, the attempt we are making to raise awareness and spread knowledge. That has been honed by Sagacious and our partners over several years of working with inventors, R&D organizations, IT departments, and IP law practices.
Today, for this session, I'm joined in by Anant Kataria from Sagacious .Anant Kataria is the CEO and co-founder of Sagacious Research, IP services focused company that about 350+ IP professionals, and has been in the business of patent search for almost 14-15 plus years. Welcome to the webinar.
Anant Kataria: Thanks Faiz.
Business significance of IP Search Partner
Faiz Vahid: Thanks, Anant and also I'm joined today by Ben, who is the Co-founder and Director Search Center. He's a U.S. Patent attorney and has been in the business of Patentability Search for almost 20 plus years. Welcome to the webinar and thank you very much.
Glad to have you both on this webinar and both of your companies have a lot of experience in patent search and personally, of course, Individually, you, as well, have a lot of experience in the presentation today. Let me quickly ask you for your initial remarks, and try to understand what was the background when you thought of presenting on this particular topic? So, let me start with Ben
Ben: Thank you very much for allowing me to join with you today. Happy to be here. Why the topic of today? Why is this important? The value of a patent portfolio is greatly impacted by the value you're receiving, or, in many cases, not receiving from your IP search partner. Traditionally, the view point of a search providers that are just a vendor delivering prior art, and that is essential one.
Search providers is the same as the next been accurate at one time, the industry has evolved dramatically, and particularly over the past 10 years, and there's been quite a few developments in the new solutions, new services, and new tools that are available to providers in this space and that really gets to the essence of why we are motivated to have this discussion today.
We're trying to educate the market about what is available. What is the potential here? The relationships between traditional search provider and a customer. It's transforming and from a traditional vendor type relationship into a partner that's actively engaged in assisting customers to drive revenues and make better business decisions. We'll get into this a little deeper today, but that's why this, this topic is important.
We're hoping to show you how we can, how we can partner with you. Thank you.
Faiz Vahid: Thanks for that quick input and, Anant, what do you think? What does, in terms of your thoughts, about why this topic is significant from your point of view?
Anant Kataria: Yeah, Thanks, Faiz for this question. So, as Ben mentioned, in our engagement with customers and IP community in general, over the past 12 to 14 years, we have witnessed and created new solutions, new service capabilities and tools. We have seen our customer's needs evolve and we've seen the questions in the RFPs, from our customers change up the scene and evaluated IP search operations that are running very well. And we've learned from them.
And then we've also helped improve those IP search operations that were not bending so well. So all this, you know, essentially developed a good knowledge about the evolved characteristics of an IP search partner of up to date. But we also found that there was no single resource, or guide that connected all these dots up. So we created this webinar, and there will be documents that follow this webinar that will also be helpful.
This material will help those responsible for choosing and utilizing an IP search partner for an organization, which will enable well informed decision making and IP, R&D business strategy and, you know, these departments. And eventually, as Ben mentioned, impact the top line and bottom line of the organizations. So, for example, Chief IP Counsel or an Innovation Manager or an IP Manager.
All such designations are people in such rules can benefit from, from this material, especially when that choosing a IP search partner for the first time, or when they are, you know, not really satisfied with their existing search partner. And even if they're satisfied with their existing IP search partner, our intention is that our content enables them to obtain more value from that relationship.
A key aspect is that we share critical information with search firms and then we take critical business decisions based on the information we get from search firms. So, it's a very important partnership for any organization and our intention with this webinar is to remove the uncertainty from this process of confidently choosing such a critical partner for a business.
Faiz Vahid: Right, so, what I hear from both of you is that there is a significant shift in the landscape from looking at the IP service provider, as a vendor to a partnership module. And I also hear you about about top line, bottom line impact and deriving maximum value out of the relationship. So I think that's pretty interesting for all of us who want to see a quick question, I noted that the value drivers you are going to talk about.
You are trying to separate the core characteristics and the state of the art, You can see, you know, leading industry meaning aspects of each of those value drivers. Could you, for the benefit of our listeners, shed more light in terms of how would you have submitted in the core versus state of art? So then when we go to those slides and go through each of those points, then there is a better understanding of why you are putting those points in each of those times.
Anant Kataria: So, the essence of what we're getting at here is, how do we transform from becoming from a vendor, to becoming a real partner? And in order to help make that transition, or that transformation, we talk about certain core aspects, or functions, or characteristics that are traditionally associated with a value driver.
And in identifying these core aspects, we do two things. The first is we ought to define the value driver and the second thing is that we show a benchmark.
So, for example-say it just a vendor type of a level, these core aspects show what you can expect as a minimum from, say, a traditional vendor. And from there, we're able to say, OK, we've established this benchmark. Now let's see what state-of-the-art looks like for this value driver.
And these are the aspects we really want to focus on, because they show what is possible, how we essentially, how you can leverage the expertise of your IP Search partner to make real and measurable impact on your business. And so that's the rationale behind the split or differentiation, if you will, between the core and state-of-the-art, state-of-the-art aspects of a value driver.
Faiz Vahid: Great. That I think sets the context for this seminar, so thanks, Anant and Ben for doing that at the start of this webinar. And before I move ahead and ask you to start presenting those value-drivers. I wanted to invite our listeners to keep chatting in questions as and when they haven't during the course of this session. And you can share the questions via the Go-To-Webinar question box on the right side of this presentation window, there is a small window there. I hope so. I will pick up those questions and ask them to our speakers later on.
And probably, it's worth mentioning at this point of time that this activity, this presentation and discussion around value drivers is going to be a our webinar topic that we're attending. But we'll also follow up with some evaluation forms and questionnaires, which are being put together and this can be useful for creating ISPs are not evaluating existing partners of our audience and participants of this webinar
You can drop us an e-mail to us, we'll share the e-mail IDs that, you know, towards the end of the webinar and you can get a free copy of these evaluation forms and questionnaires from us. So, let us now get started with the main part of our presentation, and for that, let me invite Ben to start through the first 5 or 6 value drivers that can help maximize the value of your ID search partner in 2020.
Quality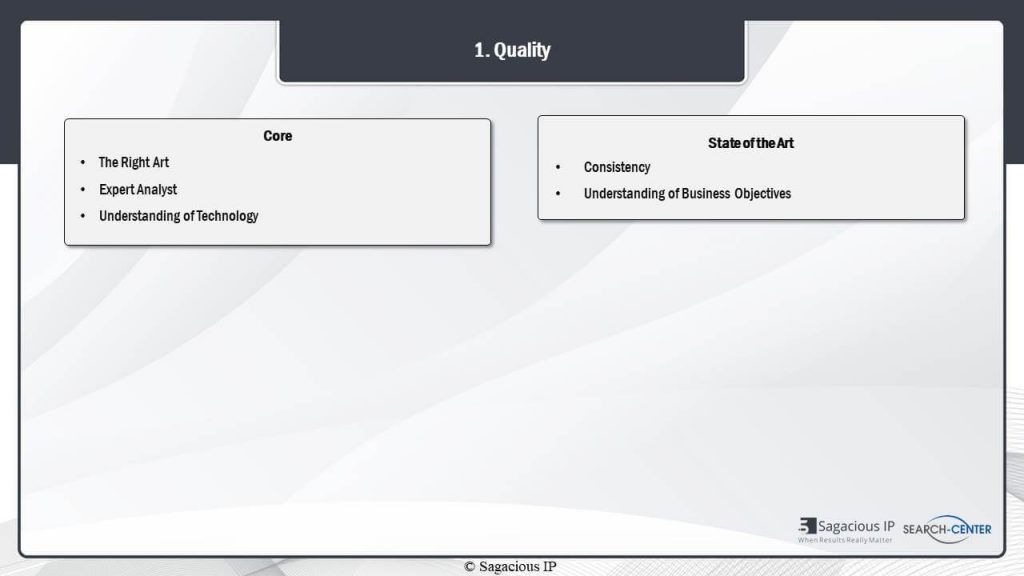 Ben: So, our first value driver is quality. Perhaps the most fundamental value for any search provider, what is the quality of the results that you are receiving, and, quite simply, quality is finding the right art and for, say, a core level performance, we can assume that I'm an expert in an Analyst with experience and the relevant technology, using a commercially available, subscription based search tool, will be able to deliver the most relevant art for any given search project. That's a core level, for state-of-the-art the key here is consistency. It's the right art, be deliberate every time.
Do you feel confident as a customer, client that what you are receiving is of such quality, that you are able to consistently rely on it to make important business decisions? and what we find for a state-of-the-art provider or IP search partner, What are the features we're looking for, most, is the internal review process.
There should be in place protocols for pure or management type of review, preferably with some type of a checklist in place that allows for quality to be ensured every time to maintain that 100% consistence. Consistent level of quality of going out the door on each and every project.
We're also looking for a culture where analysts are empowered to contribute to the review process, and at the end of the day, the patent searching is just like the practice of law and, it's an ongoing process to inculcate your organization with a culture that that encourages people to speak up and maintain that quality. So, we're looking at a state-of-the-art provider. We're looking for culture where and we're looking for an internal review process that ensures that quality is there consistently for every project.
When you're looking at a IP Search partner you want to work with what is the level of turnover for the analyst's? Many times when we're building a team, we need certain we need people who have strengths in different technologies and if you're able to maintain the right culture in a low level of turnover under Teams, you're able to develop not only a good tech spectrum of technologies that you're able to service customers with.
We're also developing cohesiveness and these are measurable parameters that allow you to evaluate a provider to determine if they are going to be able to deliver consistent quality, each and every time. Quality that allows you to make important business decisions on the art that's being delivered on each project.
Professional Relationship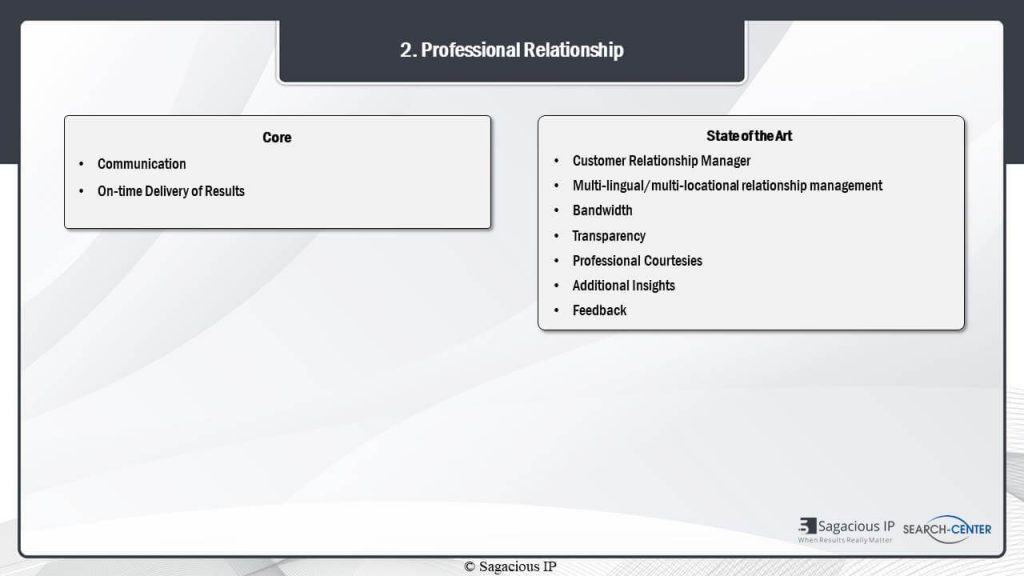 The next value driver we want to address is the professional relationship. What we're talking about here is, as the name suggests, the relationship, the quality of the professional relationship you have with your provider, at a core level, we may expect that the providers provide and prompt communication respond, responding in a timely manner to search requests and consistent delivery of results on time Now, first, state-of-the-art type of relationship. We're looking for a higher level of involvement with your provider.
Does your provider have, or a potential provider, have a dedicated customer relationship manager, someone who's able to respond to any inquiry across the entire service spectrum with immediacy, same day, with knowledgeable responses, with knowledge about your business and your goals.
This is the type of relationship that the state-of-the-art. we're also looking for. How is the provider able to communicate with you? Are they able to communicate with you in multiple languages and have multiple locations? Are they able to communicate with you during the normal business hours that your business unit is operating in?
We're also talking about bandwidth: IP search partner is going to maintain a certain level, a certain margin of bandwidth. So, that by and large projects or projects that require immediate attention or quick turnaround are able to be handled as just a matter of course without levying and expediting charge for that extra attention to this search.
We're also looking for transparency. How well are you able to see into the project before, during, and after completion of the project? Are the credentials of the analysts or analysts perform on the search knowable or known before the search starts? and how is the customer able to interact with an analyst at any stage of the search?
These are just a few of the aspects which make the professional relationship state-of-the-art.We're also looking for feedback. How is feedback, So maybe you have the opportunity to provide feedback. But how is this feedback handled?
The state-of-the-art provider is going to show you how your suggestions and feedback have been implemented in a controlled feedback process to improve the quality of the professional relationship before going forward. Ultimately, when we talk about a professional relationship, we're talking about a provider that's acting in the capacity of a partner, that's driving and dedicated to helping the customers succeed.
Process and infrastructure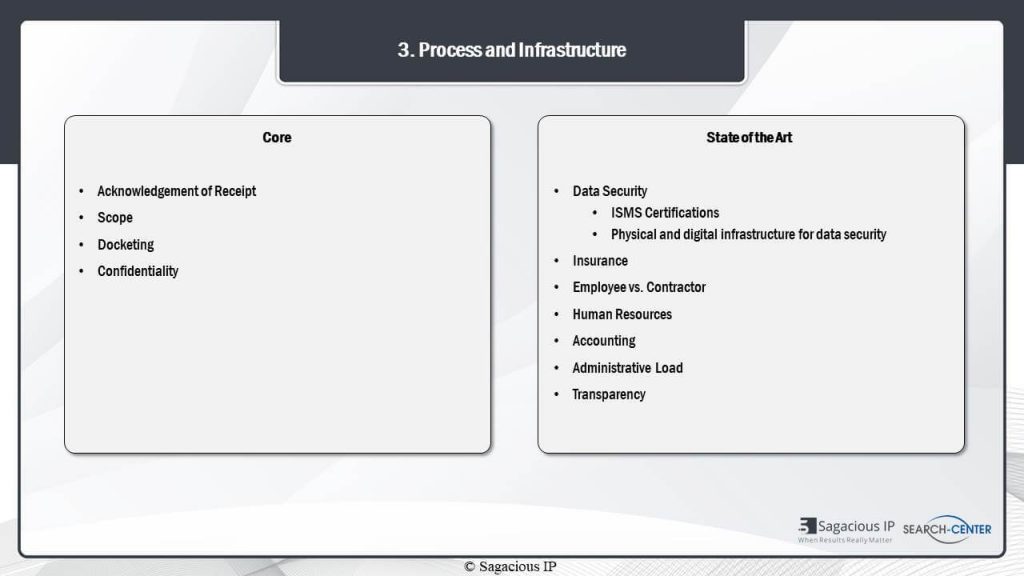 For a core level provider, we are looking at, and I'm sorry, I should back up a little bit, and talk a little bit about the definition of what we're looking at when we say process infrastructure.
It's the steps taken to ensure that your project is being properly managed, and the personnel involved and your price in your project are also being properly managed. At a core level, This value drive involves an acknowledgement that your project isn't safe, received proper by the provider. There is an understanding of the scope of the project, and the project milestones are set and maintained and we're also looking for a basic level of assurance that your project is being maintained in confidence.
Now, moving on to a state of the art level of performance with respect to process and infrastructure.
We're looking for actual concrete data security measures that are in place. Are your provider, perhaps certifications from independent auditors. We would like to see that there's physical and digital infrastructure in place to further protect your information, and also insurance, adequate insurance in place, so that, you know that you are protected in the highly unlikely event that something were to occur with respect to data breach.
From a personnel perspective, we would expect a state-of-the-art provider to be delivering services through its employees and whereas the use of contractors is the exception, perhaps, for some esoteric technologies, but not the rule, not a strong prevalence of a lot of sub-contractors in place to perform the work on for a customer. We'd also like to see, well established human resources and accounting departments.
And even with that infrastructure, these processes in place, it's important also to assess for the state-of-the-art provider. What is the administrative load on each project? Does the provider have a high ratio of analysts to administrators?
It is technology be leveraged to optimize effectiveness, and reduce inefficiencies. Here, again, information about these aspects. if you're involved in an RFP process, these types of these features should be should be readily shared with the customer. So, that's what we see from a state-of-the-art, What is an IP search partner look like, with respect to the process and infrastructure?
Ongoing Development of People & Tools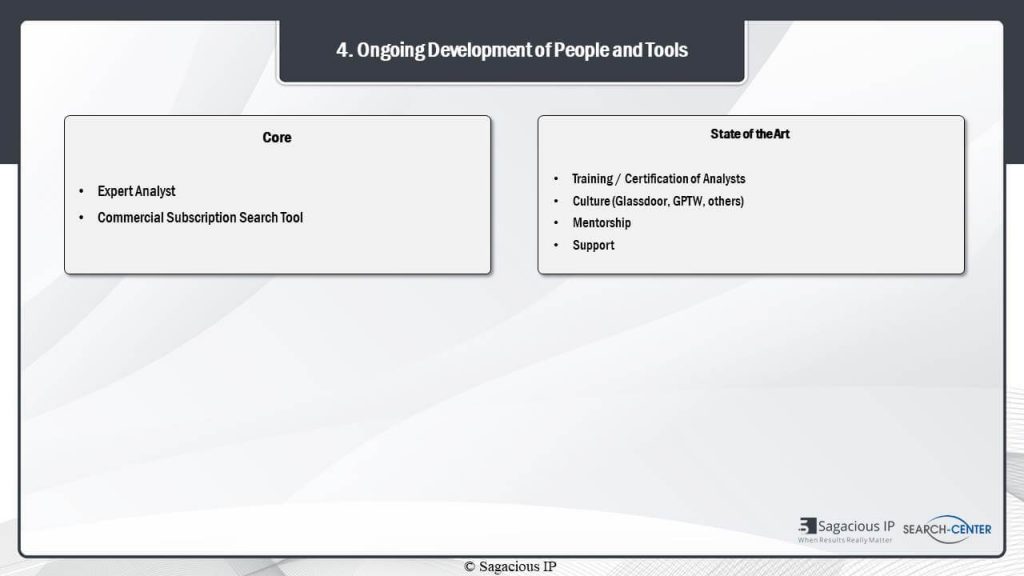 For this value driver, From a core perspective, we are expecting as a baseline, an expert analyst, who's proficient user, a commercially available search tool. From a state of the art perspective, on the other hand, we're looking for a provider or partner, if you will, who has implemented ongoing training for the analysts, and perhaps with certifications that may be available to, for you to ascertain.
Where is this analyst with respect to not only a technical background, but also with respect to the tools that are available to the analysts for performing the search? We're also looking for the state-of-the-art provider to be assessed publicly as an employer, perhaps, through a glass door or great places to work or some other type of third party that it shows, this is where a professional analysts would like to have a career.
There may also be other programs, for example, mentorships or other support and resources to maintain optimum working conditions for the analyst. Those are just a few of the things. We see it from a state-of-the-art perspective on an ongoing development of people with tools.
Peak Workload and Scaling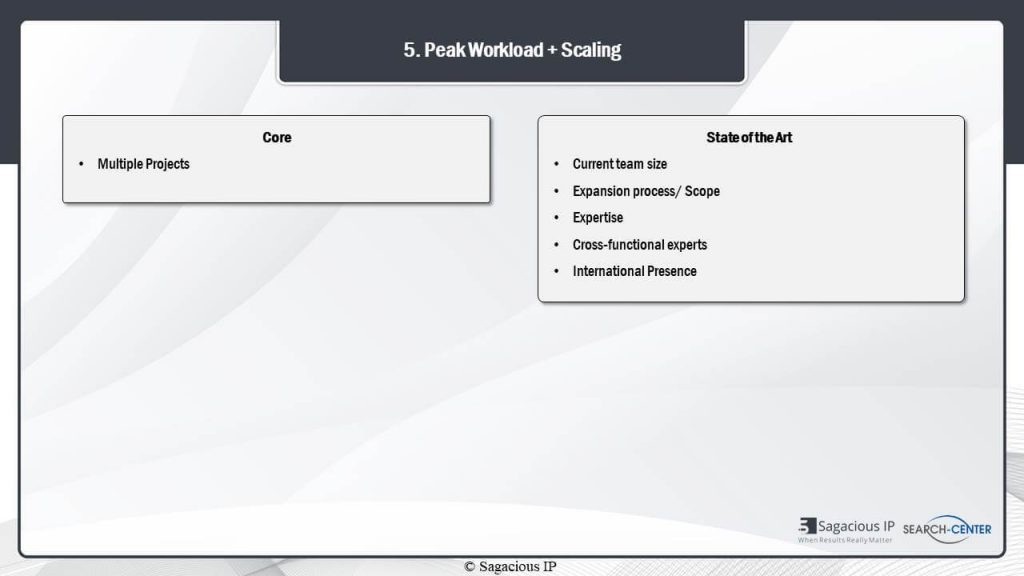 On a core level, we would expect a vendor, a traditional vendor, to at least be able to take on multiple projects, manage multiple projects at a time, whereas a state-of-the-art level type of a partner would have sufficient staff available. So that normal delivery times aren't affected, even during times of high workload.
This is an entity that is able to commit requisite expertise for high low, high workload situations for cross functional teams, perhaps, at multiple locations. So that normal delivery times can be maintained in all technologies that are being developed by a particular customer can be handled at any given time.
IP Capture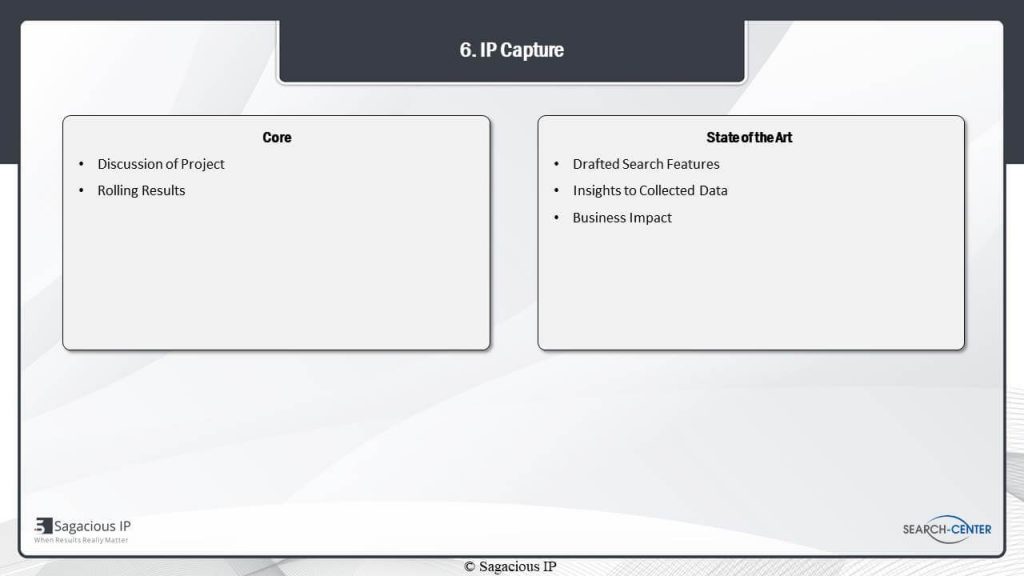 This is, I believe, one of the most important aspects of working with a real partner in this space. We look at a core level perspective on this, on this value driver and we can see a vendor that understands your project, is willing to provide, say, rolling results, so that the, the information being provided can be assessed in real time.
But, at the end of the day, that the more core level of performance for this value driver involves. Kind of a transactional, this is we're receiving a project and we're turning it around and while that may lead to a certain baseline level of satisfaction, it doesn't rise up to what we would refer to as it is a state-of-the-art type of, uh, type of a performance. I suppose the best way to address this, this value drivers, is to give an example.
we've seen, where, today, there are managers of IP portfolios, where the manager is having to review a large number of invention disclosures and send these disclosures out to search providers and as part of that process, where this practitioner or this manager is operating by himself or by herself is you inundated and heavily taxed and having to look at these invention disclosures and determine, OK what are going to be the perimeters that I'm gonna lay out for this search?
An IP search partner, committed to the success of the entity, is, is looking at these invention disclosures and developing search features, hand in hand, with the practitioner, either, revealing the, the initial search features provided by the practitioner.
And adding additional search features to capture, potentially, additional, patentable subject matter or drafting the search features by himself and by herself, the analyst.
And in this way, what we what we see from an IP search partner is that perhaps overlooked or unseen or unappreciated aspects of of each project are being illuminated and brought to the attention for the customer. So that the value to the business of these, of these assets is being improved.
Although, for this particular value driver, it seems difficult to measure. In that regard. It's something that, perhaps, maybe a recommendation from someone who has used his partner, the search provider in the past, would be able to shed light on what is the level of engagement of the IP search partner? And how are they adding value, how are they helping you to capture IP? So that these patent assets become more valuable.
Faiz Vahid: Yes, Ben, thanks for that. I think those are good six points then you have covered in earlier this stage. So I have some questions that that I have noted as part of what do you have presented. and I also probably would like Anant to now come in and then give them more, extend this topic further, and add the additional value drivers that he's going to cover and then let's let us take up the Q&A after that so on. Can you please continue with the next value driver?
Anant Kataria: Sure. And thanks for taking up the first set of parameters are pointers. I think that's pretty good. So the next one that we see on the slide, It's Reporting.
Reporting
So essentially, you know, at the very baseline, a search firm can satisfy the very basic needs of the consumer by just providing an electronic Search report. that's easily consumable readable. So you know that is the baseline. For example, you know, a one size fits all report format might work even today for standard patentability search needs of some companies. However, things have changed over the past few years. The consumer of IP information has gone beyond just the technology normally used.
IP Analytics Report, They found their way into the C suite, business strategy department, marketing departments, even HR departments, and, and, you know, whatnot. So the reporting and delivery platforms have also evolved accordingly. Therefore, I would say that a certain IP search partner should be able to provide reporting that suits the needs of the customer. It should still be able to provide a Word based report Card Irregular IP user, you know, making it easily consumable with reference to feature mapping and all those things. But at the same time, it should also be capable of providing, like for example presentations and slide decks for executive meetings, or a continuously updated dashboards for on the go access by the C suite.
You know dashboards with uncluttered and user friendly, UX then it should also be able to provide interactive dashboards for business strategy department, providing them real-time analytics and even pictorial or video or like animated somebody's of patent so that a non IP person can also understand the technology in the patent.
Not taking common example, these days, most companies do innovation, harvesting, and screening through a stage gate process is implemented on the innovation management platforms. So, IP search partner should be able to integrate into such innovation management platform, and provide the results in the desired format that enable decision making.
So, essentially, an IP search partner, you know, from the perspective of reporting, it should not be limited in their delivery and reporting options. Should enable easier, faster, and more accurate decision making at the consumers end, by providing correct information in the format that various stakeholders be it from any different types of departments, or any different types of background and perspective.
Now, they should be able to review and consume that information easily. So, that's why I believe this, this aspect is very important when you're evaluating an IP search partner for your organization. Moving on to the next slide. The next parameter, which, again, I think is of supreme importance, is that your search partner should be able to provide you a single point solution.
Single-Point Solution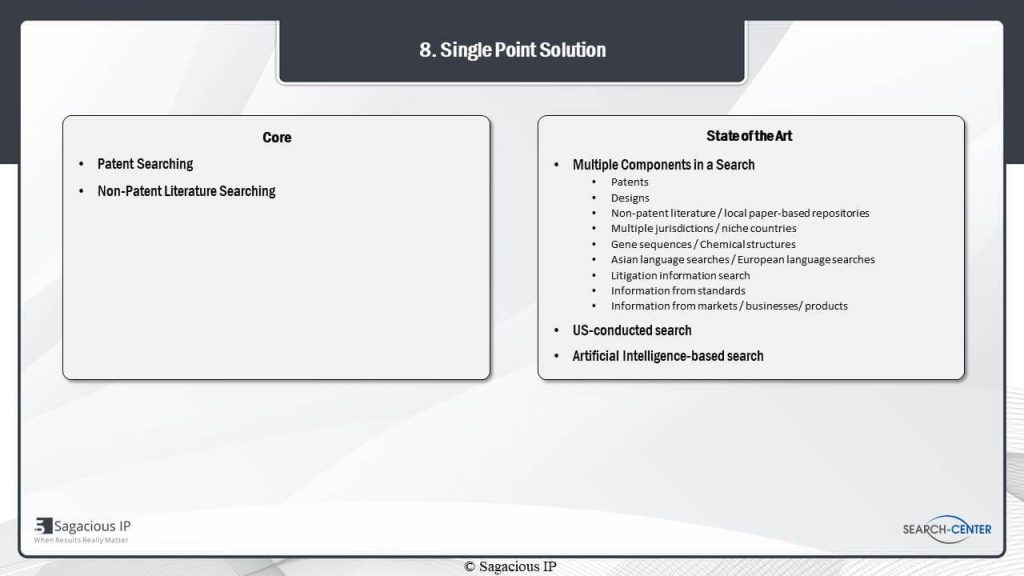 You know, usually in traditionally a search firm, able to conduct a comprehensive patent search and non-patent literature search, would be able to satisfy the baseline needs of an organization.
And, you know, occasionally, they would need any special search, like a chemical structure search, or a gene sequence search. Then a company would usually have to go to a specialized provider to do that and that was fine. That's, I would say a baseline capability level four for a search firm. But the state of the art search provider, or a provider that you want in 2020 to be with you to help you run your search operations. They should have the capabilities to search all the various types of information and data.
Think apart from patents and scientific literature or non-patent literature, they should be able to search designs, gene sequences, chemical structures. They should be able to search multiple jurisdictions, even niche countries. For example, if you want to conduct an FTO in Chile, you want to launch a product in Chile. Then the same IP search partner should be able to do that.
We should be able to do Asian language searching, European language searches. Now, again, you know, the world is becoming smaller and smaller. There are things that are manufactured in Asia and being sold elsewhere in a different country, or, you know, servers are part of the infrastructure Part of the implementation, is in Europe. So, you know, you don't want to engage with multiple providers to take care of that. So your IP search partner should be able to do multilingual searches here.
At times, there are situations you need litigation information to make decisions you need information from standards like 5G standards or, you know, Wi-Fi standards are all these areas, where your search partners should be capable of? You know, providing that to you. Orange Books, FDA Trials. So all these essential sources, they should be able to take care of now, in a way, you know, they should be able to run the entire process for you
For example, if you're a company that generates thousand disclosures every year, then to optimize the cost of screening those disclosures you want to implement an AI based tool in the beginning that inventors can quickly do a knockout search that it sort of just enter their invention in whatever way they can and you obtain results that. So let us say you believe that that will help you eliminate 10% of the inventions at that stage where the inventor searches.
He get something which is exactly similar to what he was trying to put in. And then you stop step up, and then the 90% of the remaining that go out.
Let us say, the remaining that go out, of, which, for example, Let's say your company's in US. And 10% of those inventions are such that they may be subject to export control. Now, you want those 10% of the inventions to be searched in US, whereas the remaining 90%, you are OK for them to be sent outside the US And researched their right to optimize cost and everything.
Now, an IP search partner, at this stage, they should be able to provide you a holistic solution that addresses all of this, so that you don't have to go to multiple vendors and co-ordinate with them, and, you know, make them co-ordinate with each other. So, implementation should be easier at your end, So, that's why it's very important parameter. You evaluate in your search bar.
Scope of Services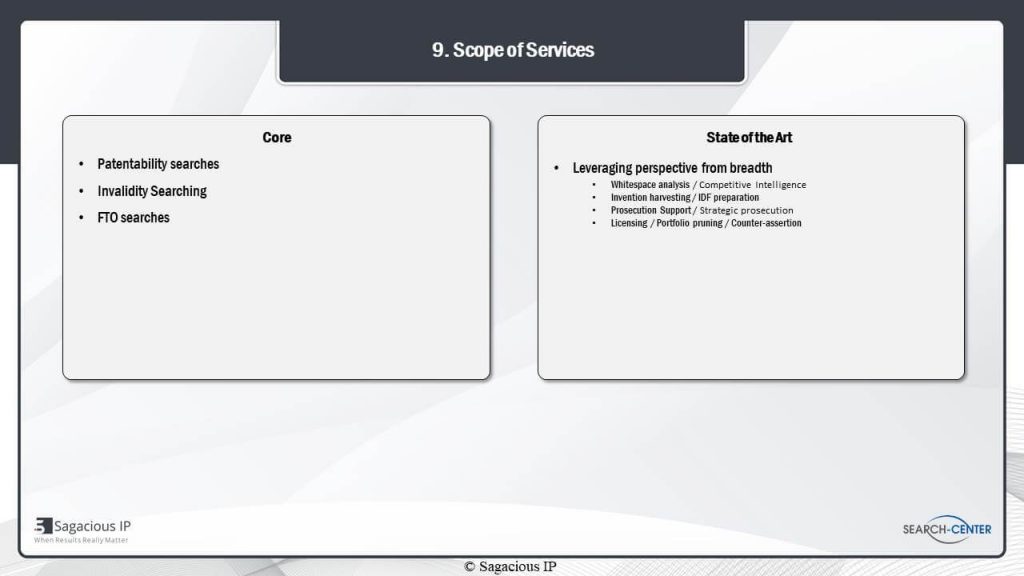 Now, it can be interpreted in two different ways. Now, what my intention here? Highlighting the scope of services, is not to say that the search partners should be, like, you should use your search partner in all these different areas, or all these different types of services.
Or what I intend to say here is that, yes, such partners should have exposure in multiple areas, so that they can bring the perspective Chrome, all these, different types of, you know, stages of innovation, life cycle, that they've worked on, and bring that perspective even to just that single search that they're doing for you.
So, you know, traditionally, a good firm would usually be able to conduct a good, let us say patentability search, invalidity search, or a good Freedom-to-operate search because they have good patent databases, non-patent databases, the technical experts but a search partner that has helped customers with these various business objectives. By working on customized projects, you know, obtaining objectives from the customer is designing a solution, brainstorming and creating those outputs.
They can bring a much broader perspective even to these standardized services. So, for example, if a search firm has had experience in infringement identification and creating you charged in licensing support, since such, a search firm can definitely add more value when conducting FTO for you. Another example is if, let's say, a search firm that has experience of supporting patent drafting or prosecution or doing research for strategic prosecution.
They can add more value In a patentability search by depicting potentially patentable flame structure when they complete the search. So essentially, you know, we did some calculation, actually and we found that the average cost per issued patent can be brought down by 41% just by up rejecting more inventions that are un-patentable and if you have a search firm that has a holistic experience gained from licensing support, and prosecution support, they can help you do that and also by identifying potentially patentable claims structure, at the end of patentability search, thereby reducing the time required by patent attorneys to prepare the applications.
And potentially also reducing the number of Office actions to grants all this will impact clearly onto the cost of obtaining getting an issued patent.
Collaboration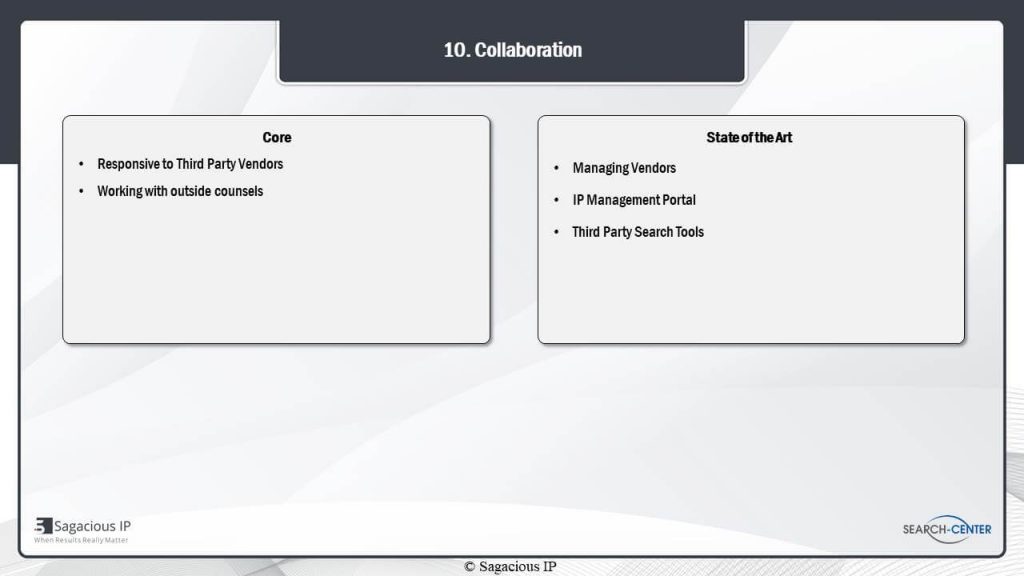 Now, mostly the output coming from a search firm is used by outside counsel. Many a times, companies and that outside councils work with multiple vendors who need to co-ordinate with each other. For example, when supporting a joint defense group, along with multiple other search firms, close co-ordination between vendors becomes important.
And this has the baseline performance that must be expected of a good search for if you have any search firm that works for you, this is what they should be able to meet but when we talk about the state of the art, our search partner, or search partner for 2020, they should be able to go beyond this and add more value. For example, they should not just be co-ordinating with these other search vendors, but maybe they could be your single point of contact and they are adapt at managing these vendors for you.
They're not averse to collaborating with all these peers, but they want to make sure that you are getting the most value where you spend the least amount of time and, at the same time your needs are addressed, which are, which are coming from different service providers, And they should be able to co-ordinate with your innovation management platform to create custom features for you.
If needed, they should be able to collaborate with software companies to create customized solutions for internal use. So essentially, the main thing is not being outlets to collaboration, and the second most prominent aspect is being willing to collaborate with people and give you a solution that is helpful for you. Now, it is becoming increasingly important today, because the rate of innovation and, growth of innovative products and solutions in this IP service market is very high, and a holistic solution for an organization these days can be obtained, mostly by combining multiple unrelated tools and services.
So if you have a search partner that is willing to collaborate, you are much better suited much better positioned to leverage the existing market solutions most optimally. Now, moving on to the next one. So, we have covered 10 already, and, and, you know, this is like a bonus point, essentially but this is important and at the outset, I would say. Although the topics is continuous cost optimization it has a cost in it I really want to highlight that it's not essentially, that your service provider should be a low cost provider.
What I intend to say is, Your IP search partner should have an intent, or should have a mindset to keep lowering the costs to keep looking for ways to optimize the cost and reduce the price that they charge you while delivering the same quality Or even improving the quality in the process. So in the interest of providing more value to the customer. Any good search firm today should be able to offer fixed cost options, in addition to, you know, the very traditional estimate based options.
But the industry is changing so fast that there is always room for continuously increasing efficiency, you know, leveraging government benefits, utilizing new tools, opening new offices in low cost locations, and so on. There are numerous ways to keep reducing the cost of conducting a search for our customers. So an IP search partner should be committed to keep doing that.
So you'll want an IP search partner with this mindset of reducing the cost to reduce the price, and thereby increase the volume of that business. And, not a search partner that has the mindset of reducing the cost, to just increase the profitability, is a thin line, and It's not like you can detected, just by looking at the credentials of a partner. It comes across, through conversations, or asking them direct questions about what are there plans to do to keep delivering same service at a lower cost.
So, as I said, essentially, the ideal search partner may not be the lowest cost provider, but someone who has continuously striving to reduce the cost for you. Faiz, I think, with this, I have covered the point, Over to you.
Q&A Session
Faiz Vahid: Right. Thanks a lot, but I think you got me thinking. And not only that, I can see from the flow of questions that have been coming, while the two of you. I'm speaking. I have received a lot of questions actually, and some of them are very, very specific to individual positions. So, I think I have in the meantime, while I was receiving those questions, I tried to filter them out. And I've selected a few questions that maybe we'll go through now and as we have the paucity of time.
But I just want to assure us that for the questions, which are really specific to their particular needs, titled into a follow up, outreach to them, as those questions by Anant or Ben. And with that, let me actually go onto other to the questions that I have shortlisted. So let me start by asking Ben. This is a question that one of our attendees has asked already before the session started, and you have touched upon this in a manner, when you talked about the role of the vendor changing into a partner.
But what this particular question is about is how have you seen the shift in the vendor paradigm in the last decade? You know, maybe you could shed some light on 2 or 3 major paradigm shifts, or some of the factors that we talked about, where you have seen them needs to know the maximum shift based on your experience. So, how has this, you know, the importance of the search button, or change, You know, the age was look 10 years before, and how it doesn't look now.
Ben: OK, thank you very much for the question, from a broad perspective. We've seen the shift from this vendor relationship to a partner relationship in that, the pressure on the IP Portfolio Manager to handle a large volume of IP related matters as it has resulted in the develop additional responsibilities of additional offloading of the responsibilities to the IP search partner. and so that, ultimately is what is driving this transformation.
Where before maybe a patent attorney was required to handle, say, 10 or 20 new invention disclosures now they're being tasked with maybe 100 disclosures and so in, it is part of that process, They are having to rely on the provider We're not having to rely, but they're looking to rely, they're looking for a partner and we're looking for somebody who understands not only the technology, but what does this enrich and mean, What does this disclosure mean to the organization? How does this disclosure fit into the total portfolio? and as part of this process, May, of course, we're looking to to further develop that relationship, we're looking to go one step further.
So for example, receiving a number of a number of disclosures and we're tasked with performing, say, regular patentability searches, we're developing a body of knowledge about the portfolio, And we can report back to this manager that here are the heroes of the spectrum. Here's all the work we have done for you over the past year or two. This is where the invention and this is where the innovation is taking place. These are the various subclasses in which your inventors are innovating.and by the way, here are the ways in which your top five competitors are innovating and with this type of report with this type of feedback, this portfolio manager can then go back to the C suite and Say: OK, this is where our competitors are innovating looks like we have a weakness here, weakness there and we should dedicate more innovation to, to some of these areas to develop better parity with our, with our competitors.
So, by being proactive in addressing Some of the areas where the portfolio managers are not able to look at the, the information that, that we have and by making this information usable to them, they were able to take that information to the C suite and make better business decisions with regard to their portfolio. So, it's a combination of two things, it's the practitioners and the portfolio managers being tasked with greater and greater workloads and looking for solutions for outside partners.
And it's also what I would call an IP search partner saying, look, we have this information and we're eager to help you. And we would appreciate and desire and want, where we have the drive to further help you and further drive your business school. So, it's symbiotic relationship. The relationship is changing because the practitioners want us to do more than we want to do more for the practitioners.
Right, I think we have. We have five more minutes, so I'll try to run through these questions quickly, and I like to ask, and, and to keep this short. Anant you mentioned about this video, somebody's off patterns, I haven't heard that one before. How does that work? And how would it make any impact to the user's organization?
Anant: Faiz, thanks for this question. I think it's, it's interesting to ask, so I'll take it with the help of an example. So imagine, like, you know, you run the R&D division of a company, operating in a highly innovative domain, where you and your competitors have all have huge R&D team churning out numerous inventions every day. That will stay ahead of the competition. It is important for you to keep good R&D team updated on the new technologies. Your competitors are working on problems they're trying to solve, and in those problems that they're still not able to solve.
Now, how do you do that? You could run an alert service that just shares all new competitors, patents, but relevant members in the R&D team. But then you have the following problems. You know, you patent being patents and R&D personnel may not be looking forward to reading that IP jargon in the patent and understand the technology. So you are essentially demotivating them.
And even when, let's say they get to the task, it could consume a lot of their time. That's productivity loss. Then, more importantly, you don't have fast-paced environment, speed matters and you're losing out on speed just because of this ugly pattern right in front of an inventor.
So here, if you could use a service that screens the patent applications, and eliminates the non relevant ones, that should not be put forward. But summarizes the relevant funds in bite sized pictorial or animated summaries, and then sends them to your identity. So see, in this case, you are able to address all these other problems.
Inventors will spend less time understanding the inventions. They wouldn't have to read a ton, so they won't be demotivated. And it will be fast so it can directly impact the ROI of an R&D investment.
Faiz Vahid: Yeah, that sounds interesting. So, I have one more question here For Ben. Ben, you've talked about processes and infrastructure, and, of course, and also talked about tools, and he touched on AI towards the very end. But there is a question around this, one of the audience asked this question, although it's a very specific question, in terms of the non-patent literature tools have recently been released, and we have sample results for areas in manufacturing and auto. I'll probably not ask you that question directly. But what I would like to ask you is, if you can touch upon that, that's great, but in general, AI is affecting the research is done nowadays and haven't hired him back to the future. How do you see things?
How do you see AI affecting the search process within companies? And what do you see as the role of the search partner? Will they get affected with AI. What's your view on?
Ben: This is a great question, and it's a topic that Anant and I have been discussing at length.The search industry has attempted to incorporate AI tools. I suppose, in a very basic level, these types of tools that extract simpler terminology.
From disclosures. And then, attempt to perform a search automatically, against the body of electronically available prior to that, and then deliver results, says, this has been happening for you, for years, and years. Now, The question is, are always evaluating and looking at these tools and considering whether or not they may be viable solutions.
What we see, maybe as a first step, similar to Tesla, where these AI tools are being used as an initial solution but ultimately, there is still human guidance of these tools in there, They're not quite developed to the point now where they can be relied upon.
As a solution, before developing relevant prior art, independent of human intervention. First go around on a search, An AI tool may be effective, for example, an engineer or scientist working in a lab, uploads a disclosure to an AI and maybe the AI tool is able to push back a piece of product or a few pieces of prior work that immediately kinda knockout the patentability of this disclosure, maybe that's like a first line of defense, so to speak where the tool can be used to say, prevent a search from being initiated and nearby, save some costs to the customer.
But, as of today, the tools that we have seen out there, don't rise to the level, where the Human, the Human element, the, the art, and science of patent searching performed by an expert analyst can be taken out of the Equation book or keeping our eye open and we're always looking for tools that can help to reduce costs and, and enable better, better, solutions for the customers.
Faiz Vahid: Just a follow up question on that, Ben. Do you see any promising tool out there? Which has caught you eye and you want our audience to take a look into that.
Ben: not presently. There's nothing. There's nothing, really, There was nothing I have seen out there now. But the issue that we see with most of these, the tools that we've evaluated, is that theirs, even if the search, this AI tool is able to develop a body of prior art with respect to a disclosure.
The volume of art that's issued out is such that it's, it's too much to assess and even requires it's such a large body that it requires an another search to go through to find out what may potentially relevant in the results produced by the AI tool.
Faiz Vahid: I think we could actually do a separate webinar on that particular topic itself. So let me move on to the next question to Anant, in your initial slide. You mentioned that the right search could impact the top line, and bottom line of an organization you were talking about impact.And could you share an example and thoroughly related to the parameters you have highlighted today?
Anant Kataria: Yeah, Faiz . There are actually several ways in which a search partner can impact the top line and bottom line of a company. I'll try to list a few. So, like I mentioned earlier, you know, search partner can actually help reduce the per issued patent cost by 41%, so that directly impacts the bottom line. That's one example.
If utilized correctly, a search partner can help an organization prone its portfolio and save on maintenance costs. But that's, again, a direct impact on the bottom line.
Another example could be, if a company is willing to make IP monetizable aspect, what they could do is, utilize the search firm and mining patents, identify or create new licensing programs for them. So when I search for them, as such, I'm actually talking about the state of the art search partner here that has a diverse expertise.
So they would be able to create these licensing programs because of their exposure to patent binding and patent monetization support. And, you know, these licensing programs, they can end up generating revenue impacting the top line.
OK. This is a little bit Probably far-fetched but not as far-fetched as it would seem because we've done things like that, Show companies, want to, know, want to be aware of any potential risk of litigation going forward. If there's a search firm that has this expertise, that can look at the, you know, potential competitors, what they are filing, and what litigation that happening in their area, in their own country, you're in, know, in various other countries across the world. So, and then, based on that, identifying at risk of potential litigation against a patent, or at least a certain set of patterns.
If you are a company and I come to you and say, you know, against these five companies, there's action in the market and you might get sued against these patents and you start preparing around and you start probably minding your own portfolio to identify patterns for counter assertion against these patent owners. Or you start taking action against invalidating these patents. And imagine if that ends up saving you a tremendous litigation cost or ends up saving you Let's say damages that you would otherwise pay if you were just caught unprepared.
So, what that does is that directly impacts your topline that also impacts your no perception in the market, so you save face. There's no bad publicity in the market because of you being infringing. You know, depending on the markets that you're in, that could be backlash. So, yeah, I think these are some of the areas that I can think of.
Faiz Vahid: I think I'll take two more questions, and then we'll close the webinar and you kind of shooting seven minutes a moment, I think you can call for under five minutes before we lose everybody. Coming back to Ben, you talked about how you know the method , also, collaboration between the client And the search firms has become more iterative and sort of agile way of working where there is more back and forth and working more closely with the science.
You also talked about the value addition, that is happening on a, on a runtime basis, on a regular basis of engagement. do you see this happening and customers, You work with them. And how do companies looking, to measuring such, kind of value addition by this search bar? So, how should companies look into it, or how are they already looking into it? Because this is not sort of the expectations for this is, like, the value addition beyond the expectations of the Knights.
Ben: Well, that's a great question and the reason, or the driver for this, is, that, as the relationships, so, for example, we have a number of customers who, when they initially began working with us, who will send us.
So it's a basic search work, but as we deliver the results and we engage the customer or the client inn conversations about the results, we're able to show that, OK, we understand the technology, we understand the prior art, and additionally, when we're in a conversation, we were able to ask the question , based on our experience, what is the business impact of this invention, or this portfolio of inventions to the organization?
And it's these conversations that started to drive the need, or the desire, or the, or the, or the ability for us to be further leveraged to begin to produce information.
That further enables the Portfolio Manager to interact with the C suite to make decisions regarding these portfolios, whether it be with the priority of prosecution, which, which disclosures or moving forward with for prosecution Or which somebody's disclosures, where There may be potential for licensing in the market or there is the activity in the market that shows that the potential courtrooms that could arise out of this subject matter, could give rise to licensing fees.
So, it's this, these types of questions that start to result in the relationship with customers developing, now as far as you mentioned, briefly, about metrics, or measuring these, these types of activities, the, sometimes difficult to measure what is the business impact. The main goal here is to take the information that we're collecting, then, that's been shared with us, and processing it, synthesizing it and delivering it back to the customer.
So that they're able to see, maybe, a global perspective, and in cases more granular view of portions of the portfolio, that allow for Good business decisions to be made, are only on the information.
Faiz Vahid speaking: The last question for this session goes to Anant. You gave an example where a surge partner could be a single point solution for an organization. Many organizations have the huge volume of inventions or, concerns around export control, etc. Can you highlight any other example where these multiple capabilities could help an organization?
Anant Kataria: Sure Faiz, let us start with an example.
Let's imagine a small trading company that sells products online on Amazon, Wal-Mart, and other e-commerce stores. It sources novelty products from countries like, China and other places, and sells it online in US. Such companies do get sued, or receive legal notices for trademark or design infringement and sometimes even for patent infringement.
This takes a lot of the time of the senior management, their attention and even their cost. At times. These notices are frivolous. However, they are meaningful and that puts them in a position where they don't want these hassles at all. We have these huge list of products to choose from. We can have some sort of screening in, the beginning, to choose the projects that would be free of such hassles.
At the same time, they don't have the funds, or the requirement to conduct comprehensive FTO's. Also, at the same time, they want some sort of evaluation in the beginning that whether they should invest in this product or not. In such cases, a quick, customized FTO that focuses on design patents and trademarks also. And also very limited narrowly on the patents. You know, an analysis of this sort should be sufficient And, in addition, if we, if you also do a quick litigation analysis and tell them, , this product segment is not that litigious, it's fine to go into that. So, that kind of analysis, even though it's like a small player, but very small need. But the need, it's getting fulfilled by combination of these different types of searches. So like that's one example.
Another example could be of a pharma company that has researched and invented a new molecule now to do patentability or an FTO For such a molecule, they will not just need a patent database search based on keyword class, assignee, invented, and all those things. But they would also need the chemical structure searches and that to various scopes.
They do not have search partner that gift that's capable of doing both these things. That they'll have to spend a lot of time explaining the inventions are sharing the details with multiple search providers. And what happens is that when you do a keyword search, you get some results. And you take those as an input to your such structure search to kind of save costs on structure searches. So then, there is another overhead of correlating, co-ordinating between these two firms sharing results of one to the other. So, this is another example where, if all that was available in just one company, that would be that could save you a lot of time.
Another example , let's say, if there's a company, which is primarily almost all the companies here that are, in fact, using products in China, and then they're selling it in France and Japan.
or they plan to manufacture something in China and sell it in France and Japan.. They want to they will need to do FTO in all these three country. So should they be connecting with search firms separately in China, France, and Japan? Or if they could get one IP search partner that can take care of all these things, that save a lot of time.
So, there could be several other cases, but these are the ones that directly, three scenarios that popped into my head.
Does that give you some context Faiz?
Faiz Vahid: I think, it gives a lot of context to two for the people who ask these questions, And I think we already now come to the point where we need to close the session. I think we had a great discussion, as well as the presentation from you, Throw out a lot of content for people who, think through and use in their day-to-day activities, and I'm selecting the dollar value drivers that you shared in our quality professional relationship, process, infrastructure, the ongoing development of people. and to peak workload, IP capture, the reporting solutions, the single point solution, the scope of services, collaboration, and continuous cost optimization.
Thus, I think those are the lesson, the 10 value drivers plus one bonus, value driver, which is the continuous improvement, continuous cost optimization, delivery. Those are great points. I am sure the listeners have a lot of takeaways from this session. Also, we'd be able to use several of these pointers when engaging with search partners to maximize the value of the engagements. Although we have not been able to cover all the questions that we received from the audience, Some really specific, like I said, and I'm sure we can reach out to them and address those queries on a one-on-one basis later on.
Those questions, which were not covered, we will try to cover them in, in these published webinar, and the items and one-on-one interactions. So, let me thank ANANT &, Ben, at this point, and also remind the audience that, as I mentioned earlier, Sagacious research have come up with an in-depth evaluation form questionnaire based on these parameters. And this can be used to create RFPs and evaluate to their existing partners.
So, participants can drop us an e-mail at webinars@sagaciousresearch.com. And we will share the evaluation form with them. And if you have any more questions, please use the same e-mail ID to share those questions. We have noted the questions that you have posted in the question box, so, we will come back to you on that.
And I want to extend a big thank you to all our listeners who helped us start on time and stayed with us for the extra 18 minutes, or so that we have gone over this webinar. We highly appreciate that. And, thank you very much for your time! Thanks, and thanks, Ben. Everyone, please join us for our next webinar. You can find it on our website sagaciousresearch.com. Thanks a lot!
Submit Your Information to watch the Webinar Video: