Why is IP Protection Important for Startups
When starting a business, there are many factors to consider, ranging from branding and targeting markets to financial growth. However, Intellectual Property (IP) protection is one of the crucial parts of the market challenges. IP for any company, especially a startup, is an intangible asset. It levels the playing field between entrepreneurs and incumbents and is more likely to attract lucrative opportunities.
Although patents are the most costly and time-consuming form of acquired IP, they provide an unparalleled protection. When a startup patents its inventions, its value rises, and financial perspectives expand. Moreover, investors are more likely to acquire a startup which possesses well-protected IPRs. This is because it forms a greater resource while competing with industry giants. Hence, patentable ideas are vital to the success of a startup business.
Key Asset to Success of Startups
IP can be a unique selling proposition (USP) of the product or service in today's competitive and dynamic world. It helps create a sustainable and defensible differentiator for the startup. Moreover, by creating a high entry barrier, it helps startups to grow faster with respect to its competitors. Since it creates good value for the venture, IP faces higher priority and hence, makes IP protection important for startups.
Additionally, the Startup Genome Project, seeks to chart, model and evaluate what it takes to make startups tick. IP forms the key ingredient for startups around the world to gain a competitive edge in the market. This gives investors, consumers, and other stakeholders a profound sense of trust in the startup. This trust is not only to succeed, but also to become a market leader in its domain. Additionally, in engineering startups the generation of inventions take place every day. IP protection assumes much greater importance in both manufacturing and engineering industries. Hence, IP protection faces huge brand value attachment.
Types of Intellectual Property (IP)
To protect your idea, there are four primary types of intellectual property (IP)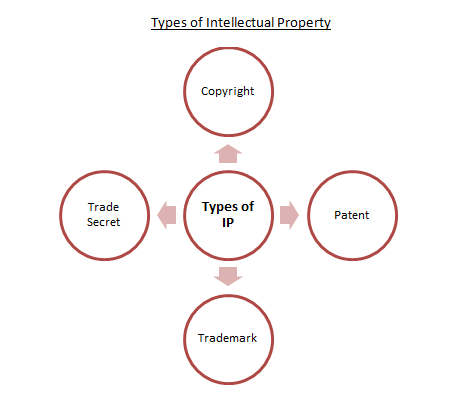 1. Copyright
This is a legal term to describe the creator rights. The conditions for registration are based on originality & creativity and duration of copyright protection is lifetime of author+60 years. Copyright covers:
Literary work including Software – Books, Essay, Computer Compilations, Programs.
Artistic work – Drawing, Painting, Logo, Map, Chart, Photographs, Work of Architecture.
Dramatic work – Screenplay, Drama.
Musical work – Musical Notations.
Sound Recording – Compact Disc.
Cinematography – Visual Recording which includes sound recording.
2. Patents
It grants the holder the right to decide how or if anyone can use its invention or not. Examples of patentable inventions are – a new drug to treat cancer, a new display system for mobile phones, a new suction system for vacuum cleaners, a new image processing and recording system for digital cameras, a new formulation of a pesticide or a new method for water purification and many more can be patentable inventions.
The criterion for registration is based on Novelty, Inventive Phase, Effective, and NP & patent protection period is 20 Years. The patent process for obtaining a patent protection involves:
Idea or Concept
Patentability Search (Optional)
Drafting and filing Patent Application
Publication of Patent Application
Examination of Patent Application
Grant or Rejection
Maintenance
3. Trademarks
This is a symbol that has the power to differentiate between a company's goods or services with another. Creators sometimes use trademark registration creators to put their signature or "unique mark" on their products. It is important to register a trademark because it protects businesses and consumers alike, making them an important part of running a successful business. For example, California-based PayPal has filed a case against Paytm in the Indian trademark office for using a logo like its own. Paytm's logo is likely to cause confusion amongst the public as it has a similar two-tone blue color scheme like PayPal.
Trademarks are unique and distinctive. They cover devices, brands, headings, labels, names, signatures, words, letters, numerals, shapes of goods, packaging or color combinations. A weak trademark is not distinctive especially when it faces improper description of the goods and services. It is confusingly similar to other brands. On the other hand, a strong trademark is short, simple and memorable. It is timeless, consistent, instantly recognizable. A good trademark is versatile, allowing you to extend into different jurisdictions and product or service lines.
Moreover, the registration criteria are based on uniqueness and distinctiveness & duration of trademark protection is till you wish (renewal every 10 years).
4. Trade Secrets
Broadly speaking, any exclusive market information that gives a competitive edge to a corporation can be considered a trade secret. Trade secrets can be from industrial, manufacturing and commercial sectors.
Government Schemes & Preferences for Start-ups & MSMEs
The Indian government has come up with a wide range of startup kits and startup funds over the past 18 months to empower startups in the country. Moreover, the Government of India has given several exemptions in the IP protection fees for qualifying startups under the Startup India scheme of DIPP. Patent protection fees for startups has come down at 80% while for trademarks the fee reduction has come down at 50%.
Further, a startup can avail expedited examination facility at the Patent Office wherein the disposal of patent application can take place within 12-18 months from the date of filing. Hence, for a startup, IP protection is not as costly as it would be for non-startup companies. What is most important to Indian Startups is that they should focus on creating and identifying IP while working towards innovation and protection to excel in their respective businesses.
Hence, the Indian government has launched a list of start-up schemes which fall under different ministries and departments.
Start-up India Initiative and Make in India
Expedited Patent Examination (Available for Start-ups only)
Discounted Filing Fee (80% discount to start-ups)
Start-ups Intellectual Property Protection (SIPP)
Support for International Patent protection in Electronics & IT (SIP-EIT)
Schemes by M/o MSMEs
Accelerating Growth of New India's innovations (AGNIi)
Cell for IPR Promotion and Management (CIPAM)
Why are IP experts and legal advisors needed?
It is a necessity to protect, grow and keep startups up to date. Therefore, it takes IP experts and legal advisors to plan ahead and use IPRs for the 360o benefit of the business. The below mentioned reasons suggest their need:
To Identify Types of IP protection
What type (s) of protection is suitable?
Not every idea is patentable/registrable
Multiple IP protection for single work
Drafting application and taking care of prosecution
Requires technical and legal expertise to draft a patent, or file & prosecute patents
Timing and Territory
Furthermore, an efficient IP ecosystem stands on 4 pillars including Inception, Portfolio Building, Litigation Licensing, and Monetization Revenue Generation. The expert roadmap is beneficial to gain insight into the patents filed in the product segment/country of interest in question. Therefore, informative studies help to avoid needless research and development that has already been done in the past. These tremendously help in identifying and using relevant patents (and probably the related products, if any) which are in the public domain. Additionally, becoming off-patented or having no equivalence in a country of interest drives such studies further.
Expedited Patent Examination
Entities qualifying as startups can also apply for an expedited patent filing procedure for faster disposal of their patent applications.
Discounted Filing Fee
Startups and MSMEs are also eligible for a discounted filing fee in respect of patent and trademark examinations.
The primary purpose of these programs and schemes is to facilitate and support startups to raise awareness of IPR related issues in general and more specifically to educate them about the value and economic benefits.
Therefore, to promote start-ups and their growth, government provides the following benefits to entrepreneurs.
Simplified and easy registration process with apps and websites
Low cost IPR Services
Easy access to Funds through venture capital
Tax exemptions
Online tenders
Research & Development facilities
No time-consuming compliances
Tax saving for investors
Option to choose enablers of the startup ecosystem
Easy exit – A startup can close its business within 90 days from the date of application of winding up in times of crisis.
Avail the Required IP Protection Important for Startups
One must not brush aside any IP related issues in the nascent stages of a business. Developing a diligent and intelligent IP strategy early on is crucial. Because of the long-term economic benefits that it offers, startups and established companies cannot (and should not) neglect the importance of IP. In order to avoid disputes with IP resources, startups need to secure their technologies and lay the foundation for their future success. IPR strengthens the integrity of startups in the long run and generates more opportunities to reinvent and redefine
Having Queries? Contact Us Now!