Design Registration: 7 Benefits For Inventors
Design is an essential part of every innovative product. Hence, a crucial first step for an inventor who is seeking to market such a product involves securing exclusive rights to its design. This can be done through design registration that protects the product's design from imitation. With designs effectively registered to particular entities, consumers can identify and relate them to their right inventors.
In line with the above discussion, the following article explains how design registration can be beneficial for inventors.
The Need for Design Registration
A design registration essentially protects the features of an innovative product such as its shape, patterns, and ornamental aspects. Different patent authorities have their own processes and regulations for registering a design. In India, it is done under the Designs Act, 2000, which provides registered designs 10 years of protection with additional renewal of five years. Design protection is thus an effective way to protect industrial as well as product designs from imitation amidst stiff market competition. This is true even for developing countries such as India as is evident from the representation below (Fig .1).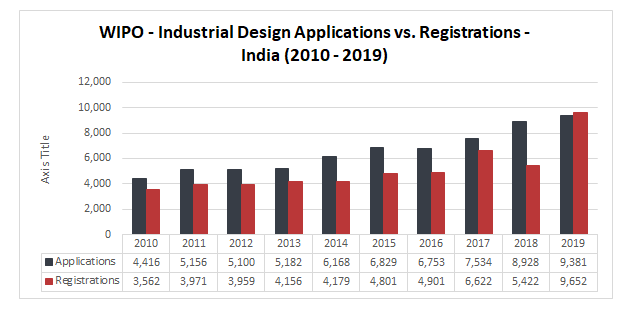 These statistics from the World Intellectual Property Organization (WIPO) demonstrate that over the past 9 years, there have been 65,447 industrial design applications from India. Out of these, 51,225 applications (78%) have been registered. This only goes to prove the growing need and efficacy of design registration which pushes companies and individual inventors to invest their time and money in protecting their designs.
What are the Benefits of Design Registration?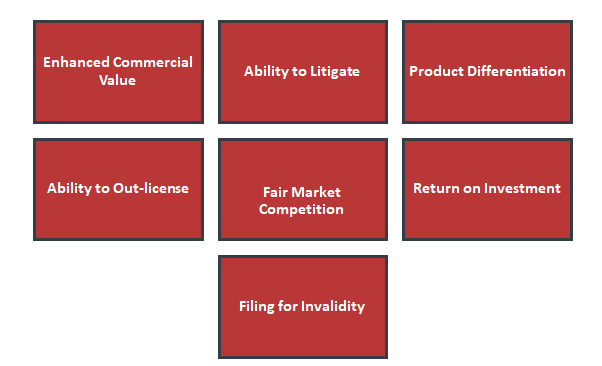 Since it is evident that design registration is quite common these days, let us take a look at some of the advantages of registering designs under a specific patent authority. Besides the obvious benefit of gaining protection from imitators, here are some other noteworthy benefits of design registration:
Enhanced Commercial Value – Registering a design under a patent authority enhances its commercial value and makes the product more marketable. This is because a product having a proprietary design increases product positioning in the perspective of potential consumers.
Ability to Litigate – When a design is registered, the owner of the design gains the right to file a litigation against any imitator. This ensures that the design owner is able to hold his/her market share by maintaining exclusivity over their product or industrial design. As of 2019, the trade in counterfeit goods stands at 3.3% of the overall world trade. This means that registering designs grants companies the power to litigate the increasing number of counterfeiters.
Product Differentiation – A registered product or industrial design is accompanied by all the relevant documentation including the concept and design art that makes it novel. This essentially gives the design owner a competitive edge in his/her respective market from a Feature, Advantage, and Benefits (FAB) business model perspective.
Ability to Out-license – Design owners who have their designs registered under a specific patent authority gain the ability to license out their designs to external manufacturers. They can do this within their respective patent jurisdiction to benefit from the lucrative royalties paid by the licensee organization.
Fair Market Competition – On a broader perspective, when a large number of innovators register their designs, it adds a competitive spirit among the market players. This drives the research and development (R&D) activities, which in turn, spurs further innovation and mutual benefits for organizations as well as the end consumers.
Return on Investment – Upon registering a design, the applicant organization gains the official right to commercialize its product. Along with that, it also adds to their IP portfolio and enhances their intangible assets. These intangible assets often create additional revenue streams and thus lead to high returns on investment.
Filing for Invalidity – When innovators have their industrial designs registered under a patent authority, they gain the added benefit of being able to file for invalidity of competitor designs. Since the losses due to counterfeit trade are extremely high in industries such as footwear, clothing, and electrical equipment, organizations need to be able to file for invalidity when there are claims of similar products or industrial designs.
Conclusion
With several benefits of design registration, it is important to reiterate that the rules and regulations for the same vary across different IP jurisdictions. While WIPO may have certain fixed rules, the Indian Patent Office (IPO) has its own guidelines. For instance, in India, design registrations are granted by the Office of the Controller General of Patents, Designs, and Trademarks (CGPDTM) of the IPO. Therefore, it is advisable to understand the full extent of the rules and regulations of a particular jurisdiction before applying for design registration. Click here to download our guide to registration of industrial design in India.
Having Queries? Contact Us Now!