Best Practices on IP and Technology Commercialization
Every business understands that Intellectual Property (IP) is important for protecting their innovation. However, we can use the Intellectual Property only after commercialization. Therefore, this virtual event provides an overview on the importance of IP and technology commercialization. And, also on how the startups and MSMEs can commercialize their Intellectual Property.
Also Read: How to Mitigate Risks by Patent Monitoring During Prosecution and Litigation
Key-points covered in the virtual event
Firstly, it provides an overview on IP commercialization.
Why is IP and technology commercialization important for startups and MSMEs?
Further, it covers the factors to consider before going for IP commercialization
Also, it provides the pros and cons of different methods of IP commercialization.
Moreover, it tells the challenges faced during commercialization of IP and technology.
Strategies adopted for this process.
Additionally, it talks about the importance of agreements (license, NDA) in the process.
Lastly, it emphasizes on the key terms and conditions of the agreements.
Also Read: Contemporary & Hybrid Technology Monitoring Watch And Ways To Mitigate Disruption Risks
Guest Speakers
Dr. H. Purushotham – Ex. Chairman and Managing Director, NRDC, New Delhi
Mr. Prakarsh Mishra – Leader, AGNIi, Invest India, Govt. of India
Key-note Speakers
Vivek Singh, Head-IP Filing & Prosecution Practice, Sagacious IP
Ronnie George, Project Manager – IP Drafting, Filing & Prosecution Team, Sagacious IP
Dhananjay Das, Manager – ICT Sales (IP Strategy and Solutions), Sagacious IP
Anchor
Nick Martin, Sr. Executive – Inside Sales, Sagacious IP
Submit Your Information to watch the Webinar Video:
Webinar Transcript:
Nick Martin speaking- My name is Nick Martin from Sagacious IP. I work with C-level stakeholders, Corporate IP councils, from multinational companies to big corporate, small and medium enterprises, start-ups, universities. And, I, majorly, handle Sagacious' business from the North-America region.
On behalf of Sagacious, I welcome you all on our webinar today on the topic: Best Practices on IP and Technology commercialization.
For those who haven't heard about Sagacious before, we're an IP solutions provider. Sagacious helps organizations to protect, monetize, defend, expand their IP portfolios and drive innovation in their organizations.
We are a team of more than 300 in-house technical experts. And, we have served more than 2000 clients across 60+ countries.
I'd like to inform all the participants that at the end of pitch session, we will have a Q&A session. Therefore, please keep posting your questions so that we can take up these at the end of the event.
Let me quickly set the context for today's event. All of us know the importance of patents to predict innovations and inventions. However, in order to use the IP rights, it is important to successfully commercialize the same.
Commercialization of IP and technology is an essential process for all companies or individuals involved in developing new technologies.
Context of the Webinar
This webinar will provide detailed information on the importance of IP and technology commercialization.
Various sessions will provide information on the challenges we face during the commercialization. Also, the approaches one should take to successfully commercialize their innovation along with success stories from India and abroad.
Now, moving forward, I'd like to introduce our first speaker of the session. His name is Mr Vivek Singh. He's the head of IP drafting, filing and prosecution team at Sagacious. Vivek is practicing IP attorney and patent agent with technical, legal, and business background. He has worked with organizations like FICCI, Ranbaxy, IP law firms in the past. He is the also founder of a start-up acquired by 1mg.com
He's advising start-ups, SMEs, and corporates on various IP Matters. Vivek is a recognized IP facilitator by Government of India . He also features in the IAM list of World's Leading Patent Professionals 2020.
I request, Vivek, to introduce today's topic and please take the webinar forward.
Vivek Singh speaking- Hi! Thank you. Hello everyone, and welcome to this virtual event.
We are very happy to have Dr H Purushotham, Ex-chairman and MD, NRDC and Mr Prakarsh Mishra, Leader in Invest India.
On behalf of all of us, I welcome and thank both of you for gracing the event.
As we all know, we are living in the webinar era. And, there a number of webinars on IP awareness, IP searches, how to protect IP, how to enforce IP etc. But, I'm sure you all must have attended many of such webinars. Just make a rough guess of the number of such webinars that you attended within the last 6 months. I will pause for a moment.
Webinars on IP Commercialization- Why so less?
Now, let me ask a question, how many of these were on the topic of IP commercialization?
This number limits to only 1 or 2, or even zero. Why is this one sided? There are too many webinars on IP protection and IP searches. But, a very less number on IP commercialization.
We have many reasons. One reason is no one is concerned about IP owners/companies. That is, what they are getting out of their investments on IP related activities. This is a similar scenario wherein builders are after you to make investments in the properties, houses and plots. But, they're not concerned about if you're getting any value out of investments or not.
So, considering this gap in the innovation system in India, focusing only on searching and protecting IPR, we have organized this webinar. Here, we will give you insights and tips on how you can get the value out of your IP rights.
With GoI institutions, which are helping technology commercialization, we'll be sharing their expertise and guidance on commercializing your idea. Also, in turn to make money out of it, which is the actual motive behind protecting IP.
You can stop those using your IP rights as a legal right after getting your IP rights registered, . But, there is no point in doing that if you are, yourself, not using your rights. And, actually, that should be the main purpose of protecting IP today.
Now, let me also update that, recently, Sagacious has signed an MoU with NRDC. It is to jointly work on the IP commercialization and technology commercialization of the Indian companies and start-ups.
Introduction of Speaker- Dr H Purushotham
So, with this context in the background, I'd like to invite Dr H Purushotham, Ex-Chairman and Managing Director in NRDC. He will talk about his experiences and provide guidance to participants along with sharing some success stories.
Dr Purushotham, with over 35 years of diverse work at the Innovation value chain, has worked at different government institutions. Then, as the CMD of NRDC, he has lead the commercialization of the innovative technologies developed by various public funded R&D labs and universities. Also, he has contributed significantly to the start-up Indian Make in India, Government of India.  
His core abilities are on R&D process development, scaling up IPR management and technology transfer. Also, in techno economic feasibility analysis, incubation, start-up consultancy and venture funding, etc.
NRDC got the best PSE award under his leadership. He was also awarded as CEO of the Year 2017 by ICC.
Welcome to the webinar, Dr Purushoham. Over to you!
Dr H Purushotham speaking- Yeah, thank you. As you rightly said, we have created a lot of awareness in the supply side of an equation. A demand side of equation is a co-existence of IP and has not really been very strong in our country.
So, many agencies now have chapped out their programs. Like AGNii, NRDC almost every department under various ministries, now, are giving up programs. That is because honorable Prime Minister has combined innovation in almost all development and welfare programs. So, innovation is now linked to all the national programs.
Now, I think, this is the best time for entrepreneurship and innovation. It's the best time to take IP to the marketplace, monetize IP, and get the RoI that has been made on the R&D.
So, this is the best time in the history of entrepreneurship, in my opinion. I praise Sagacious for taking such a wonderful step on how to focus more on IP commercialization. They're spending enough resources creating IP awareness. And, unless you push the demand side of the equation, you are not going to off take your IPs. You should consume whatever number of IPs that you create even when they are not in a great number.
Best Practices on IP Commercialization
So, I am speaking on the best practices in IP & Technology Commercialization and not much has been shared on this. Of course, some events have taken place. But, compared to the IP awareness than the IP commercialization, I think now we need to speak more about that.
Coming to the topic, what we have created, so far, are a number of IPs. So, IP, they are not really technologies, IP is a proof of concept. We file and get the patent once the proof of concept establishes. But, that is not sufficient.
If you look, hardly, 4 to 5% of IP has been commercialized. Reasons are many. So, unless you convert the patent into technology, really, you cannot monetize the IP, you cannot really transfer the IP. So, if you want to convert the patent into technology, then you need to mature the IP. You can mature IP by adding value to it.
What do we mean by value addition of maturing the technology?
As you all know, if you want to commercialize an IP, it has to be matured enough. So, how do we measure the maturity of a technology? Generally, the patents are at a TRL level 3 or low, basically, they are proof of concepts. Based on that, one cannot establish a commercial plant. If you want to establish a commercial plant, based on your patent, it should be at least TRL 6. So, this is the gap.
Now, how do we convert these patents at TRL 3, we need to convert them into TRL 6+, only then our IP can be monetized/commercialized.
What needs to be done? What are the gaps and challenges?
Once you're able to understand and fill those gaps and challenges, then they become technologies. The industry, then, can try to adopt those patents and technologies.
Let's understand those gaps, we need to do value addition to these patents so that they are ready for commercialization. As we all know, patent is a basic block of the technology. If you want to commercialize your technology , then it needs to be mature, from TRL 3 to 6-7.
Currently, 90% of technologies we have, are coming from national laboratories and universities. They are mostly at the low TRL i.e., TRL 3. Then, there is a need to mature the technologies to TRL 6.
What all are the steps in maturing the technology from TRL 3 to 6?
Let us try to understand some of those things. Say, if you want to mature the technology to TRL 6.
First step is to scale up. You need to scale up that is producing the product in a large quantity. Product produced at the laboratory scale, it doesn't really validate the process parameters.
See, when you are doing an experiment to prove your idea, you do that at very ideal conditions. Whereas, in a commercial scale we are diverging from the ideal conditions and working at non ideal conditions. So, all the time constants, consumption constants, energy constants they will all change. That is why it is very important to scale up and generate the data with the pilot scale and to use that data to design a commercial plan. It is first step in adding value to that patent then only it becomes a mature technology.
Then, the product or service that you produce at a pilot scale needs to be validated in the market. Most of the patent or patent claims are not really validated. They are only claims, majority of them.
So, there is no technology transfer unless you validate in the market conditions, field conditions. Even if you transfer it, it may fail at the commercial scale. The point is that production of commercial model and its validation is another parameter to mature the technology.
Lack of Market research studies
Again, most of the patented knowledge is not really there in the market research angle.
Market Research Angle, in the sense, that the product/service that you are trying to produce using patented knowledge, whether it meets the market requirement? What is the demand and supply? And, what is that gap? Who all are the competitors? What kind of a regulatory complaint that the product or service needs to be met? So, all these things are unknown when you get into this patent space. You need to add this angle also to your patented knowledge.
Lack of Techno Economic Feasibility Reports or Technology Profiles
This is also another major limitation in our economic commercialization.
For most of the technologies, we don't have a techno economic feasibility report, that is one of the important things.
The buyer of your patent/technology will have no interest to buy unless you have that kind of information technology profiles. It is because it should know in advance the kind of return on investment he gets on his patented transfer of technology.
Inadequate IPR awareness/ Lack of IPR protection
This is also very clearly evident in our system. If you see where India stands in terms of filing patents compared to China or USA, it hardly files 50000 patents in a year while China files around 3 lakhs and USA files around 6.5-7 lakh patents in a year. So, we also need to improve our patent protection.
Of course, now, a lot of awareness has been taking up and many people are now coming forward as compared to previous years. There is a good increase from 25 to 30% in filing also compared to last year.
Limited technology transfer commercialization professionals
Every profession requires a critical mass to take the momentum forward. In our country, we don't have many professionals, especially, those who are in the area of technology transfer/ technology commercialization because technology transfer and technology commercialization require technical skills, commercial skills, legal skills and marketing skills. So, we require all the skill sets and we need to develop a critical mass in this area.
Lack of legislative support
So, this is also one reason why IPs are not commercialized. We don't have an IP exchange, like Hong Kong has got IP exchange. Now, UK has got the IP exchange and we don't have a legislative support. For example, technology transfer is mandatory by act of law in US and other developed economies.
They have bought so many acts like technology transfer act, technology commercialization act. But, we don't have an act. It is left to the individual institutions that you need to transfer technology.
But, I've been insisting that the way we file income tax returns, every Technology Development Institute should file at a national storehouse saying that these are the technologies we have developed. There is no National Technology Data Bank, combining all areas of science and technologies, all areas of business. So, that is also another major challenge where we need to fill that gap or, kind of, establish a national technology data bank.
Complex Regulatory Compliances
And, we have also complex regulatory compliances particularly for things which go into the body. They have to undergo a lot of clinical trials. For example, now, for corona vaccine, more than 200 teams working across the globe including India, just undergo a lot of regulatory compliances, long run processes.
Inadequate Incentives and Higher Costs of Technology Transfer
Inadequate incentives for IP commercialization, IP development and IP filing and costs of technology transfer are also substantially high.
The innovators, the start-up companies, MSMEs are the major consumers of this IP and they are not able to buy these technologies because the technology development institutes insist for payment of technology or transfer fees. I have been arguing with the Ministry of MSME to bring such policies where any MSME buys a technology from any of the research laboratory, the MSME industry or a government should provide the technology transfer fee as an incentive to the technology buyer.
So, that survey should be given free of cost. All the technologies in the country should be available to the start-up companies and MSMEs free of cost. In the long run, I think, they pay a much better or more than the technology transfer fee itself.
Once somebody brings a product to the market place, they pay income tax, they pay lot of duties, create wealth fund, create employment opportunities for the youth. This is one of the major blockages. The policy makers, the ministry, should examine and take appropriate policy measures so that the technology is available to the consumers particularly for start-ups and MSMEs, it should be available free of cost.
No national guidelines for IP/ technology valuation
Say, again, we are again selling the technologies; different institutions are selling these technologies as per their benefits since there are no national standard guidelines on valuing the technology.
Need for understanding the 4Ps of technology transfer
Once we have professionals who deal with the subject, they will be able to define the pathways which include product marketing, the technology marketing, and the technology transfer, also the 4 Ps- the product, the price, the promotion, and the place.
If you are able to address all these gaps, if you are able to add value to the value chain of an IP, then, definitely, the maturation of the technology takes place and it can be consumed in a much better way by the MSMEs and start-up companies. So, my message is that if you are able to solve these challenges by adding value, using points that I mentioned, they are nothing but the best practices.
The IPR Cycle
This is the best practice again. We need to talk in terms of steps. IPR Cycle generally has three steps.
One is IP creation. Agencies in our country create a lot of awareness about the challenges we face in creating IP.
Then, the protection that is what Sagacious is doing for filing patents. There is a lot of awareness about that in our country now. You look at 10 years back we were not having this much awareness because of government's IP policies and market opportunities have been created. Many IP companies are coming into the picture and are helping the researchers and innovators in filing the patents.
Then, the next segment is exploitation or transfer to commercialization after the patent is granted. So, this is the complete value chain. Creation, protection and exploitation, this is the complete IP value chain. If you are able to remove the bottlenecks and the challenges in this value chain, they are nothing but the best practices. And, if you are able to solve them, then your idea to market goes much faster and easily, so, they are nothing but the best practices.
If you look at new technology, it's journey from idea to research and then development. At the end of the development, we transfer the technology. When you transfer it, then it takes some time to launch the product.
Valley of Death
From 'launching the product' to last 'success as a business', this is a very deep valley here, under this curve. So, that deep valley, what we call in the technology management literature is that the value of every technology will pass through this Valley of Death. So, the innovators, the entrepreneurs, MSMEs and the start-ups who are able to get support and endorsement from stakeholders to overcome this valley of death, they will be successful in their business.
Therefore, it is mandatory for a technology to pass through the valley of death. But, people who get enough wisdom, strength and enough resources for it, they will be able to cross this Valley of Death very successfully. This value again, we define it as the technology valley of death. Whatever challenges occur up to product launch, they are called as a Technology Valley of Death.
If you're not able to address the challenges when you are developing the technology like scaling it up, validation, IP protection, so, all these things are part of the Technology Valley of Death.
Commercialization Valley of Death
The next step in the Valley of Death is commercialization. Commercialization Valley of Death refers to, if you are not able to raise adequate resources, you are not able to comply with the government regulations or you are not able to raise the resources, if you are not able to bring the team together and if you're not able to have proper strategies to launch the product, to market entry, Business Plan, so, all these things are part of commercialization valley of death.
So, then we are talking about Technology Transfer. Now, both the transfer agency and the receiving agency should work hand in hand to overcome this technology valley of death such that the technology becomes such a successful venture.
How IP has benefited the US economy? – Case Study
Since we are talking about IP, I would like to give an example or rather the best practices that have been followed in the US and a case study recently, I saved about USPTO.
What USPTO typically did was that they took around 130000 start-up companies and MSMEs, who had a patented technology with them. Then, they studied what kind of impact these 130000 MSMEs and start-ups had on US economy.
This gave a lot of insights and a lot of benefits i.e., how the IP has benefited the US economy.
So, ultimately, the objective of all our efforts is to create wealth and employment and, so, that is how IP has created wealth and is a wonderful example.
In these 130000 start-up companies and MSMEs they studied and they found out that these companies have created high paid jobs to 45 million people.
Now, compared to a conventional company, companies which have got IP driven knowledge, generally, they are paid higher than the conventional companies.
So, that is what the study says that they had contributed $6 trillion to the economy. Around 38.2% of the US GDP has come from these innovative companies and start-ups.
Importance of Trademark or Brand Registration
Without trademark or brand registration, even Amazon does not sell any product. So, that is importance given to a company or a product which has an IP.
If you assume any of start-up companies and they want to sell their product globally, and so one such platform is Amazon. So, if you want to market your product at Amazon, then definitely it should be IP or at least a trademark. Then only they will launch/ sell your product at Amazon. So, that is the importance of IP.
Start-ups, MSMEs earn 32% more in revenue compared to their counterparts who are not having IPs, so, this is also a major motivating factor.
IPRs are really, truly intellectual currency, helping to promote entrepreneurship, economic growth, company competitiveness and innovation, worldwide. What more as an entrepreneur, start-up company you need is IP in your business, that is what I am encouraging the start-up companies that without IP you don't start a new venture because it offers you several advantages.
So, I would also like to highlight 1 or 2 important points essential for start-ups.
Why IP Protection is essential for start-ups?
Now, we are in a start-up, sort of, era or decade, I would say, because the Government of India has created a lot of opportunities for promoting innovation and startups. We have start up India Vision itself, which created huge funds and benefits for the start-up companies.
So, this is the right time for all the stakeholders to embrace IP in their businesses because it gives you competitive advantage in the marketplace. If you have an IP, you get exclusive rights on that IP, for a period of 20 years (talking about patents). So, if you have a patented technology in your business, in your start-up, you will get protection on that product and service for about 20 years. No one can produce and sell the product if you have an IP.
So, that gives you exclusive advantage, market advantage and that is a barrier, entry barrier, for others. So, that is important to survive in the business. You should have that kind of a strong market entry barrier and that you will get if you have a patented technology in your business and it also improves the valuation of business.
Seeing the start-up era, you need to raise resources. The entire money; individually, entrepreneur cannot raise that up from his own pocket. He has to always raise the money from the market in terms of private equity and venture capital.
You can protect the product through more than one IP also if you have a patented technology or protected IP product. The product can have a patent, trademark or design.
Therefore, the more number of IPs are embedded in your technology or in your product, you will have more robust entry barriers.
So, once you have that kind of IP, the valuation of your business will enhance so, that you can sell your stake at the higher premium. So, that is a major advantage.
How IP gives protection to the investors?
It also gives protection to the investors. See, when the investor wants to invest, he also requires a safety net or protection for his investment.
So, if you have a patent that is a market entry barrier and that helps investors and gives a feeling that their investment is protected because they are entry barriers into that product or service.
And, if you have an IP protected product or a service, then it also helps as a defensive as well as offensive mechanisms.
For example, tomorrow you are successful in your business and somebody may come and tell you that you have copied my product then, you can show to them, that no, I'm not copying. Government of India has given me a patent on my technology. So, that will help you and is very important.
Then, it provides new revenue streams through licensing, franchising. Once you have an IP, you can also license it, franchise it or even, sell your IP which creates revenue for you.
Importance of IP in Exporting Products
IP is a must for exporting products to developed economies. Particularly, if you want to export to the developed economies like US, Europe, then IP is a must. Without IP, they will not buy because it also gives the confidence to the end users, the buyers. IP protected product gives confidence to the end users and also increases negotiating power.
If you have an IP in your business or you want it to cross license it or get into joint venture agreement, you will get an advantage for a negotiation and better price.
So, if you also look at the correlation between the IPs and the GDP of some various countries, though it is an indirect correlation, but it is a fact.
Countries like China, USA, as I was mentioning, they file huge number of patents in a year.
If you see China's GDP, it is $14.4 trillion and similarly USA files around 6-6.5 lakhs patents in a year and their economy is $21.1 trillion. Similarly, if you look at the third one, that is Japan they file around 3 lakh patents in a year and their economy is $5.15 trillion. Germany, the next, they file around 670000 patents and their economy is $3.86 trillion.
India files around 50,000 patents in a year and we are at $3 trillion.
So, what I would like to communicate here is that for any institution, for a company or for a country, there is a strong correlation between the IP portfolio, what we hold, and the economy of that country.
Definitely what we are all enjoying today in terms of technology, lifestyle or comfort is out of innovation and as I mentioned, innovation is nothing but IP. Without IP protection, there is no innovation that is, no exclusive right, there is no market barrier. So, all these countries are advance because they have strong IP. So, if you have a strong IP, you can convert that IP, monetize that IP into various value added products.
And, whatever gadgets, technologies, lifestyle all these things that have happened or are happening, they are through innovations. So, it is mandatory for all of us to understand the importance of IPRs and we need to develop that kind of system in our minds and our societies so that, the IP culture is nurtured and the society becomes a knowledge economy.
Not that we are not doing any research, India is also spending a substantial amount on R&D but what is happening is that most of our R&D is ended with publication on papers but we do not convert those papers into patents, patents into products and then generate wealth and employment opportunities and that kind of a culture is not there in our system.
Then and Now of IP in Various Countries
Of course, present government is taking a lot of initiatives to inculcate that culture and that, I think, is very important.
We need to, as commercials are always promulgated, frugal innovation is that you first patent it, then publishing, then productionize it, then create wealth. I think we need to alter our equation.
Earlier practice was that because, of course, publication gives you fast reputation, faster visibility for you but now patent acts have also been amended. Now, it allows you to patent and you can also have a 12 months window after even publishing.
What is important is that understanding the process of patenting and its implementation, once that is done, I think, India will also emerge as a major leader in patent filing and patent commercialization.
And, now, the patents per $100 billion GDP of developed economies, if you take South Korea, it's a smaller country compared to India. They file around more than 8000 patents per $100 of their economy.
And also, let's look at China and other Asian countries, China files around 5800 patents per $100 of their GDP.
Japan files around 5200 patents and India, only, 174 patents. So, this is very pathetic situation and, I think, we need to improve this data, the patent applications per $100 billion, I think, a lot of awareness we have got, a lot of push we have got. And, I think, the policymakers need to think out of the box and come out of good strategies and policies, so that, we will be able to produce more patents for $100 billion of our GDP. That is very important. I think all of us and all the stakeholders should come out with new policies such that India also will be at par with all these Asian countries.
And, if you look at these top five companies: who embraced IP culture and how they became top five global companies in the world. For example, if you look at Apple, they have around 20000 patents and then market capitalization at about $800another trillion dollars.
Same is the case with Amazon, Microsoft, Google and Facebook. So, all of them, if you look at their turnover, then they are almost one fourth or one third of the market capitalization.
How are Amazon, Google etc., able to get good market capitalization?
It is because of the intangible strength of the asset which they derive from their intellectual property rights.
Intellectual property rights are such an important asset, intangible asset, which all these leaders are able to leverage to create value for the shareholders, almost similar to one third or fourth turnover of their market capitalization. The shareholding cost is also very high. And, the benefits which the shareholders use because of this intangible asset are also high.
One example I would like to do because IPs are, basically, generated in universities and research laboratories; it is a typical example of Harvard University. I would like to draw the best practices and how one of the best universities in the world manages their IP assets.
So, the preliminary step is, in any university, and a research laboratory is that the researchers, scientists develop technologies, IPs or new inventions and then they disclose the invention in the form of a disclosure form to the IP cells and the Patent attorneys.
The IP cells or patent attorneys examine and discloses the invention; they will examine in terms of market potential. That is, whether your filed patent will bring revenue to the institute or the university or the research laboratory.
If it has got a market for this product or service of this IP, that is the first and foremost criteria they use. So, there are several considerations while deciding but the primary concern is the market potential of innovation and invention.
Harvard University- Case Study
So, if you see, Harvard University files around 500 patents that is, 500 patent disclosures or innovation disclosures to the IP cells or the technology transfer office.
What they do is that they evaluate it considering all the university policies, areas where they can build on the strengths or the market potential. Almost around 50% of the invention disclosures of they receive, they file publications and not 100% because filing and maintaining these are quite expensive.
And, now you can look at each application, once it is submitted and the patent is granted, you, then, need to maintain the patent for 20 years. It will cost you a lot of money. It may cost you in lakhs including the attorneys' fees.
So, the University IP cells have to take a call that how many of those patent disclosures and innovation disclosures need to be filed as patent application. The best part, I would like to comment here, is that almost around 50% of the disclosures are filed as patent applications and once the patents are filed, if you look at the rate at which they're getting the patents, almost 50% of the patent applications that are filed, they are able to get patents.
And, if you look at licensing agreements that they have signed, it is also around 50 to 60% of that or even less than 50%, in many cases. They convert them as licensing agreements and the kind of revenues these licensing agreements have generated or start-ups they have created out of these IP, almost now, $100 million they are able to produce out of this licensing income of these IPs and the number of start-ups they have created, around 15 to 20 start-ups every year they are spinning off from the university.
So, this is a complete life cycle of IP Creation, IP Protection and IP Commercialization or Exploitation in a given university. That is the how number speaks.
From these numbers, we can also get the best practices of this best university in the country.
Ways for IP commercialization
So, the roots of the commercialization that is once a patent is granted, you should also know how you commercialize the IP. And, there are two routes for commercialization of the patented technology.
Licensing
One is licensing and other is assignment.
Licensing in the sense that, again, there are three types of licensing, they are exclusive licensing, non-exclusive licensing or limited exclusivity.
So, there are several variations you have got.
Exclusive Licensing
Exclusive license means whatever patent you have got, you will be giving it exclusively only to one company or one party. So, when you are giving license to only one company you are restricting competition for the technology
In that case, you need to realize more licensing fee because it is exclusive.
Non-exclusive licensing
We are giving the licenses to more than one company. That means, cost of licensing will be less in case of non-exclusive because there will be more users of your technology.
Again, each license has got its own merits and de-merits.
License for manufacturing and selling, these are about licensing rights and then, they can't be sub-licensed. In the exclusive license and non-exclusive license, you cannot sub-license and licensing is relatively cheaper because it is for a limited period.
Licensing, also, it is negotiation. Many institutions, now, what they are arguing is that we are giving a license for a period of seven years and after 7 years again you come back to us to renew your license and the licensing fees are negotiated at that point of time.
So, these are some of the important aspects you need to know while negotiating the licensing agreements.
Assignment
The other route is assignment. Assignment is nothing but getting the absolute ownership. Like, the way you sell your property, a house, or a land, that is what we call assignment. So, in assignment you will get absolute ownership and you can sub license it to others. And also, it is expensive because you're getting perpetual rights on the technology.
These are some of the examples I know as I worked with the NRDC as its chairman and managing director and as Vivek mentioned, NRDC is one such a wonderful institution. It has got a good bank of technology and it has got more than more than 3000 technologies but we do have some limitations on commercializing these technologies too.
When I was the CMD, on my last day in NRDC, I think, on 31st August, I signed around 6 agreements with different patent attorneys, different marketing agencies and one such agency is Sagacious. So, we would like to offer all these 3000 technologies to people like Sagacious. They, in turn, can market these technologies to various start-up companies, MSMEs and large companies. So, they can get the leads to NRDC as per the terms and conditions stipulated by NRDC and the all the agencies, they'll get a part of the fee what NRDC charges from the technology buyers.
So, it is a good idea because we have a limited staff.
These are some of the examples, like the Amul Baby food powder, the Swaraj tractor technology which is initially licensed to Punjab tractors and subsequent to this company was Mahindra and Mahindra. And, this technology alone is bringing more than 3000 crores revenue to this company.
Amul Baby food is another example. See, all these technologies, initially we protected enough patents and held the IPR rights with us and, then, we commercialized it and even till today, I asked the company's chairman how this product is doing, how it is contributing to your balance sheet and he said, 3000 crores revenue every year, they are getting from the powder.
So like that, there are hundreds of successful technologies licensed to the NRDC. In all these technologies, we follow all these steps, that is mature these technologies and commercialize it.
So, I would like to conclude finally saying that these are all the best practices if you want to monetize and commercialize your IP successfully. All the three levels that is the Government Level of Technology, Development Institute level and technology receiver level, all the three agencies should contribute to these 10 variables or 10 factors. What are they?
The technology or the IP which you are trying to commercialize should have a large market size.
Easy access to finance, again, this is very important because we are talking about innovative technologies, in innovative technologies, you should have that capital availability, strong IPR is very important.
I conducted a structured empirical study in around 740 technologies which are licensed to NRDC and we found out these are all the 10 parameters, if you're able to fulfill in your licensing deal or technology transfer, which are nothing, but I would say, the best practices now.
Then, field tested prototypes, techno-economic feasibility report are established in the laboratory at the university which develop these. Technologies should get a performance guarantee, competitive prices and quality of the product, product meeting the user needs, fiscal incentives by the government and having competent team.
So, what I would like to say is the IPR is a bridge or a catalyst for converting our knowledge into wealth. Countries or organizations or companies, who are able to maintain the dynamic equilibrium between these two forces, that is, knowledge is represented by Goddess Saraswati and wealth is represented by Goddess Laxmi, and if people are able to maintain a dynamic equilibrium between them and then they emerge as developing country. I think it's very important for all of us to pull up our socks and utilize our resourcesand our knowledge, how are we going to leverage it so that we'll be able to achieve the targets given by the honorable Prime Minister to become a self-reliant India.
But, in my opinion, what we need to do to achieve this entire thing is that there is a need for opening IPR cells in all the major universities, create awareness and capacity building in universities on innovation, IPRs, incubation, entrepreneurship and startups.
Now, the trend is that we cannot create new jobs, so, now, we should produce entrepreneurs. That is going to be the next non-profit universities.
Further, need for more R&D investment, currently, we are spending around 0.7% and the increase in the need for investment is particularly from the private sector and giving more weightage for IP protection and commercialization by the scientist/faculty members in their career growth rate.
Now, not much has been given, given the universities also now started ignoring in there. For rankings, much weight, as compared to this. All these things are changing and we need to increase IP innovation commercialization, as I mentioned to you, the commercialization rate is hardly 5% and we need to increase it and monetize it to get the benefit of the IP.
So, government acts like the US Technology Transfer Commercialization Act, similar kind of acts are to be brought into our country as well, so that whatever IP we are creating, we will be able to leverage it for the benefit of our socio-economic development.
Thank you very much for your patient hearing and giving me the time. Thank you, Vivek and other panel speakers and all the audience, thank you very much. If you have any specific questions, at the end I would like to take them.
Vivek Singh speaking- Thank you Dr Purushotham for sharing your valuable experience and providing guidance to the participants.
So, we have a couple of questions for you but we will be able to take up just 1 or 2 questions.
First one is…
What financial support can the inventors get from NRDC to commercialize their IP?
Dr H Purushotham- I don't know! I'm not associated with NRDC and you should ask the current chairman. Based on my association, about 6 years, NRDC has designed wonderful schemes to help the inventors as well as innovators. See, particularly for the inventor's, as I mentioned to you, if you want to file an Indian patent, it would cost about 4-5 lakhs but NRDC has got a scheme to file patents free of cost for both start-up companies as well as the researchers. You don't have to spend even a single byte on filing patents and also we got the funds for scale up, got innovative technology which is a proof of concept, if you want to scale it up, you want to carry out market survey, you want to develop the basic design package or you want to carry out a clinical trials, field trials, then funds are available.
So, like that, there are so many schemes. Funds are available, not only in NRDC but in many government departments. Unfortunately, many people are not aware, as Vivek rightly pointed out, these kinds of conferences and webinars are needed quite often and more number of people should participate to get the benefit of all the schemes. There is no dearth of funding in the government system. The only thing is you should know how to get the funds or how to get access to the knowledge. That is a major challenge. That's been my experience.
Vivek Singh speaking- Thank you. One more question, the last question.
I am an inventor, how I can get benefited from the NRDC and Sagacious IP?
Dr H Purushotham speaking- Again, the entire purpose of inventing is that the invention should reach to the market and you should get benefit. So, you may not be able to reach out to entrepreneurs and start-up companies, small companies and MSMEs. And, NRDC has got such kind of a mechanism in place that once you sign an MoU with us, we'll find out a customer for your technology.
NRDC recently licensed more than 5000 technologies and that benefits people like you as an inventor, so that kind of a dialog initiative is established, that introduction should take place or a knowledge translation should take place between you and the officials of NRDC, so that they will be able to write to various companies, start-up companies or they will be able to market your technology in India and abroad. NRDC participates in large number of events, so their job is only commercialization of technologies. That kind of the institutional mechanisms have been put in place, even AGNIi also, my other panel member is also going to speak about the new initiate of the Government of India. There are also helping entrepreneurs, NRDC is also helping. There are many agencies and almost every department, even CSIR lab, also included the Marketing Department.
The only thing is you need to do some research and develop that kind of a network in your domain, so that you will be able to understand what is happening. What are the key people, where the resources are available or the regulation knowledge is available.
So, it is a holistic development you should take. As an inventor also you should take some time to understand the dynamics of the business.
Vivek Singh speaking- Although we are running late but one last question,
To what extent the role of non-practicing entity is justifiable, which buys patents on small entities or start-ups and allow them to license or sell the patents in the market?
Dr H Purushotham speaking- I think you will be able to answer better because you are also in the business.
Vivek Singh speaking- Right, sir! So, in India, it's not the common practice. It was really active in US Market, then the amendment in the act was done in terms of this bill. But, it's still a grey area. Still these sorts of activities/entities are not very much active or present in India. So, maybe there is the opportunity.
So, thank you very much sir, again, for sharing your knowledge and picking up the queries.
We will stay connected and may be seeking your guidance in terms of getting IP commercialized.
Dr H Purushotham speaking- Thank you, Vivek.
Vivek Singh speaking- Our next speaker is Mr Prakarsh Mishra from Invest India. Prakarsh is currently leading one of the missions of AGNIi.
AGNIi is the short form of Accelerating Growth of New India's innovations and it's a flagship initiative under the Prime Minister's Science Technology and Innovation Advisory Council. It is a national technology commercialization program putting forward India's best innovations.
Prakarsh is a trained design thinking practitioner from design school, University of Potsdam, Germany, the sister Institute of Design School at Stanford University, USA and fully merit based scholarship awardee from Business School, University of Bologna, Italy.
He has deep interest in a vital under researched area and that is how innovation can be reframed as an instrument to the rural population.
Welcome to webinar, Prakarsh. Request you to please share your experiences with the participants along with sharing some of the success stories and briefing about Invest India.
Prakarsh Mishra speaking- Thank you Sagacious team and Vivek for having me today. It was really nice to hear Purushotham sir today.
So, just quickly sharing my screen now and just to summarize about my presentation, that is, how the presentation flows and talk about what AGNIi is and what is the Prime Minister's Science, Technology and Innovation Advisory Council and basically and what Invest India is and then I'll talk about how AGNIi is currently tackling the innovation commercialization challenges and how we are working at that and then I will quickly give 2-3 examples about how we have worked in the past, and that's it more or less. And then, I'll end up discussing future possibilities of AGNIi, how AGNIi is planning to expand innovations and commercialization.
So, as you can see the picture that says PM-STIAC which is Prime Minister's Science, Technology and Innovation Advisory Council Group.
This is an overarching body for India's Science and Innovation landscape that reports to the Prime Minister directly, chaired by the Principal Scientific Adviser to the Government of India.
So, in PM-STIAC now, there are 9 missions and, as you can see on my screen, the missions are associated with artificial intelligence, biodiversity, deep ocean exploration, quantum frontier, electric vehicles, genomics, waste to wealth and Indian language translation. So, AGNIi is one of the ninth editions of PM-STIAC.
AGNIi is executed by Invest India which is National Investment Promotion and Facilitation Agency. It primarily focuses on bringing the APIs into the country and it also executes the programs like Make In India, Start-up India and AGNIi as well.
Going on further, AGNIi is the mission which is accelerating growth of India's innovation, this is, as you can see on my screen, this is the AGNIi mission executive council which includes Dr Arabinda Mitra, the Scientific Secretary, Office of PSA and Shri Deepak Bagla, MD and CEO Invest India. Dr Anita Gupta, Scientist 'G', DST, Dr V. Premnath, NCL Venture Centre, Ms. Rama Sanjay Kirloskar, Director, Board of Kirloskar Groups Ltd., Dr Shirshendu Mukherjee, Mission Director of the DBT-BMGF- Welcome Trust, Ms. Deepanwita Chattopadhay, IKP knowledge park, Shri Rajan Anandan, MD, Sequoia Capital India and Shri Suresh Kumar K, scientist 'F', Office of PSA, then Shri Manoj Kumar, Tata Trusts & MD, and of course, Sh Rahul Nayar, Vice President of AGNIi, Invest India.
So, AGNIi works on a larger mandate of commercialization of innovations and these innovations come from public R&D as well as from start-ups.
When we talk about commercialization, commercialization, itself, is a very broad term. So, we primarily focus on capturing the science, technology, and innovation value from two ways.
The economic value, that is, by understanding the revenue and equity from science, technology, and innovation base and how it can help in generating economic wealth.
And also, from the perspective that how it is evolving the human and development capabilities. In my slide, you will see certain example of how we worked in the past. So, these are two criteria for identifying the innovations on the ground.
Having said that, AGNIi is divided into 3 parts; one focuses on the tech-management, second focuses on the tech-scaling and the third is focusing on the tech-adoption.
In the management part, we work with start-ups, research labs, academic institutes, individual innovators.
In the tech scaling part, we work with accelerators, incubators, investors, financial institutions and MSMEs.
And, in the tech adoption part, we work with global corporations, large Indian companies, government departments/ministries, development, organizations, and grown-up start-ups.
So, this is majorly the ecosystem of AGNIi.
Now, for this commercializing challenge, AGNIi works by pulling 3 levers. The first lever for technology commercialization is Emerging Technology Creators. So, this is the first level and, then, we put a heavy focus on what are the technology commercialization factors.
As Purushotham sir, rightly mentioned that in the case of public R&D, TRL should be 6+. For example, micro structured high sensitivity gas sensors in aerospace avionics. So, this is where we will look for slightly matured level of technologies from public R&D.
Then, we look for new applications to the existing market, for example, sustaining it.
We call it, for example, AI for smart infrastructure building management systems. That is, which are all the solutions available in the market for transforming the building management systems overall?
Then, we've new market creation, as third part, for disruptive innovations.For example, what are disruptive innovations? Like, if you see an example, then, JIO is the best example of disruptive innovation which just disrupted the market. So far in that space when we look for, like the artificial intelligence image processing technologies in the case of cancer pathology.
So, the challenges associated with this, the ideas that we have identified in the past, are certain technology risks associated with it, for example, the science base and application uncertainties.
There might be a chance that these technologies, from public R&D as well, they are not evolved, because they are below TRL 6. Plus, try to understand, this is also a challenge that how the whole technology is going to work and what are the uncertainties.
Then, there's a second point, the functionality and the benefits. For example, the artificial intelligence based pathology imaging reach acceptable false negative rates.
For example, if it creates any problem and are also triggering a problem, so we try to understand what are the technology risk associated with that technology.
And, the third is, what are the architecture and what are the standards associated with that technology?
So, that way the team works at that technology to identify what are the risks associated.
What AGNIi does is analysing the transformational emerging technology capabilities and trends. So we try to understand what are the trends in the market? What is the current state-of-art, for that matter?
Second, we start looking for positioning the emerging technologies. We look for what are the trends? And what would be the potential innovations that can solve that problem? We look for their pain-points on the ground and we look for who are the users i.e., either from the end user or from corporate user or what they're actually looking for.
Then, we formulate capability stacks and technology portfolios for use-case families.
So, for example, if we are looking in the process of AI image processing, for example, then we look for what all solutions are there in the market or the problems that are causing the challenge to create a portfolio of these technologies?
The fourth one is convening and managing innovation source networks. So, that's how we connect with venture capital, incubators, public R&D for identifying a good amount of innovations from the country.
And finally, assessing the sourced technology depending on their readiness level and how promising these technologies are. The whole team tries to understand the whole perspective associated, the main points, the use cases and the trends of how it is going to help the user. So, these aspects are clearly utilized.
The next level is focusing on the adopted emerging technologies. Here, the commercialization factor is appropriating technology value via revenue from early adopters.
Getting early adopters are really important. In case of early innovation providers, either coming from public R&D or the start-up ecosystem because they are the ones who come as champions and then set an example for the rest of the people.
So, the risk associated with this is called as adoption risk.
We have to look for what are the users benefits or if there is an unclear user benefit perception. Or, also, if there are formative usage patterns regarding the technology or what the market speculations are about?
For example, what is the total industrial market for satellite launcher-grade gas sensing? So, this, we analyse in the case of adoption.
What AGNIi does is analysing the adoption sector business models, so, we have formulated several business models for separate businesses and we try to understand that what the best model components are suitable for which kind of partners.
Business/economic/social target destination, so, there we try to identify the early adopters and how they can benefit from the solution. We usually engage with more than 300 adopters and have live relationships with them.
So, then, we create broader examples for these innovations. We usually engage in technology positioning showcases where we showcase these technologies, innovation directly to the adopters and this basically helps them to understand how the technology functions on the ground and what kind of benefits are associated with them. Basically, it helps users to analyze and to see the benefits that they can get from that technology and how the technology actually functions.
And, the fourth part is for adopters facing disruptive innovation uncertainties.
We, actually, you'll see that in the coming slides, you will see certain examples. So, we do already targeted oriented technology scouting for that technology. We rebuild the technology portfolio; we club the technologies in one part depending on what kind of technology are these.
And, then, if certain technology adopters are facing any kind of challenges or problems in their business as well, then we share these pain-points that the Indian tech providers are associated with public R&D or with start-ups. And if they ask do you have any solution that will be able to solve this problem?
So, once we identify the emerging technology adopters, the early adopters, we go to the third level which is emerging technology scaling.
Well, first, we identify the technology, and then we identify the early adopters. Then, we will look forward to how we can scale.
So, IP actually plays very important role, when we look at as IPs protected or not. Whether licensing is there or not and what are the industry risk associated with it because, most of the time, we have seen that if technology is not IP protected, then chances are really high.
So, these industry risks, we try to analyse like formative value network of suppliers and channels, what are the emergent regulatory standards, or if any unclear competitive landscapes are there.
For example, during the case of Corona virus, we started looking for the solutions that can prevent coronavirus and then we came across some solutions, available on the market, but they had regulatory standards. We tried to help on those regulatory standards issues.
What AGNIi does is analysing the value networks by mapping manufacturing, product development, risk financing and standard assets/competence against technology and adoption uncertainties. For example, if you have a solution and you want to scale your solution and you are facing a difficulty, you want to expand your manufacturing capability. Then, we will help you enter it into the larger MSME system where you can help in identifying manufacturing support. If you're looking for funding support, then we connect you to the relevant funders who can help you in your financial problems.
And then, if you're looking for connecting to any of the regulatory bodies, then we can help you there as well.
Second point comes to scaling partner target designations across value networks, optimized to technology and adoption sector risks. So, when we solve technology adoption risks, we will look at target partners who can adopt these technologies and can really help in scaling these innovations.
Then, we engage in various capability case clinics where we, basically, invite various partners and from various sources. For example, MSMEs and then they start up together and they identify that how our problems, the ones that start-ups are facing or public R&D people are facing and how stakeholders on the other part of the challenge, can solve these problems.
And, we have also built a very strong network on the ground. We have 1000+ rural field access points which can help in facilitating the field trials, de-risking the rural impact tech adoption and is as especially associated with agritech, food processing at scale.
Then, of course, we are currently working with building AGNIi public R&D lab partnership for accessing and navigating advanced science bases, for that matter.
Now, after talking about these 3 groups, I'm willing to talk about a few case studies. This will basically help you understand how we have worked in the past.
There's an example, I am not being able to disclose the name of the department. But, we have one department who came up with certain problems and solving the challenges on the ground and they have given us use cases.
For example, persistent monitoring and analyzing capabilities for tracking accidents, soil stabilization technologies for geological strata, geotechnical surveys and site investigation and road network surface survey capabilities.
So, for these use cases, we try to identify what would be the basic technology capabilities that can solve these problems and then, based on that, when we identified the technology capabilities, we started looking for start-ups or institutions that have the solution.
For example, in the case of AI powered, an edge based real time video analytics using CCTV cameras as data sources; we have two start-ups, Uncanny and Staqu, which have the strongest capability for such kind of problems. This way, we map the used case with the technology capabilities and then the start-ups that have the solutions.
Similarly, for the rural engagement part, this happened during the Covid period, our major challenge was how we can connect with larger networks on the ground.
How we can help in scaling the technology because agriculture and rural livelihood, these are really highly unoccupied.
So, then we thought of connecting directly to the larger network and for that matter, we worked with NAFPO which is National Association Farmers Produce Organization.
They have 800+ FPOs which includes 3 to 4 lakh farmers and then, we worked with ICRISAT that is the incubation and they have the source of all the technologies and start-ups are working on solving various agriculture related problems.
So, basically, we asked NAFPO, if they can help us in identifying what are the problems and what are the challenges that the FPOs are facing?
And, then there we have identified those challenges for a better use and then they said that they have solutions. So, apart from that, we organized the showcase there for the innovations and we got the networks of the supplier, for example FPO associates and the NAFPO Network or direct engagement and so, 2 showcases were organized.
First showcase was more of the trial basis where we try to understand how it fits on the ground. So for first, initial geographic spread was in 8 states, in which majority was South Indian states and there were 20 questions which were asked in the engagement and this was also a way to understand the engagement levels.
And, for the second showcase, we focused on limited innovations and then for that innovations, we started looking for potential adopters and we identified, there were some 60 questions which were answered. You can see the notable attendees were from Bank of Baroda, Grant Thornton LLP, FPO clusters, Aga Khan Foundation and Jeevika SPV members. And, there were 12 states. The start-up interest also increased from 1:17 to 1:36.
We really tried on the ground at how well we mapped the use case and when we mapped three points use case technology. So, it was really helpful. Because here we followed the approach that, whether the solutions provided by these ecosystems are actually working on the ground and then there was an increase in the interest, as you can see.
Now, these are certain examples. UNDP also came up with certain solutions and then we identified the technologies. And, then this is some of the examples of the past of our focus areas and for the technology scouting, as showcases done in the past.
Then, these are talking about the future priorities, the future priorities here, we are looking for creating more opportunities for Indian design innovations, and adapting to the India to the post Covid world and for advancing our Atmanirbhar Bharat initiative focusing on the core sectors.
Working with the line ministries for deploying new technologies and expanding more for understanding the user network by engaging with enterprise collaborations and then also creating a 'deep tech' for our ecosystem, by market, they're identifying disruptive innovations on the ground.
This is the team, fairly young as you can see and this is it about that.
As a closing remark- Our understanding is, if we work more toward the user centric approach in the case of technology commercialization, we have seen some good results. Thank you,
Vivek Singh speaking- Thank you, Prakarsh to talk about what AGNIi is doing and, I think, AGNIi is doing a good job and this is much needed in India.
So, if you remember, we have earlier worked with Invest India and AGNIi in terms of the building the market strategy. Maybe, we can discuss it further and see how we can get associated with AGNIi and work together in terms of facilitating the technology commercialization.
Prakarsh Mishra speaking- Sure.
Vivek Singh speaking- So, there are a couple of questions, I think, I should be taking one-two questions only.
So first is..
I am an innovator but I have just an idea, can I get support from AGNIi?
Prakarsh Mishra speaking- AGNIi basically don't support the idea stage innovators.
Then what we can do is if your idea is good enough, then we can help you in connecting with potential incubators who can help you in developing the idea and then we can help you in commercialization process.
Vivek Singh speaking- Next question is
Mr Prakarsh Mishra, can you elaborate a few cases studies and share its model and mechanism?
Although, it's a long question but maybe, if you can take it up.
Prakarsh Mishra speaking- So, yeah, I will actually not be able to disclose a lot of details given the certain guidelines. We have worked with some of these labs. There were some start-ups looking for a solution and they wanted to expand their portfolio. Then, we started looking for solutions in the public R&D domain and we identified solutions that actually helped that start-up in expanding the capabilities. And there, it was a perfect match between both of them. And right now, it's going pretty well. They have licensed the technology, so it was a really win-win situation for both parties.
Vivek Singh speaking- One last question:
What is the application and selection process for getting AGNIi's support?
Prakarsh Mishra speaking- So, if you want to get AGNIi's support, you can simply login at our website, you can apply at our portal, then, once you apply on our portal, there, will be your locker where you can upload your application and we will evaluate your application.
We will try to understand your application and once we understand, we will communicate directly with you and after understanding, we will get in touch. We will ask what kind of solutions you are looking, what kind of support you're looking from AGNIi.
This way, we understand and then we work for you.
Vivek Singh speaking- Thank you, Prakarsh for taking the questions.
Prakarsh Mishra speaking- Yeah, thank you.
Vivek Singh speaking- So, audience, I think, we will now move ahead to the next section of the event and I will ask Nick to make this proceed ahead.
Over to you, Nick!
Nick Martin speaking- Thank you, Vivek. Thank you so much. That was a wonderful session by Mr Mishra and Dr Purushotham, I really appreciate that.
So, moving on to the next part of this session, let me introduce our next speaker of the day.
His name is Mr Ronnie George. He's basically a project manager of the IP drafting, filing and Prosecution Team at Sagacious IP. To introduce, he's a registered patent agent with more than 5 years of experience in the industry. He works as a mechanical engineer and has worked with reputed companies like L&T Technology Services where he was handling end to end process right from IP generation to commercialization. Now, he's working here at Sagacious and works on IP related matters and market analysis.
Ronnie, I would like to invite you to share more on the topic today. Briefly help us understand some of the questions that I have with me from the audience as well.
Why is technology and IP commercialization important for start-ups and MSMEs? And what steps we should consider before proceeding with the IP commercialization?
Ronnie George speaking- OK, so, first of all, thank you Nick for the introduction and good afternoon everyone.
So, I'll be covering the importance of IP commercialization. And, the initial steps that an IP owner such as a start-up or MSME can take to improve the chances of IP commercialization.
So, there are various ways through which IP can be commercialized. For example, there's licensing in which an IP owner or a licensor, may license an IP to an interested party who is referred to as licensee. And, in doing so, IP owner receives some sort of monetary benefits from the licensee.
When we talk about IP commercialization, there are certain advantages that an IP owner enjoys when they license their invention or they get into a joint venture with another party.
I'll just go through each of the advantages and why it is important for IP owners to commercialize their invention?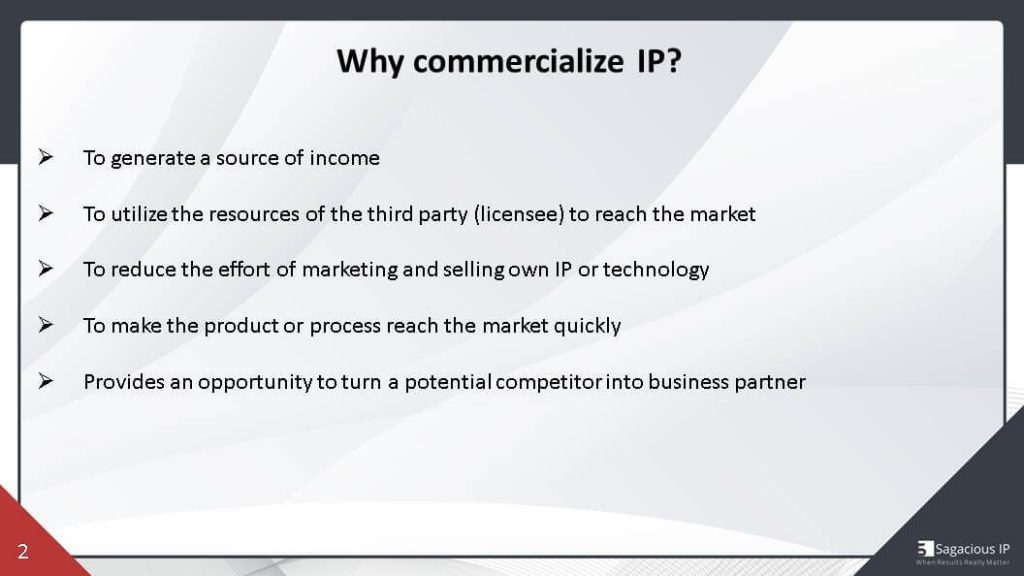 The most important advantage of IP commercialization is that the owner can generate an additional source of income. This income can be either lump sum or it can be in the form of a royalty. Amount is paid directly in one go in case of lump-sum. And, amount is received periodically in case of royalty depending on the agreement signed between the IP Owner and licensee.
The second advantage is that through IP commercialization, the IP owner can utilize the resources of the third party directly. IP Owner does it in order to make the product or the process reach the market.
If I have to explain this point with example, say, a start-up or inventor invented some invention over water cooler and got a patent over it.
Now, there are two approaches, one is the inventor can develop their own product, hire a marketing team, hire a sales team and go with that approach and eventually deliver the product to the market.
Or, the inventor or the startup can just identify those companies which are already involved in selling water coolers and they already have a client base. Through the second approach they can directly use the sales and marketing team of the licensee or the interested company and this will help them to use their resources and make the product reach the market with a much faster rate.
The third is, again, on the similar grounds of the second point. So, this reduces the effort of the IP owner or the licensor in order to bring their product to the market.
The fourth is, through this process, the timeline for the product to reach the market or the IP to reach the market reduces considerably, because now, they don't have to follow the conventional approach of developing their own product and creating new marketing and sales team.
In fact, they are just using the entire setup that the licensee has and they are getting deeper into the work in the market at a much faster pace.
Then, the last point which I would want to showcase is, through IP commercialization, a potential competitor can turn into a good business partner. If the start-up or the licensee or the IP owner would have gone through the first approach, then these companies were already in the market with a good reputation and would have become a potential competitor to them.
But, by going through the second approach, they can convert them and make them as a business partner and both can eventually work together and have a win-win situation for each of them.
So, these are some of the reasons how IP owners such as an MSME or start-up can avail the benefits of IP commercialization and make the product reach market much faster.
Then, one of the questions that arise when the IP owners think of commercializing their product is
What approach should IP Owners take which increases the chances of IP commercialization?
The first thing which is very important, I would say, in order to know if the product will be successful in the market can be done by market analysis.
Market Analysis & Its Purpose
So, if I have to define market analysis, it is just a qualitative and quantitative assessment of the market and it will give an insight into what is the success ratio of your IP.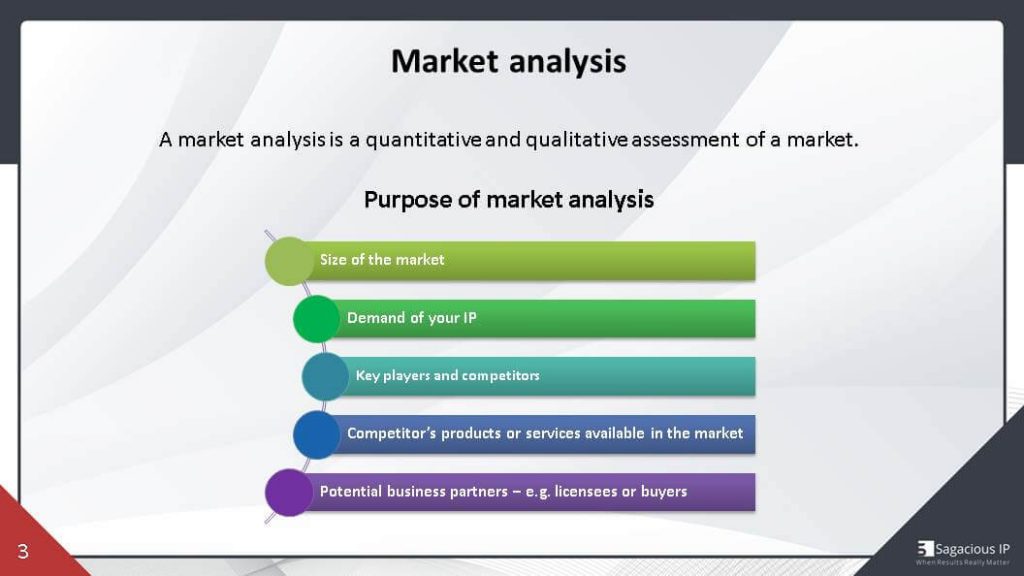 There are different purposes of market analysis. First thing is through market analysis one can identify what is the size of the IP. That is, is it 1 billion customer market or is it 10 billion customer market? So, that insight, we can get from the market analysis.
The second thing is what is the demand of your IP?
So if I have this case, in this pandemic, the demand for face shield or the face mask or sanitizers went through the roof.
Market analysis helps the IP owner to identify the current demand of the product in the market and what can be the future demand for their IP.
The third thing is it helps us to identify who are the key players and the competitors in the market and the key players are those which have already settled in this market and their products are doing well and people have a reputation about the company.
Again, the fourth point is if competitor's products and services are available in the market.
And, the last thing is potential business partners. So, these are the licensees or the buyers who can use your IP and maybe give some sort of monetary benefit to you.
In fact, the key players and the competitors displayed in the third and the fourth point, themselves can be the potential business partners.
So, these are some of the advantages or the purposes of market analysis, what one can expect as the end goal of conducting a market analysis.
Ways of Performing Market Analysis
Now, there are various ways of performing market analysis. I've covered 3 ways. And, these ways are usually used together in order to find the insights but they can be done individually as well.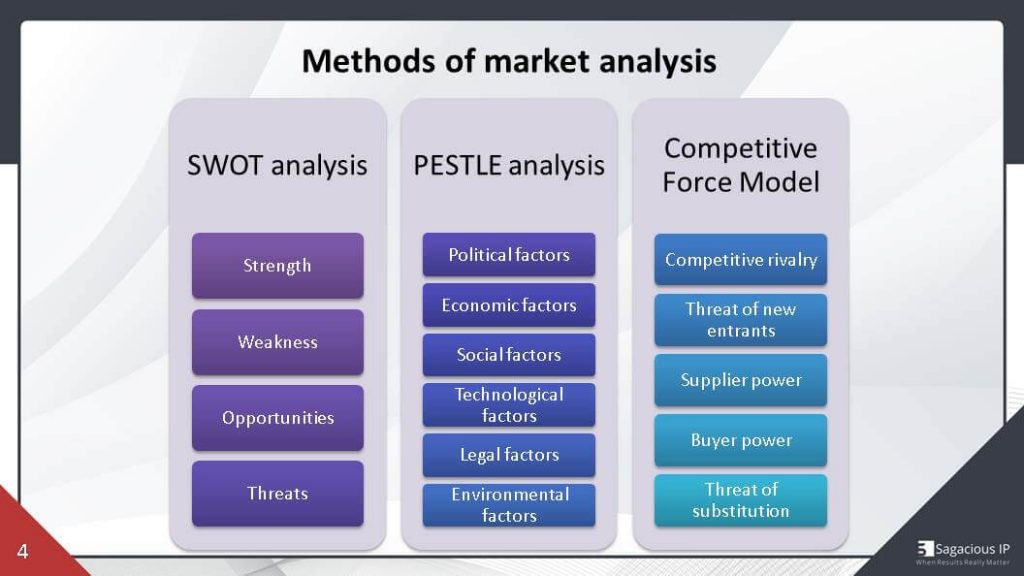 The first is the SWOT analysis.
SWOT analysis is a very common analysis method which, I think, everyone knows, that identifies the strength of your IP, the weakness and what are the things you can improve and the opportunities for you in the market. And, what are the threats to your IP in the market?
The second is the PESTLE analysis.
This data analysis gives an insight on the different factors that can indicate if your IP will be successful in the future or not. Or, whenever it is launched in the market, it may be successful or not.
PESTLE analysis is an acronym which stands for political factors. Political Factors refers to the political rules that apply in one country or geography.
Then, there's Economic Factors. So, that means, what are the taxation benefits you can get or what are the incentive options that are available. And, the social factors which influence the belief system of the people. Any product can have a lot of impact depending on what is the belief system of the people where the product is launched.
Then, technological factors influence the infrastructure of the area. So, whether it is given geography is capable of managing your invention, so is the technology has been that advancing in that geography.
And then, legal factors which are the laws and regulations.
Then, the environmental factors which stay for the climate and weather and what impact will that have on your IP?
This is a PESTLE analysis and how they can affect the market.
The third thing is the Competitive Force Model.
Competitive force model is also known as Potter's five forces: this is, again, a method of market analysis.
So, this gives an insight on the competitive rivalry. So, who are the key competitors for your product or your IP? And what market share you will owe in that specific geography and the threat of new entrants. So, how feasible or how easy it is for new entrants to enter into the market.
Then, supplier and buyer power can have an effect on the prices that you have been decided to launch the product at.
This is the supply power and buyer power insight.
And, the threat of substitution, what alternative products or services are available in the market that customers can use if they're not satisfied with your product or IP.
So, these are the three methods of the market analysis which are usually known in order to perform a market survey and to get an idea about the success or given information above what will be the scenario if you launch your IP in the market?
IP Audit
Second thing that someone can do as an IP owner in order to find it out that their IP would be successful or the product, if it is a good idea to launch the product in the market is IP audit.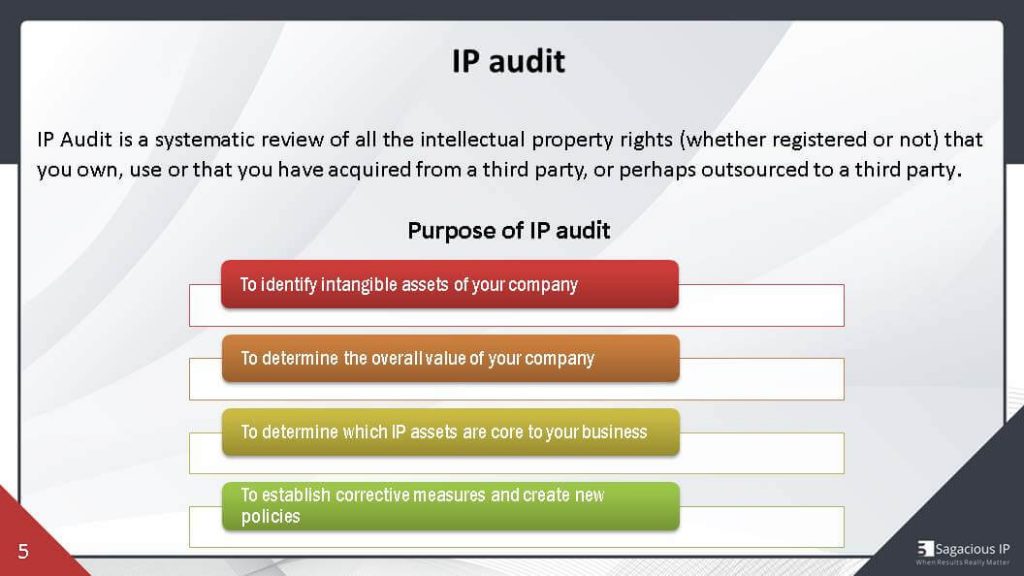 IP audit is usually done if you have a wider portfolio of IP. And, if I could define the IP audit, then it is a systematic review of all the intangible assets that a company owns. It can be the IP assets that they have created on their own or it can be acquired from some third party or they have outsourced it to the third party.
And, this will be very beneficial because through IP audit, one can identify what IPs are crucial for their business.
So, say, I do an IP audit on IPs that I have and then, there are certain IPs which align with my business goal and there are certain IPs which are non-core and they may not align with my business goal.
Based on that, I can decide, if I will keep those IPs which align with my business and those which are not that important to my business, I can license them.
The various forms of licensing were shown in the presentation earlier i.e., exclusive licensing or non-exclusive licensing.
So, IP audit gives an insight on how you can use the IP assets that you have in order to improve your business and commercialize them successfully.
The last point is to establish corrective measures. Once you know what IPs you own, you can make policies and improve the strategy of your business.
IP Valuation
The third point or the third thing that any IP owner such as a start-up or the MSME can do is IP valuation.
IP valuation is a process of determining the monetary value of IP rights.
The thing about this is that if someone doesn't know what the value of the IP they own is, it will be very difficult for them to go and deal with an interested party. Then, at what amount can they sell that IP or they can license IP.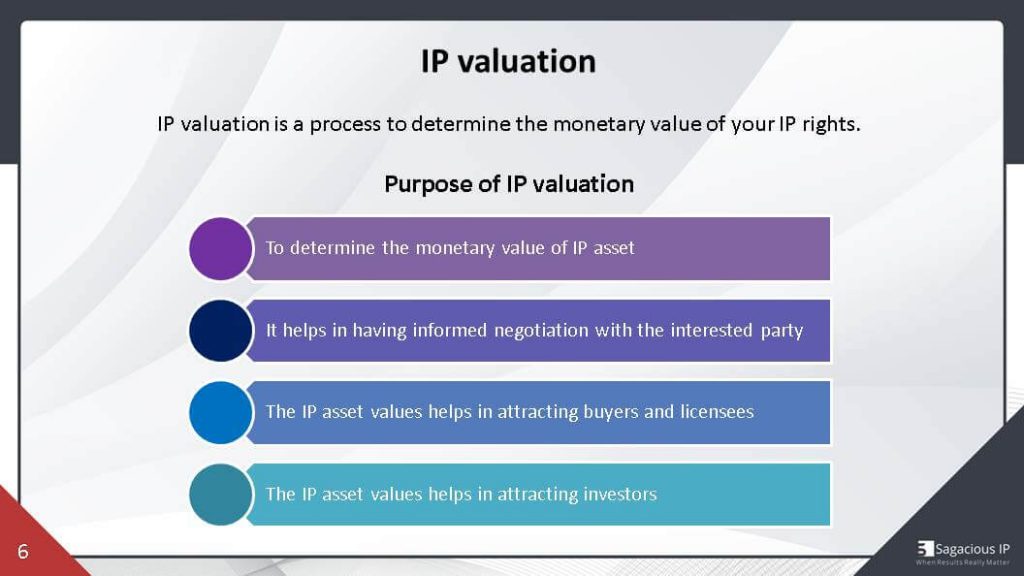 IP valuation gives an indication of approximate monetary value and this will help the IP owners who take the decision at what rate they should assign their IP or what the royalty rates should be.
Why IP valuation is performed?
The first is to determine the monetary value of IP assets. The second is to have informed negotiation. As I said, if you yourself are aware of the value of the IP that you own, then you can have an informed negotiation with the interested parties and this can help you in having the right way of commercializing. So, you can decide if you want to do licensing or you want to go for a joint venture.
The third thing is it helps in attracting buyers and licensees because you have a fixed value of the IP and it helps in attracting the investors. Investors need some sort of proof or guarantee about the value of the IP you own. Investors determined the future benefits, based on that, that they can expect. IP valuation is something which can help you with that.
So, these are some methods which one can use, I have put in here that can give an insight and it can help IP owners to decide how they can and how they should proceed with IP commercialization and what are the chances that their commercialized IP will become successful much later.
That was it from me. I'm ready to take some questions.
Nick Martin speaking- Well, thank you. Thank you, Ronnie that was a wonderful presentation. And, the participants had posted some of the questions while you were presenting. I will take them after the next speaker shares his experiences about the topic today.
So, I'd like to call on our next speaker of the session, Mr Dhananjay Kumar Das. He's the manager of ICT, IP Strategy and Solutions Team.
He has experience of 6+ years in the field of patents. He has a technical background in the electronics and telecommunication industries.
I invite DJ to present and share some more about strategies adopted for IP and technology, commercialization and certain challenges as well.
Dhananjay Kumar Das speaking- Hi, Nick! Thank you for the introduction. I would like to thank all the speakers today. They have covered the topic very nicely.
I don't be having much to share but I would be summarizing the points that they have already shared in detail but from the point of view of the start-ups and MSMEs to understand what they can do and for what they may have to rely on the government.
So, we talk about the idea whenever there is a start-up, so we start from the idea. Idea is, generally, the point from or the origin of any start-up, MSME that gets into the market later.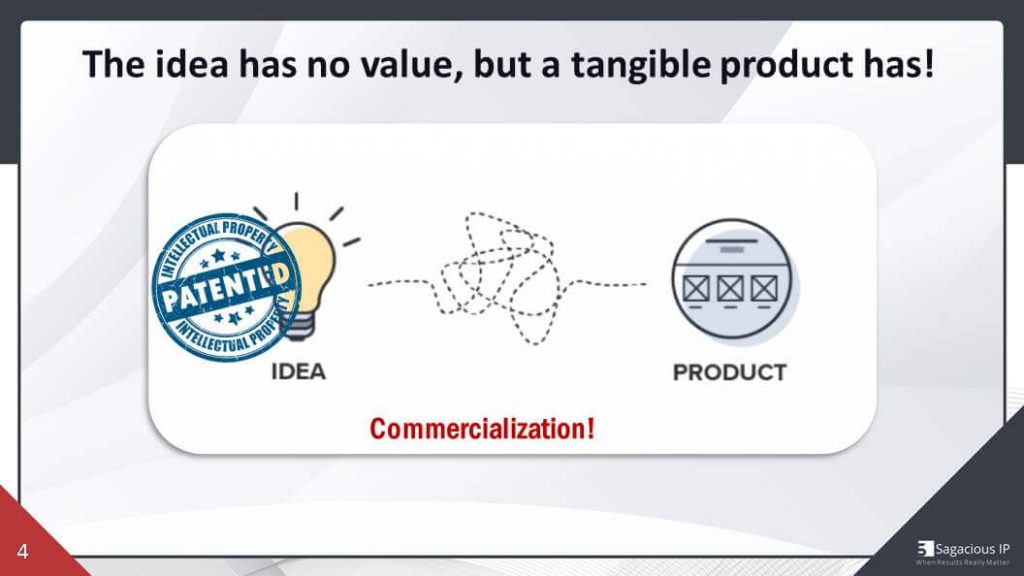 Can we commercialize the idea? The answer is clear no. We cannot commercialize the idea.
Whenever we use the term commercialization, it is all about taking idea to the market.
Let us look at this picture. It states that the idea is in the market in the form of products or services. Only, then you are able to commercialize it but the idea in itself is very vulnerable. There are lot of attacks that can happen to an idea. Anybody can steal it, any competitive design around can happen or anything like that.
As Dr Purushotham mentioned rightly, that there are certain tools that we need. Using them, we need to protect our idea and along with those tools, we need to take our idea to market.
So, one of those tools is definitely the IP.
The IP protection helps you taking the idea to the market securely. But there are some other tools where you face certain challenges into commercialization.
So, let's understand from this that any idea that is protected is the first step. It is the first step to take it to the market and that is, we call it as a commercialization.
Challenges in IP Commercialization
Let us look at the challenges that are there in taking the idea from its conception to the market.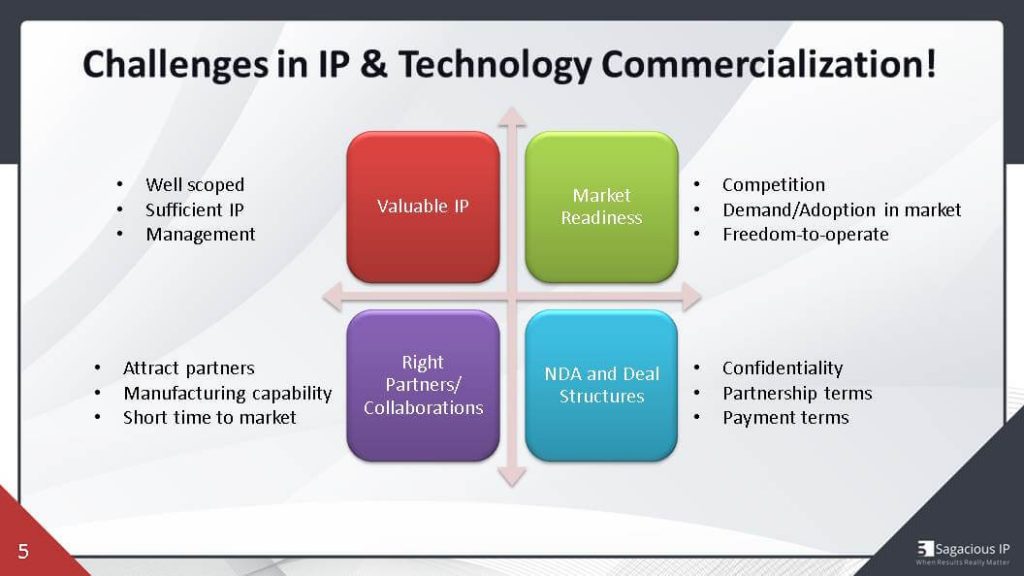 I have divided the challenges into 4 areas; these are already covered earlier in detail by speakers. But, let us look at the challenges from start-up point of view.
We have seen that IP should be created or the idea should be protected using IP but that needs to be valuable.
I intentionally used the word valuable here. So, if the IP is not valuable, then that becomes a roadblock in itself for commercialization.
For example, it should be well scoped when I say valuable. If you're protecting your idea using patents and it is very narrow in nature. Then, there will be many designs around it.
So, as I just mentioned that you need not to rely on only single IP. That is, you have to have a bundle of IP. It can be in any form, like you can also protect some copyrights, trademarks, and patents. So, you can bundle them together to form IP and increase its value. And, definitely the start-ups sometimes do file the patents just because to get the funds. But, if you have not maintained it even after the patent grant, you need to maintain it. So, if it's well maintained and scoped, all the IPs are there in the bundle, then your chances of getting it commercialized are more.
Second is market readiness. Market readiness is will there be any alternative present in the market and all the analysis that Ronnie just covered. So, we need to understand the market also.
Like Dr Purushotham, also mentioned the technology readiness. So, that is related to market. How much it is ready to be taken to the market. Are there any competitions or how much is the demand or adoption in the market? Is there a freedom to operate? All the research should be done before commercialization. If not then, be willing to become that tough to solve challenges little later on the stage.
Choosing the right vendors, again, this is related to the concept of commercialization that is taking idea to the market. So, how much time you have in your hand?
You have conceived one idea, now, technology is evolving very rapidly. So, you cannot wait for the right time to build the capability by your own. You have to go in the market, do the right networking, find the right partners. And, this will shorten the time to take your idea to the market. So, that you commercialize your idea on time.
So, you have to have the right pointers to attract the partners capable for manufacturing your idea into product.
And, last but not least, are NDA and deal structures. NDA is the most important among all these four areas.
Even before protecting the idea in the form of IP, you need to ensure that everything is confidential. If your idea is not maintained, the secrecy then it will be lost.
All the people to whom you talk, interact or discuss your idea with for taking it to market, do it with confidentiality or NDA in place. If you don't have that in place and later you will find something similar in the market coming around you and you won't be able to have it protected, or you will be very helpless to do anything about it. At the same time, you have to ensure that partnership and payment terms are well written and covered in the agreement that you do.
Partnership terms, like, if you are really interested in developing the idea and you can actually contribute. Basically, an idea is a heart and soul, close to any startup, so it is not about just selling. It is also becomes about growing or nurturing the idea along with the partner. So, you'll have to have those terms in place so that you can also contribute. And if needed, you can also build a separate team under your partner's vicinity.
So, these are the challenges that I wanted to cover and apart from that, the next point is strategy.
Strategies to Adopt for IP & Technology Commercialization
These four are the strategies or I would say the way you can take your idea to the market.
So, you can sell the IP that you have protected. Definitely idea, in itself, cannot be sold. And, IP license and franchise, if you're just giving the license of IP, then it is licensing. But if you have formed the business, then it is franchise.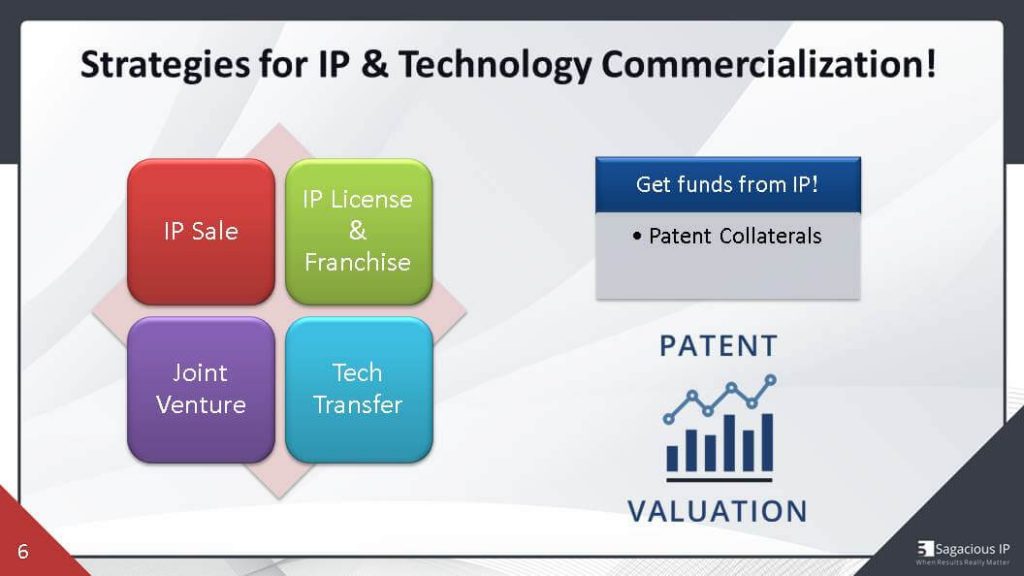 Joint venture, if you're a partner with anyone then it will become joint venture. Tech transfer, if you have bundle IP at your end, so, that will become a complete package. And that, whole technology is transferrable.
Apart from these four, there is one way to get some funding by your own. If you believe that you can get funds, then you can build the product on your own and take it to the market.
So, I'm not sure how much it is happening in India right now. But, in the West, Patent Collaterals are the most promising thing happening for start-ups dynamic. People are going and are taking their patent for mortgaging to banks or financial institutions and getting funds from there.
And, one key analysis required for all these strategies, from the beginning, is patent valuation.
That's all from my side.
Nick Martin speaking- Thank you, DJ. That was a wonderful session. A wonderful way to elaborate about the challenges that we can face about commercialization of IP. Now, we have proper understanding of when one should go for the commercialization process. The points to focus while trying to license IP to a third body and conducting market analysis, the challenges.
However, we have got some queries from within me and from the participants as well. If you could throw some light on that,
What is good IP sale or license and what should we go for? If licensing, whether to go for exclusive licensing or non-exclusive? Can you please elaborate something on that?
Dhananjay Kumar Das speaking- Right. So Nick, all these are good options for you.
All these are options that an IP holder has. So, IP sale completely depends on business strategy that you want to go with. Generally preferred when you have created IP and want to pay with your business, so you can sell it. But, if you want to continue with that idea only and are very much attached to that and think that this idea can be taken. This is where market analysis is important. If you can foresee that this technology can become a trend in the future.
So, you should keep it and not sell the IP. Go for licensing and even for licensing, as you said exclusive or non exclusive.
If you think, it can become a trend and have the right partner with all the due diligence complete, then you should go for exclusive license. And if not, then if you just want to think that engaging with multiple vendors will help. So, go for non-exclusive license.
Nick Martin speaking- Is it just limited to the IP? Or like when does the technology commercialization comes into the picture?
Dhananjay Kumar Das speaking- Right! So, technology commercialization or technology transfer, when you want to increase the value or maximize the value of commercialization process. So, like you want to have a good RoI. Firstly, it is, generally, good to have IP. But having a prototype ready or having a product at least, all ready can actually show how the product based on the IP will physically look like. And, bundling it with other IPs and the technology itself is a bundle, so it includes IP, it includes product prototype or product itself or any technology that is required to prepare that. All the knowledge that is there, is completely combined forms or technology or if you have all those capability or all those things ready, then, you should go for technology transfer, rather than just IP licensing.
Nick Martin speaking- Great. Well, thank you, Thank you, so much, for these elaborative answers. I'm sure the participants would have loved your answers. The light that you have provided towards this topic. So, I would like to move forward with the next part of the webinar today which is the start-up pitch session.
Start-up Pitch Session
Well, multiple nominations were there for Startup pitch round. And, from many submissions we received, we selected three Startups. These were based on various parameters. Like, the uniqueness of the idea, stage of the startup, IP filings and status and many more. I would like to thank all who have made these submissions. And, I would also like to welcome startups selected to participate at the Startup Pitch Session today.
So, I'd like to mention that all the 3 companies have 3 minutes to share about their organization.
I would like to invite Mr Manoj Kumar Maity from the Score Global EduCare Private Limited. He will briefly share about his experience with this startup in next three minutes.
Score Global EduCare Private Limited
Manoj Kumar Maity speaking- Hi. Good afternoon and thank you panel speakers for giving such important information regarding IP.
So, let me share my presentation. Score Global EduCare Private Limited is our company's name and our trademark is Baby Bunny. We are into preschool education.
Right, so my presentation is 3-4 slides, so, don't worry much. I'll be briefing these three points. So, the industrial potential of the market, what we are catching into, it's only pre-school education. In India the scenario is something like 14 and 15% penetration for pre-schooling. Since in NEP: National Education Policy 2020, it has been mandatory that every kid between 3 to 6 years has to undergo pre-schooling.
So, we find a very huge school and scalability of this market. In rural segment, it is only 3 to 4%. In semi-urban, it's only 8 to 10% and in urban, it is 15-18%.
So, now, we have a huge expansion in this specific market, whatever I have shown.
Now, the second point is how to expand in such a very small period of time. Let's say in last 60 years, we could penetrate only 14 to 15% in total Indian population. And now, we are planning, in next 3 to 4 years, 100% pre-schooling education. So, it's a very short period of time. That is why we have a very innovative and path breaking mobile application.
So, it is a very unified platform. And, maybe you need an online pre-schooling. If you are sitting in Kolkata and looking for a franchise anywhere in the country. So, we can easily do it by the application.
It's a platform for franchisee and platform for teacher. It's a platform for the kids, parents as well as the people who want to join us. So, this is a unified platform which we have developed.
The third point, which we are emphasizing is our USB. No one in this industry is getting into MHD that is mental health disorders.
Now, this is a very alarming thing in India because 20% of the kid's population is having MHD.
So, there are no schools or preschools in India getting into this amazing MHD.
Now, here, we're giving a cloud based mobile application to parents, so that the parent can attend the counselling session as per their timing. As well as, it is a kind of NPV solution, so, let us have a look of the applications.
So, this is our mobile application "Score Global". This is application number one, it is available in play-store only.
Now, we can see that with the help of this mobile application you can apply. And, if you're running a preschool which has not been with a proper curriculum, so, you can update with us. Then, the parents seeking admission of their kids; they can also apply to this application.
Or, you are a trained teacher and want to work with us. Then, you can apply through this application. You can apply with this application even if you are a business development manager and want to link with us.
This is such application where after logging in you can have an entire look of our packages. These packages are available in different states of the country. Also, the company's achievements you can see through this application.
You can login to our website and you can look into the packages which are available in different locations.
So, moving to the next technology based mobile application, it's the solution for manager, maybe teacher as well as parents. In parent zone, so a parent whose kid is going to our school, can see all these things at home without going to the school.
This is one brilliant application which very few schools use. Again, there are many more features which are not available with the existing kind of schools. So, let us look into this parents zone. The parents can see the attendance, fees status or not, report cards, holiday list. And, also if the parents are having any kind of queries they can directly ask.
"Today's class" means all the classes which are taking place, so it has been uploaded in the mobile application.
If parents have any query, they can put it here and it will go to the respective centres. They can also review the schools. And, one more interesting fact is that if the teachers are doing something very innovative. And, that is captured and uploaded in the video or picture . The parents can, then, see those innovative things that are happening in the school.
So, one more important thing which I was discussing about has been integrated with this application in the student. The parent counselling is something like, since we know that this mental health disorder is something like hyperactivity of the kids. So, this is roughly because the size of this study says that 80% are because of bad parenting. So, we tried to address the parenting part.
That is, if 20 out of 100 kids are victim of MHD, then we should address the issue with parents. We do it with parent counselling app. The app has various kinds of blogs. They may be in terms of good parenting and all these things, like in the format of video. Like, my list has been updated, many PDFs, like what is Autism? We have also uploaded Some do's and don'ts for parents in this application. So, parents can see as per their convenience. If they're busy then, they can take 20-25 minutes in a day and can easily go to them and learn what to do.
Now, one thing, indicated here, is the exam portal.
It's a kind of psychometric test for the parents. So, after every session especially stated by academic head, every parent needs to undergo psychometric tests.
It is kind of MCQ where after ending one session, the parents need to go to the psychometric test. You're get around 20 questions. The results, then, directly go to the academic head and he/she will decide whether or not the parents are guiding their kids properly or not.
If it is not, then they will directly call the parents to the respective centres. And, then parents will undergo some classroom sessions in terms of parent counselling with physiatrist.
So, this is our second innovation in terms of technology.
And, this is our business calculation because we are expanding through our franchise model. By 2020, we expect around 52 franchise. And, it is already done. And, by the end of the 2024, there will be approximately 1000+ franchise all over India. So, this is our business model.
So, you can do this much, relatively.
Alright, so, that is it from my side. Thank you.
Nick Martin speaking- Thank you, Mr Manoj for the lovely introduction about the start-up.
Motion- World's First Adaptive Posture Smart Electric Motorcycle
I invite for the next start-up session, Mr Shivrajsinh Tomar to briefly share about the start-up in next three minutes.
Shivrajsinh Tomar speaking- Sure. Basically, our startup's name is Motion and we are world's first adaptive posture smart electric motorcycle company from India. So, we have a single motorcycle, it fulfills all riding modes we have in India. For example, cruise, street, sports, everything goes in one motorcycle. This takes your acquisition cost to one. And, it also cuts down your operational cost to 58%. And also, we are having a utility in electric motorcycle so, we can promote safe riding in India. So, this is where we are targeting like niche market for professional and passionate riders who ride for long distances.
Also, we have got a lot of progress till now, so we have actually tested our motorcycle up to 120 kilometres which is our proof of concept. And, also we have done 50 test runs with our prospect customers with highly positive feedbacks. We have also tested our motorcycle with almost 150 professional riders and have filed an IPR for our adaptive feature.
And also, we impact climate by reduction of CO2 emissions up to 60%. We have got funds from various government grants for product development. Ans, we have won various awards like Best Pitch & Start-up Award and Best Tech Platinum Award in Makerfest Festival
We have also featured on various media channels like GTPL Gujarat news and TV9 Gujarat News. Also, we have featured on various exhibitions like Makerfest Vadodra Start-up Festival where we showcased our concepts. We have worked with various firms like Revolt motors, Joy e-bikes, for testing and Speed Force for infrastructure. Also, we have generated some dealerships, enquiries, have validated our technical feasibility of the product by EES. EES is a leading consultant for product design. We have also validated our market by taking surveys from our future customers.
Next, we are planning to launch 3 prototypes with more limited edition cycles. And also, we are planning to get certifications. After that, we will refine our business model. We are going for recruitment of teams and place our experience centers with the help of our partner network. Also, we are going to increase our supply chain and are going to launch into market in next one year.
Thank you.
Nick martin speaking- Thank you. That was really fascinating, I think you should have presented your presentation and it would have the impact. That is because these recognitions are really remarkable.
So, moving forward, I would like to invite Mr Sajith Indra from KnoxC Solutions Private Limited. He will briefly share about their company experiences at the startup.
KnoxC Solutions Private limited
Sajith Indra speaking- Hi. KnoxC Solutions Private limited is our start-up's name. We are into cyber security.
During my earlier days, my sister used to steal my login credentials and post on behalf of me. That raised so many issues. It actually pointed out one of the biggest issues faced in cyber security, losing access credentials. Because, we can duplicate the biometrics, hack passwords and automate OTPs when it comes to security.
So, we came up with a new login technology. It has better security than biometrics and it has simple execution as password in and it also provides OTP properties.
This technology is resistant to shoulder surfing, key logger, worms, most of the cyber security threats right now in the market.
We are not just introducing a technology but we have also developed a theory called VarSec Theory. It states "consistency of the security parameters in the security system is inversely proportional to the security provided by the same system".
So we have developed this theory after huge R&D sessions and works. That is the first segment and why my logic lock technology is better than the other system?
The technology mentioned will be checking, "are you human?" with the captcha. What captcha does for the logins, we are doing that for logins every time. In terms of the hacker's perspective, the password will be different in each login. Even if you lose the credentials like the pin which we already have in this technology, it will be secure. And, we can secure it and it will have a different password length for each login.
It is resistant to 90% of the cyber-attacks. Even if it is a key logger attacks which doesn't go the cyber security. So, if somebody who doesn't have a technical expertise might figure out your password by just by looking at what keys you press when you enter the password. And this will be in a system for that, too and we have developed this technology, like we can use it as a plugin system. So, it is integrated to operating system.
And, this is our growth plan right now because we are going to Licensing. We have developed a team. And, we have just 2 or 3 companies and we are looking for the Singapore market. We are working on IoT Security products, Estonia Markets and these are the things.
I'll give you a demo of this product. Imagine you are going to login to a Gmail account, I'm going to do the same but with my technology.
Now, we have logged into this G-mail segment. So, that is the small version of the technology, we have integrated with the e-mail server.
And, I'm sure that you understood the difference between the username and password we currently use in our technology and the logic lock.
And that's it from my side. Thank you, sir. Thank you, Nick.
Summary
Nick Martin speaking- Thank you so much for sharing that session with us.
So, I would like to summarize, this has really been a wonderful webinar today. I'm sure our listeners have great takeaways from this event. I hope they will be able to use these pointers on their businesses. The takeaways are many for me. I will summarize them briefly for the audience.
While we understood the various benefits that the IP owners can get when going for IP commercialization. Further, we can realize that the viewers can perform Market Survey Report, Technology Validation Reports or IP valuation. It will help to progress in the process of commercialization.
This session has also given me an insight on what strategies are good to follow for successful commercialization on IP. And, also on the challenges that we face while carrying out the instructions.
So, I apologize for not covering all questions that we received from the audience because of the time limitations. However, we will publish the answers of remaining questions in the write-ups post-webinars.
Thank you again, our speakers, Dr Purushotham and Mr Prakarsh Mishra from Invest India for sharing their precious time, to all the startups who have participated, thank you all to all the partners.
Sagacious is happy to announce that nominated start-ups will be benefited. They will get free expert guidance on IP issues and Global business, technology expansion or commercialization for their innovation for 2 months.
Also, I want to thank our participants who helped us start on time.
However, we are a bit late, I apologize for that. You all stayed with us for extra time, approximately 20 minutes, and we appreciate that. Thank you very much.
Please do join us in our next webinar.
Have a great evening, thank you.
Submit Your Information to watch the Webinar Video: