Innovation Management Best Practices – Boosting R&D ROI – Webinar
Webinar Topic: Innovation Management Best Practices – Boosting R&D ROI
Key-points covered in this Webinar Session:
Are you investing your time, money and energy, just for the sake of creating something or is it really solving a problem that impacts your business and relevant market?
Does idea submission seem a burden to your team?
Are your inventors submitting quality disclosures?
Are your inventors able to comprehend information present in the landscape analysis report?
Is patent landscape report killing inventors' motive to invent as all they see is a huge volume of documents disclosing their idea?
Do you always find your in-house IP team low on bandwidth to pick up additional tasks?
Watch this webinar to go through the best practices of managing the Innovation Management Best Practices Life-cycle that would help you in identifying these critical challenges and in solving them to boost your R&D ROI.
Speakers
Tanmay Mittal, Head – IP Solutions – India Region, Sagacious IP
Sumit Prasad, Group Manager, Sagacious IP
Submit Your Information to Watch the Webinar:
More details about this webinar:
Top global economists have hinted the onset of economic recession due to the COVID-19 pandemic. Apart from a direct impact on production and sales there would be an indirect impact on supporting functions such as IP. Thus, R&D centres and CoEs may face budget cuts on NPD and IP activities. However, there is a silver lining – it is the right time for optimization of existing processes and implementation of global best practises that ensure that the IP department survives budget cuts. IP departments would agree that the process of managing the Innovation Management Best Practices Lifecycle is often an unstructured territory which could benefit from support of experienced external consultants.
Webinar Transcript:
Tanmay Mittal Speaking – Welcome everyone to the webinar! This is Tanmay Mittal, Head IP Solutions, India region at Sagacious, signing in to welcome you all to our webinar, today, on the topic "Innovation Management Best Practices – Boosting R&D ROI". Before I go on to introduce this topic and our speaker for this session, I am delighted to welcome all the participants from different countries Like U.S., Canada, India, Germany, Netherlands, Belgium and many more.
As I always say, your participation is a wonderful encouragement to the efforts and attempts that we are making to raise awareness about Intellectual Property through knowledge that has been honed by Sagacious over several years of working with inventors, R&D Organizations, IP Departments, and IP Law Practices.
Without further wait, let me introduce Mr. Sumit Prasad – our speaker for this session today.
Sumit Prasad is group manager for the ICT BU at Sagacious IP. Sumit has a diverse experience of around eight years in consulting clients on Patent Monetizing Strategies and helping clients on Due Diligence Studies. He has successfully executed strategic studies like landscapes to provide end-to-end IP Solution to his clients with actionable and thoroughly researched recommendations.
Presently, he is leading a team of highly skilled analysts – mostly engineers with specialization in ICT Technologies, in efficiently helping clients globally set innovation management best practices in-house.
Welcome to the webinar Sumit!
Sumit Prasad Speaking – Hey Tanmay! Thank you for having me on the webinar and greetings to all the participants across the globe.
Tanmay Mittal Speaking – Thanks, Sumit!
Before we start off with the presentation today, let me ask Sumit for his initial remarks on the topic of today's webinar.
Sumit Prasad Speaking – Thanks, Tanmay!
Well, it's been the era of COVID-19, and, everywhere, we are hearing about COVID-19. In this situation, top economists have already hinted the onset of economic recession. Apart from a direct impact of this recession on the production and sales, there would be an indirect impact that we all foresee on the supporting functions such as IP itself. Thus, R&D centres and other CoEs, Centre of Excellence, may face budget cuts on the non-product development activities, NPDs and IP processes that they may be executing.
However, I see – there is a silver lining to it. I believe this is the right time and opportune time for us as an IP fraternity in optimizing all the existing processes and implementing the innovation management best practices that we may have observed throughout the organizations. This will ensure that IP Department not only survives the budget cuts but also excels from this situation.
All the listeners from IP department would agree that the process of managing innovation is often unstructured which could benefit us from adapting some of the best practices that are being tested in most of the R&D organizations. Let's learn about some of these practices that can bring in effectiveness and provide you some tangible measures to evaluate your existing workflows to manage innovation.
Who Can Get Benefits from Innovation Management Best Practices?
Tanmay Mittal Speaking – Great, Sumit! Yeah, we're looking forward to that, but before we jump to that, I just have a quick question.
Before we go ahead and learn about the processes that you would showcase today, I wanted to know that any organization can implement this process or is this process that you're going to explain only suited for organizations that are already active in IP or already having an IP Department? I mean – is this process, which you're going to explain, applicable to all the organizations?
Sumit Prasad Speaking – Well, every company needs to start from somewhere, right? Companies, who have already invested effort and time in setting of these workflows – they can leverage these processes in bringing in efficiency and giving some more bandwidth to their existing in-house IP team, and people, who are innovative and who are innovating right now, but they are yet thinking about setting up a process, they can adapt directly from these experiences and put up a process in place that can help them managing their innovation in a better way.
Tanmay Mittal Speaking – Drop us an email later at webinar@sagaciousresearch.com to get more information or to request this. Let us now get started with the main part of the presentation, and for that let me invite Sumit to share his knowledge on "Innovation Management Best Practices – Boosting R&D ROI."
Over to you, Sumit!
Introduction to Innovation Management Best Practices – Boosting R&D ROI
Sumit Prasad Speaking – Thank you, Tanmay!
Let's set the agenda for today's discussion and try to understand what all we are trying to cover in this webinar. We'll the first start with introduction to this topic and try to understand various factors that are responsible for us to discuss this topic at this point of time.
We'll, then, understand the innovation management best practices life cycle that is being practiced throughout the leading innovating companies, and we have tried to generalize it, and try to see – what are the different challenges that are faced during every phase of this innovation management best practices life cycle?
Towards the end, We'll, then, talk about all the custom IP solutions and processes that can be put in place to eradicate those challenges and some of the tools that Sagacious has been using over the period of time to boost this process of innovation management best practices. We'll just speak about those tools and collaborations that we have.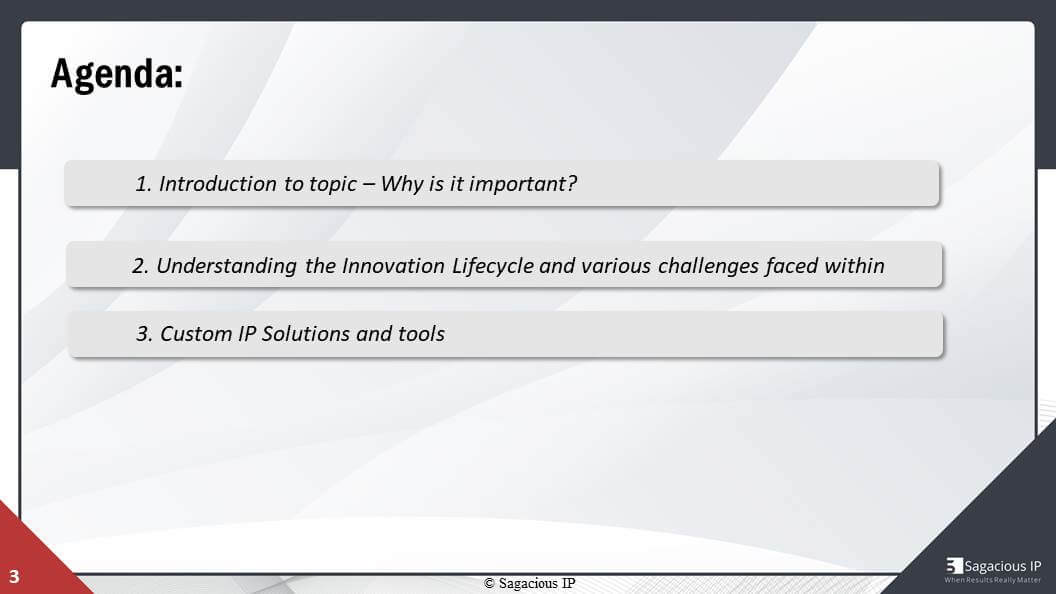 Let me start with the webinar.
Why is It Important?
Why exactly we want to discuss this topic today? There are two different perspectives to understand the investment that we are doing in the field of our research and development and why we need a process in place that will keep a check on the output of any R&D function.
Perspective A
In today's time of COVID-19, there is an economic slowdown. Every penny that is going into any of the support functions as an investment is accountable and people, right from stakeholders to the top management, they are looking at evaluating those expenses and making a profitable outcome out of those expenses.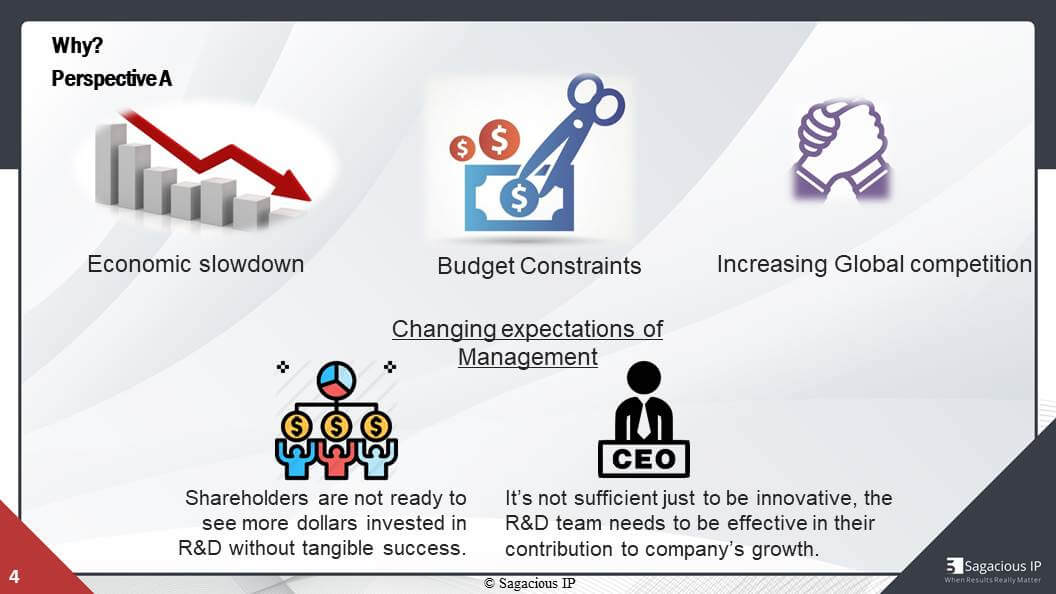 It's very important for us to understand this situation and try to evaluate it with the current R&D processes. Again, with respect to the economic slowdown, there may be difficult situations where we may face up with budget-cuts. We need to understand how we are going to overcome those scenarios where we have tough situations such as budget constraint and try to evolve our processes in a better way.
Another parameter – why we need to understand and streamline our IP processes is, in today's world of competition, every company is trying to compete with the other company in terms of innovativeness, and this puts up a great pressure on the innovators and they are into the limelight as their performance is being measured on how company operates in that tough situation.
With this, the expectations of every person sitting in the CXO level have changed.
As I said that shareholders are now scrutinizing every dollar that we have putting in in R&D efforts to see if there is some output to that investment.
Similarly, the CEOs and CXOs, they want to make decisions based on the R&D effort and R&D output of the department. They just don't want the R&D teams to be Innovative; they, also, want the R&D teams to be effective enough to contribute to the company's growth all in all.
Perspective B
This is one side of the story where people would start scrutinizing the R&D department. There could be another perspective to it. With this market slow down, people could start increasing their investment in R&D with an aim to see whether we have a good product line in place when the slowdown goes away. After this slow down, they need to have a stronger patented product portfolio so that they can present their portfolio in a better way. They can Market themselves in a better way and attract more customers as the market recovers.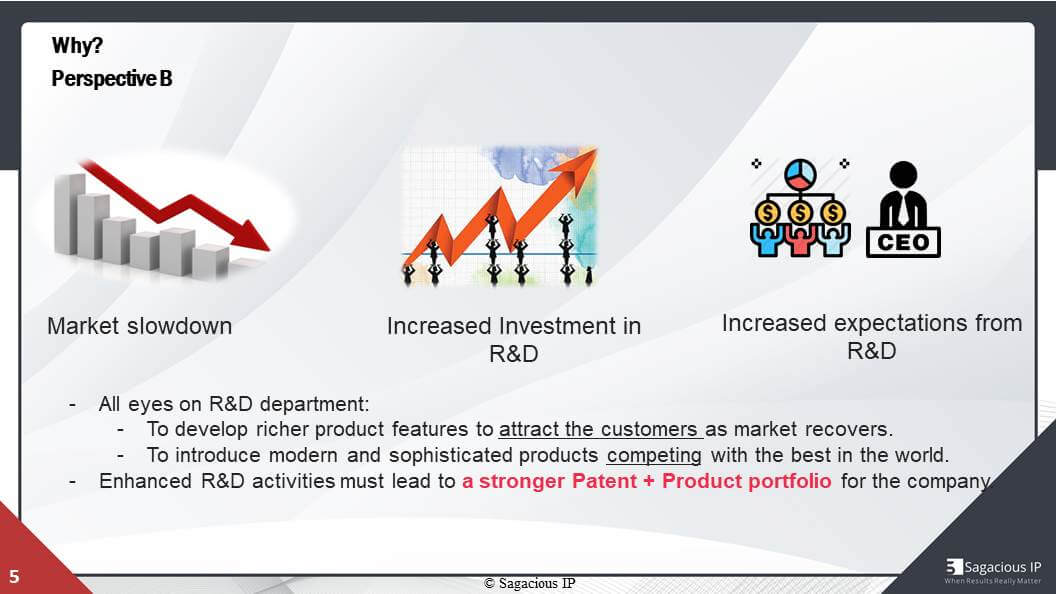 They also want to invest this time in developing modern and sophisticated products that could compete in this global competition era. Thus, this enhancement in R&D activities should lead to a stronger patent plus product portfolio. This is what the expectation of the management would be. And, again, this leads to a topic that why we should have a streamlined process and that should lead to better prospects to measure our R&D activities.
Metrics to Measure ROI from R&D
These are the reasons why we should start doing it, but often it is said that it is very intangible, and if you start putting metrics on any R&D Department, the creativity would lose. Therefore, we need to be very balanced in and putting up these metrics and how we judge them in the real life scenarios.
To understand that better how we evaluate ROI from R&D Department, let's see there are two different parameters how we can evaluate the ROI from R&D Department. One is what type of value we are adding to the company, and another one is what type of value we are generating through our creativity.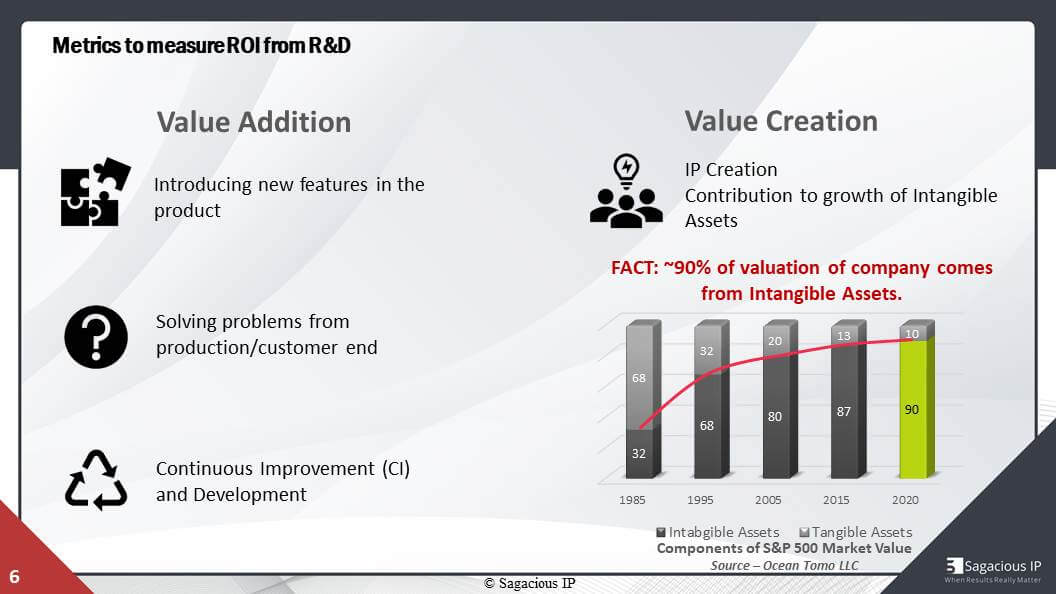 Value Addition
Value addition is pretty simple and straightforward, because from any R&D department, it's expected that you will introduce new features and new products that would go into market and give you returns on that investment. This is charted in any of the balance sheets, and people, often, measure it in terms of sales with respect to the R&D expenses.
Similarly, there are multiple problems that would be faced by the customers, and those problems are fed back into the system, and it is expected out of the R&D team that they would solve those problems and present viable solutions to the customers. That's again a value addition that R&D team does and this can, also, be measured not quantitatively but in terms of qualitative products and how sales is going for a company.
Continuous Improvement and Development Departments – These are the practices which are being practiced over period of time to evaluate how the R&D team is contributing towards the growth of a product or towards the growth of a product portfolio. These are some of the parameters which are very well evaluated, and we can, somehow, evaluate it with respect to the sales figure that every company is doing in the market.
Value Creation
In addition to this, we all agree that there is a significant valuation of a company in terms of their intangible assets. The liability of adding the intangible asset to a company's portfolio again lies somewhat with the R&D team.
It's the R&D team who will, actually, generate value in terms of the intangible assets that a company owns in valuation. You would not be surprised to see since we all relate to IP fraternity that ninety percent of the companies, top digital companies – their valuation comes from the intangible assets, and this has significantly increased over the past 40 and 45 years, and we have seen a significant shift of maintaining tangible assets with respect to intangible assets, and that's where the IP fraternity comes into play.
Prerequisites for Implementing Innovation Management Best Practices Program
Tanmay Mittal Speaking – Yeah, I mean that is great, Sumit. I was wondering what in your opinion are the steps required for creating such an IP program which leads us there. I mean, earlier, we discussed that this process can be implemented by any organization, but our listeners would definitely like to understand and know the prerequisites for executing such an Innovation Management program in-house.
Sumit Prasad Speaking – Well, that's a very valid question. So, before starting any IP program, you need to ask a few questions to yourself. Do you have a structure to understand your R&D Department? Do you have a structure to understand? Who are the inventors or who are the innovators who are working on, let's say product A and who are the innovators working on let's say product technology B?
You need to ask yourself. If you have a structure in place for that kind of demarcation, do you have a structure to capture your ideas and inventions? Do you have any platform where they can actually come and submit their ideas? If that is also yes to you, then you need to ask a question: whether you have a structure in place that that gives you an opportunity to evaluate the ideas coming in from the inventors then give proper feedback to them – how much strength there was in the idea, and if we could take it forward for any kind of IP protection.
And If that is also a yes to you then do we have enough platforms and enough processes in place that would keep your inventors motivated and informed about the recent developments in the IP world relevant to their technology.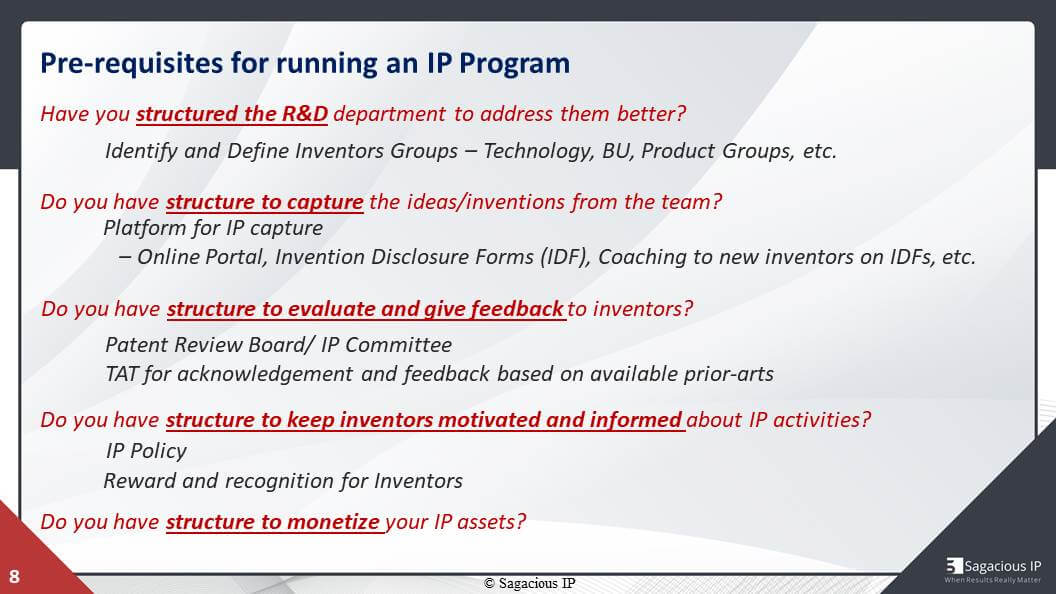 If your answer to all these questions is no, then we need to start figuring out how to define your inventor's group first, how to divide your inventors in a group that can be addressed well at the time of knowledge sharing, at the time of announcements, or at the time where you want to have more output from that invented group.
Again, similarly, you need to have a platform, an online platform, or an email address or some ways, some mechanism – how an inventor can reach to you and share their ideas on a forum. So, that is also an important step that we need to take care of if we are studying an IP program.
Often, companies who have a bigger IP portfolio – they have an IP committee in place that would review – what are the ideas that should be forwarded for IP protections? What are the ideas that should just go for defensive publication? That kind of group you need to identify within yourself that would comprise of any technical head or person who is knowledgeable about your product and the market so that he can take care of the decisions or it could be any third-party IP professional who can help you in taking such decisions.
To keep the inventors motivated, you need to officially have an IP policy in place that includes all the monetarily or the rewards and recognition programs that can provide them extrinsic motivation to actually submit their ideas. Even if we are done with all these structures, then the important aspect of IP is to monetize it. We need to ask ourselves whether we have a structure to monetize our IP assets or not? These are some of the questions that we need to ask and understand whether we have such structures in place. If not, then we need to work towards it. To get the innovation management best practices started in any of the companies.
Innovation Management Best Practices Lifecycle
Without further delay, let's jump back to the actual topic of understanding the Innovation Management best practices. This life cycle that we have created is based on our experience of interacting with various R&D heads and R&D departments and working with them closely to understand how things work in an innovation flow and when an idea is generated. There may be some more steps that you would think, but this is a simplified version of innovation life cycle.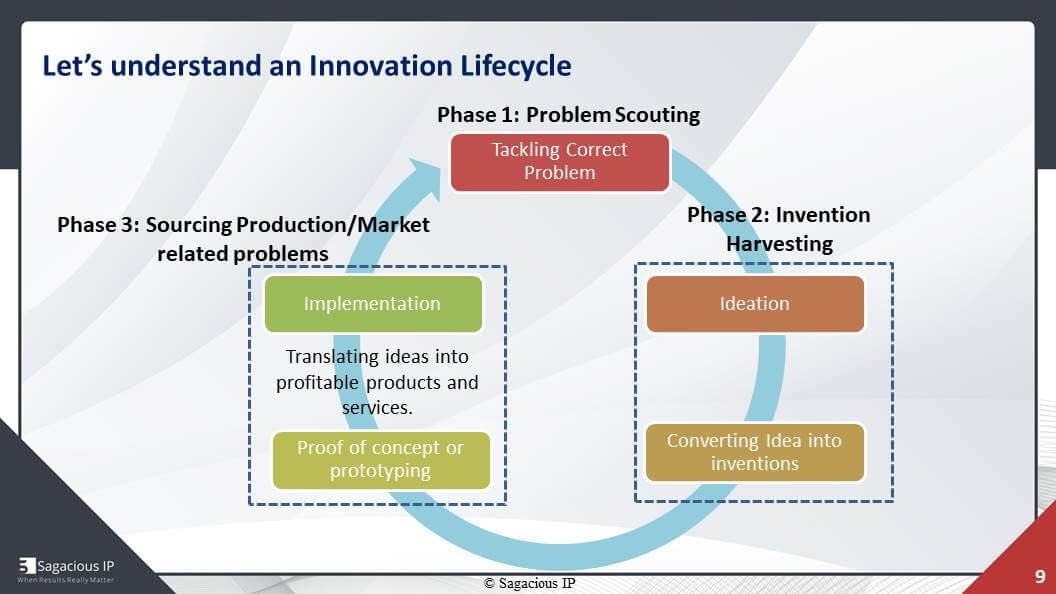 We believe that Innovation Management Best Practices start right from the problem statement that we give to the R&D team. If we are solving the right problem, then only we can say that we are, actually, starting with the correct foot forward. Once we have established what it is exactly that you want to solve or what the problem statement is that we want to address, then it leads to the idea generation, because you need to focus your mind in a direction to think to solve a problem. It's always a problem-solution approach.
Once we have established that, we will start getting ideas from different inventors. That's where the ideation phase starts. Which we call as invention harvesting, because till that time you have put in the seeds of problem, and people would start thinking in that line, then they will start submitting their ideas.
We can alternatively have different brainstorming sessions with the inventor groups that we have created to stimulate these ideas and get more inventive concepts out of them. Once that is done, we need to do scrutiny and convert those ideas into invention. This is the part where most of the companies fairly do it with help of a third-party search firm or in-house with their own search professionals.
The last and important segment of innovation management Best Practices are where we take the idea and merge it into product. Until and unless an idea is not implemented into a product, we cannot call it an invention. For an idea to be inventive it has to actually see the product and it has to actually see the market and go and perform there. Once that is in the market, it will get more problems that will be again sourced into this life cycle and it will go through the phase of ideation and invention harvesting.
Phase 1 – Problem Scouting
Let's talk about the first phase that is Problem Scouting, because we need to understand whether we are making the right bets and picking the right turns in this fast changing consumer markets. Market is evolving day by day, and in Industries, like consumer electronics, people tend to change or shift between features to features in a matter of, let's say of quarter or as short as three to four months.
We need to understand the problem in real time, and then act upon it to boost the innovation management best practices within the R&D group. This is one of the important questions that we need to understand that whether we are investing the time, money, and energy to solve a problem or just to create something or just to create a tangible output out of our effort. We need to evaluate the time, effort, and money, and the energy that we are putting across our objectives. They could be three different types of objectives that we can evaluate ourselves.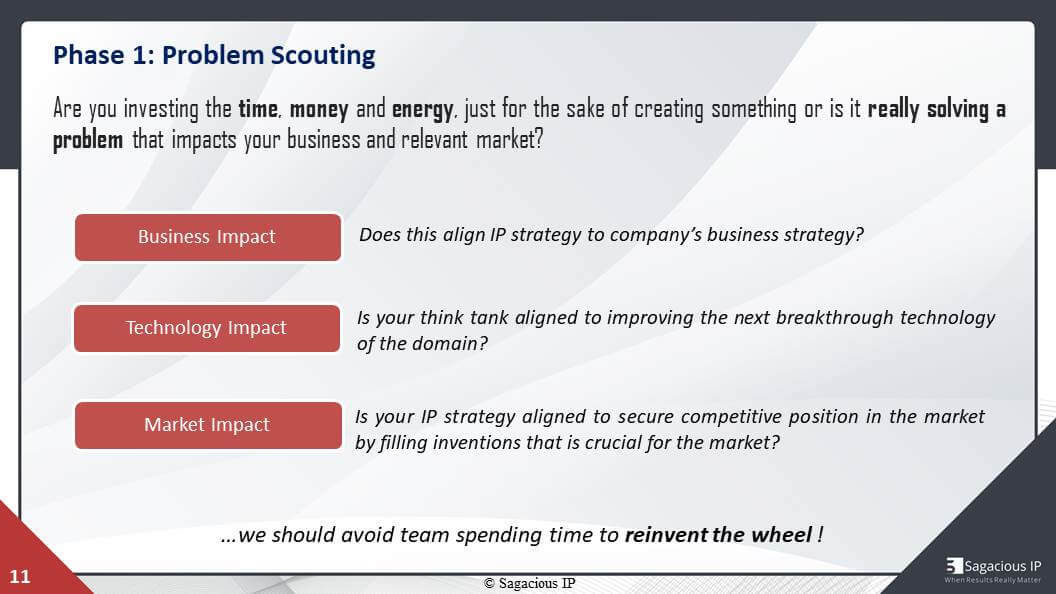 Business Impact
One of the objectives: picking a problem statement could be whether it has any business impact. Business Impact – when I say business impact; does it align to your company's business strategy? Because IP strategy should run always in parallel to the business strategy
Technology impact
The time and effort that you are putting in – is it going to bring in some breakthrough in the technology that you are operating? Is it going to bring in some technological break that will shift the growth of the market? That is another question that you need to ask while scouting a problem.
Market Impact
And the last but not the least, is it impacting the market? Does your IP strategy create enough competitive IP that can help you in securing a crucial place in the market? That is when we say that – are you creating enough IP to mitigate the risk that may come in future from the market when you launch your product or when you go into the market? This is part of the overall broader IP strategy where you evaluate your risk, then motivate your inventors to invent or to think in that direction, and the outcome of that brainstorming should lead to some IP value generation that could help you in mitigating the risk that you may have from your competitors.
These are the three important pillars that we need to understand while picking up a problem or while understanding where we want to focus our R&D efforts. It's always said that we should not invest our time in reinventing the wheel. So, what are the things that we need to understand when we are scouting a problem? What are the things that we need to take care of while we are actually defining a problem statement?
How to Do Problem Scouting?
Scope
The problems could come from any of the hierarchies. It could come from your CXO; it could come from your goal form of your R&D department heads or your product managers; it could also come from your customers. They could also give you some problem statements which is they want a solution to. So, we need to put together all the different roles in place and take input from them to identify and scope out the problem that we want to focus on in a particular duration.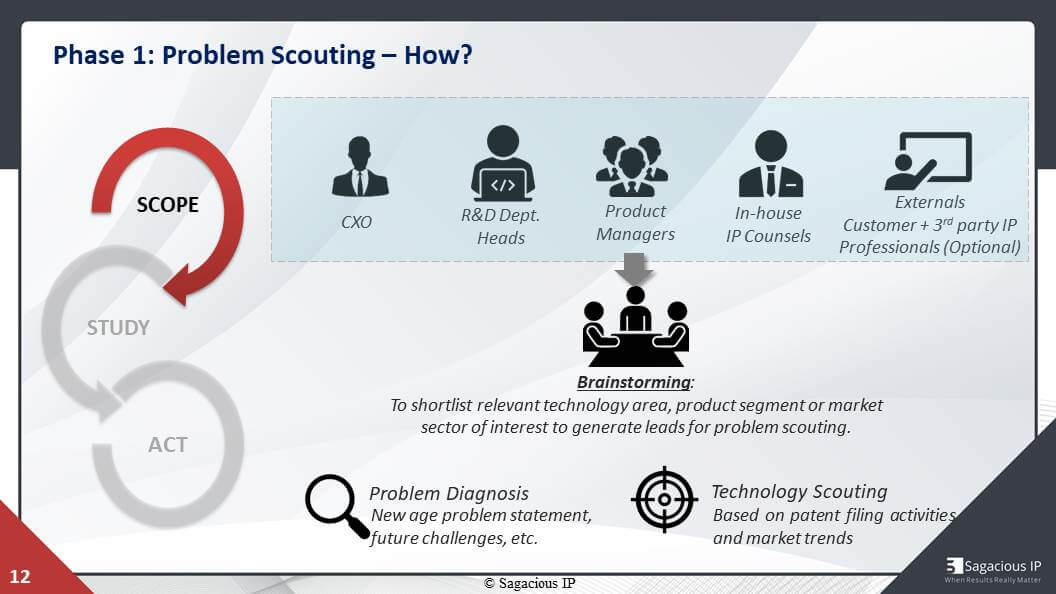 A common example for such scenario is: often, we have heard that company's top management, they announce (bigger companies) that we are going to focus, this year, on – let's say AI Technologies. So, that is a bigger problem or bigger vision that is coming from the top management. That would be again subdivided within the department heads who is taking care of – let's say hardware of the technology enhancement and someone is taking care of the software part of the technology enhancement. Once that reaches to the department heads that will be, again, given or divided among the product owners so they can check take their own part of problem. And then that way they can scope out the problem in a much more concise manner and sit together and then brainstorm on that problem to pass it on to their team.
So, the biggest challenge that we often see in Problem Scouting is: we don't have enough inputs from different hierarchies of the company which leads to putting in effort in different direction and the result of which is never utilized in a right manner.
We need to set our foot right from the beginning to set the vision clear for the team and identify the right problem that is suited for that duration or that particular session that we are planning to put this process on. We need to identify the problem and take all the challenges that are necessary for the time in which we are currently operating.
For this, we may, also, take help of all the knowledgeable people in the industry, from the customers, from the consumers and the IP professional or the in-house IP counsel can help you in identifying – what are the technologies where your competitors are active? What are the technology areas where people are finding more patents? There are multiple ways of identifying the technology, but once that is in place, we need to identify collectively – what is the problem that we are going to address as a group?
Study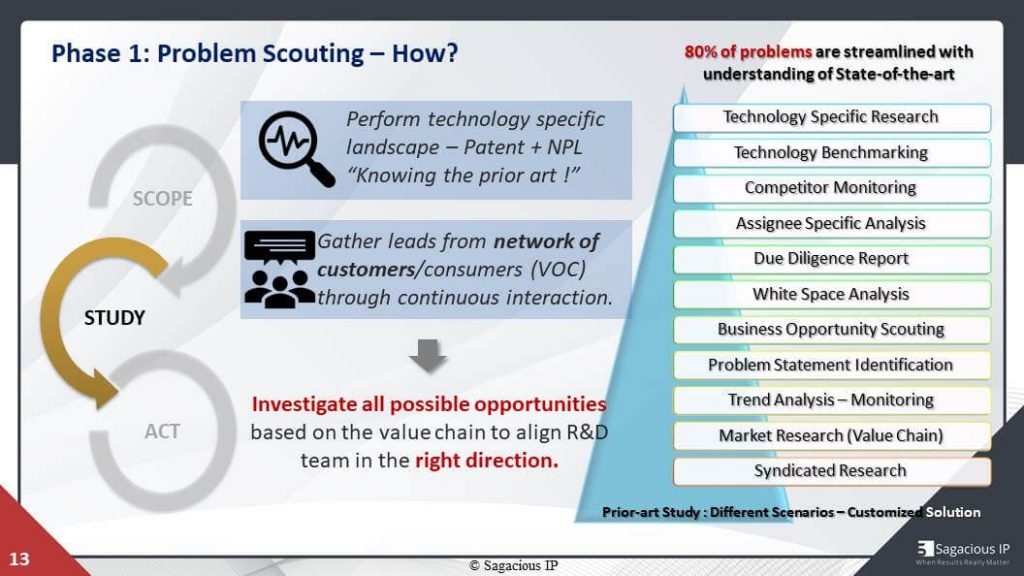 Once that spoken exercise is done, then we need to perform the actual study. This study could be could be performed either by doing a quick state-of-the-art analysis to understand the prior-art that are already there. As we said that, we established that reinventing the wheel is never going to help you in going forward, but obviously knowing that the wheel existed can help you in establishing your grounds and then go from there. So, it's always advised that you understand your state-of-the-art and do a thorough analysis of the technology because when you have scope out the problem, that problem may not be new to the industries. People would be working on that problem for a longer period of time.
So, we need to understand – what is the current state at which this technology has evolved and set our scope correct? So, that kind of study is always helpful to set the grounds and set the scope of the problem statement that we have identified.
Often, companies have a very good network of their customers and they have very intuitive customers who give them real-time feedback, and often these feedback lead as a problem statement. Sometimes, they lead to a bigger problem statement that should be addressed by the complete department, or sometimes, it is just a handful of simple people from a specific team that could focus on that problem.
So, through continuous interactions with your customers, you can shortlist and identify those concrete problems that are there in the in the industry and in the scope that you have identified. You need to investigate on all the possible opportunities and then put that goal in front of the R&D team to think in that direction. There are multiple ways how you can do such study and depending on your requirement, you need to pick the right way to approach the study of your prior-arts and study of the state-of-the-art.
This is one quick example, or I would say a holistic example of all the possible state-of-the-art analysis that we can think of and these all studies relate to different situations.If you want to understand what the White Space in the technology that you want to invent is or you want to focus on, you need to do a specific analysis to identify those white spots in the patent space. So, I will not go into these studies in detail, because this will digress the topic, and we'll stick to the topic and move forward.
Act
Once we have identified the problem statement based on a study – these are the problem statements that are open in this particular area – how would you take it forward? Once we have those strategic topics in place because you cannot say that let's start thinking about AI in let's say A technology. That's a very broad statement for anyone to comprehend and then start thinking in that direction.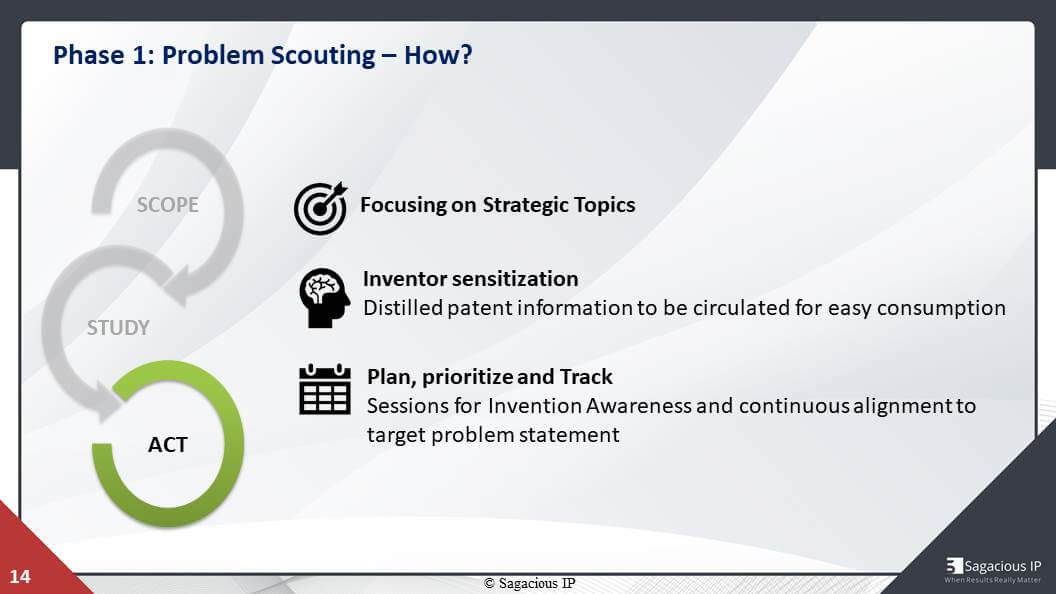 Our minds are programmed in a way that we always try to find a solution to a problem. So, we need to give our R&D team and inventors a problem statement to work on – a problem statement to think on.
Those problem statements should be as distilled as possible so that they understand and comprehend it in a very easy manner, because we need to understand that the task of inventing something is always going to be a subjective parameter. If you want a better output from our R&D experts, then we need to provide better input to that system. If we have a proper input to that system, then only we can expect a proper output from that system in a very structured manner. We need to plan and prioritize everything that we are going to give as an input to the R&D team.
So far, I'm focusing more on Problem Scouting because often this is the place where we take it a little bit lightly. I'm not saying that every company does that, but often companies don't emphasize on importance of this step and how this step could actually define the output of the effort that the complete team is going to put. Therefore, this is very important and you put up your calendar you define which the problem statements that are bigger in nature are and then you will go from broad to narrow; whatever your approach is. You need to put that in place and read to it and think to it and then put it forward to the inventors or inventor groups that we decided- inventor groups to act upon it.
Phase 2 – Invention Harvesting
Tanmay Mittal Speaking – The points you have captured are relevant. You would agree that in most of the cases Innovation Management Best Practices are driven by need and business requirement as well. This need is either customer-driven, competition driven, or maybe driven by a company's vision. Engineers in-house are consistently working on improving their tech and advancing the TRLs and the MRLs. The company might arrive at a very futuristic product.
I mean keeping all this in mind, we would like to know more about invention harvesting. Sumit, we are looking forward to know more about the invention harvesting process.
Sumit Prasad Speaking – Thank you, Tanmay!
So, different actors in any innovation workflow – one actor that plays a crucial part is the R&D team itself. They are the source of innovation, then the often we have an in-house IP counsel or in-house IP team that takes care of all the IP requirements and IP activities that are going to be scheduled in a company throughout the year. Often, there is a third party search support firm which assists in-house IP team in their auxiliary tasks and give them some bandwidth and room to do their regular job.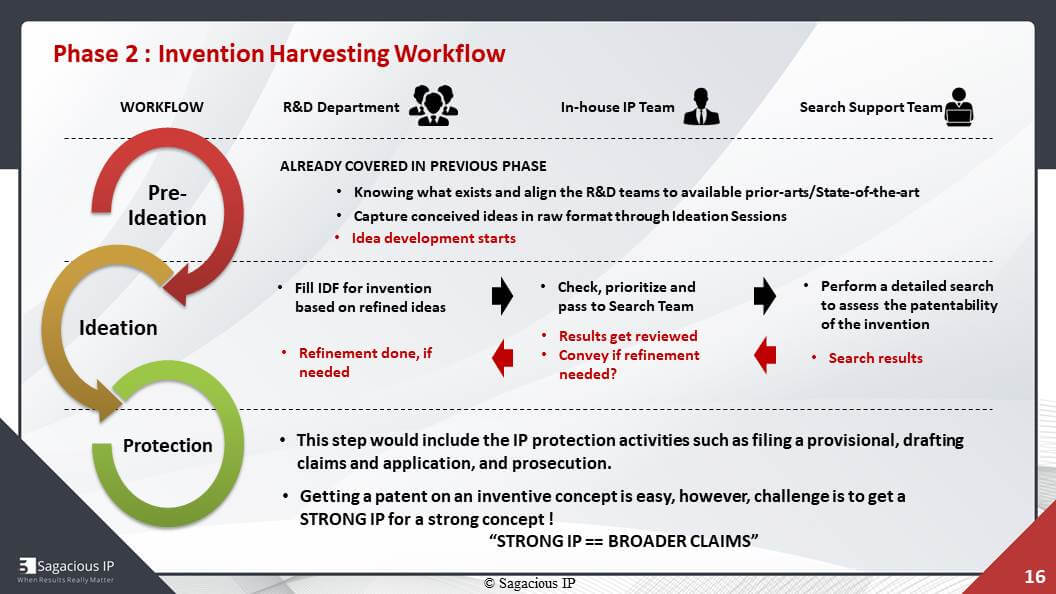 Let's try to understand from a flow how actually idea is captured in a company and this is a phase which, most of the companies who understand innovation management best practices – they say that this is the crux of the innovation management best practices and often companies do this in their company.
Pre-ideation is something which we already talked about. Before ideating, you need to stimulate your inventors. You need to provide enough guidance enough material to set their timelines correct and then think about the problems in the right way.
Then, comes the Ideation – where we actually start getting broad ideas from the inventors, and we try to support them in their thought process, and then finally the protection part comes in where you decide based on your business needs and business requirements whether to protect an idea or not.
As we have already covered the pre-ideation part, so I will not talk about it in detail. As I said in earlier section as well that often the pre-ideation thing is unstructured and we need to think through it to identify and set the grounds correctly so that the subsequent stages are taken in the right direction or in the direction where we want it to go.
Once you have set the context correctly, you'll start receiving inventions in form of some emails or idea for whatever structure you have in place. In-house team usually checks them. They scrutinize them, they prioritize them, and then it is sent to the search support team to perform a search and assess their patentability how strong it is. Send the results back, which is already published or in public domain. Based on those results, then we have in-house discussion to do the refinement and once that refinement is done, it goes to the filing stage where you decide your IP filing strategy whether you want to go for a provisional then non-provisional or do you want to file a PCT application first. Based on your market, you select the countries where you want to protect this idea.
If you have an inventive concept, you will definitely find it easy to get a patent. But what more challenging is to get a broader claims which we call as a strength of the IP and that is very important at this stage to understand whether you are getting a the strongest IP possible for that idea, or is it that just you're just protecting the idea.
This is again a big topic on how to plan your drafting practice so that you get the most out of your inventive concepts. Often, strong IP relates to the broader set of claims that you get allowed from any of the patent offices.
Now, we talked about this. This was a normal flow – how idea floats within the departments, different actors play their roles, and how it is secured in form of a patent at the end.
Do you think that it is very difficult for inventors to find time or even difficult to channelize their thoughts and document their ideas in form of an invention disclosure? Or do you think that the idea submission task, often, we say that it seems like a secondary task to them and it's a burden to them and they don't want to submit idea until and unless the inventor is very optimistic or he have so much time that he can sit and write about his idea and then submit to the IP team?
We believe that in 60% of the cases that we have done bench-marking with. 60% of the inventors – they don't want to submit their ideas. They have XYZ reasons to do that and, often, this creates a bottleneck.
What we believe that in any IP process, we should always have a flexibility of getting inventor on-board with simplified processes. We agree that we should have a structure in place where people can drop in their ideas, people can fill in their ideas and then submit it to the portal, but, often, it is seen, as I said in couple of companies where we do benchmarking and brainstorming with the inventors, the problem that came out was they don't want to submit the ideas. They don't want to write the idea to pinpoint the problem.
There is a way how we can mitigate this risk of losing an idea and ask the inventors to just verbalize their ideas so that in-house or any third-party external service providers – they can help them in capturing that idea in a better way. Once they get an idea, they should always have a flexibility to reach out to someone who can set up a call and just listen to them, because as I said – the detained point was they don't want to write the idea in a word document.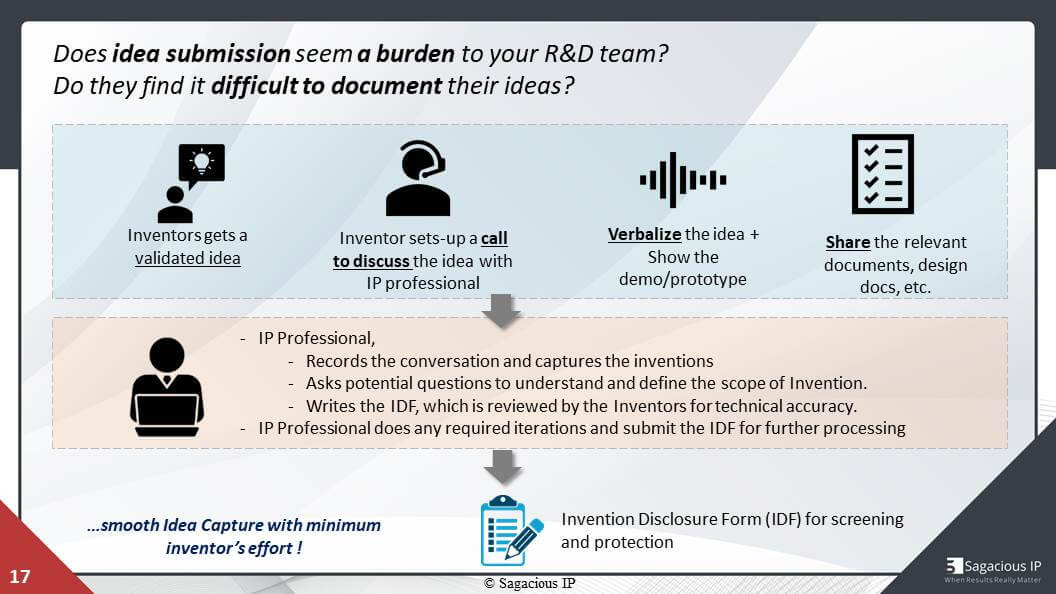 That's what detained point is. They should always have a flexibility to let's say have a zoom window where they can just drop in and say – hey, I have this idea. I just want to talk about it.
Once that interest is shown in, inventors set up a call with the IP professional and that IP professional just listens to what the idea is.
It's just about verbalizing your idea and showing your demo, showing your representations, and what you have built and what is it that you want to see that there is some IP value in it.
Once that is done, they will just share the documents or whatever presentation they have shared over the call, and that's it. So, that should be the involvement of an inventor – just coming on a call, verbalising your idea, and sharing the document. That's it.
So, once that step is done, you should always have someone in your team – IP professional who can record that conversation, sit back, just convert that conversation into tangible output, write the idea on their behalf, because you understand the IP implications as well as technology implications and then you are the best person to take a call – what is obvious thing in that invention and what are the actual improvements inventor is talking about?
So, once you understood the scope of the invention, you can always write that idea, send it back to inventor for review, and he can review it for the technical accuracy and do all the iterations and submit the idea for further processing.
So, in this way, you have actually created an idea out of an inventor. You have just spent one hour of his time – coming on to a call and just verbalizing his thoughts and showing you some presentations which we think it's cool.
So, this is one of the processes which we should always encourage to have in our workflows that can allow inventors to submit their ideas in a go. At least, they can just pick up a call and just verbalize it, and they feel motivated about it and we can ensure – that way, no idea which could be crucial to company or could be crucial to create that intangible asset is lost.
Another challenge that we often see in such workflows is that we don't get enough quality disclosures, and this would happen, also, if they are not aware of the state-of-the-art inventions or the technology or they don't understand the implications of IP laws in any of the given circumstances. They just think that putting a future into a product makes that invention IP worthy. But that idea could be of business value to you; that could be an important business; that can help you in tackling competition or creating a good IP position in the market. So, in such high value ideas, we have implemented and practiced some of the processes that can help the inventors to get that support which he needs to develop that idea to the final phase which is acceptable in any of the IP forums.So, that's what I was talking about.
Often, inventors, they need hand-holding because many of the listeners who have joined today, they are either SME or companies who have young inventors in their group. For them patent is a very alien thing and some of them may be listening it for the first time. They need that kind of hand-holding to develop that idea which is a very high business value idea, but they don't understand the implications of IP that is the reason that idea may not get matured enough and be protected in the shape that it should be.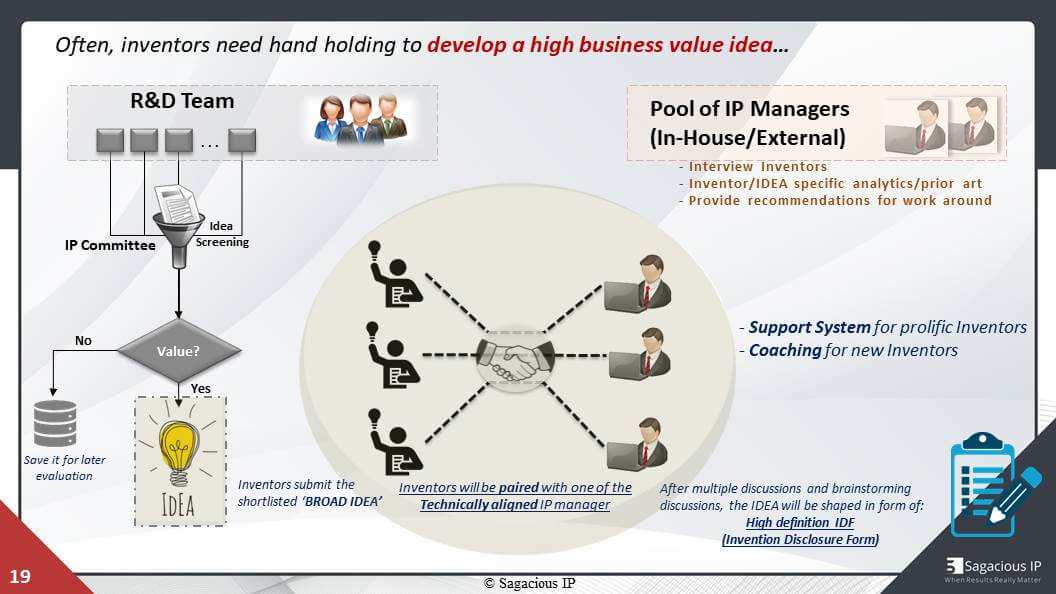 Once we start getting ideas, there is always an idea screening group or IP committee can have that responsibility of screening the ideas which are of the highest business value or – technically sound inventions. Once you have decided that it is a good invention and you have enough disclosure so you can take it internally, you put it for further evaluation. When you identify an idea which is very raw nature, but you see a good business value in that idea, you need to provide that support system to that inventor.
You have your in-house pool of IP managers who have significant experience in that particular technology. They have experience in understanding the technology understanding the prior-art, and you can help that inventor in shaping that idea into a good invention. Those IP managers should be paired with those inventors who have such high value ideas with them, and it should be a one-to-one pairing, or let's say one person should have responsibility of not more than three to four inventors.
Once that kind of buddy system is given to the inventors, we have, often, seen that people open up and they start putting more efforts in shaping their idea into an invention. So, earlier they may be talking just about putting a feature into a product. Now, they'll start talking about why putting this feature is a challenge and what are the solutions that we have introduced to overcome those challenges?
Such kind of a conversation can help the inventors to do more discussions to brainstorm on those ideas, and obviously the IP manager would bring in his or her experience of knowing the prior-art and once that is paired with the inventors – that knowledge is shared with the inventors, we will see that a high value idea is converted into an actual invention.
So, we should always have provision for such idea development activities so that you get quality disclosures from your R&D team.
So as I said, this is more important when you have a very young pool of inventors with you, and they need coaching in terms of understanding IP and shaping an idea into invention. In our past experience, we have seen that once an inventor goes through this process, the next idea that he submits is a very well refined idea, because he has gone through those questions and answers and he tries to answers those questions himself – which your IP manager would have asked during the development process.
Phase 3 – Implementation
Well, now, we have reached third and final phase of our process, our life cycle.
Over the period of time, you have accumulated good number of ideas. Out of which some of them have been protected in form patents and you have successfully able to defend those ideas in the patent process. But what if that idea is just lying as a patent? In such scenarios, you just have a patent and you don't have a business value coming out of that idea. You, often, seem to lose the ROI from that effort, because that's just a patent which may be granted or which may not be granted your just file it in the IP board.
So, getting a patent out of it is a different story. It's a different journey how you get a patent out of the concept, but once that idea is matured enough – you have given enough thought on it. So, we should always encourage our inventors to create some prototype out of it to show business value out of that idea, and for that, in some of the R&D companies; in most of the R&D companies, we see that we have incubation centres or labs where they can test their ideas.
Such motivation to do prototyping is quite often seen in such companies where people try to motivate their inventors to actually create a product out of their idea. This is something which we should adopt and learn from these companies who have incubation centers to put the inventors through that cycle of incubating and providing a proof of concept to their idea, and often we can have annual competitions or some way of motivating the inventors to come and participate in showing how their idea actually works – how their invention actually works and that would lead to motivate more inventors to submit their ideas, and that cycle would continue where they'll excite more inventors to submit more ideas and then do more prototyping and that chain will grow forever.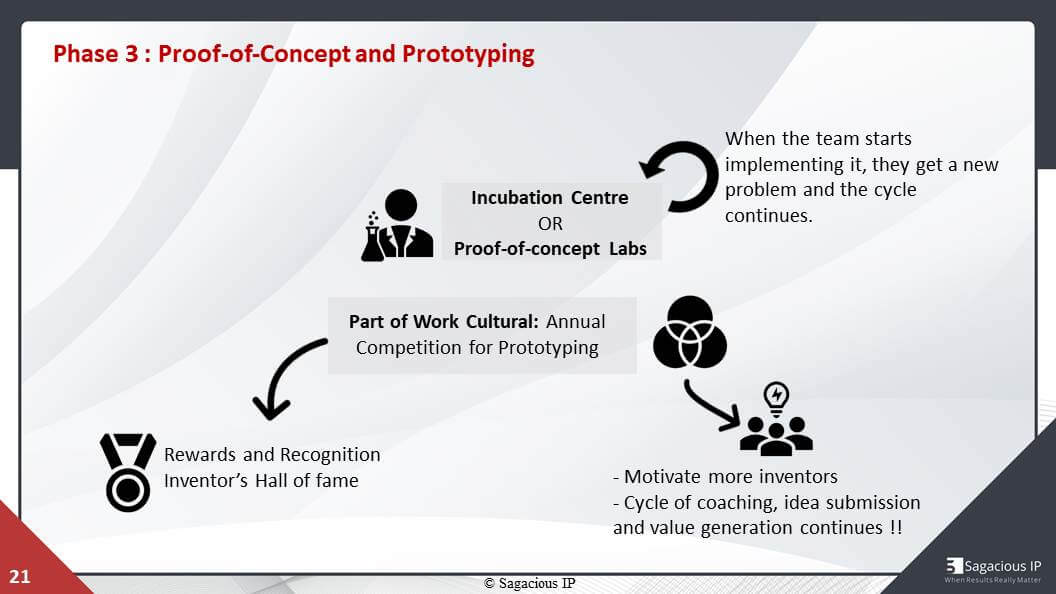 Similarly, once they are actually creating a prototype out of their idea, they will come across different problem statements which itself initiates a new process of innovation life cycle, because when you stumble upon a problem statement, you will again start ideating on it – you will start getting more thoughts on it.
It will create new ideas, then again, it will go through scrutiny and then it will be evaluated for protection. So, often, it is always advised that whenever you have a group of ideas with you, you should always promote seeing it the implementation level where you can either prototype it and see what are the problems that you are actually facing when you are implementing that idea? Or you can actually ask the inventors who have submitted those ideas to be the part of that production group who is going to introduce that feature into the product.
We as an IP group – we need to understand that our responsibility does not end the moment we filed a patent on an idea. We should also encourage such activities where people are motivated to see their ideas developed and may be included into the product and that product may do well in the market as well. So that responsibility also lies within the ambit of innovation management best practices and the people who are managing that innovation life cycle.
Well again, you can have different reward and recognition framework where people can be rewarded for the excellent work that they have done and you can have different ways of ranking your inventors. There are endless ways how you can recognize the effort and contribution of your inventors in developing your intangible assets.
We have already covered this. Once you have this part of your work culture, you will see an increase in the motivation level of inventors and they'll start pouring in more ideas to any problem statement that you have given to them because now they have seen the actual output of that life cycle.
Well, that was the overall life cycle of innovation management best practices that we discussed there could be many other variations of this life cycle, but, all in all, what we have observed is this is the core backbone of the innovation management best practices life cycle, and this is how most of the companies operate in their own capacities.
Summary
We have talked about problem scouting which introduces a new technology. Once a new technology is introduced, we start getting more ideas and we start getting more patentable ideas which go to creation of IP protection. Once the idea is qualified as a product, it goes into the design phase where the actual scrutiny of idea is tested. Your idea actually is introduced into the product. You get to see the inventors or designers. They actually implement those ideas into the product and once that product is ready, that is launched into the market.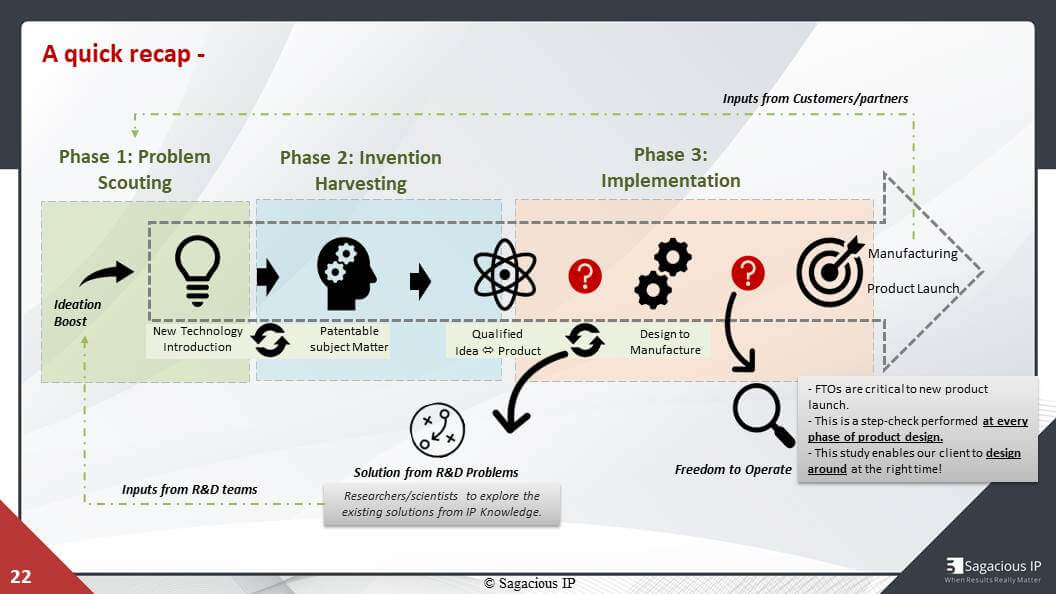 This is the overall cycle of a product development. So, there is one more important thing that we need to understand this complete workflow that whenever we are launching a product, we need to understand what are the state-of-the-art? If you have started at the very good foreground where we understand what the state-of-the-art is? So, we will often find features clear of the FTO. We will have freedom to operate in the IP capacity, but whenever we are developing a product, it is advised that we should always do a check at every development stage and see if any of the IP that is protected by your competitors or any other inventors, the rights of those patents are not violated and if that is the situation then we should have enough time to work around that feature and launched the product safely into the market.
Once that is manufactured and product is launched, we should have inputs from our customers and the voice of customers should be acknowledged and that should again go back to the phase one, which is problem scouting and similarly if there are any problems that have happened in the flow, that should also go back to the phase one where we start with the right problem and the journey continues.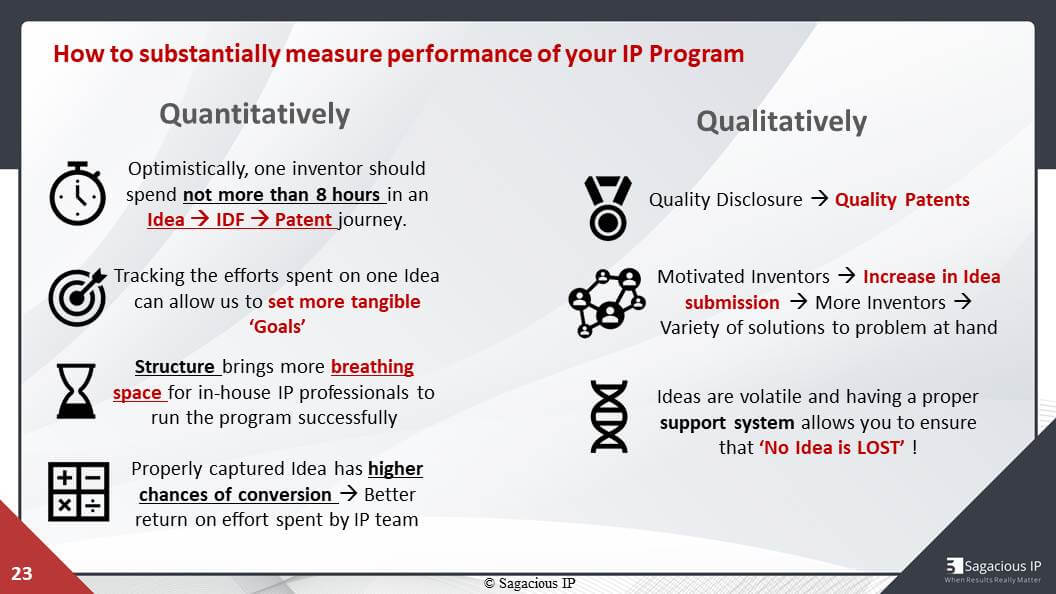 So far, the initial topic where we started was how we are going to measure our performance of R&D activities or these innovation management best practices lifecycle. Over the last decade, it has we have seen people trying to benchmark R&D activities and there has always been a trade-off between how much pressure we should put on an R&D to show their output and how much creativity we are letting to go off with that scrutiny. In our opinion, we should always try to optimize the efforts so that the investment in such IP processes, investment of effort, investment of hours in that IP process should be minimize and that way we can see that the lower investment of effort we can have similar or higher output of value addition into the intangible assets or value addition into the product.
With our experience, we have seen that if we follow the process of end-to-end coaching, we have all these structure in place. If we have flexibility of inventors setting up a call to verbalize their idea, in such scenarios, the overall involvement of an inventor into converting an idea to a patent should not be more than eight hours.
That's a very optimistic parameter that we have set and we have seen that companies have achieved even in less than five years or less than six hours once they start tracking these effort and start implementing these processes. Because, once you start reducing the effort of inventors, they start generating more ideas in the same given amount of time and that way you increase your return from that investment into your inventors.
Once you start tracking these efforts and these hours that your inventors are putting in it and your IP professions putting in it, you can set more tangible goals like for this financial year let's say, in next quarter, you want to file 60 patents. So, you know your inventor groups. You know how much effort you need to put in developing one idea and that way you can divide your goals in a better way and have a realistic parameter to measure your goals and achieve your target.
Bringing in these kinds of structures and bringing in these processes will obviously bring some breathing space to your in-house IP team and IP professionals so that they can start creating more such processes. They start spending time in structuring the process in a better way. When I say structuring the process, it means bringing in qualitative inputs with respect to: what technology they should focus on and what are the actual problem statements that we should focus on. Because these statements are unstructured as of now, but you need to find a way to invest time in finding out ways to improve your processes.
Lastly, if you have implemented these processes, the chances of converting an idea into patent increases. These are some of the ways how you can qualitatively evaluate your process.
Similarly, you have some of the output in terms of quality which is improving the quality of disclosure, motivating the inventors to submit more ideas – which will lead to more solutions to the problem. Since you have a proper support system in place, no idea, which would be of high value to you, will be lost.
So, I'll just take a quick remark from my friend on this innovation workflow because he also has a tremendous experience in managing workflows in- house in aerospace industry.
So, Tanmay, what are your comments and what do you think?
Tanmay Mittal Speaking – I believe this is well captured and it broadly summarizes what we're trying to do. Yes, with in-house IP teams, a similar workflow exists, and they are constantly working on optimizing it and improving the timeline, being more real time support to the R&D teams, and co-creating with them.
All those kind of things do fall in place when such kind of systems start to run on its own and once it has started, it, then, takes up a part where it is in an autorun kind of a setup with everybody knows what their role is and they are collaborating continuously and helping towards getting more IP out of the existing idea and getting a good product.
So, with that, I would also like to mention that we are over the time for this webinar, and before we go ahead, we would want to take a few questions that were asked by the audience while Sumit was presenting.
Questions
Does R&D Get Less Time on Invention Harvesting Due to Drift from Science-Driven Innovation Management Best Practices to Market-Driven Innovation Management Best Practices?
So, Sumit, before we go ahead with the next slides, I would want to know your views on this question: do you believe, with a drift from science-driven innovation management to market-driven innovation management best practices, R&Ds get less time on invention harvesting?
Sumit Prasad Speaking – Yes, I do. I do agree to that, and that is the reason why we need to continuously evolve our processes to make it easier for inventors to invent. We cannot invent ourselves, but, obviously, we can always provide them tools and support that can help them in thinking out in the right direction without multiple iterations and give them the leverage of the existing technologies like having a video conferencing and all those things where they don't have to actually come and brainstorm in a physical room. They can even pick a call and then submit their idea verbally as I said. So, those are a few of the processes that we need to continuously evolve so that, the inventors, they get that kind of flexibility in innovating because it's a very tight situation, and in today's competition, it's very difficult to get extra time to set and innovate.
Which Technologies apart from Pharmaceutical Industry Will Get Boost Post The COVID Era?
Tanmay Mittal Speaking – Great! Great! I have another question with me that I think I would like to answer.
The question is: which technologies apart from pharma industry will get boost post the COVID era? I think most Industries will, especially on the IP side. We will definitely see an increase in the IP activity. So, based on a study that I was reading recently, it was from the economic slowdown of 2008. There was a stark increase in IP activity Global during that time. Organizations, at that time, were litigating. They were pruning their portfolio and some of them were using their IP as mortgage to get loans from the bank to revive their R&D and product teams. Many organizations got the opportunity to buy IP as well. You know patents, trademarks, and copyrights – they were able to get good deals and negotiate them at a very reasonable price.
So, I believe, similarly, during this time or post this era, we would witness good IP activity and we would witness it in almost all the industries. You know, specifically in Pharma, medical devices, online media, e-commerce, streaming – copyrights will definitely get a boost – robotics, AI. I think almost all the industries would get a boost over here.
Custom IP Solutions and Tools
So yeah, Sumit before we take another question, I think you have some slides to show about the tools and other things that would help in increasing the ROI and decreasing the time spent on this.
Sumit Prasad Speaking – Sure. Yes, so I'll just cover them quickly.
These are some of the tools that we have evaluated over the period of time and there are many more tools which you can know identify to cater your specific needs. One of the engagements that we have recently started is with Relecura and FastScience. These are the two engagements that we have started to improve the level of consumption of the patent information that we provide to the inventors. Often, the patent information that we provide to make them understand state-of-the-art is quite IP driven, and it is IP intensive. We need to make it more simplified so that they can understand that information in a better way or in an easy way.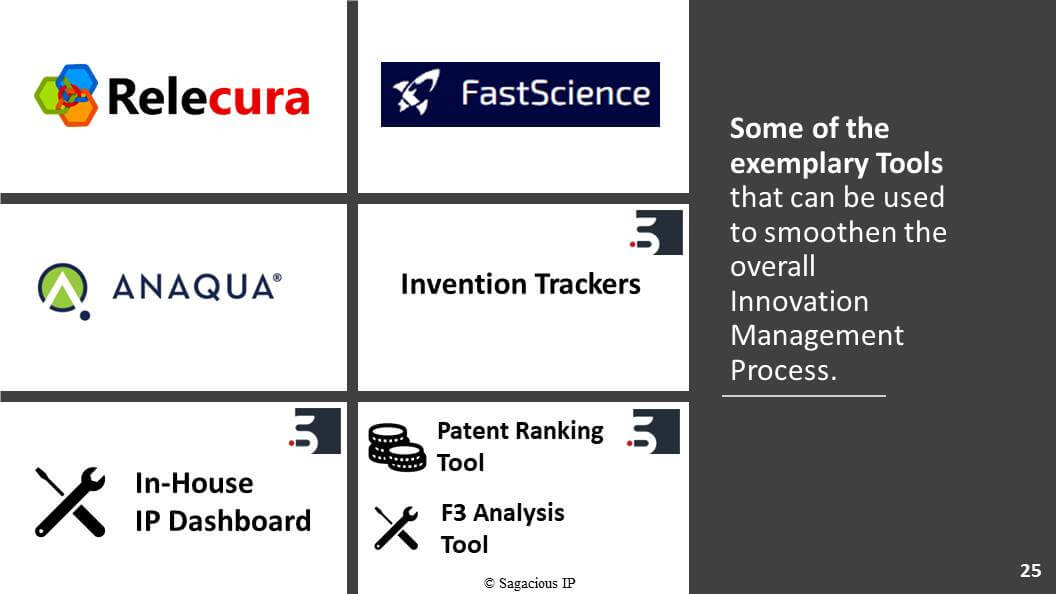 FastScience is a tool that is summary making tool that allows us to make interactive summery , even audio summaries sometimes so that inventor can probably listen to the patents that you're a R&D heads have given while going back to home from his office. So, that is one tool that we have used and seen impacting the effort that in inventors has to put in to understand the IP knowledge.
Relecura is another engagement that we have started where Relecura has very innovative way of presenting the IP Landscapes or state-of-the-art analysis that can help the inventors to assimilate that information – consume that information in an easy manner.
There are multiple trackers available that we have used over the period of time where you can track your inventions in a very effective way and plan your IP activities accordingly. We have also made a lot of custom trackers, web-enabled trackers in-house that can cater to the needs of the company and the current innovation management best practices that they have.
Then we have grown multiple in-house tools such as IP dashboard, patent ranking tools, and F3 analysis tool. These are the tools that there are used for portfolio pruning and to monetize your asset once you have a good portfolio in place.
We have continuously improved our dependencies on state-of-the-art tools so that we can improve the effort that is being spent on the IP activities which in turn will improve the ROI from any industry.
Tanmay Mittal Speaking – Thank you, Sumit!
How to Do State-of-the-Art Search Effectively?
We have a lot of questions pouring in, but we'll just take one last question considering the importance of time over here and for the remaining questions, we would follow up post this webinar and provide answers to them individually.
The question that was raised and I thought of picking up was doing the state-of-art searches or patent landscapes. This unfolds companies based on statistical data only. That is based on their patent filings and another. You would get to know about the top companies, but in emerging technologies, it is important to focus on companies may be having less patents. How do you think you capture that information in-house?
Sumit Prasad Speaking – When I say understanding state-of-the-art in that particular technology, it doesn't mean just doing the statistical analysis. It's about understanding the problem statements of the patent that are filed in the particular technology. So, that is the reason why when we are doing the problem scouting, we need to understand the problem at a very granular level. If we start from a very broad technology like AI in this automotive industry, then that's a very broad statement. We need to First understand and scope that problem into a very concise and scoped out manner so that we can identify the patents that are focusing that problem only.
IP, itself, is supposed to be a problem statement document. There is a problem and that patent is providing you solution to that problem. So if you scope out your problem or the requirement of that landscape analysis to such a level where you just need to focus on the problem statement, then I think that the output would not be a statistical output that rather it will be a qualitative output where you have let's say ten patents talking about the same problem statement.
So it will boil down to having a problem and all the patents that are talking about this solution. So your inventors – they don't have to worry about who is filing how many patents. We just have to worry about what is the solution that is already being patented in, let's say, ten patents.
Tanmay Mittal Speaking – I would say that in addition to that definitely understanding the market drift and doing some non-patent literature search, understanding research papers would definitely sum it up in good solution.
With that I would like to say that this session has been wonderful and I'm sure our listeners have great takeaways from this session and will be able to use several of the pointers when working on managing innovation of their own businesses. We have not been able to cover all the questions that we received from the audience. Those which could not be covered will be answered in the write-ups which we publish post this webinar.
Thank you Sumit for the insightful session!
The participants of this webinar can drop us an email on webinar@sagaciousresearch.com. Again, I want to extend a big thank you to all our listeners who helped us start on time and stayed with us for those extra 15 to 20 minutes. We highly appreciate that and thank you very much. Thank you everyone and have a great day ahead.
And this is Tanmay Mittal signing off.
Submit Your Information to Watch the Webinar: