AI Based Prior-Art Search – Introducing LivePat ™
Topic: Introducing LivePat ™ – AI Based Prior-Art Search. Businesses often struggle to prepare an exhaustive list of keywords and classes to search for prior-art relevant to subject matter. Hence, by adopting an AI based patent search tool, companies can be successful in implementing an effective business model.
Sagacious IP introduces LivePAT ™, an AI-based patent search tool that helps you navigate through pressing situations. Moreover, it helps you find the right solutions to those situations. Therefore, by adopting this technology, businesses can find innovative solutions to your daily IP requirements.
This novel tool is also useful in the following scenarios:
Requirement of background references to draft an application and submit them in IDS facing budget constraints for a full-fledged patentability search.
When you are on the verge of filing a patent application but do not have time to go for a conventional patentability search and wait for the analysis for come back.
With Amplified APIs at the backend, LivePAT™ – a handy 'pay per use' search tool specially for IP lawyers works so that you can spend less time searching and more time drafting better claims which improve the overall quality of the patent application.
Furthermore, the webinar helps you know how Amplified algorithms allow you to get quality prior-art for a fraction of time. Thus, you get to know more about the upcoming enhancements in the algorithm to adapt for upcoming challenges.
Reasons to Explore LivePat ™ – AI Based Prior-Art Search
Ease in identification of keywords and search terms
No subscription – pay per search access @149 $/search
Prompt results – in MS excel
Guest Speaker
Samuel Davis, CEO & Founder, Amplified
Key-note Speakers
Prateek Mohunta, COO, Sagacious IP
Sumit Prasad, Group Manager, Sagacious IP
Submit Your Information to watch the Webinar Video:
Webinar Transcript
Sumit Prasad: Hello, everybody. We'll start the webinar next 30 seconds. I can see a lot of attendees here and let's give another couple of seconds for others to join in.
Logistically, all the attendees would be in listen only mode, however, in case of any queries you can drop in your queries or questions in the GoToWebinar question box on the right-hand side of the presentation window. Let's wait for another 20-30 seconds and then we'll start off with the discussion.
Well, welcome again, all of you, to this new webinar. This is part of an on-going series of webinar that Sagacious is conducting. I think we have a good number of participants that have joined in. So, it's time that we should start with the session.
Hello everyone who has joined in recently. I hope everyone is having a wonderful time. My name is Sumit Prasad and I work as a Group Manager in Sagacious IP. I'm going to be your host for the webinar today. I'm glad that you chose to spend your valuable time with us today on this webinar, and I'm very pleased to welcome you all here.
Today, our webinar is focused on the topic of AI based patent search, under the banner or under the initiative of IT for IP by Sagacious. For the listeners joining for the first time, IT4IP is a new initiative by Sagacious IP that we are embracing the adoption of IT technologies in the patent industry.
Over the past couple of years, Sagacious has been interacting and collaborating with a lot of leading software pairs. They are trying to innovate IP processes, automate the manual patent practices and build effective solutions to increase the efficiency in overall IP industry. We got opportunity to be part of automation journey for a lot of our clients to implement and solve some of their problem statements. With the help of modern IT technologies such as AI, machine learning, workflow automation, even RTA, other legacy software related technologies.
Due to our IP expertise, we believe we have a balanced capability to help companies evolve from the current phase of IP to next generation of IP, as we call. And that's where IT for IP initiative comes into picture.
As I have already mentioned, that this is part of an on-going webinar series from IT4IP desk. All the webinars that are listed here, cover independent topics, yet, are focused on the common theme of how IT is shaping the future of IP industry.
Those who could not join us for the live sessions can go through the webinar recordings that are streaming on demand, at the link https://sagaciousresearch.com/blog/category/past-webinars/ . We will share the link with all the participants after the webinar.
Let us introduce the topic, the speakers, and set the agenda for today's discussion. But before that, for those who may not know Sagacious, are joining in for the first time, I'll just give a quick summary.
Sagacious is an award winning IP and innovation consulting firm that has been enabling value creation in this industry for past 12 years, with a team size of over 300 members, from US, Canada, Europe, India, China, and Japan. Sagacious had the opportunity to serve over 1500 clients, including IP law firms, Fortune 500 companies, start-ups, investors, Universities, and other players in the innovation ecosystem from over 45 different countries and supporting them on over 16 different languages.
This has given us an opportunity to partner and work with the external speaker that we have today on the panel. So that's where we are. You know me, my name is Sumit. I would now like to introduce my co-speaker on the panel, his name is Mr. Prateek Mohunta. He is the COO of Sagacious IP and has been in the business of patent research for 14 plus years. Welcome to the webinar Prateek.
Prateek: Thank you Sumit. It's great to be here.
Sumit: Great. To bring the perspectives and expertise of people who are working closely in this domain, we have invited an expert directly from AI-based patent search industry. I would now like to welcome Mr. Samuel Davis. Sam is a families see your CEO and co-founder of Amplified AI. Amplified AI helps companies innovate faster by applying the latest techniques in machine learning and natural language processing with the patent and technical data. We'll talk in detail about Amplified and his journey's later in the webinar.
Before that Sam, welcome to the webinar. Thank you for your time.
Samuel Davis: Thank you, Sumit. I'm happy to be here.
Sumit: All right. Before I go ahead, I would like to take a quick reaction, maybe from Prateek. Why do you think it is more important now for the overall IP community to start talking about these AI based solutions. Why do you think this is the high time that we start talking more and more about search solutions in the IP community itself?
Prateek: Right, Sumit. So, as per me, as you said, I've been in this industry for the last 14 years. I've been doing searches and seen people doing searches, and one thing that I've actually noticed is that patent searching, in general, has evolved very, very slowly, over the last couple of decades.
That's primarily because patent searches require going through a large amount of patent data under very tight time and budget constraints. All of this while being completely dependent on humans. Humans, however, smart and fast they can be, are actually not able to process thousands of patent records, very efficiently.
So, with the advent of AI, as a supplement and a complement to the traditional methods, we can possibly change how we do prior art searches. And I, at Sagacious believe that AI is something that can definitely revolutionize patent searching.
At sagacious, we've tested and evaluated many AI assisted search tools over the last couple of years. And in this webinar, we'd like to showcase, what we believe will be a good tool for some specific scenarios. And can empower people in those scenarios to make a very profitable and a healthy change to a new way of working. So, yeah, that's what I hope to achieve through this webinar today.
Sumit: Thanks Prateek. Thank you for setting up the context right. Again, before I move ahead, I invite our listeners to keep sharing their questions as and when they have during the course of the session. I think if you can probably put in some questions that will be fantastic. You can share your questions via GoToWebinar question box on the right side of the presentation window. I'll pick up those questions and ask them to our speakers Prateek and Sam after they've finished brief talks.
Agenda of the webinar
Alright, so let's set up the agenda for today's discussion. We have divided the overall content in three parts.
One, why we are actually talking about this? What is the background thought process behind AI based patent search. Then we'll talk about the LivePat platform itself. And towards the end, we'll take questions from Sam. We will take some expert opinion from Sam about some of the relevant questions that you may have. And some of the questions that everyone has when we talk about AI based patent searching.
So, talking about the patent searches, let's revisit the information that we have already shared during our last webinar, 'Role of IT in IP'. In a survey when asked about most efficient practice in AI and in these emerging technologies. 50% of the participants said, it would be prior-art search that would see most acceptance in the years to come. Prateek has already shared his thoughts on this topic, even more important for us to discuss.
Background
Let's talk about some of the actual scenarios that we have observed over past 2.5 years. I'm sure most of our listeners would relate to these situations based on their past experience, as well.
Situation 1: Limited Budget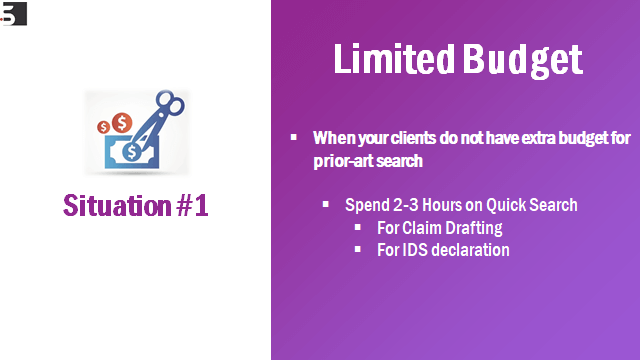 First important constraint that we have is budget. It is for IP lawyers, those who have their clients, who do not have budget for to conduct a full-fledged patentability searches. They often get into a situation where they don't have enough budget. But they still need the background references to define the scope of the claims then draft application for their clients.
And, also, you need them, because you need to submit some of the relevant prior documents in the IDS along with the application that you would be filing for a client. In such situations, you right now, end up spending your valuable time, searching for those references and at the same time drafting the claims for your client.
On an average, even if the concept is very broad and you have all the keywords and classes available with you. At least consume 2 to 3 hours and in some cases, even more, when you are going to perform those searches on your own.
Situation 2: Time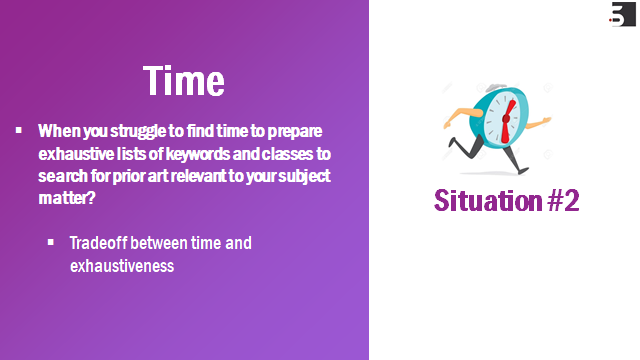 Similar situation arises when you find yourself in a scenario where there is a pressing deadline from your client. You do not have time to engage maybe a search firm or get a manual search done by an outside vendor. With your planned day-to-day activities, you struggle to find time actually to execute that search, even if you want to do it yourself.
You may end up spending 2 to 3 hours of time to search for that concept, or the subject matter. There will be a trade-off between time invested and the exhaustiveness of the output that you're going to get from those hours that we are investing.
Situation 3: Validation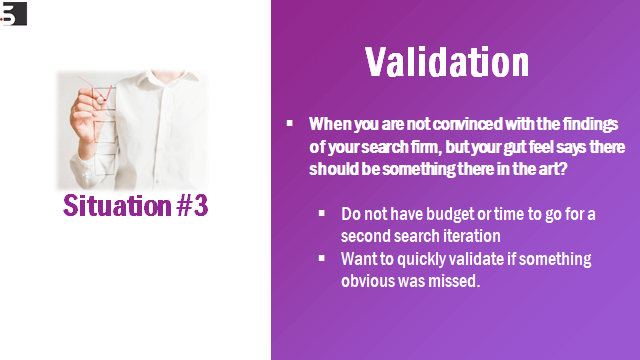 Similarly, there would be some scenarios where you are in a situation or there is a conflict between the output that you have received from a search vendor. You are not convinced with the findings of the analyst. And your gut will says that there should be something, there should be some relevant documents in the art. You now neither have budget nor do you have time to go for a second iteration.
In these situations usually what our clients do, they prioritize their task, they try to squeeze time out of their busy schedule, and try to do a quick search, maybe again an hour or so, and even more, and try to validate if something obvious was missed or not.
Even in such situations in the need of the hour, you do not have sufficient time to go and search in a database with all the relevant keywords and classes. So, again, the exhaustive list of the search is always a question.
Situation 4: Inventors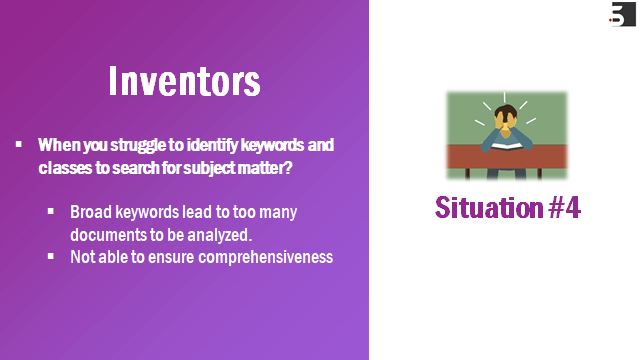 Another situation, which is more relevant for inventors or researchers. We have been working with a lot of university researchers who think they have a patentable idea. But they do not want to get into agreements, they don't want to hire a professional searcher. Since they are not aware of patents searching, they struggled to identify key words and execute the strings in the patent database. Though in a paid databases, they have to struggle with the syntax and different operators that have to be used for searching.
And even after struggling for the keywords, if they somehow manage to get broader keywords. They will get a lot of documents that they have to analyze before getting into conclusion whether the idea is patentable or not.
After observing all these situations that we just discussed. We thought of starting a journey to evaluate and partner with AI search engine or AI search provider. And make a very simple product that will aim to solve these specific targeted solutions.
With this chain of thoughts of these situations, I pass on to Prateek to talk more about the journey, the LivePat platform, and these situations. How these situations are better handled now with LivePat and the tool that we have developed. So, over to you Prateek.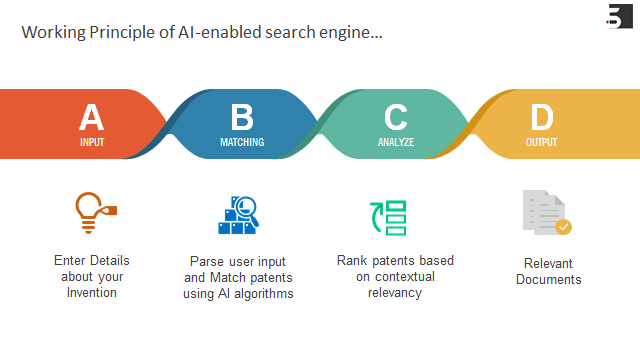 Prateek: Thanks Sumit. So, before I actually start talking about LivePat, let's just do a quick run through of how do typical AI enabled searches work. So, most AI enabled searches, what they do is that they enable computers to learn through a set of software code. And these specialized programs didn't turn to is that they provide the analyst with the list of prior art references without having to find and screen the list themselves.
Introduction to LivePat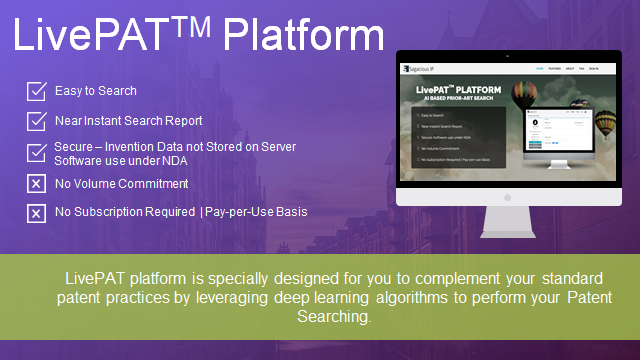 Now, this AI and machine learning enabled programs and codes available in various forms. There are so many of them out there. Some of them have supervised learning process involved, some of them have an unsupervised learning algorithm. Some have deep learning models involved, and some of them have a mix of all of them together.
But the usual process is still a typical of what's shown here on the slide. An input is provided either in form of a patent number or an invention text, or a claim, or maybe even in form of a very detailed technical taxonomy. And then what the tool does is, it then passes the entered information, matches it to the patents using various AI algorithms and then returns back with the list of results. A lot of the so-called AI algorithms also use keyword clouds, class correspondence, to narrow down onto the result sets. And once this is done, the algorithm also ranks the identified list of patents based on specific relevancy order.
Now, most of the tools today are primarily working on improving steps B and C. And this is where I think most of the innovation and research as we move forward, is going to be focused on.
As Sumit mentioned, and I also mentioned earlier, we actually have been looking at this field, with quite a bit of interest over the last two years. I have seen it evolve and develop a lot. So, we tested and evaluated multiple tools, and during the course of that evaluation tool that we narrowed down to was amplified AI.
We also have Sam here, one of the co-founders with us today. We will speak more about how amplified does this and how it's a little different from what the typical AI solutions does. So that was about how we got down to this, and we used the algorithm that was there with AI Amplify. And we found that to be really evolved. And according to us, it was no better than the other approaches out there. In fact, we believe it yielded better search results for us as we are working as a search firm. We want to make it part of our searching process, and have seen some good results to go along with it.
As, Sumit mentioned, based on all of this, we wanted to make something that could be as useful for specific scenarios that we have discussed earlier. And we partnered with amplified to come up with LivePat, which is some tool that we wanted to enable and empower people to be able to conduct searches and much enhanced, and improved searches when in certain situations, they are unable to. We can quickly take a look at certain features that this tool and amplified the algorithm and the model behind amplified brings to this LivePat tool.
Why Amplified powered LivePat?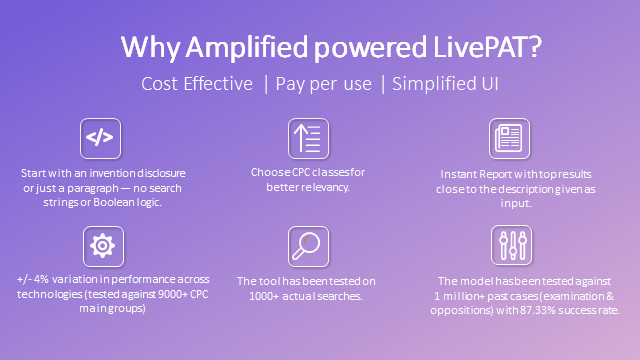 So first, the best part about this is that you can start off with an invention disclosure. You don't really need to worry about your keywords, your classes or iterations. You don't need to do any iterations associated as you missed out on a keyword while doing the initial search.
The tool also enables you to choose your CPC, your IPC classes, to further restrict, direct and focus the search a little better. Top 50 results are provided instantly to you, and you get the opportunity to screen them. By instantly, I mean, in a couple of minutes, you will have the results report with you.
As far as the model is concerned, the model that we talked about with the amplifier. The model that amplified uses there is very little variation in performance across technologies. We will talk more about that with Sam as we move forward.
The tool has also been tested on 1000+ actual searches by us. The model has actually been tested on 1 million+ past cases on the examination. So, it's a comparison to what an international examination happens. How much time it goes into that and how much you spend the same amount of time using the model. You have an 87% success rate in identifying the results. And all of this was actually further validated by our own evaluation of the tool. So, and that's how we move forward with the amplified LivePat tool.
Demo of LivePat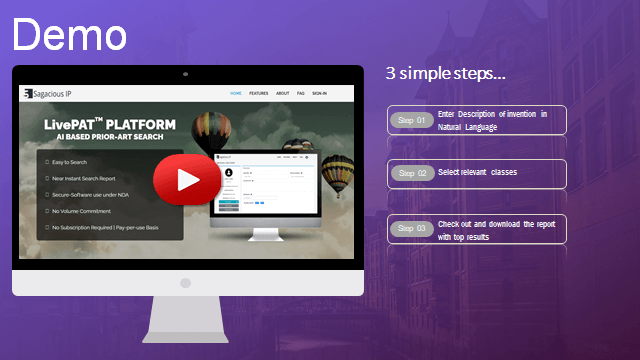 So, as I said, the idea here was to target specific scenarios, target specific problem areas and come up with a solution. And that's what we did with this particular LivePat tool. Sumit, I think maybe we just have a quick demonstration of how this works. So that, you all can very quickly understand how fast this is and how easy it is to actually do the search and within 4-5 minutes. From the beginning till the end, you are able to get the report with you. And then spend much of the time analyzing the report and then move forward with your tasks. So, Sumit I think we can quickly look at the demo.
How LivePat helps in different scenarios?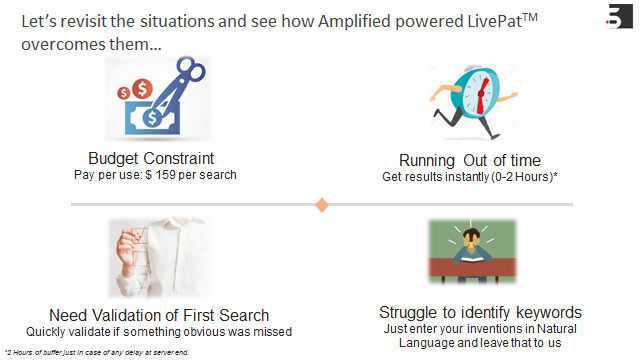 So, as you actually saw during the webinar, it's actually a very easy to use tool. That's the primary motive that we had behind while creating this. Let's just take a re-look at the four scenarios that Sumit mentioned in the beginning. Let us see how LivePat helps in each of them.
Budget
Going first. So, regarding the budget constraint scenario that we had. So, an attorney needing a quick, low-cost background search can spend less than $200 and get background results. The results can compares favourably. This is something that we have compared to our own searching in the past and to quote close to 5 or 6 hours of an analyst's effort.
So, comparing that to what an analyst would charge or a search firm would normally charge it about $400-$500 on an average. You could get similar set of results in about less than $200 or $159.
Time
Similarly, someone who's running short on time. Why not to use this to get your results back in two minutes. Spend 30 minutes or so and get your prior art references with you. Compare that to one being an attorney and spending 2 to 3 hours working on various tools. Just imagine the difference in billing and also the time that one can save and add value to other portions of work.
Validation
Similarly, other one of the scenarios that Sumit mentioned earlier was regarding needing validation on a previous search done by a search firm. For under $200, it's a very good tool to check the accuracy of the results returned by the searchers. You often have doubts on what the searcher might have turned up. Your gut says that there could be something out there and this is a very good, easy, simple tool to quickly check the velocity and validity of all of that.
Similarly for inventors who at a particular stage don't want to involve a search firm or an attorney. They may just want to get a quick understanding of the invention and the novelty around it. Go ahead and use this. It's simple to use. One does not need to worry about keywords, iterating on them, worrying about classes. Just use this, put in your invention text.
There's no time limit on how big the invention texts that you can enter. There's no text limit on that, and then you end up getting good references. It helps you get to a good starting point as we move forward.
Alright, so it's been us talking a lot about LivePat, we have seen the demo, we've talked about it. Now, let's just talk to Sam and see what he has to say about this. So Sam, again, welcome you to this particular webinar and it's great to have you here today.
Ask the Expert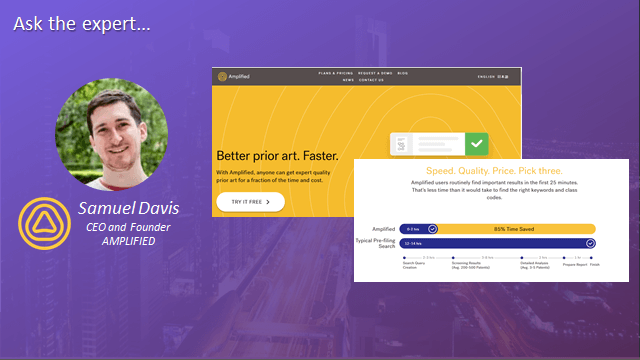 Difference between the technology behind amplified and other AI or machine learning tools
Sam first question to you, we talked about the typical way AI searches work. We talked about how LivePat does it. We talked about, how the amplified, the features, and the key elements behind amplified model. In your words, what do you think is the difference between the technology behind amplified and other AI or machine learning tools?
Samuel: Yeah, thank you. So, the big difference is in kind of the standard for machine learning based or AI based searching, is to look at specific words, take those and do essentially statistical modelling.
There is a technique called TFIDF. That looks at term frequency and it looks at document frequency and it takes the probabilities of how many terms do you have showing up and how many documents show up that match around that. It uses that to kind of score and come up with a probability based scoring. There's a whole world of different ways that you can go about creating that and find tuning in it. And, Amplify takes a very different approach.
So, we understand ourselves where patent searchers, patent examiners, patent attorneys in previous lifetimes. We really understand that doing patent searching is not really about keywords. It's about understanding the technology, understanding the concepts, and about being flexible in which concepts are most important.
You think about an invention and think about how that should be a patent. So, what we do is we actually look at the entire text as a whole. Whether that's an entire patent, or just sort of a description that you have of an invention. This means that sort of the more text, the better in our case.
But we take all of that and understand all the concepts that are created within that and use that to rank similar documents. And this is independent of the keyword. So this is why you don't need to worry about the synonyms. You don't need to worry about the exact language it use. What you do need to worry about is, are you writing down a description of the invention in a way that somebody else, another human being, could pick it up, read it, and really understand what it's about.
How do you measure the quality of your system and verify it?
Prateek: Right. Thanks Sam. That helps a lot and understanding as to how this is different and why this may be better than the others. So, further talking more about this because it's the final report is the important part of it. So, how do you measure quality of your system? Because there are so many patents out there, how can you actually verify this?
Samuel: That's an excellent question. And it's a really difficult thing to do. It's important to us to understand quality. So, I can explain a little bit about how we do it before that. I want to say that this is also just a challenge in general with patents. Human based traditional patent searching done manually is very difficult to measure quality on.
It's challenging, not just for doing it from an AI perspective, but in general, it's a very subjective thing. We try to mitigate the subjective aspect of it through just sort of the power of big data. So, the first step for us to validate our model is, we look at international search reports. And we look at that, because there are a lot of them available.
We test against 1.5 million WO applications, where an international search report exists. We can look at X, Y and A references that were found through the search report. And we can use that as a way to understand, across a very broad range of technologies. And a very broad range of different kinds of patent applications, how are model is performing.
So, this is very useful for us to just get a baseline understanding. The drawback is that an ISR report and that's not necessarily comprehensive. So, there may be things that were not found, that were even better, and there's no way for us to kind of know that at scale. So, we also look at oppositions and PTab cases.
We'll look at those examples where something was missed by the applicant and by the examiner and turned out later. Then that was successfully new prior art used to invalidate some or all of the claims.
The final step for us is of course our customers. We have paying customers that use the product. We're very lucky to have very active and involved customers. They care a lot about the quality of the work that they get out of our system. So, they give us feedback are very willing to share their time and their information with us. That includes obviously you Prateek at Sagacious IP.
So, that's final step, the qualitative assessment of analysts looking at the search results and giving us feedback on them.
How is tool better in technological domain?
Prateek: Right, thank you. Thank you for that. That brings me to the next question that I have, you mentioned about technology areas. And I also mentioned a bit about how there is very little variance across technological domain. So just to confirm, is it better in some technical areas than others. What's your opinion about that and how do we achieve that?
Samuel: Yeah, so the model itself basically has relatively little variation across technology areas. It works very similarly, which is a bit surprising because most other tools do not do that. The reason for it is partly related to what I mentioned earlier about understanding sort of the concepts overall. That doesn't necessarily mean that it's identical in all fields. There is variation from invention to invention and from field to field. There are some limitations that a text only approach brings in.
So for example, a chemical structure is not something that you can easily define with just a paragraph of text. So you can certainly write about that and get back results that would generally be on point. But it wouldn't be anything like if you went into a professional database like an STM for a chemical structure.
So, there are some drawbacks that are not really related to the AI model but other factors. Generally, though, we've use cases across a very wide number of technology areas, both in our benchmarking as well as in our actual customer pending cases. And from, from what we've observed, it does seem to bear out. The benchmarking that we've done seems to bear out in practice that it works quite well across all technical fields.
Is there difference in terms of pharma or drug related invention disclosure?
Prateek: So, yeah. So, you sort of answered that. Is there are difference if we talk about pharma or drug related invention disclosures?
Samuel: So, pharma and drug discovery, gene therapy all of those areas we have some pharmaceutical companies. They actually buy our software product, and use it. They work well. It does depend within that exactly what your purpose is. If you're going after a very specific compound, and you're trying to do a compound search, then there are some workarounds that you have to take where you might want to be searching based on existing patents.
You're not able to use, currently, an actual structure search and amplified. But it does work quite well for those. We've had a good number of examples in more traditional pharma, as well as bio and gene therapy related things. And, I can't give a quantitative assessment of it, but qualitatively from what we've seen in the fact that people are willing to pay for that. It seems to work very well in those fields.
Can we completely replace manual search?
Prateek: Right. So, as we move forward. You think we are completely replacing manual search in a couple of years or so how do you think which direction, is it leading?
Samuel: That's an interesting question. I think manual search, as we know it today, probably does go away. I don't think it really replaces people. So, if we define manual search as the process of reading an invention, description or reading a set of claims, and thinking about the keywords. Combining them with the logic to create a search query and then reading thousands of documents and sifting out noise from what's relevant.
I think that probably largely goes away, and that's not really something that people are built to do very well. You get tired, it's hard to read a lot of documents, it's very difficult and challenging to think of all the possible keywords and synonyms, and how to combine them.
What is very important that people do and relates to the subjective aspect of patents, is that, inventions are important for different reasons. And no two searches are the same. So, let's say you're looking at a pharmaceutical example. You're looking at a particular patent for some kind of gene therapy.
One aspect that may be important is the actual mechanism through which that's occurring. But the manufacturing of it is also very difficult. And that could be the important aspect. And you may have both of those described in one patent. Here one is described more kind of as background and related information, and the other is the key point of novelty. And so you do need a human, an analyst, who's able to interpret and understand what is the technical significance here.
Read related to patents, think about it and what I think will happen is the process of searching will become pretty much automatic. You can get back results instantly that are highly relevant. But, because it's automatic and instant, it will be more about iterating. And taking that, and learning from it, and understanding what you shouldn't do, how you should change things. And when you make that change, you'll be able to get results again instantly. So that whole process changes, it becomes more iterative, I think.
Are there any issues with machine translated text and how to increase its data coverage?
Prateek: All right, I understand. So, last question from my end for you. We talked about data coverage a lot, because this is AI, this works as English language right now. How do you see it? Do you run into issues with machine translated text, as well, and how do you plan to increase the data coverage as we move forward?
Samuel: Yeah, that's a fun thing to think about. We haven't run into issues with machine translated text, we were worried. We've done some testing, and that seems to work. I think the machine translation quality being quite good as part of it. When you're looking at the entire document, smaller errors that may come up in machine translation get washed out.
There are some other things that we're looking at. So, we're looking at some approaches that would not require machine translation. There are some theoretical things that we're looking at more on the research side.
It'll take a while for that to come to fruition, but we are looking at some ways to make it possible to actually search across multiple languages without needing to speak those languages yourselves. Using Machine Translation as a tool can help you read and understand that. But doing the search in a way that can go outside of language.
So, we're actually really excited about some of the work that we're doing there. But it's too early to say if it will be successful or not.
Prateek: Thank you for your perspective. It was really good to hear from you. It was really good to hear from someone who has been working on this for a really long time. And, as we talked about LivePat a bit. We talked about how this helps, specifically for attorneys, and how this has been designed to quickly assist them, attorneys and inventors.
But there is a specific group of people, especially the corporates, corporates with a big IP department and corporate with general councils in them who have inventor's sending substantial amount of inventions.
How does Amplified work?
We discussed that, and we understand that amplified software product that you have could be a better version for this. Could you just tell us quickly how that works and how that could be useful for that kind of audience? What we have in plan for them as we move forward?
Samuel: Sure. Yeah, well, thank you Prateek for having me today. It's been really interesting to listen to the webinar and I've enjoyed the questions as well. So, for Amplified kind of software platform and LivePat, I think different solutions for different problems. At high level, the patent world needs AI based searching whether it's amplified or someone else software or instant reports. Patent quality is very important, I believe.
And so, we're really excited about LivePat because it can give better prior art access to people that may not be able to afford very expensive kind of tools out there or afford you a full, robust, outsourced, professional search. So, I think that's generally a good thing for the system, and I'm happy that we can do that.
The amplified software platform is solving sort of a bit of a different problem. So, it's less about low cost quickly getting to some relevant things that can help you get the job done. It's much more focused on the need to be comprehensive in a way that's faster and more iterative than it was possible before.
So, the way the amplified software platform works is similar to LivePat start with some text. So, you would start with an invention disclosure or you might start with an existing patent. And you get back results from that. Then you basically customize and filter those using different things that are relevant to you, whether it's CPC codes or particular keywords that represent kind of your focus and the invention. And it's a very iterative, interactive tool that allows you to update and change your text as you go.
So, this is especially useful, if you're kind of earlier in the idea stage, and you might be developing an idea into an intention disclosure. You can write and as you write, you can change that text, and that will instantly give you half new results. As you read those results, and think about different ways to describe your idea. You work on that when you're at the point of then drafting a specification and drafting claims.
You can similarly, kind of do that in real time, getting results back, seeing similar patents, sometimes borrowing text from that, saving those when they're important, a pieces of art to know about for later. And so, it's a much more holistic solution. Does that help answer the question that you asked?
Prateek: Yes. Yes, it does. And just for the audience here, we also planned a quick short webinar around Amplified as well in next series in another 2-3 weeks. We will keep everyone updated on that. Sam, that brings to end my questions for you. I hand this over to Sumit now, and Sumit if there are any questions on that are there from the audience that we can maybe take up. Maybe we can talk about that. We have a few minutes left for this webinar to run.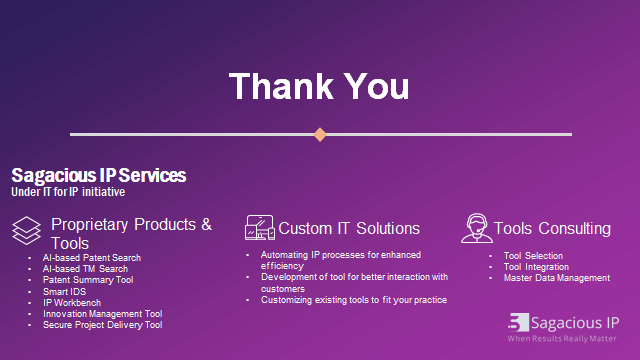 Questions and Answers
How in data security maintained in LivePat?
Sumit: Oh, yes, I was looking at the questions in question box itself. So, there is one particular question about LivePat that says, where is my invention data stored? How do you ensure data security, confidentiality of my invention? Would you like to take answer?
Prateek: Sure, Sure I can take that. So, we have made LivePat into tool that doesn't store the data. It performs a search and deletes all the invention related information that's been entered. The search report is only available in your account and they're there for your reference. Further information that you're exchanging with us over the tool is covered under the scope of a mutually accepted signed NDA.
So, in terms of storing invention related information with the LivePat servers, we don't store any information as far as it does about amplified servers. We are amplified uses that you train the model, and learn more about it. But in terms of the digitally and securely store information. I hope I was able to answer the question.
How the database takes care about synonyms?
Sumit: Yes, there's a different question from one of the audience. She's more targeted about how our database takes care of different synonyms that are being used as a search term. The question is, I think, more focused and there's an example that if invention talks about a battery related invention and the synonym which is most commonly used in patent world is energy storing device.
In such cases, the IPC assigned incorrect in most of the scenarios. And how do you ensure that such kind of synonyms are being taken care in the model that we are using at the backend.
Prateek: Sam, would you like to take that?
Samuel: Sure. I love this question, and this is a wonderful question. So two things, I think one is synonyms, one is class codes. So on synonyms, this is what makes Amplified's approach quite unique. We don't need to take care of synonyms at all because we're not using a keyword based approach.
The way this works is I guess the easiest way to explain it. If I said to you, please fill in the blank on this sentence, 'This morning I ate ….. , and your choices are Eggs, Table, Coffee. You would say, "This morning I ate eggs". That's the only one that makes sense because it wouldn't make sense to say coffee or table there.
That's essentially how this works. By understanding the context, by understanding the words that show up around the words, we can understand what they mean without needing to rely on the words themselves, or think about the synonyms.
And we're essentially doing that across about 120 million patent documents. Looking at all of the different words, and building up a very large, very robust understanding of what all of those mean. Mapping that together, and then understanding this, in the same way, what's happening within a document? How the different sentences relate to each other? And that's what allows us to have this very powerful, very robust understanding, that doesn't need to try to figure out all of the synonyms.
So, I hope that answers the question on that.
For the class code. This is a good point that patent offices sometimes wrongly assign class codes to patents. So, if you are adding a class code to limit your search report, you do have a risk that you will miss something.
I just want to point out there that with a solution like LivePat, you're always at risk of missing something. It's really not meant to be comprehensive. It's meant to give you something quick that is useful and relevant and accurate.
So, Class Codes help a lot to focus that, if you know there are some class codes that are highly relevant to you and you add that you will get very focused, useful results within that. But of course, there is the chance that something could be missed because the patent office misclassified it. If the Patent Office misclassified it, you also might miss it with a professional search as well, because it makes it just a little harder to find.
Can searches be refined after getting results in LivePat?
Sumit: Absolutely. Yeah. That perfectly makes sense. There is another quick question I can take up. Prateek, one of the person wants to understand, as Sam talked about iterations and can we refine the searches after getting the results in LivePat as well.
Prateek: So, no, as we talked about. This is not really about refining searches, because first off, you don't really need to worry about keyword search. This is not similar to your keyword search, and that's one of the added advantage here. You enter your invention disclosure or the text describing your invention in the best possible fashion. And then just let the model and the algorithm do its work. Let the tool do the hard work.
Sam mentioned, it's more about the context, and what the meaning of the sentence entered is, and, accordingly, the search results are returned. And the entire idea behind LivePat is that you don't need to spend time doing iterations on this. You need it quick, you enter the invention at a stage where invention has been described really well. And you just get the results which are really close to what you're looking for, and you get the top 50 results to look at.
So, which you can screen very quickly, and you're through with that. But of course, if the invention has not been described correctly or properly, then you would need to conduct another search, but then assuming that the invention is not being described properly.
Sumit: Yeah, I think that's what we are trying to look at with LivePat.
So, that brings us to the end. Thank you once again, Prateek and Sam for this comprehensive questions and answers session. I enjoyed it personally, and I'm sure our listeners have great takeaways from this session. We are not being able to cover all the questions, my apologies.
However, I would invite all the participants who so ever have any doubt or question about the tool. Please go ahead and write back to us, our team will contact you with an exclusive demo on the tool. Because I saw a couple of questions about showing us the relevancy of the results, actual results. And maybe you can try it out on an actual demo and see for yourself the results and compare it to the manual searching. Feel free to write back to us, and we'll be happy to give you a demo of the tool where we can test the results on a live project.
I want to extend a big thank you to all the listeners who helped us start on time. We highly appreciate that. And thank you all very much and we have planned a follow up webinar as Prateek mentioned.
So, please stay tuned, Have a great day ahead. Take care of yourself, stay safe, take care of your family, and hopefully, we'll see you in the next webinar.
Thank you, Sam. Thank you, Prateek. Have a good night. Goodbye.