Strategically building Patent Portfolio based on Priority of Invention
Due to the current global situation, companies are under extreme economic pressure and need to reduce their cost of building patent portfolio and prosecution costs. Hence, the companies may be forced to reduce patent filings for that. This, in turn, may negatively impact the future competitive edge of their products.
Hence, our unique model can facilitate/enable the companies to identify the priority of each of the invention/patent. And, ultimately, help in building patent portfolio. Moreover, it will help them take strategic decisions to reduce/manage patent preparation and prosecution cost.
Key-Points Covered in the Webinar(Strategically building Patent Portfolio based on Priority of Invention):
• Firstly, identifying priority of an invention based on business impact and degree of novelty
High Priority
Mid Priority
Low Priority
• Further, selecting separate strategies for different priority of patents:
o Choosing patent preparation and prosecution partner based on priority of application, for example:
1. Either, selecting a US or EP based law firm for preparing and prosecuting high priority application;
2. Or, working with a strategic partner for Mid and low priority application.
• Also, learn about explaining the Cost Advantage.
• Lastly, learn how to choose the Strategic partner keeping in mind the new model.
Hosted by:
Ben Pezzlo, US Patent Attorney & Director at Search-Center LLC
Pankaj Garg, Senior Manager – Engineering Patent Drafting & Prosecution, Sagacious Research
Anant Kataria, CEO, Sagacious Research
Webinar Transcript:
Hello, everyone. I hope you're having a wonderful time. My name is Anant Kataria, I am CEO and co-founder of Sagacious IP. I'm glad that you chose to spend your valuable time with us today on this webinar. And, I'm very happy to welcome you here. The topic of our webinar is Strategically building Patent Portfolio based on priority of inventions. And, to bring the perspectives and expertise of people who've driven such value creation successfully.
We have experts including US patent attorneys, as well as from patent prosecution support providers. They will talk to us on this panel today and share their experiences. I will now move on to introducing them.
Sagacious: Introduction
For our new subscribers, let me give a quick summary about Sagacious.
Sagacious is an award winning IP and innovation consulting firm. It has been enabling value creation and innovation in IP ecosystem for the last 12 years. And, that with our 300+ member team in US, Canada, Europe, India, China, and Japan.
Sagacious has worked with prominent IP law firms, Fortune 500s, startups, investors, and other players in the innovation ecosystem. We've supported clients from 65 countries and over 16 languages. This has given us this opportunity of learning from these big players. And, partnering with the people who are going to be speaking here today.
Our partner in today's presentation, is Search Center. And, Search Center have been providing expert patent searching services to the worldwide community since 2012. The team includes patent attorneys, former USPTO examiners, scientists, and engineers. Establish themselves to be able to deliver the right information at the right time in the right format. And that's what clients praise about. And all of the Center's professionals are based in US. So, we partner with them, in that sense of work together. This is the introduction of Search Center,
Let me want to introduce the speakers of today. Our first speaker is Ben Pezzlo. He's been a US patent attorney with over 20 years of patent prosecution experience. And, particularly, in counseling claims on the strategic construction of international patent portfolios in a cost efficient manner.
Ben is also the co-founder of Search Center. And, for the past eight years, he's been effectively leading the role of patent searching.
Our second speaker today is Pankaj Garg, Senior Manager in our Engineering Drafting Team at Sagacious. He has been in this business of IP support for 12 years. He has worked with various companies. It also includes Fortune 500 in US, for whom he's helped create their off shore patent drafting.
Agenda of the Webinar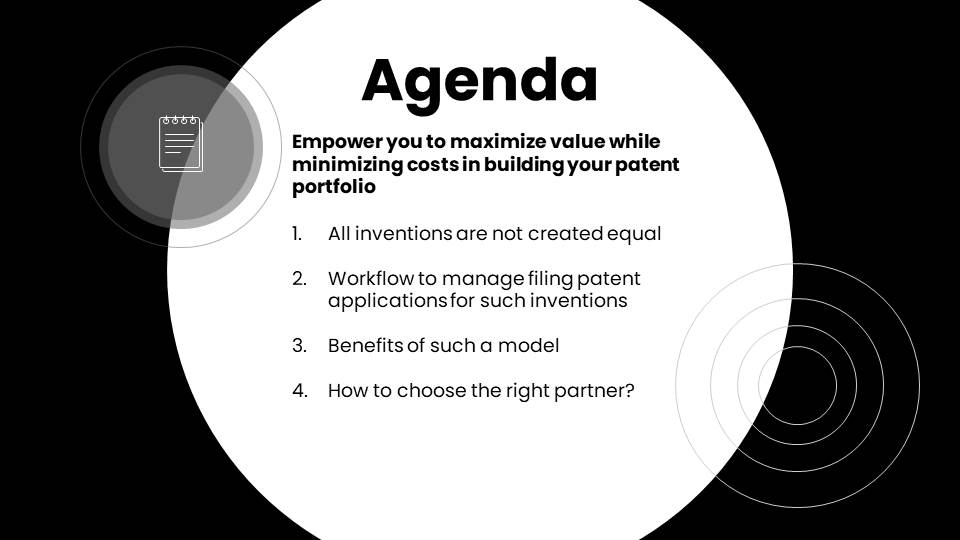 So the, the agenda for this Webinar is to maximize value, while minimizing the cost while building patent portfolio. And, to achieve that objective in our webinar, we broke it down into the following sections. So the first section is where we talk about inventions not being equal. why inventions are different, Then, you know, how do you go about that? The next is the workflow of managing the patent application, the patent preparation process for these equivalent ventures.
Then, we talk about what other benefits, or what overall benefits to achieve by actually having this model. This is priority based and uses the components that we talk about. And then, we'll talk about an important aspect here. That, now that you want to implement this how do you choose the right partner to help you implement it?
And, so, I would just pass it on to the, the speakers here to take forward the next discussion. Subsequent discussion. But I would like to just quickly share that after they've spoken. And after we've talked about this session, we'll have a Q&A session. And, I invite you to keep sharing your questions as, and when you have them during the course of this session.
You can share the questions via the Goto Webinar question box on the right side of the presentation window. I'll pick those questions in the end, and I'll ask them to our speakers at the end of the presentation. So, let's now start with the main part. Let me invite Ben to take up the first section. Over to you, Ben.
All Inventions are not Created Equal
Ben speaking– So, as I mentioned, the first part of our webinar is "All Inventions Are Not Created Equal".
This concept goes to the heart of Managing a Patent Portfolio. The main idea here is to establish a hierarchy. Therefore, resources are probably more intelligently allocated in building patent portfolio. This can be whether through in-house development or acquisition of third party intellectual property. Then, the management of the portfolio, essentially, two questions that we ask, Where are we now? where are we going?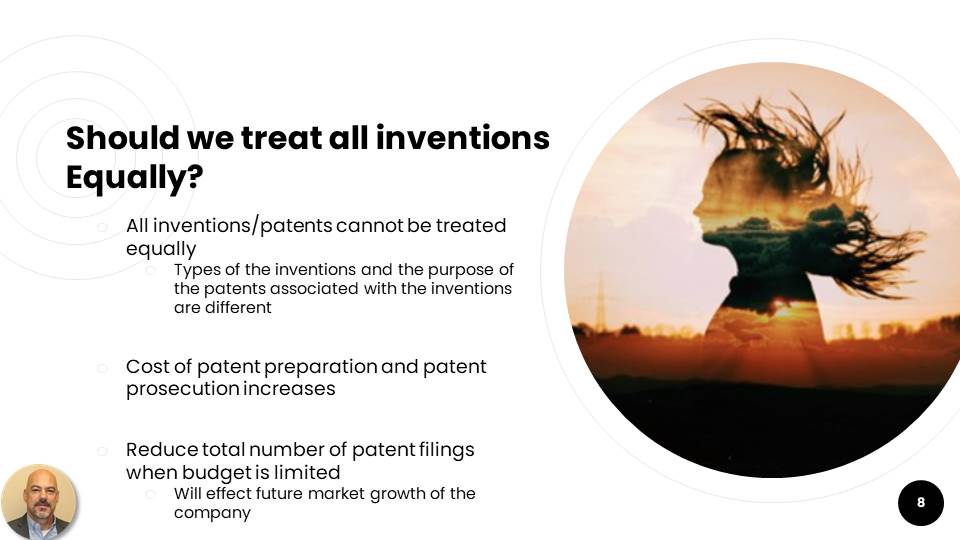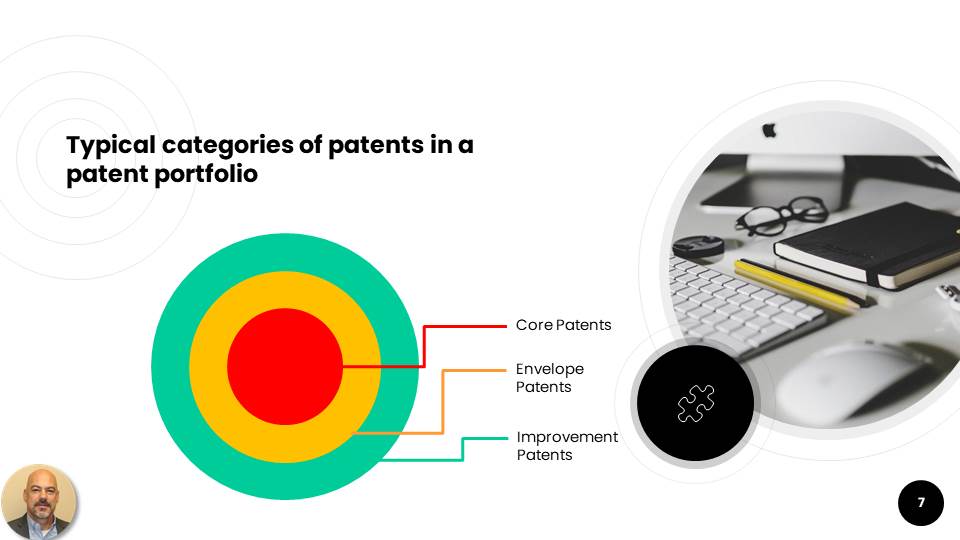 And for the first question, where are we now, the first step in our process? Identify and rank each patent in an existing portfolio into three main categories- core, envelope and improvement patents. Now, for the purposes of the presentation, we've only provided these three categories for larger portfolios. Process may result in a subgroup being along different genus and species line, say, or for other types of groupings.
Core Patents
Now, for the first grouping, we have our core patents, the most valuable to the enterprise. These are patents that are, for example, directed to a published industry standard. Or, they are directed to, say, the most profitable product or service line enterprise.
Envelope Patents
The ranking process that identifies the next level patents, what we call envelope patents. They will not rise into the core level, & are still significantly valuable to the enterprise. These are patents directed to, say, a peripheral feature of a product or service line in the enterprise.
Improvement Patents
And, then finally improvement patents. As the name suggests, may be directed to further support in a feature that is saved and more broadly claimed in a core and envelope patent. The whole idea here is to establish a big picture view. View with a hierarchy that facilitates the allocation of resources to maximize the value of the portfolio while minimizing the cost of prosecution.
Now, for example, a startup with a building patent portfolio. These considerations at the outset may not be important, but grow quickly. That too, especially where international prosecution in the portfolio is a consideration. So, the management of the portfolio is something that should should take place at the conception of the portfolio. Now, for this process to be effective, again, we say each patent cannot be of core level to the enterprise. If this is the case, then the costs associated with patent preparation prosecution may grow rapidly. They may grow so fast that the enterprise is prevented from securing patent protection for technologies that may be critical to the success of the company. So, the future growth of the enterprise maybe inhibit worth. An effective patent portfolio management practices are not put in place early on.
Now, we've established where are we at with the portfolio once the process of ranking patents and the existing portfolios is complete. Presently, turn our attention to where are we going. And, in this stage of the management of the patent portfolio, we turn our attention to inventions captured in disclosure statements pending at patent applications in the enterprise.
Again, management strategy allows for a greater volume of applications filing for implementing a portfolio effectively . While, driving down the average cost of prosecution to issue it. And, perhaps more important, it allows for additional resources to be allocated. That's where it's warranted to capture value around the core of patents in the portfolio. So, now, we've identified the core patents. We've established to a certain extent where are we going through this strategy. Below points are crucial when organizations are building patent portfolio.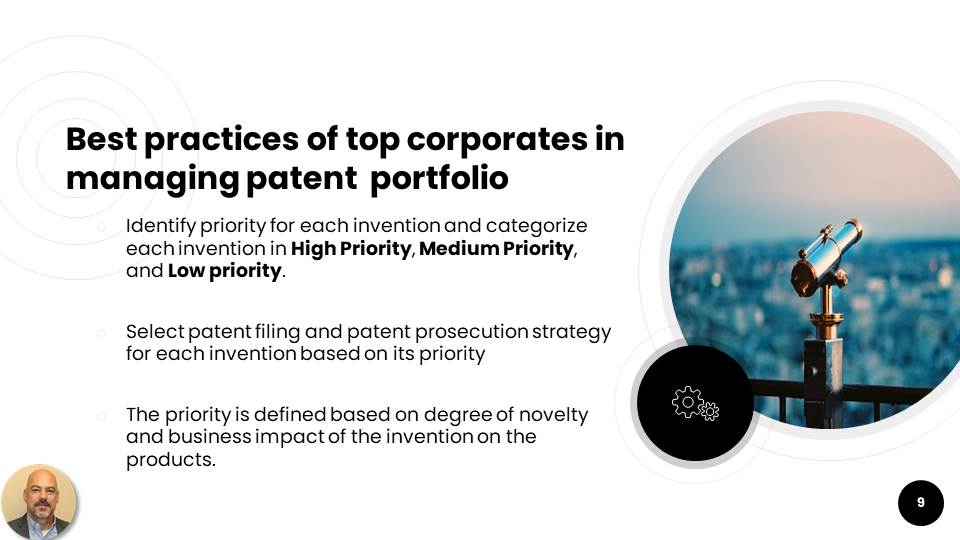 We now turn our attention to certain examples of how inventions captured in these applications. And in these invention disclosures, can be identified as having a high, medium, or low priority for prosecution.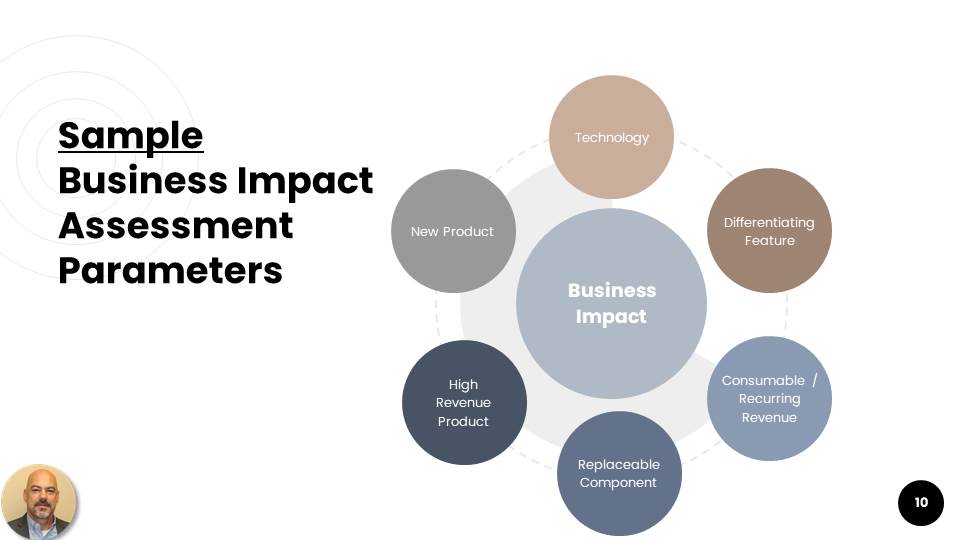 As we can see here, we can look at applications how they relate to say the main technology, the company, whether they relate to a new product of the enterprise, whether the application or invention disclosure rate addresses are a higher revenue product of the enterprise. And these are some of the examples that we can use to determine whether or not a patent application or eventually disclosure has a high, medium, or low priority.
Understanding Inventions in terms of Priority
Pankaj Garg speaking– Thank you, Ben. Thank you for laying out the agenda so beautifully. And also highlighting one of the important parameters in building patent portfolio that is business impact, that helps in identifying the priority of an invention. And so, the business impact is just one parameter, and it is the most important parameter. But the other parameter is the degree of novelty. because that's also essential for filing and getting a grant of a patent.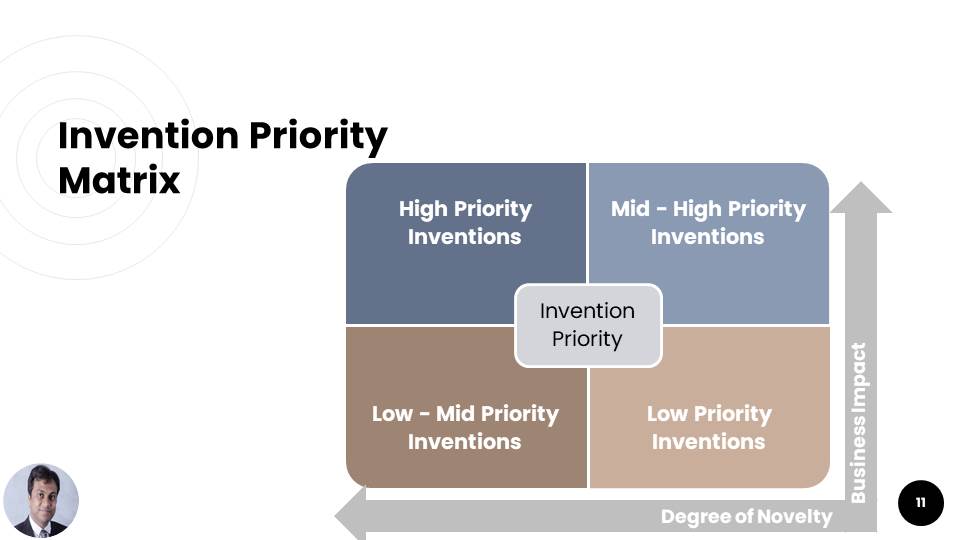 Using these two parameters, we can segregate our inventions in various and identify the priority level of each of the invention. The first level is higher priority inventions, for which the High priority invention, as I mentioned, which has a high business impact, as well as broad novelty, so that we can have a broad claim scope.
On the other hand, low priority inventions, which has very low business impact, as well as low degree or lesser degree of novelty in light of the product. Or, the, one of the example could be a mounting mechanism of fuel injector. So, and this provides a benefit. The advantage of the invention is that this mounting mechanism provides ease of assembly on the engine.
However, as you noted, that a lot of art in this domain, and may not be sold and the chances of getting a grant is not high. So, that's how this invention will be a low priority invention. And, it may not call for a high resource, or a high effort from the enterprise. In between the high priority inventions and the low priority inventions that more crucial. Priority one is low priority invention, which has a relatively high degree of novelty, but low business impact.
Example An air filter for a vehicle, and the invention relates to voting on the air filter, which may increase the life of the built-in capacity of the air filter. Now, this particular enterprise may not be in the manufacturing or air filter they might be in the manufacturing of the overall vehicle. So, the business impact is low here. But the degree of novelty is high, so, then it becomes as a low to mid priority invention, and here, more, a little more resource allocation of little more resources than the lower priority inventions is justified.
And then on the other side is the mid to high priority where the business impact is relatively high but not too high. For example, let us take an example of an I-Phone.
Apple market there I-Phone in such a way that they have the best camera available and their pictures taken by their cameras are good quality, so they use this. Quality of the images or videos as a market differentiator. So, if an invention which relates to improving the image of the poor, the quality of the image or the video.
Then the business impact seems to be high, but at the same time, it may not have that novelty. So then this categorized as a mid to high priority invention. Allocation of more resources are justified. Because that is this particular feature is utilized in selling the product and differentiating it from the market
So now we have laid out the model to identify or to categorize various invention into as per their priority for low priority, low to mid priority, mid to high priority high And then high priority invention. Big players use these tactics while building patent portfolio.
Implementation Strategy
The next step in implementation of the strategy while building patent portfolio is to determine how each of the high, medium, and low priority interventions in the portfolio are prepared and prosecuted from the perspective of budget allocation. But before moving on to the implementation strategy, we need to understand the resources to be utilized for implementing priority based strategy. Generally, the companies who have implemented, this type of strategy used three set of entities to manage the overall patent prosecution.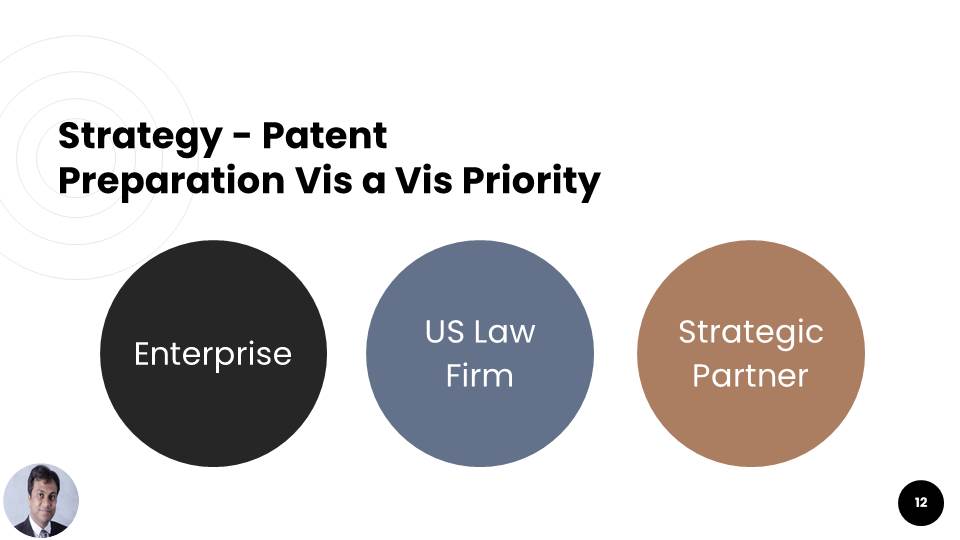 One is the enterprise itself. What I mean here is that the enterprises have the in-house US patent attorneys. They assist or manages the entire patent preparation and prosecution exercise.
The second is the existing US law firms. We announced them as patent attorneys as well. And, some of the patent probation and prosecution is handled by the US law firms.
Now, the third, and most important, is the strategic partner that they utilize. Now, what? but this might be a new concept for many of you, and the question may be that, what is it? Who is a strategic partner?. So, a strategic partner is there as a company who has experienced patent engineers. They are technically sound and has good experience in patent application . So, therefore, the enterprise generally use these patent engineers up along with the US law firm. And these patent engineers can assist either the in-house patent attorneys or the attorneys of the US.
Law firm in preparation and prosecuting the patent application and accordingly reducing the overall effort and spending in patent preparation and prosecution. Now, we have laid out which entities can be utilized for preparing patent based upon the prior to that strategy.
Different Strategies for Different Priority Levels
Now, let us discuss different techniques used while building patent portfolio. first the low priority inventions, As, you know, these are very low priority invention, so they do not justify high allocation. So, to reduce the overall effort of patent preparation, corporates generally, use a defensive filing strategy. It should not be misunderstood with a defensive patent file. These patents will be regularly filed patent application, but little lesser content, in terms of description, only, describing the working more, and then in terms of claim, they will have a less number of claims. And the independent claim would be a picture claim. Now, most of you would know what is the picture claim?
Those who do not know the picture claim, which has almost all the features of the invention. So that everything is disclose into the picture claimed into the independent claim, and that.So when we have an independent claim, which is a picture claim, it has high chances of grant.
Now, since we have reduced the patent preparation effort by reducing the content, and reducing the number of claims, further reduction in the post can be done by using the strategic partner. That can work with a patent attorney to prepare these patent applications.
Moving on to the new, low to mid priority interventions. Right Here, up, since they do fit the low priority interventions, a high allocation of effort and budget is not justified. But a little extra budget allocation as compared to low priority inventions are justified because these inventions might become important in future. Consider this while building patent portfolio.
So, for preparing this kind of patent application, we can utilize a strategic partners, working with us. Our in-house patent attorney, to reduce the overall post-op per patient and filings, now moving on to the mid to high priority invention.
Hybrid Filing Strategy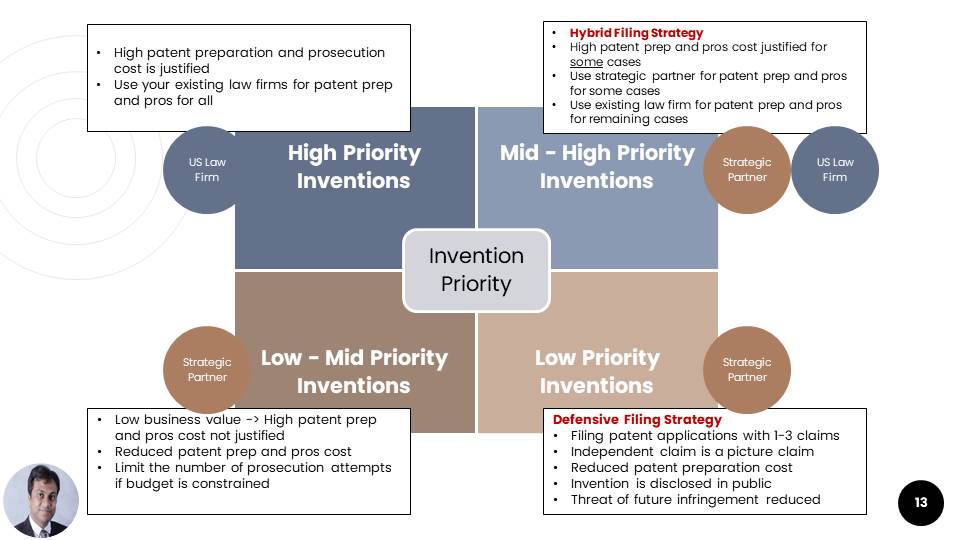 These are these type of things and just to buy. More effort and more budget allocation. And, therefore, using hybrid filing strategy. So what, what I mean by hybrid filing strategies are, the strategic partner can walk with patent attorneys of the US. Law firm, and help in preparing the general, the skeleton of the patent, drop the skeleton of the claim and everything, and then The more strategic or more important work is taken care by the US Patent Attorney
In this way, this patent, this invention, the patent application for these inventions will have broad claims, the quality of the application will be higher, relatively high. Moving onto the high priority inventions.
I mentioned they have high priority. So, the maximum budget allocation and maximum effort is justified, so, generally, these are very important invention for enterprise and enterprise can use only US. Law firm for preparing the patent application, In this manner, by using a hybrid model, where an enterprise use in-house attorney, a strategic partner, and US. Law firm working together, or working in tandem in building patent portfolio.
This is the strategy that can be implemented to reduce the overall cost, as well as still having a high quality patent portfolio. Now, moving on to the advantage, I would like to invite my colleague to speak on that.
Ben speaking– Thank you, Prakash. We see the benefits to leverage in the model. Let's take a quick look at how the model can be implemented here through a workflow. Manage and filing patent applications for these inventions and we see in this model here, starting with invention submission.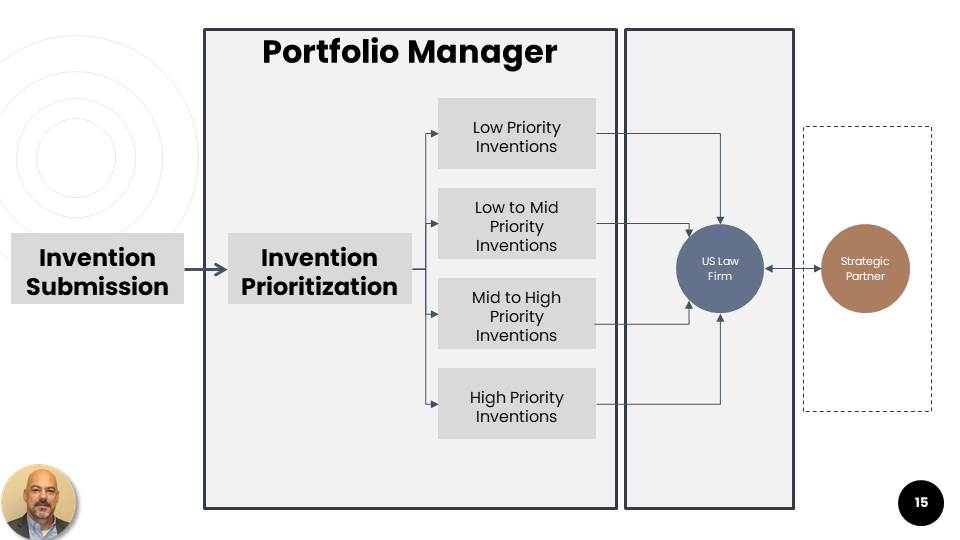 It's made to the Portfolio Manager. He/She can do a review of the disclosure determined of priority of the invention, disclosed, and then make a initial determination to the US law firm and the US law firm may review the priority and look briefly at the identification of how this application fits into the existing portfolio. Then, based on that determination, In Consultation with Portfolio Manager route, low to medium priority inventions to a strategic partner.
So, even now, where traditional model is used between the US law firm, the Portfolio Manager and the client. The work flow remains somewhat similar. And it's only at the tail end where the strategic partner interacts with the US Law firm. That's in order to achieve these lower costs, while still achieving the objectives of the Portfolio Manager. This model can be implemented rather seamlessly.
Now, let's do a review of the benefits of this hybrid model. And we can see that there are significant savings available, which we'll get into more deeply later in the presentation.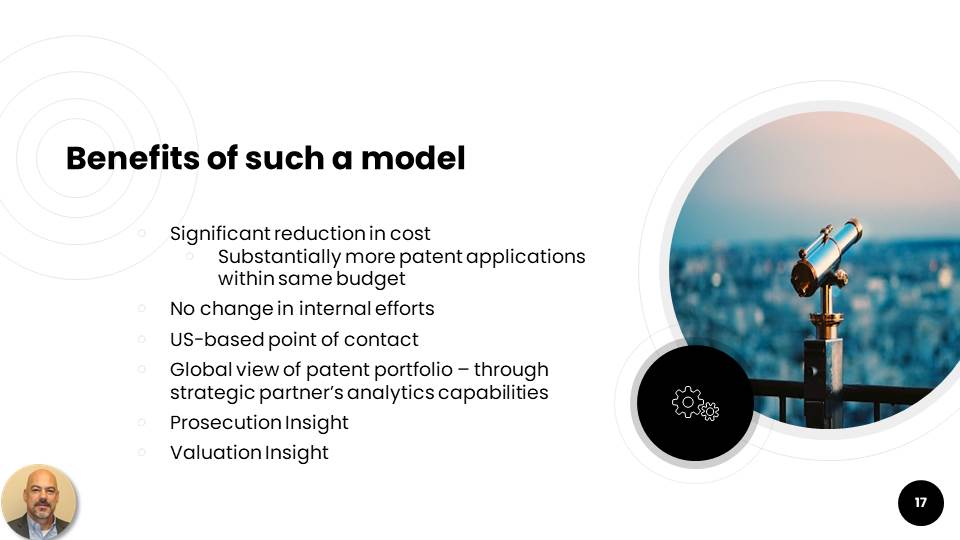 And, again, these cost benefits extend from the model with little or any change to the internal efforts of the Portfolio Manager. As we saw in the workflow slide previously, invention disclosure is forwarded for prosecution in either the traditional model or the hybrid model, proceed to the list based point of contact, the US Law firm.
So, there's, again, little to no change in the internal efforts. Another thing we want to look at here is, what are the other benefits of the hybrid model in addition to the lower costs. And, we see here that, because the strategic partner in a lower cost environment, they may be able to provide greater analytic capability to the portfolio.
So for example, provide a global view of the portfolio, where the portfolio currently stands, where it's going. These analytics may be very valuable. For example, at competitive intelligence or is another example capturing additional white space around the portfolio or the enterprise.
Again, with additional lower costs involved, we have the ability to have greater prosecution insight. So for example, the strategic partner, many claim language that may be available, perhaps may be, may not have been considered by the Portfolio Manager, or the US Law firm. This additional insight could add significant value and may perhaps provide greater coverage than that provided in the traditional just using the traditional model only.
These benefits may extend also the valuation again where the strategic partner has a view of individual patent applications, Individual patents in the portfolio. Analytic capabilities may be available for determining not only the priority the invention, but also a dollars and cents valuation of the application and existing patents in the portfolio.
To provide the manager with additional information to make decisions regarding each disclosure in the portfolio. Clear communication is key to efficiency while building patent portfolio
Cost-Effective Priority Based Approach
Pankaj speaking So here we are going to discuss how using the priority based approach and utilizing using the associate with the partner and the US law firms, how significant cost saving can be achieved while building patent portfolio.
So generally, based on my experience, what I've seen working with the Fortune 100 company, I've seen that That 30% of inventions are generally granted rise as high priority application.And, 50 to 60% applications are allies between low to mid priority, mid priority to high priority category. 10% of the inventions lies into the low priority category.
So, by utilizing this particular concept of 30 to 60 and then 10%, we will be taking an exemplary scenario of preparing 10 patent application and comparing the pattern preparation cost. Using a strategic or high strategy partner plus log on this model, versus A model where all the 10 application will be prepared by existing US based law firm.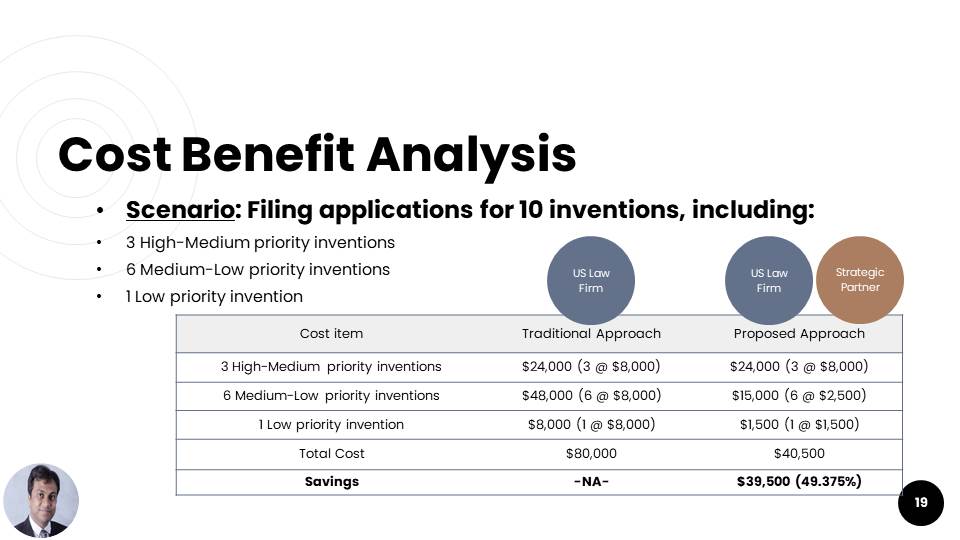 So, if we go, if we calculate the cost off hybrid model. Application will be prepared by the traditional US firm and considering that the bar application costs roughly around US, $8000, Then the Total Preparation post for three patent application comes out to be $24,000. Now, consider the fact that here we have already taken into account the discount that the US Law Firm is ready to pay because of the bulk. The application that is going to receive for preparing the patent application generally, US attorney charge the more than $8000 for preparing patent application.
Now, considering there are six medium to low priority mentioned, these will be prepared by our strategic partner in association with, either with the in-house patent attorneys or with the US based law firm, Similar medium to low priority invention patent application will cost $2500, so then for preparing the six patent application on, cost comes out around $15,000. And then, one low priority invention, which is file prepared based under the defensive piling strategy will cost only $1500.
So if an enterprise uses a hybrid model and utilize a priority based approach or strategy in the pattern preparation, the 10 patent application is going to be prepared at a cost of USD $40,500, whereas, if the company decides to go only, by traditional approach, all inventions that are going to be treated equally. Typically, the cost preparing 10 application would be $80,000. So you can see that there is almost 49% saving in terms of cost, And that can translate into the increased number of patent application when there Budget is constrained, Our budget is reduced as we see to date.
We have discussed why we need to utilize a priority based model, how to use a priority based model. What are the advantages of outdoor using the priority based model in patent protection and prosecution. Now, the question is, how an enterprise is going to choose the right strategic partner while building patent portfolio?
Ah, that's a big question, because nobody knows what is going to work for them.So, we have divided that entire evaluation exercise into two parts. what are the things that you should look into the strategic partner? So, we have listed down a few important parameters here.
Strategic Partner: Important Parameters
One of the most important parameter is that, while selecting a strategic partner ,one should check whether the strategic partner with whom they are going to collaborate has prior experience in managing this entire exercise or entire workflow in terms of co-ordinating with the in-house attorney, in co-ordinating with US, patents attorney of the US lawfirm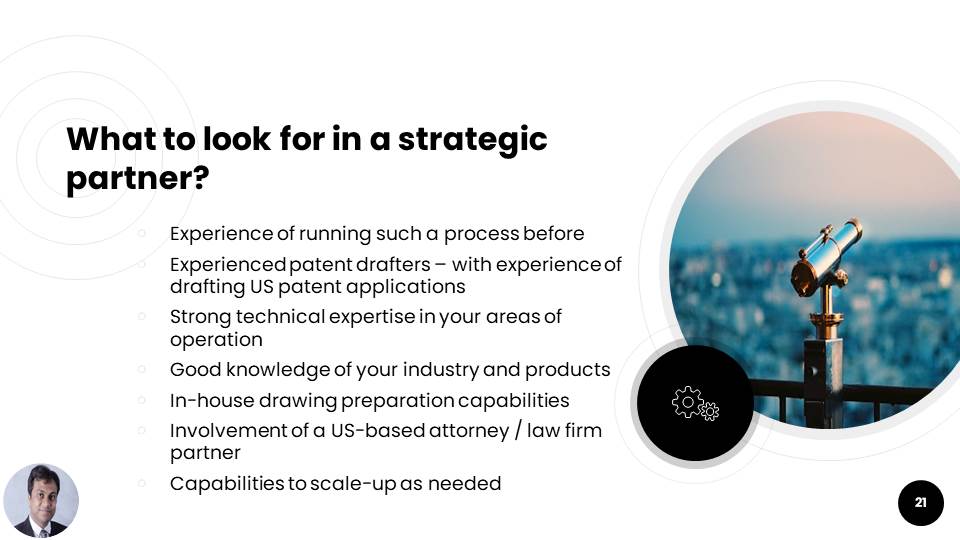 So the next aspect is, to check whether the strategic partner, has a good people on board, with good people, means they have a good experience in the technical domain of the enterprise, as well as good technical knowledge.
And also, the company should look for that strategic partner as a whole, as a company, who has the good knowledge of the industry and the products of the industry in which the enterprise is working.
Another aspect is that the strategic partner should have a good capability in preparing drawings, Good quality drawings, because, single picture is worth a thousand words, so that if a drawing is good. Even if there is some some disturbance in the description, that can be taken care of by that during the prosecution by the drawings. So, having good patent grant preparation capability is a positive for the strategic partner.
The next most important thing is capability to scale up, The enterprise should check whether the strategic partner can scale this business model quickly, and are happy to have they done this in the past. So these are the few things that an enterprise should look for in a strategic partner.
Now, now, these parameters are the few things that an enterprise should look for. But how an enterprise is going to evaluate, or that this strategy partner has these qualities in it.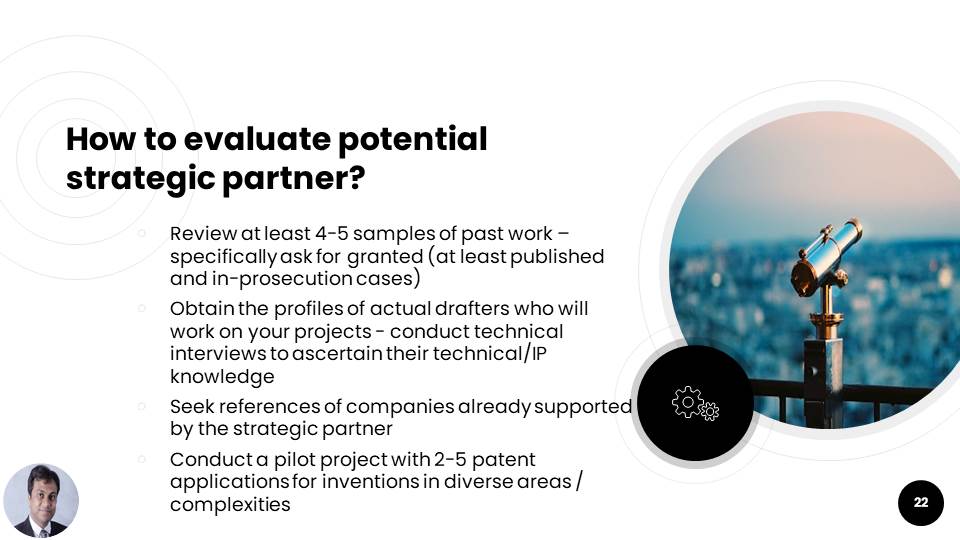 So, one thing that the Enterprise can do is that they can ask for the the sample draft, written by there drafters. They can ask for granted patents and check the prosecution history to check whether the claims were read, their claims were good, and also the content was good. And also quality of written English language was good.
Then the second thing, Who are going to work with work on the patent applications?, and also conduct a technical interview of the drafters to judge the technical capabilities of the patent engineers. Next thing that our enterprise can do is they can ask for some reference from the strategic partner. Reference for which the strategic partner has worked previously and then talk to the guys there to see whether this strategic partner is good for us.
Now the next important thing is that the strategy by the Enterprise , ask for a pilot exercise where the enterprise can be bought by a patent application to be written by the Patent Drafter and Check the Capable Technical Capability. As well as the entire patent drafting capability. In real time. These are the few things that that an enterprise can do to check and evaluate a potential strategic partner and select the strategic partner. It's very critical to check the quality of your strategic partner as they can play a great role in building patent portfolio.
Anant Kataria speaking– Thanks, Ben and Pankaj for sharing and explaining how this model helps. Not just save money, but also have more advantages for the enterprise. So for the innovator here. There are some questions from the audience. And, there are also some questions that I had while I was listening to the explanation that you gave.
Q & A Session
Question 1, How does such utilization of a strategic partner impact the export control compliance?
And it'd be good to have your views on that.
Ben speaking– That's an excellent question. From the workflow, where the export control considerations come into play, the invention disclosure may be reviewed. And, that particular item can be flagged and prevented from being sent off shore if there is an issue with the technology involved in the application, or the invention disclosure . So, with those protocols in place, we see that the this hybrid model can still be leveraged.
It just requires active participation, either by the Portfolio Manager or the US law firm. This is for identifying those invention disclosures prior to being delivered or sent out off shore.
Anant speaking– Saying that, in the work flow, where, because of where the point of contact, for the enterprise, is, the U S law firm, so, an export controls cleaning process can be implemented.
Ben speaking– Yes, yes, Or in certain other examples. Let's say the US law firm does not have expertise in this particular area. In that case, a third party export control protocol specialists can be brought into play there to review the application that may potentially be sent to the strategic partner.
Pankaj speaking– Just want to share my experience in managing them and what, their Fortune 100 company, So, to overcome the export control issue. What they do is every invention, they utilize the third party export control reviewer.
So, every invention created in the organization is first check for the export control issue and if there is or there are certain invention which are flagged as export control, they will be exclusively handled by the in-house patent attorneys or in some cases by the US law firms only.
Anant speaking– Okay!
How does that information get passed on to the strategic partner?
Question 2. Getting a huge law firm to prepare these patent applications, as an enterprise, I can rest assured, it's going to attorneys that I trust. Attorneys who have been preparing and prosecuting application as day in and day out there, engaging the USPTO. So, their knowledge of the changes in the rules are generally the perspective of prosecution. Of the perspective of examiners in, prosecuting applications in a certain technology area, or inaccurate. They are aware of that ,they more used to that. And then, when there is a third party, strategic partner, like to call it, when that gets into the loop, how does that information get passed on to the strategic partner?
Ben speaking– Ideally, in selecting the strategic partner, you want to feel more comfortable with the selection of the partner. You're going to want to make sure that the partner is, it's up to speed on changes in US practice.
Yeah, as well as, US firms. Perhaps, They're also sharing information. That's up to date about changes in your practice. And then, of course, the third level of protection there would be, once the strategic partner has completed, say, an individual project prior to filing a little course be reviewed by the US law firm for compliance with with US practice.
Pankaj speaking– Just wanted to add, that essentially this draft prepared by the strategic partner will be the non-critical invention first. So, they will not have that kind of criticality for the enterprise. And, for the political inventions are being prepared will be prepared by the the US based law firm who are, who probably are working with this enterprise for 10-15 years.
Then they understand the entire best practices as well as the law a US law. That being said, generally, in my experience, I've seen that this Fortune 100 company has a best practices document. And, they want their draft or patent application to be prepared in a certain manner. Then, this best practice document can be shared with the strategic partner. And then initially, probably couple of draft.
There will be some, some handholding by the by the US patent attorneys of the enterprise, but once those journal best practice are piped into the strategic partner, governors are then it is it can be implemented easily. And we have done that in past, where we used to write hundreds of patent application, for the Fortune 500 company, using the best practice documents, and other best practice workflow models.
Anant speaking-So now, I have a bit to add here and also, a question.
How these additional benefits can be reaped?
So, when I look at Sagacious, so when we asked ourselves in the strategic partner, I see that beyond patent drafting, there is the same team that we have has experience on landscapes, patent searches, monetization support. So, when you alluding to, the additional experience or expertise in that area that can also be utilized by the enterprise or please elaborate more on how to how these additional benefits can be reaped?
Ben speaking-That's an excellent point. So, if the strategic partners say, for example, this is already involved in performing a search function for the enterprise directly or via the US law firm, there is going to be a, a significant call it institutional knowledge of the portfolio that that's already in place that can be leveraged further in the prosecution of the portfolio.
So, for example, if there's a body of art, that the strategic partner, is it searching, and they see that direction, and have a sense of where the portfolio is headed, it might provide them the ability to provide some prosecution support, to Members of the strategic support to those who , actively involved in the prosecution of the portfolio.
And because it's all in one place, this is information that's available and can be leveraged at a very cost effective manner. Without, say, a report, having to go out to yet another entity who may be involved. So this is, provides an excellent way of leveraging the knowledge that's in the data that's already in the strategic part.
Anant speaking– Pankaj you know, referring to, you mentioned you had experience with the fortune 100 company.
See, you said that they had a SOP or a standard best practices document, which was used by the strategic partner to prepare those applications. So was this document something that they already used before engaging the partner? And even their law firms had those instructions, and all they had to do was, give the same instruction to the strategic partner. Or was it something knew that they had to create, to bring this model into existence, if you could share something than that.
Pankaj speaking– Document in place prior to engage in the strategic partner, these, in fact, they use these strategic, these documents to train their new U.S Attorney.
So that they can come up to the speed of what the practices of patent roughing practices of the Enterprise is. And also the: they have: these are: what the do's and don'ts for writing the patent application. what terms to be used in a patent application. What terms should not be used in a patent application. These are the few things they already have.
The other document prepared specifically for engaging the strategic partner, is due. This document has the guidelines, how to interact with it. The inventor of the case means they because they have this notion that the inventor, some of them to inventor may not like working with a strategic partner. That is so because they already have a good relationship with their patent attorney. So they have prepared that document, and utilizing those guidelines. Really, he helped us in building good relationship with the inventor and discussing the inventions in detail.
Anant speaking– And, so if I am, let's say, the Portfolio Manager. I got set up a company. And, I want this model. And I want to, that's a safe cost and implemented. So I see bottlenecks, and I'm like, I need to bear all this documentation.
They need to first get thing and only then, I will able to implement it.
Whereas, there is something that's already going on. These law firms are working very well with me. And, I don't need to give something new to scale that up. Is this aspect of getting those best practices document ready.
Is that also something which can be made easy for someone in the shoes of a Chief IP Council, or in the shoes of a Portfolio Manager? Can the strategic partner help in some way? Or let us say, if you were to do that, how would that look like?
Pankaj speaking– That's a very good question. And, I would say a strategic partner can definitely help here. Because it does a strategic partner has worked previously with Fortune 100 company. These companies have generally similar kind of guidelines for preparing their patent application.
So, strategic partner can prepare a set of best practices. The practices that they generally follow or should follow for preparing the patent application. And, then share those with the patent manager and seek his views on that. That can take care of the initial lead walk, our initial effort of preparing the document. Then, based upon the feedback of the patent manager, the document can be finalize.
This helps in two ways. Because everything gets finalized in the beginning itself. And, the expectations are set. The patent, the enterprise, that attorneys in the enterprise would know their responsibilities. And, the strategic partner will know the expectation of the enterprise from them. So, this will really help in fine tuning the relationship or building up the trust I will say.
Anant speaking Ben, I have a question from you. It's from a different perspective. It's good with your experience as a USPTO registered patent attorney.
If you were, let's say, supporting an enterprise with building patent portfolio. And, then you had these cost pressures, which are piling up these days on all the firms. How would you view this kind of relationship? How could this be a beneficial opportunity for you? Put it like that. Or would occur like, your business going away. And how could you make the best out of it?
Ben speaking– I would absolutely advocate for this hybrid model. As I mentioned earlier, the level of interplay that you can achieve with using the information that your game, say, from a searching standpoint, and there is.
And, then if you have the combined with that, the low cost and, more importantly, the high value, the quality of the prosecution that's coming out of the strategic partner today. This is, by and large, very high quality. And, so this offers an opportunity to significantly decrease the costs of prosecution. That is while still maintaining the highest possible value of the portfolio. So, I'm a firm believer in hybrid model.
Anant Kataria speaking– So, even if you were the law firm that was initially handling a percent of the business. And, now you get this opportunity of serving the customer with reduced, surprising in better service, you think this makes sense as a long-term solution?
Ben Speaking– Yes and I would present wholeheartedly the opportunity for the enterprise to participate in some type of this in this exact model. Now, of course there's always other considerations that may come into play or majority of the applications or convention disclosures, subject to export control.
Of course, in those rare circumstances, you would probably not leverage the model. But, I would say in all other circumstances, this is an extremely valuable arrangement for moving forward with the portfolio of an enterprise.
Pankaj speaking– I want to add one thing here that this model is not going to effect negatively. That is because the budget is constraint. There are only two options with an enterprise, either reduce the number of patent filing . Again, the US. Law firm is not going to receive many patent applications. But, with strategic partner, the enterprise is trying to manage and maintain the patent filing and preparation. And, in this way, by the US Law Firm Bill, in fact, received increased number of patent preparation work, then the reduced number of patents.
Anant speaking– Yeah, that's also good. Quite concerning the prosecution, but will still be ongoing. And, there's a lot more to building patent portfolio than just patent application.
Perfect. Well, thank you so much, Ben. Thank you so much, Pankaj, this has been a wonderful session. It was lovely. Having these questions and you know, real-time answers from you guys, that was good. I'm sure our listeners also have great takeaways from this session. And, they'll be able to use several of these pointers in their business while building patent portfolio.
We weren't able to cover the questions that we received. But, if there are any questions that our audience has later on or once you view the recording of this webinar, please feel free to send those to us at webinar@sagaciousresearch.com
Please keep an eye on your inbox for the new communication you might get from us for our subsequent webinars. Thank you.