How to Mitigate Risks by Patent Monitoring During Prosecution and Litigation
A patent is a legal right provided by the government of a particular jurisdiction to the patent applicant for his or her innovation. Consequent to a patent's legal nature, a lot of legal events are associated with it starting from patent filing till the patent is expired. Further, all the legal events come along with certain timelines. Hence, it is important to be aware and updated with all the legal events linked with owned patents as well as of competitors. This would help in staying ahead of competition and in corporate success by using the legal environment to secure a competitive advantage.
Watch/Patent Monitoring During Prosecution
Prosecution watch is the monitoring of prosecution stages that includes monitoring communications from patent office beginning from time of filing till the expiry of a patent. Few examples of prosecution stage communications include events such as IDS filings, office actions, response to office actions, patent amendments, fee payments, etc.
The prosecution of a patent can be mainly divided into 2 parts. One is pre-grant, i.e. before the grant of a patent and another is post-grant, i.e. after the grant of a patent.
The Pre-grant stage mainly involves negotiation steps with patent office, which includes monitoring status of prosecution for newly published patent applications, rejection analytics and examiner behaviour. So, overall, the events include – Filing, Publication, Opposition, Rejections, Arguments, Amendments, Appeals, Continued examination request, Allowance, etc.
Further, Post-grant stage includes maintenance and enforcement of a patent. The events involved are – Post-grant review, Fee maintenance, Infringement, Re-examination, Litigation Watch, etc.
Why Prosecution Monitoring?
Prosecution monitoring can be used for various purposes.
The first and paramount importance of prosecution monitoring is – Maintenance of self-patent portfolio i.e. to monitor own set or list of patents.
Second is – Competitor's Portfolio i.e. to monitor a set competitor's portfolio.
Third is – Performing the monitoring before going for a Collaboration/ Acquisition/ Merger.
Fourth is – Monitoring a soon to be expired technology.
All the purposes of Legal Status are elaborated in detail below:
1. Prosecution Monitoring for Self-Patent Portfolio
Insights received from monitoring of self-patent portfolio are –
In Pre-grant Stage:
Updates of PTO requirements, e.g. preparing documents, arguments to rejections, amendments in patent applications.
Tracking legal status in specific jurisdictions; wherein specialized knowledge/databases are required.
In Post-grant Stage:
Maintenance & Enforcement of granted patents e.g. fee payment
Determining potential infringement to enforce rights or negotiation
Consequently, the Risk Mitigations are as follows: –
In Pre-grant Stage:
Avoiding overshooting or missing the deadlines
Advance preparedness
Fate of patent application can be decided based on the examiner comments
In Post-grant Stage:
Possibilities of extension of patent term or abandoning can be decided within time
Surveillance of granted patents to launch own products without any hindrance
Case Study:
A US based multi-national client was interested in monitoring the legal status of pending patent applications and granted patents of his own patent portfolio.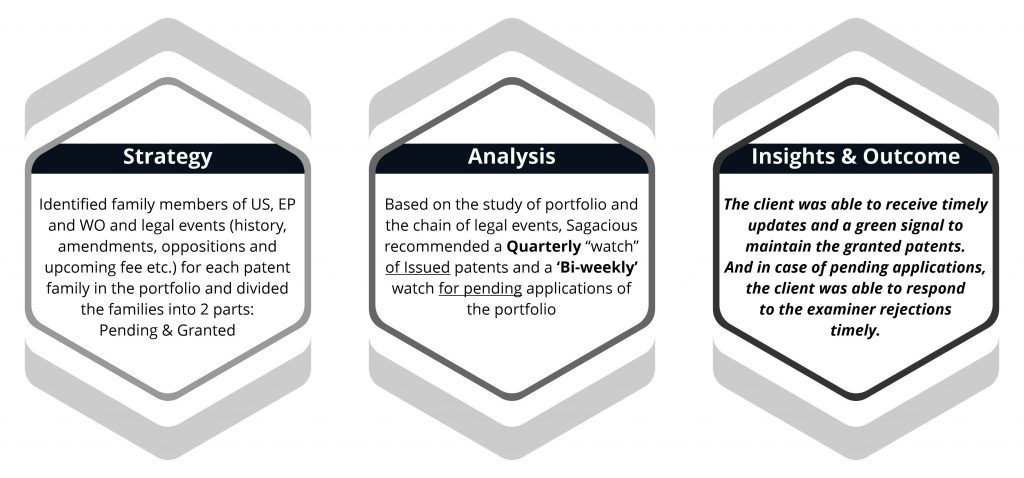 2. Prosecution Monitoring for Competitors Patent Portfolio
Insights received from patent monitoring of Competitors' portfolio are –
Pre Grant
Status of patent applications
Post grant
Alert for opposition filing
Invalidation of patents
Infringement checks
Forecast or "alerts" over new filings by competitors helps in anticipating their move in new applications, technology, or jurisdictions
To understand the competitor's patent strategies
Risk Mitigations by Competitor's patent monitoring: –
Post grant
Opposing potentially threatening patents/patent applications
Patents can be set for invalidation before opposition filings
Staying updated with competitor's recent filing/ activities
Case Study:
A Europe-based client was interested in delaying the competition by an upcoming competitor's technology.

3. Prosecution Monitoring for Mergers/ Acquisitions/ Collaborations
Patent monitoring can be performed for all potential candidates before going for Merger/ Acquisition/ Collaboration.
Insights that can be drawn are as follows:
Evaluation of legal status of patent portfolios of potential candidates
Better comparison based on expired and enforced patents of their portfolio
Candidates can be chosen better based on their active patents
Hence, following risks can be mitigated:
Avoiding choosing a candidate having more expired patents than active
Avoiding missing out a better available option
Executing licensing opportunities
Case Study:
The client was interested in evaluating the potential candidates during their collaboration with another company.

4. Prosecution Monitoring for tracking expiry of Technology of interest
Important part of legal status monitoring.
Includes identifying abandoned and expired Patents to strategize their use in future.
Enables to pinpoint inventions that are soon to be available in the public domain and are safe to use.
Useful for clients who want to search for any abandoned/rejected/expired patents in any particular technology domain so that they are free to use that technology without any legal risks to decrease R&D project risks as it is cost intensive.
Mainly useful in pharmaceutical domain.
Hence, patent monitoring would provide following insights:
To know when the technology would be available in the market for free.
To track the right time for acquiring the technology.
To avoid infringement risks
Consequently, patent monitoring would help in following Risk Mitigations
To start developing own R&D based on the existing expired technology at the right time.
Avoiding infringements.
Drug Patent Watch:
Expiry status monitoring for a technology is mainly useful in Pharma domain to estimate when a drug will lose its market exclusivity rights.
Let us take an exemplary case; wherein Generic company 'G' is waiting for a drug 'D' to get expired.
Then, the generics company can monitor patents for a drug and prepare their market strategy based on tracking the patents to check if they are expired/abandoned and thus the technology is in the public domain and safe to use.
Significant R&D resources may be saved by the generic companies. Further, this information supports the critical business functions of the generic as well as of branded pharmaceutical companies, wholesalers, and healthcare payers.
In pharmaceuticals, patent expiry brings down the drug prices at a far lower cost than would be possible otherwise.
Methodology of Drug Expiry watch:

Overview of Patent Prosecution watch: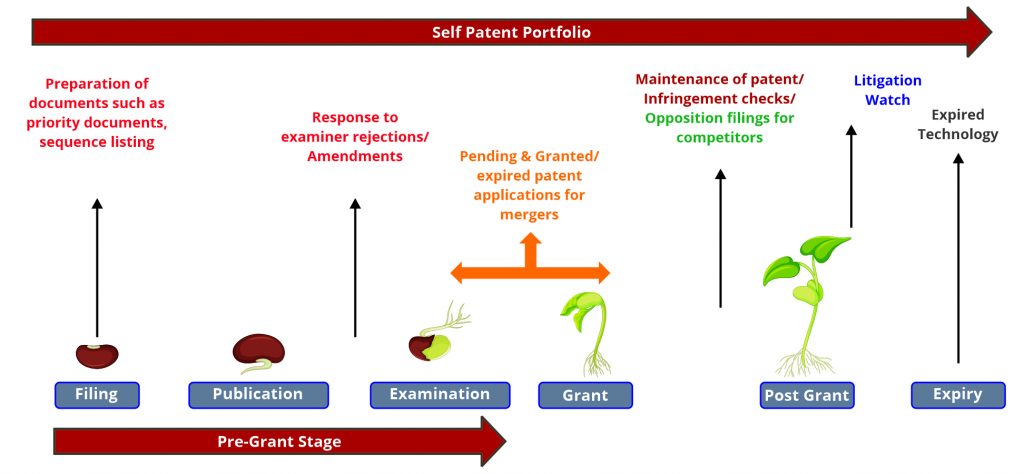 How Prosecution Monitoring helps during Commercialization of a product:
All type of prosecution monitoring plays an important role for commercialization.
Delaying competition by engaging in prosecution, when required
Avoiding infringing of patents
Effective Mergers/ acquisitions
Aligning sectors and active players, which may contribute to the business in future
First mover advantage
Litigation Patent Watch:
Introduction to Patent Litigation
Describes legal action relating to the infringement of patents.
Filed in district courts, appellate boards, federal courts, or high courts.
The government of different jurisdictions can only grant a patent, but it is up to the patent holder to enforce the patent.
Enforcement often starts with a communication to the possible infringer notifying them of the patent and possibly offering to negotiate a license. If negotiations are not successful, the patent holder must bring an action for infringement.
Accused infringers also have the option of requesting that the PTO reexamine the patent.
However, patent litigation is time-consuming; distracting to the core business; harmful to public image; and unpredictable.
Litigation Watch: It is the Monitoring of Litigation cases, filings, outcomes etc.
When it is done:
– When one party puts infringing claims on another party
– When a company is going to buy a company or to know about its competitors
How it is done:
Based on Defendant name, Opponent name, Patent number
Who is interested:
Investors, Stakeholders, Collaborators, Competitors
Why it is done:
– Legal capabilities are crucial for ongoing corporate success
– Important to deploy sophisticated legal strategies to capture the profits of innovation
Case Study

Conclusion:
Monitoring legal status either for own patents or that for others is important to stay informed, pre-prepared and to take further actions.The monitoring of different Stages of Patent Prosecution & Litigation is an inherent step to take into consideration while going for any patent related activity. Sagacious IP's hyper-targeted patent monitoring service keeps a watch on your competitor's IP, monitors a specific domain and also monitors your own portfolio of patents. Click here to know more about patent monitoring service.
-Pooja Chikkara (Life Sciences) and the Editorial Team