Exoskeleton – Augmenting Human Capabilities: Key Patents and Industry Players
Since the dawn of civilisation, human endeavours have been directed towards improving our capabilities. Amongst them, possessing superhuman strength and running faster are probably the major ones. Exoskeleton is a technological area that possesses the capability to augment human abilities.
As such, the earliest reference of exoskeleton can be seen in patent US420179 that was published in 1890's. During that era, Army had been a major investor in developing such technologies for improving soldier strength. One such project was started by General Electric and United States armed forces, which co-developed and tested an exoskeleton prototype named HARDIMAN. The exoskeleton could not find application in real life scenarios as the suit was heavy, thereby restricting movements and had limited power supply. Decades after, with umpteen technological advances, it is now possible to make these suits lighter, reduce their energy consumption as well as closely imitate the movement of human gait.
Relevance in Varied Fields
Apart from augmenting human capabilities, these suits have found a suitable application in medical field – assist disabled people in walking and rehabilitating stroke and spinal cord injury patients. Medical industry is currently the major investor and application area for this technology.
Exoskeletons have also found application in various other fields as well, such as construction, manufacturing, logistics, search & rescue, etc. They majorly aim to reduce effort, fatigue and prevent injuries. China, Korea, USA & Japan are the major innovation hubs for this technology, with China and USA being the major market. Few of the key players working in this domain are:
Honda Motor Company
Panasonic
Ekso Bionics
Cyberdyne Inc.
ReWalk Robotics
Rex Bionics
Hyundai Motor Company
Wandercraft
Parker Hannifin
Beijing Ai-Robotics Technology
As Exoskeleton technology finds application in varied fields, its market is expected to grow at an unprecedented rate. Healthcare is a major market for this technology, with an increasing number of geriatric population and awareness amongst patients, who are the key driving factors of this technology.
With many key industry players such as Ford currently using EksoVest (developed by Ekso Bionics) in its assembly line; other players are soon to follow this path. This technology provides benefits of increased productivity, reduced fatigue and injuries in case of construction and industrial applications.
Exoskeletons have found other application in sports as well, such as the "Ski~Mojo", that was developed specifically for reducing leg pain and fatigue caused due to skiing.
Key patents with most forward citations:
We have shared two of the most prominent patents below that were not just able to obtain the patent rights that are still in force but also managed to kindle a lot of forward cited patents. Patent "US7918808B2" contains 195 forward patent citations; whereas "US7153242B2" has 136 forward patent citations.
Patent Reference 1: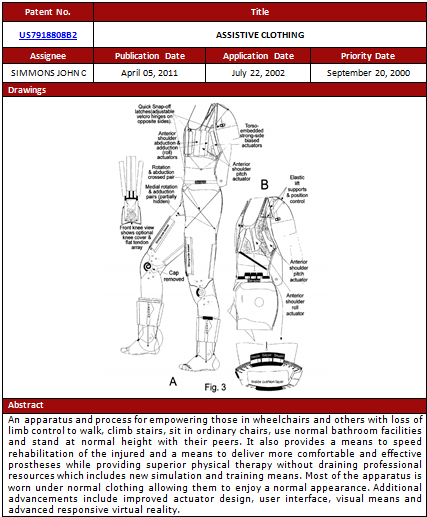 Patent Reference 2: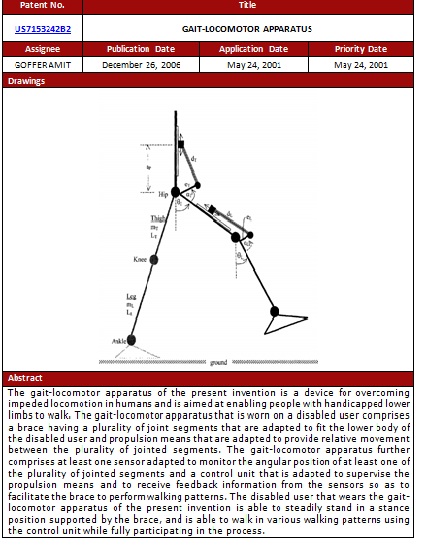 Technology Constraints
Even though technology is moving at a fast pace, there are a few constraints in commercialization of this technology. Cost being the major one. As of now, lower extremity exoskeleton ranges from $70k – $120k, which is just for the cost of the device and does not include maintenance, spare parts, training and cost of supervision. Similarly, customization of the suit as per the patient or wearer requirement, large weight of exoskeleton and constrained movements are few other factors limiting the application of this technology.
To overcome the above-mentioned constraints, few companies have developed soft exo-suits. These exo-suits are powered by muscle actuators, compressed air or flexion/extension mechanism.
The Road Ahead
Various references of exoskeleton can be found in Sci-Fi movies, such as the Iron Man. Although we are not close enough to create suits that can fly, or can provide superhuman strength/speed or can be powered by a palm sized nuclear reactor; we are definitely taking a step in the right direction. With advances in material, battery and actuator technologies, these suits are bound to improve and may find application in many other fields as well. It will definitely be worth seeing the increased use of 3D printing technologies for creating customized suits as per wearer's requirements and what other benefits 3D printing may provide in development of this technology.
-Yogesh Soam (Engineering) and the Editorial Team