How Our Patent Infringer/Licensee Identification Service Helped a Swedish Multinational Optimize its Patent Strategy
The pace of change in technology appears overwhelming in a modern economy. This is because even a minor mistake can lead to a huge loss (financial, personnel, goodwill, brand equity, etc.). Before planning to launch a new product, companies are advised to conduct a thorough analysis of the underlying technology for any patent infringement. When we consider the dynamic contours of the current market, one thing is certain – expertise from an IP specialist company can prove to be a step in the right direction.
The following case study discusses how Sagacious IP helped a Swedish multinational monetize its patent portfolio against companies in the consumer electronics domain (including smartphones, smart TVs, smartwatches, true wireless earphones (TWS), smart speakers, etc.), automotive, and gaming consoles domain.
The Challenge
The company (a Swedish multinational) was facing an overall concern with optimizing its patent strategy. Some of the challenges are listed below:
Identifying the core and non-core patent infringement for target products in diverse domains.
Meticulous patent infringement analysis.
Eliminating irrelevant patents while going through a sea of patents.
Categorizing the patent portfolio for better analysis.
Formulating a long-term robust strategy for patent management.
Sagacious IP Solution
We agreed to offer a cost-effective solution by providing varied licensing services to the client (shown in the below figure).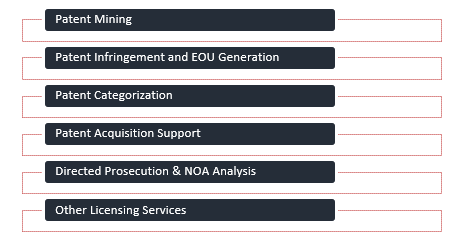 Patent Mining: Under patent mining, we reviewed services from the target companies/subsidiaries, based on which keywords and class codes were identified relevant to identified features.

Robust search strategies were then formulated using keywords and class codes to mine client's patents. We performed a quick relevance check based on title/abstract to prune any junk.

We then ranked the set of patents based on value indicators such as forward citation count, first independent claim length, claim count, family size, and patent's pending life. This was done such that most of the budgeted time/cost could be spent on quality patents that rank high based on value indicators.
Patent Infringement and Evidence of Use (EOU) Generation: Based on the patent ranking, we performed detailed infringement analysis (product search) for top patents to mark patents as High, Medium, and Low based on infringement potential and suggested to the client patents with promising infringement potential. The client was duly informed of the patent with high infringement potential. The team also generated quality claim charts for the promising assets.
Patent Categorization: In this service, we categorized the client's entire patent portfolio into multi-tier technology levels to organize the heap of existing patent portfolios
Patent Acquisition Support: We also performed infringement analysis/chart review of third-party patents to assist the client in acquiring monetizable patents.
Directed Prosecution and Notice of Allowance (NOA) Analysis: Our team of subject matter experts also performed direct prosecution for promising patent applications with pending claims or for patents wherein Notice of Allowance (NOA) had been recently issued, and suggested claim amendments for better alignment with the product of interest.
Other Licensing Services: The team also suggested other licensing services to the client. Besides patent monetization, the Swedish multinational also required assistance in a wide range of services, including Patent Mining, Patent Infringement, and EoU Generation, Patent Categorization, Patent Acquisition Support, Directed Prosecution & NOA analysis.
Result
The client was delighted with the meticulous approach to problem-solving. They were particularly impressed with the result of infringement analysis and claim chart work delivered on the project. Expressing admiration for the work, the client has promised similar projects soon.
Till now, Sagacious IP has mined the client's portfolio for varied projects and has delivered more than 70 high-quality claim charts (and ongoing) to the client. The client is overall happy with the deliverables. Our high-quality charts also helped the client gain an upper hand during licensing negotiations. It has delivered more than 12000+ hours of work till now and continues to deliver 600+ hours of work every month.
Sagacious IP has analyzed more than 50 (and ongoing) NOA applications. Basis the directed prosecution, the client has also filed continuation applications on the suggested claim amendments.
As the leading global IP research and consulting company, Sagacious IP has executed many infringer/licensee identification projects. We have accomplished the task with the help of over 300+ researchers who specialize in various domains. The objective of our services is to offer our clients the best solution to help overcome challenges. Click here to know more about this service.
– Amit Kumar (ICT Licensing) and the Editorial Team