How to Use Patent Monitoring to Track Competitors and Their Patent Filing
Businesses often work hard to foster unique inventions, innovative designs and processes to develop revenue-generating products and services. These intangible assets are usually protected by Intellectual Property Rights, such as patents. However, simply protecting Intellectual Property (IP) is not enough to remain competitive. Businesses with a robust IP strategy also need to regularly track and monitor their competitors' IP. This article discusses how organizations can use patent monitoring to track their competitors' patent filing and innovate better.
What is Patent Monitoring?
As the modern industrial environment is characterized by rapid pace of innovation, it wouldn't be an exaggeration to say that new technologies are seeking recognition in the market at an unprecedented rate.
Under such a scenario, patent monitoring allows businesses to keep an eye on their own as well competitor's patents to identify threats and opportunities at an early stage. It helps organizations to stay updated about innovations, existing patents, and patent filings of their competitors. Furthermore, it helps them to identify new entrants in the business area.
Importance of Patent Monitoring
Patent monitoring is an indispensable process that can involve high-cost investments related to gaining access to databases. While large firms can easily opt for the process, small to medium-sized enterprises need to carefully evaluate the need for patent monitoring to make their investments fruitful. In any circumstances, the importance of the process cannot be emphasized enough. Let's take a look at the rising level of patent filings in the USA from the past nine years of data. The graph below indicates how important patent monitoring is in the current scenario: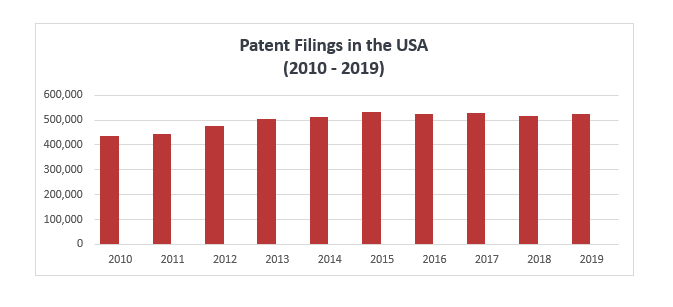 This graphical illustration shows us that in the last nine years, USA has seen an increase in patent filings from 433,000 to 521,000. This means that several companies are actively filing patents for their inventions. Due to this increased patent filing, there is a growing need for companies to monitor their competitor's patents.

Most importantly, patent monitoring needs to be launched as early as possible and due diligence should be shown during the process to continuously update competitors' information.
How Patent Monitoring Can Help Businesses Track Their Landscape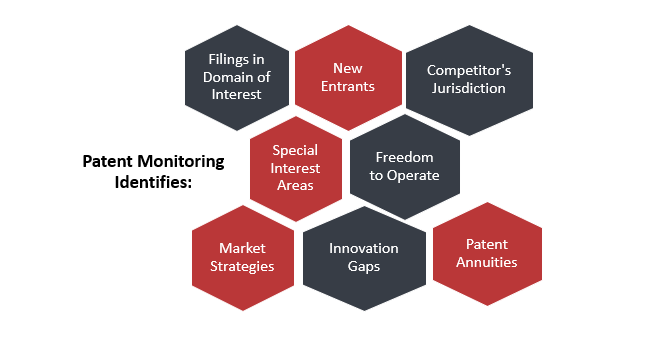 1. Observing Filings in the Domain of Interest: Global leaders in the IP sector have been using patent monitoring services and processes to gain information about their competitors' IP. Furthermore, it has helped them to acquire more knowledge about their respective technological domains of innovation. By tracking patent filings in their domain of interest, organizations can get a better idea of their business' patent landscape.
2. Keeping an Eye Out for New Entrants: The threat of new entrants in technological domains is ever increasing. For example, the forecasted growth of the blockchain development technology market is enough to predict the entry of new players into this domain in future. So, patent monitoring can help organizations to map out their technological domain and keep an eye out for new entrants who might become potential threats.
3. Understanding the Jurisdiction and Outreach of Competitors: An effective patent monitoring strategy transcends geographical barriers, enabling organizations to have a complete picture of their technological domain. Furthermore, patent monitoring effectively lists the jurisdiction in which competitors are filing patents. It helps them to aim for a similar, if not extended, patent protection coverage.
4. Identifying Special Interest Areas and White Spaces: Even if a particular technological domain sees extensive patent filing, there is always some scope of novel innovation or white spaces. These white spaces can be identified by continuously monitoring competitors' patents. Following this, intellectual property rights protection can be sought by covering these special areas of interest.
5. Gauging Freedom-to-Operate: Continuous patent monitoring also helps businesses to determine their freedom-to-operate in several different jurisdictions; to assess whether it is commercially safe for them to sell their product in a regionwithout infringing active patent claim(s) of any third party. Without such patent monitoring, an organization may unknowingly infringe on third-party patent(s) and this can lead to infringement litigation.
6. Predicting Market Strategies and Product Forecasts: With an in-depth understanding of their respective technology domains andpatent landscape, predicting upcoming market trends and product innovations becomes easier. By identifying gaps in existing inventions and products, patent monitoring can help organizations to forecast trends in market strategies.
7. Identify Areas forNew Investment: Upon identifying gaps in the innovation process of their competitors, organizations can strategically plan their investments into newly developing technologies. With a rigorous and well-updated patent monitoring system, the process of identifying these gaps becomessimple and streamlined.
8. Payment of Patent Annuities: Patent monitoring process not only helps in keeping track of new patents being filed by competitors but also the payment of patent annuities by them. For example, if a competitor decidesnot to renew protection for its particular patent (as it is no longer commercially viable), it is possible that the patentmay soon become obsolete.This information can be used by researchers who can then develop their innovations based on this update.
Final Thoughts
To conclude, it is apparent that regularly updating the information gathered viapatent monitoringcan help businesses to develop their own IP strategy, identify threats from competitors and foresee opportunities. Also, since patent monitoring is a continuous process, the costs associated with it must be analyzed using an appropriate budgeting technique. This will help the organization to understand the trade-offs between indulging in patent monitoring and cost-saving.
Sagacious IP offers various hyper-targeted patent monitoring services, including monitoring of competitor's IP and keeping a watch on specific technical domains. Our team of highly qualified patent practitioners is committed to offering the most reliable and cost-effective patent monitoring solutions to businesses.
-Rakesh Kumar (ICT Searching) and the Editorial Team

Having Queries? Contact Us Now!