Market & IP Analysis of Eco-Friendly Paints – A Step Closer To A Non-Toxic Home
Have you ever experienced a distinct odour when entering a freshly painted room? That characteristic smell is most likely the result of toxic paint fumes that linger on for days and at times, even weeks or years. A majority of conventional paints contain toxic fumes such as Volatile Organic Compounds (VOCs) ­­­- exposure to which pose health and environmental risks, especially when used indoors. This is particularly alarming since studies have found that indoor VOC levels are routinely ten times higher than outdoor levels and are up to a thousand times higher right after painting. These harmful VOCs get dispersed into the air at high levels after the paint dries and may have both short and long-term adverse health effects.
Although VOC levels are the most extreme during and after painting, they continue to get released from painted walls for several years. In fact, only half of the initial VOCs may be released in the first year. This prolonged release of toxic contaminants has led to the emergence of eco-friendly paints that are made up of natural materials.
Natural paints or eco-friendly paints are specifically designed to have zero or lower levels of VOCs. As a result, such paints improve the interior air quality, are beneficial to the environment, and eliminate the discomfort caused by the harmful chemicals present in traditional chemical paints. This article discusses the need for eco-friendly paints, its types, benefits, market penetration, challenges, and IP analysis.
The Severe Impact of Conventional Paints on Human Health & Environment
1. Effect on Human Health
Traditional chemical-based paints contribute to volatile pollutants and reduce indoor air quality. Moreover, as per the Environmental Protection Agency, VOCs may have adverse effects on health which may be caused by short-term and longer-term exposure to VOCs. Unless and until people use products containing safe ingredients, they can expose themselves and their loved ones to very high pollutant levels, and elevated concentrations can persist in the air long after whitewashing is completed.
These chemicals can cause various adverse effects on people (Shown in Figure 1), depending on the exposure time.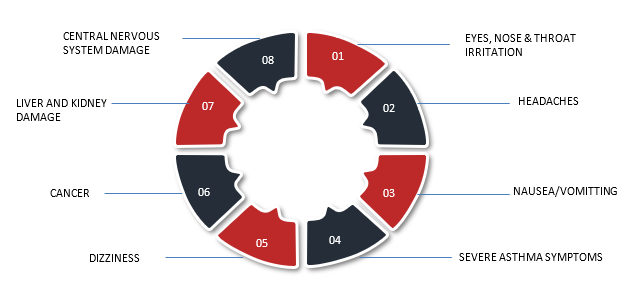 2. Effect on Environment
Apart from the adverse impact on human health, traditional paints are also harmful to the environment. Consider this fact, conventional paints are a product of the non-sustainable petrochemical industry, and their production can generate a massive quantity of toxic waste. The toxic waste may contain metals such as lead, chromium, silver, cadmium, mercury, barium, arsenic and selenium. These metals cause severe ecological degradation, including a lasting impact on aquatic life, underground water, and soil.
Therefore, the health and environmental safety concerns while selecting high VOC paints are critical. An eco-friendly paint or natural paint helps in eliminating such risk.
Once you realize the need for eco-friendly paints, it is natural to understand the types of eco-friendly paints available in the market.
Are All Eco-Friendly Paints the Same?
To be eco-friendly, a paint must not contain chemicals such as formaldehyde, phthalates, isoaliphates, 1, 3 butadiene, bisphenol A, toluene and toluene compounds, crystalline quartz silica, alkyl phenolic compounds, heavy metals or biocides, etc. Eco-friendly paints do not contain toxic chemicals, and in case it does contain any VOC, it is in the lowest possible amount that does not pose severe health or environmental impact.
Eco-friendly paints can be classified into three types, as shown in Figure 2 below.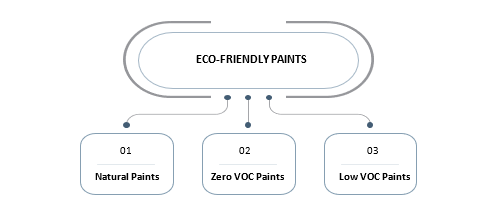 1. Natural Paints: These paints are made of natural compounds such as tree resins, water, plant oil, milk casein, natural latex, bees wax, plant, earth, mineral dyes, essential oils, and natural minerals. They do not contain any VOCs. Water-based paints are odour-free, while oil-based paints have a smell.
2. Zero VOC Paints: The level of VOCs in these paints is relatively low so that they can be termed as 'zero-VOC paints.' Such paints contain a minimal VOC percentage, i.e., less than five g/litre of VOC.
3. Low VOC Paints: These paints contain five g/litre to 50 g/litre of VOC. In addition, they use water as a solvent.
The positives of using eco-friendly paints are enormous irrespective of their type. The following section will discuss the advantages of using eco-friendly paints.
Benefits of Eco-Friendly Paints
Since eco-friendly paints are low in VOCs, they're much safer to use in homes, hospitals, or schools. Additionally, there are set specific standards, such as the one mentioned here, that paints must meet to qualify as 'eco-friendly'.
With advanced manufacturing techniques, eco-friendly paints are durable and greener than the conventional options. These paints are designed in a large selection of hues to supplement any style while offering better performance, improving the overall atmosphere of your household, and safeguarding the environment.
Eco-friendly paint also offers a variety of other benefits, as shown in Figure 3 below:
1. Low VOC Content: As discussed initially, VOCs are present in most commercial chemical paints. These VOCs not only leave behind a characteristic odour and floating pollutants that affect indoor atmosphere, but are also non-biodegradable and non-recyclable. On the other hand, eco-friendly paints have no or low VOCs, producing much less waste and damage.
2. Cost-Effective Options: Superficially, environment-friendly paints may seem more expensive than traditional paints. However, along with their eco-friendly benefit, these paints may also feature superior quality than chemical-based products, justifying the associated cost. Besides, they have better color retention, improved coverage, viscosity, abrasion resistance, paint coverage, and rare chances of yellowing.
3. Natural Raw Materials: Eco-friendly paints are manufactured only from natural ingredients such as lemon peel extract, seed oil, bees wax, milk protein, etc. These natural raw materials do not produce harmful emissions and adverse effects on the environment during manufacturing and upon product application.
4. Minimal Environmental Impact: Eco-friendly paints help reduce carbon footprint and are biodegradable since they utilize water or alternative environment-friendly materials as a base. The use of water or other eco-friendly material as a solvent cuts the risk of harmful VOCs emission that is generated from the conventional paints containing harmful chemicals such as: Bisphenol A (BPA), N-methyl pyrrolidone (NMP) solvent, Isothiazolinone preservatives, and Nonyl phenol-based surfactants.
5. Healthier Alternative: The VOCs found in chemical paints are active up to five years after the initial application. Hence, individuals continuously exposed to VOCs are at a higher risk of developing respiratory illness, sensitivity, and lung cancer. On the other hand, eco-friendly paints manufactured from natural and environment-friendly ingredients are entirely safe for humans and the environment.
6. Superior Coverage: Besides reducing the impact of harmful emissions on the environment, eco-friendly paints are also qualitatively better than their chemical counterparts. Eco-friendly paints will give your walls superior coverage, improved colour retention capacity, viscosity, offer wide range of colors, minimal abrasion, and avoid issues such as yellowing of paint.
7. Reduced wastage: While analyzing the reduced waste production, eco-friendly paints are far better than conventional chemical-based paints. Chemical paints emit toxic VOCs when manufactured and even years after their application. But, natural ones are without any such by-products.
Despite its many benefits, consumers are still lagging in making the transition towards eco-friendly paints. A common misconception among consumers is that they will be compromising on quality and finishing upon switching to eco-friendly paints. However, in reality, the fact remains that eco-friendly paints offer a wide range of color palette, are durable, and are long lasting. So, consumers do not have to strike a balance with the elegance while choosing eco-friendly paints. Although eco-friendly paints are relatively costlier than conventional paints, the range of benefits offered is worth every penny spent.
So, is there a trade-off between eco-friendliness and aesthetics?
The benefits that low VOC paint offers makes it attractive for the buyers, provided they know how to identify a low-VOC or a no-VOC paint.
How to Spot a Low-VOC or No-VOC Paint?
There are three ways to spot a low-VOC or no-VOC paint, as shown in Figure 4 below: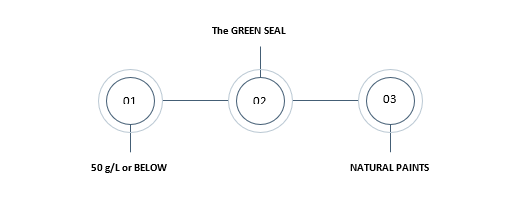 1. 50 g/L or Below: VOC levels are generally expressed in grams per litre (g/l) or pounds per gallon (lbs/gal). Most low VOC paints sold by reputed brands contain levels of 50 g/L or below. However, the numbers mentioned on the paint container are the measurements that are taken before pigment or any additives are added.
2. The Green Seal: Paints containing the green seal are guaranteed to fulfil high environmental standards and performance requirements. Paints with a green seal also confirm that they meet the requisite compliance and are free from a wide range of toxic chemicals including, reproductive toxins, carcinogens, heavy metals, hazardous air pollutants, and formaldehyde-donors.
3. Natural Paints: These paints use naturally occurring materials, such as, lime, clay, linseed oil, and chalk. Natural paints do not utilize any synthetic oil products. As a result, they naturally contain low VOCs with regulation by the Environmental Protection Agency (EPA) for air quality. Buyers should always check the composition on the label since some natural paints may contain unchecked VOCs.
Having stated how to pick out low-VOC or no-VOC paint, let us now discuss the present and future market penetration of low VOC paint.
Market Analysis
The low VOC paint market is anticipated to grow at a CAGR of 6.92% during 2020-25 and reach around $12.8 billion by 2025.
Asia-Pacific dominated the low VOC paint market in the last few years with a share of more than 47.2%, followed by North America and Europe. India, China, Japan, and Korea are some of the key markets in the Asia-Pacific region.
It is expected that the supply of affordable housing in India will increase by about 70% by 2024. In addition, the growing demand for infrastructural projects provide continuous impetus to the construction and building industry in APAC, propelling the demand for low VOC paints in the architectural industry. Besides India, China is also one of the attractive markets for low VOC paints. One of the many reasons for that is the legislation by Chinese government that mandates the stoppage of emission of VOCs from manufacturing plants in recent years.
Challenges to Low VOC Paints Market
High Cost: Low VOC paints are costlier than conventional paints because of advanced solvents. Major manufacturers have struggled with three roadblocks, i.e., enhanced usability, stable pricing, and green chemistry in low VOC layers.
Consumer Product Awareness: Despite a sustained marketing campaign by the companies, awareness about the product is still not as desired. Many retailers, contractors, representatives from environmental agencies lack the necessary knowledge about eco-friendly paints. That is why awareness remains one of the critical challenges for marketers to address.
Longer drying time: Some low-VOC paints use solvents with a longer drying time and are harder to apply. The longer drying time is because of the use of solvents that are not so volatile. Therefore, the drying time can take up to 12-16 hours in many cases.
Popular Eco-Friendly Paints in the Market
Some of the leading companies in the world who are manufacturing eco-friendly products are – AkzoNobel NV, American Formulating & Manufacturing, Asian Paints Ltd, Auro Pflanzenchemie AG, Axalta Coating Systems LLC, BASF SE, Benjamin Moore & Co., Berger Paints India Limited, Bioshield Paint – Eco Design Co., etc.
AkzoNobel NV is the premier global paints and performance coating company, supplying essential protection, essential ingredients, and colors to consumers and industries worldwide. The company's operation is divided into two segments: Decorative Paints and Performance Coatings. In addition, it's brand – Dulux Trade offers low VOCs coatings. Along with Dulux, other famous brands are also discussed below:
Asian Paints: Its eco-friendly paint Nilaya claims to be environment safe and formulated with around 95% natural ingredients such as soya bean extract, casein, calcium carbonate, castor seeds, and neem oil with the benefits such as breathability, clean and fresh smell, perfect finishing, and ten long years of performance warranty.
Berger: The Silk Breath Easy from Berger is a luxury interior paint formulated with acrylic emulsions and pigments having low VOC and formaldehyde reducing abilities.
Dulux: The Ultra Zero VOC by Dulux line is an interior latex paint used for painting interior surfaces such as a dry wall, concrete, wood, and plasters. It delivers a great finish with ease of application and excellent touch-up.
Nerolac: Their impressions eco clean product is a water-based emulsion with a low VOC content of less than 5g/L and almost no odour. Its key benefits include its anti-bacterial properties with a smooth finish, stain resistance, and excellent washability.
Key Takeaways
The initiative by World Health Organization in cooperation with United Nations Environment Program to eliminate lead paint will fuel the growth of low VOC paint across the globe.
The industry's growth for low VOC paint will also be driven by factors such as ease of use, technological advancement, product development, and higher consumer spending.
Robust growth in manufacturing, house equipment, and architecture applications is also expected to drive the market demand for low VOC paint.
The automotive industry is on the cusp of a significant transformation with an upward production rate in the future. The growth will also create a favourable environment for an upsurge of the low VOC paint industry.
This section discussed the market analysis for low VOC paints and how it is anticipated to grow forward. Now let us discuss the foremost innovators in the next section.
IP Analysis and Innovation in Eco-Friendly Paints
To protect the time, money, and effort that has been spent on the research to develop more eco-friendly paints, the innovators tend to defend their innovation as a patent. The filing trends, applications, and jurisdiction of the patent can give a better understanding of the development and future predictions of the technology. The same can help make critical business decisions.
Figure 5 below represents the top companies, filing trends of the technology, and jurisdictions with most patent filings.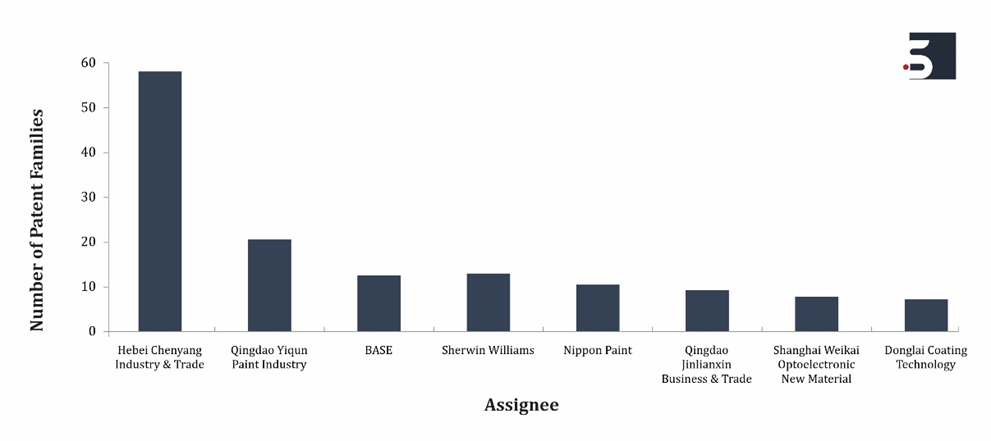 A country of first filing is considered a research country for a patent family, representing the origin of research of the invention covered in a particular country. Figure 6 below depicts the research countries. Most of the study is seen in China, followed by South Korea & USA.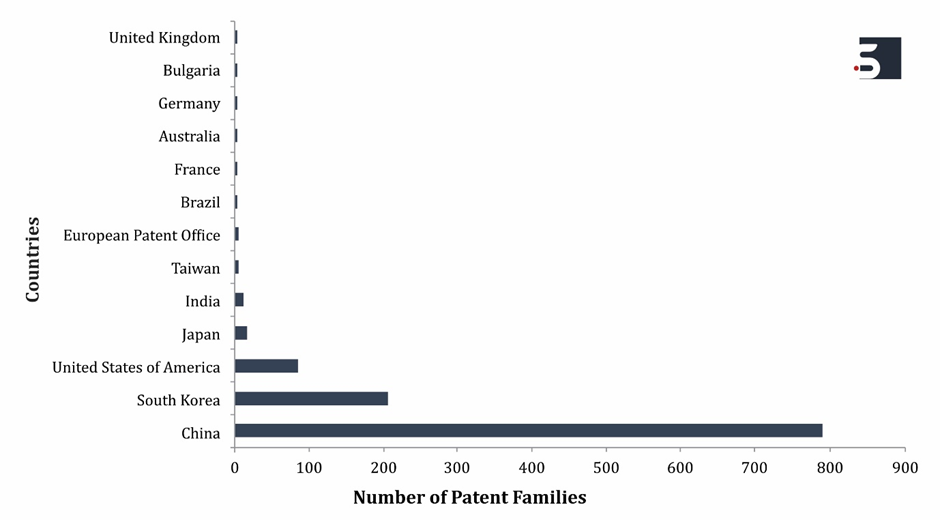 Figure 7 below represents countries in which the patent technology is expected to be utilized or identifies the potential markets for the technology. Most of the filing is seen in China, followed by South Korea & USA. We can observe that Asia is the biggest potential market for eco-friendly paints followed by the US and Europe.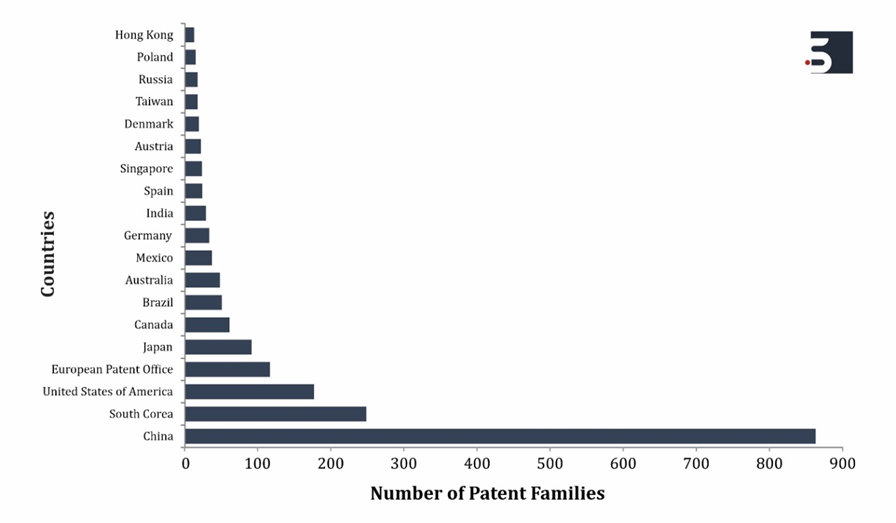 Patent data suggests that the Asia Pacific region would emerge as a big market for eco-friendly paints. There is a lot of research and patenting activity to find new compositions or preparation methods for water or oil-based paint. Besides, new natural components are continuously being discovered, which could be a potential component in the eco-friendly paint composition. Following are a few patents that focus on different types of eco-friendly paints, primarily based on natural ingredients or the concentration of VOC in the paints.
Different Patents Filed for Eco-friendly Paints*
The patent application KR'189A discloses a method of preparing eco-friendly natural paint using halloysite nanotubes and inorganic additives such as zeolite, diatomite earth, bentonite limestone, nano clay, etc. The paint manufactured from halloysite offers air cleaning functionality and high-quality performance.
The patent KR'574B1 discloses an eco-friendly paint made from natural raw materials comprising natural resin, oil, inorganic components such as titanium dioxide, china clay, calcium carbonate, and aluminum silicate; distilled water; and a few additives. The paint composition is harmless to the human body and has a high eco-friendly characteristic in addition to excellent concealment, washability, and salt resistance.
The patent IN'188 B discloses the process of preparing natural paint composition comprising clay and distilled water. The benefit of the composition is to minimize environmental pollution and dependency on chemical paint.
The patent CN'034 B discloses a bi-component diatom ooze water-based paint with zero VOC emission. Component A comprises potassium persulfate, diatom ooze powder, rutile titanium dioxide, ceramic powder, water, and additives. However, component B comprises a cross-linkable monomer, anti-bacterial monomer, catalyst, water-based stearate, and water. The crosslinking monomer is at least one of N-hydroxyethyl acrylamide, N-hydroxypropyl acrylamide, N- (2-hydroxypropyl) methacrylamide and N- (1, 1-dimethyl-3-oxobutyl) acrylamide. The diatom ooze water-based paint has excellent anti-bacterial and air purification effects and broad application prospects.
IN'8557 by Asian paints discloses a water-basedcomposition comprising slaked lime and calcium caseinate. The paint composition includes 95% natural components and is characterized by a 3 gm/lit VOC per ASTM D 6886-18. In addition, the paint composition exhibits longer shelf life, low VOC, high breathability, and anti-bacterial activity.
The patent application CN'045A discloses a super environment-friendly zero VOC emulsion paint prepared from sodium polyacrylate "5040", hydroxyethyl cellulose "250HBR", mineral oil modified silicone BYK-003, titanium white powder, water about 5-20% and additives. The paint has the advantages of high stiffness and adhesion, resistance to dirt, and zero VOC.
The patent US'002B2 discloses tertiary amino alcohols as low VOC additives for the paints. The paint comprises a neutralizing agent, tertiary amino alcohol, a binder, water, a pigment, and tertiary amino alcohol. The neutralizing agent of the invention can have a VOC contribution below 20% compared to the conventional neutralizing agents.
*(data derived from Questel Orbit)
The Way Forward
We can conclude from the above-discussed points that low or no VOC paints has gained acceptance in the present day compared to conventional paints. Besides the higher cost factor of zero or low VOC paints, it still offers advantages that cannot be overlooked, such as, minimal hazardous effects on human health and reduced environmental damage. Water-based paints and natural latex development have significantly contributed to this field. The next step would be to lower the manufacturing cost of such low or zero VOC paints so that even an ordinary consumer can afford them and avoid the health risks associated with conventional paints. The message to customers must be to take your time and consider whether they have chosen the correct paint that checks health and environmental boxes. In addition, they must verify any marketing claims associated with the product contents for accuracy, especially regarding the impact on the environment and health.
Conceiving and developing an idea into innovation is just the beginning of the long road ahead. It is also vital to patent the innovation for safeguarding the larger interest. Although it is possible to file the patent on your own, it is recommended to hire the services of a reliable third party considering the operational challenges encountered while filing for a patent. Click here to know more.
Kamlesh Kashniyal, Pooja Chhikara (Life Sciences & Chemistry) and the Editorial Team
Having Queries? Contact Us Now!