Patentability Search Report Evaluation- 3 Most Important Things to Consider
Patentability search is one of the most important steps for innovators who intend to secure rights to their invention. It helps them to ensure that their innovation is indeed unique amid the increasing pace of patent filing. For instance, the European Patent Office (EPO) has registered a growth of 4% in patent applications from 2018 to 2019 even during the pandemic.
In such a scenario, patentability searches emerge as a favorable option for predicting the fate of patent applications at a patent office. At the same time, patentability search reports must be evaluated properly to determine efficacy of the process. The following article discusses the importance of evaluating these reports and key factors to keep in mind while assessing them.
The Need for Evaluating Patentability Search Reports
Also known as novelty and prior-art searches, patentability searches help in preparing the prosecution strategy to avoid continuous to-and-fro of processes during patent examination. Therefore, it is critical that one must thoroughly evaluate the patentability search reports not only to understand the type of prior-arts shared but also the standard operating procedures that were followed during the search. This is because even a small anomaly can create a huge conflict at the patent prosecution stage.
3 Key Factors to Keep in Mind While Evaluating Patentability Search Reports
Even though patentability reports are much more simplified and presented in an easy-to-understand format, innovators may still find it difficult to grasp the main information presented in them. Resultantly, it can be challenging for them to evaluate the search process. Therefore, to evaluate the patentability search process effectively, keep in mind the three points mentioned in the figure below.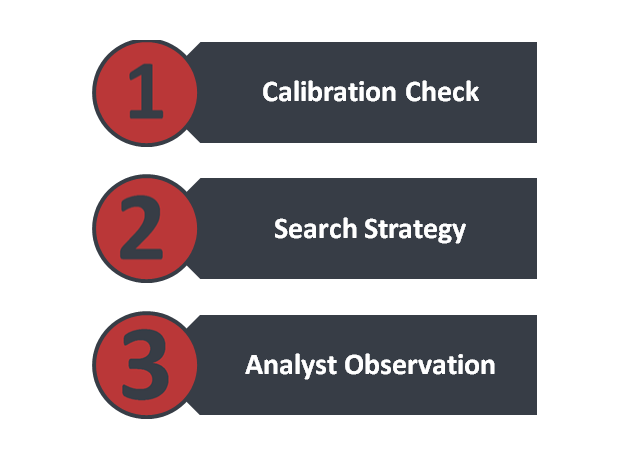 Figure: Factors to keep in mind during evaluation of patentability search report
Calibration Check
During patentability searches, it is important to ensure that the innovator and the patent analyst are on the same page regarding the 'understanding' section. This part usually includes various aspects of an invention along with vital and desirable key features. It helps in aligning the requirements and expectations of the patent analyst and the innovator. Even slight deviations in this section can direct the patent search in opposite direction leading to an unfavorable outcome. Therefore, it is important that while evaluating the patentability search report, one must thoroughly examine the 'understanding' section to calibrate the understanding of the invention.
Search Strategy
Effective patentability search requires a robust search strategy. A comprehensive methodology ensures that all relevant patent documents related to an invention are captured. However, devising such a strategy can often be a daunting task. Therefore, by going through the choice of keywords, classifications and search strings, one can evaluate the effectiveness of the search strategy and ultimately the efficiency of the patentability report.
Analyst Observation
Since exhaustive patentability searches are usually conducted by experts who have relevant experience in the technical domain, their comments are valuable with respect to patentability of the given invention. Therefore, a good patentability search report, powered by an effective search strategy, must contain the analyst's comments on all of the relevant search results irrespective of its type i.e., patent and non-patent.
Conclusion
Several factors come into play during patent filing to determine the strength and success of an application. An accurate and comprehensive patentability search report is one of these important factors. Ensuring the presence of the three pointers mentioned in this article while evaluating patentability search reports reduces patent filing time and helps in flagging conflicts quickly.
Sagacious IP's patentability search services cater to all these requirements to provide exhaustive search reports to businesses. Our easy-to-understand report format, defined SOPs, and advanced AI-based tools optimize the entire patentability search process and report generation. Click here to know more about this service.
-Rajat Gulati, Rohit Kumar (Engineering Searching) and the Editorial Team