Avoiding IP Disputes: 6 Steps to Ensure Infringement-Free Products
Intellectual property lawsuits can be debilitating for companies, especially the small and medium scale businesses. With increasing competition, the number of IP litigation has only increased. Since the process of product development is effort-intensive, it is wiser to ensure in the early stages that it remains infringement-free. Finding out later that the product infringes the IP of a third party leads to cost-intensive lawsuits. Read this article that lists 6 steps to ensure infringement-free products.
Importance of Ensuring Infringement-Free Products
Implementation of various smart strategies at the R&D stage or during the whole product development process can safeguard the product against infringement claims and lawsuits. For example, big corporations such as TVS Motor Company have suffered huge losses for infringing the IP of another company. Adequate measures to ensure infringement-free products could have saved the company's time and money significantly.
Therefore, businesses should adopt reasonable processes to keep their products infringement free. These strategies have to be comprehensive and should include the vital steps mentioned below: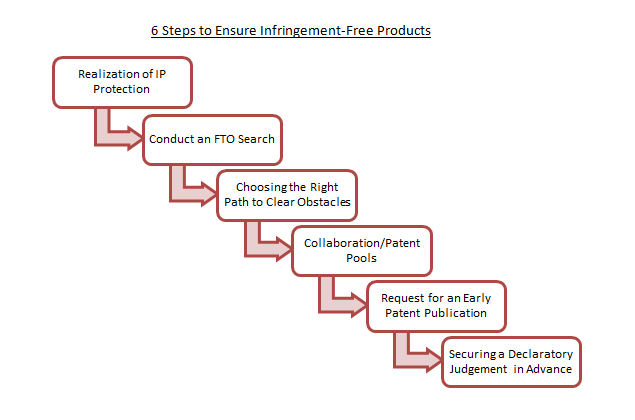 1. Realization of IP Protection
Realizing the importance of IP protection is the first step towards launching a product that's infringement-free. Missing out on this step entails a high risk of IP disputes in future. Such legal conflicts impede short-term as well as long-term business prospects of an organization.
The R&D department handling the product should always involve an IP professional who is aware of the industry developments. Such professionals include patent specialists, IP advisors and IP attorneys. It ensures adequate protection for IP. Therefore, the first step is to be aware of IPR and other IP-related developments in a particular industry, which will ensure a successful product launch.

2. Conducting a Freedom-to-Operate (FTO) Search
Logically, any business that is planning to launch a new product would want to protect itself from patent infringement lawsuits. Therefore, freedom to operate search, (also known as clearance search and infringement search), helps patent practitioners to minimize the risk of infringing existing IP rights or patent claims. The search guides the product development process and helps in identifying the need for product modification in early stages, right before the product launch.
Infringement search process involves searching patent literature to identify patents that have been issued or are pending. Thereafter, it is vital to obtain a legal opinion on whether a product, process, or service infringes any patent(s) owned by others. Furthermore, identifying patents with claims that could prevent one from manufacturing/selling a product or practicing a process in a specific jurisdiction can help one to make better decisions.
3. Choosing the Right Path to Clear Obstacles
In case the risk of infringement is identified during the FTO search, the next step includes deciding whether to invalidate the patent, purchase or license the technology or do a counter infringement analysis. While in some cases minor product adaptations might avert the risk of infringement, in other cases paying a small licensing fee to the patent owner can be enough to preclude patent disputes in future. To decide which method suits the requirements, a dedicated team is needed to analyze the pros and cons of each option.

4. Collaboration/Patent Pools
Collaboration pools are perhaps one of the most beneficial solutions opted by the business community, wherein, two or more companies practicing related technologies put their patents in a pool to establish a clearinghouse for patent rights. This step is usually done when multiple companies are working for the advancement of the same technology. The process has many advantages. For instance, two companies can work on their specific strengths to produce complex technology together. This will lead to lower costs and higher efficiency.
5. Request for an Early Patent Publication

If the FTO search reveals that the technology is not protected and/or is novel, it is a good idea to seek a patent for it as early as possible. Generally, a patent gets published within 18 months. However, the applicant is entitled to file a request to the controller for the early grant of a patent, specifying the reason mentioned above. If a compelling application is drafted, it is likely to be considered by authorities. Such an application could be filed under Section 11(A)(1) of the Indian Patent Act in India. Even if the request for an early grant is not accepted, filing a patent at the earliest is beneficial.
6. Securing a Declaratory Judgment in Advance
A declaratory judgement is a lawsuit filed to declare that the plaintiff is not infringing the patent. Let us understand how Indian pharmaceutical firm – Ranbaxy benefitted by filing it in advance. During its preliminary research, Ranbaxy found out about an element in its generic product, which, in their opinion, could have been a reason for patent infringement. It realized that it uses the same process to manufacture the drug 'cefuroxime axetil' as claimed by Apotex in US Patent No. 5,847,118.
Upon realizing the potential risk, Ranbaxy safeguarded itself by securing a declaratory judgment in advance from the United States Court of Appeal Federal Circuit, which declared that their product does not infringe anyone's IP. Therefore, the step proved to be crucial in ensuring the launch of an infringement-free product, which otherwise would have invited patent litigation.
Conclusion
The above-mentioned steps are important for a hassle-free product launch. If the product is not infringement-free, it can be detrimental to one's business prospects – claims and disputes require a considerable amount of money and effort. Therefore, instead of facing IP litigation in final stages, the wiser option is to identify product discrepancies early by following these steps.
Sagacious IP's freedom to operate search helps businesses assess potential patent infringement prior to their product launch. Similarly, our invalidity searches enable companies to quickly identify patent and non-patent documents that may impact the claim validity of a patent.
-Harsha Agarwal (Life Sciences) and the Editorial Team
Having Queries? Contact Us Now!