Patent Portfolio : How To Reinvent
Invention is neither a unique occurrence, nor is it the destination. Success with your invention in the marketplace is a journey. With that in mind, you really need to think about constructing a portfolio of patents rather than just having a single patent, at least if the invention you protect is commercially feasible.
Every year, NuCurrent Inc., a Chicago-based manufacturer of wireless charging devices, earns millions in patent licensing, from the likes of Apple and Motorola.
NuCurrent is not alone. Multiple firms generate millions – and sometimes even billions – of dollars simply in income from licensing.
Many businesses acknowledge that a well-crafted portfolio of patents can be used to achieve a multitude of company goals, such as strengthening market position, protecting research and development initiatives, generating income, and promoting favorable cross-licensing or settlement contracts.
Patent portfolios, packed with patents of high value, not only open a fresh income stream, but also help organisations emerge as market leaders. A patent acts a barrier against the entry of a competitor into valued innovations or key markets. However, a start-up must first create a patent portfolio strategy and allign with the business goals of the company in order to create an efficient patent portfolio.
Overview
Patents are not static rights; to maximize their importance to a business, they need periodic evaluation and maintenance. Keep a patent portfolio in line with your business goals.
You may think this is an apparent point. Patents safeguard an organization's key inventions, what difference would a portfolio of high-quality patents create? A high-quality patent portfolio safeguards the entire product line by patenting all the characteristics and any changes in the product, through powerful claims and divisional patenting.
Every firm with a strong business goal requires a patent portfolio management approach. A regular review and re-balancing of its contents will assist a business to retain a good portfolio once the portfolio is formed.
Sagacious employs a concept named F3 Analysis in order to maximize value from the complete patent portfolio. F3 analysis aims to deliver macro level insights, while ensuring to create value from each patent.
Also Read: F3 Analysis – A Targeted Approach for Patent Monetization
The patent portfolio analysis comprises the congregation of current patent elements, products and processes for the purpose of:
Evaluating your current portfolio of patents to determine which patents are valuable enough to maintain or renew.
Actions required regarding patents that are pending.
If there are any active patents that could be dropped, licensed or sold.
Maintain a competitive edge.
Identify cross-licensing opportunities.
Protect their clients against potential litigation.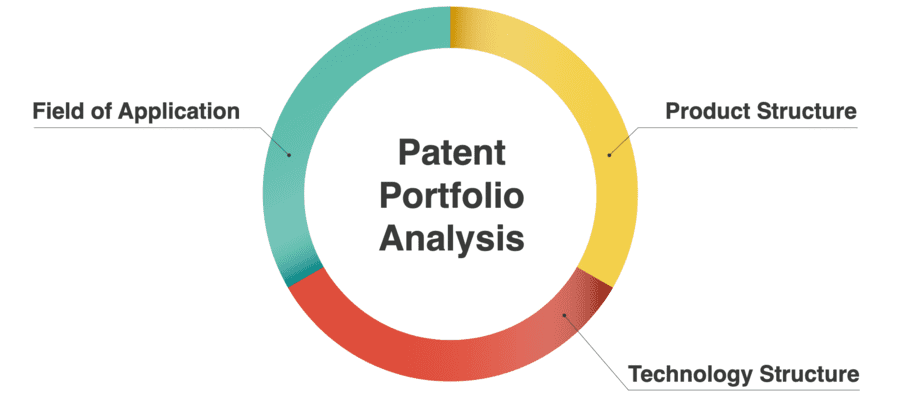 Patents are divided into three categories:
Fundamental Patents
Future Patents
Fringe Patents.
FUNDAMENTAL PATENTS
They are the core and salient patents for any business. Also, named as Product-Protecting Patents or Competition Covering Patents. They have the maximum potential to generate value using multiple strategies, such as licensing out, cross-licensing, litigation, etc. Other than revenue, patents can carry strategic benefits, such as a strong contribution to a company brand's reputation or position in the marketplace. If a company's competitors are making moves, a robust patent portfolio helps them maintain a competitive edge.
These patents broadly benefit companies in:
Easier identification of patents for licensing
Cross licensing negotiation
FUTURE PATENTS
They are beneficial and valuable in the long run. To ensure they generate optimum value, a company must keep a vigilant check on current market, while strategically prosecuting the open applications. Companies utilize these patents in:
Strategic prosecution by Draft Directed Claims
Periodic check to protect their IP and restrict competitors on day 1
Also Read: 7 Ways You Can Make Intellectual Property a Part of Your R&D Process
FRINGE PATENTS
They are the secondary/non-core patents, which have the least potential for value generation. Consider business segments outside of your strategic focus or possibly even low-value competitors in your own segment. They are in no use in any of the current products/services and represent pivoted technology at some point. Nonetheless, it is worthwhile to investigate to license a patent for use by another party, which can turn an underutilized or unnecessary patent into a new source of revenue. This route may make sense when it comes to older technology or an obsolete technology but may be of interest to someone else.
There are two major techniques to generate maximum possible value out of Fringe patents:
Pruning and saving maintenance/prosecution fee,
Licensing out relevant patents to start-ups, companies in a different domain. One may package these patents with other patent sets.
It is an ongoing process to develop a good patent portfolio. Once patent assets start to achieve a favorable trend, portfolio management becomes just as essential. The portfolio not only will stop generating income if incorrectly managed, it can drain the earnings of a company.
Also, a strong patent portfolio helps survive litigation is a significant element of a patent's life cycle in which the patent must stand the invalidity and novelty exams for the complainant to emerge as a winner.
You see, better safer than sorry!
A strong portfolio can enhance the return on investment in patenting and R&D initiatives by enhancing licensing possibilities as everyone who wants to work in technology has to obtain licenses over significant patents in a specific technology and designing a portfolio of high-quality patents often involves inculcating such star patents in one's portfolio.
Sagacious IP's Patent Licensing and Monetization service offers end-to-end solutions, from ranking your patent portfolio to identifying potential licenses, that enables you to transform your IP into a revenue generation unit.
– Arshjot Gill (ICT Licensing) and The Editorial Team
Having Queries? Contact Us Now!