Guide on Filing Patent Applications in India
Over the years, the Indian Patents Act has received several amendments that have been in line with Trade Related Aspects of Intellectual Property Rights (TRIPS). Subsequently, the Indian Patent Office has received modernisation in terms of a better IT infrastructure, automation, and electronic processing of patent applications. This has positively increased the functional efficiency and streamlined the procedures in tune with the international best practices. Significant changes have been made in terms of patenting procedures from time-to-time in accordance with the provisions of the amended Act and Rules. While also bringing in automation, electronic workflow, comprehensive e-filing, simplified and transparent procedures as well as an efficient public service delivery of IP services.
In view of the recent amendments in Patent Rules, revision of patent procedures and automation in almost all activities in the Indian Patent Office, Sagacious IP has developed a guide on filing patent applications in India, which will benefit the stakeholders and guide them in the right manner.
Given below is a visual from our guide showing the process of obtaining patent protection in India.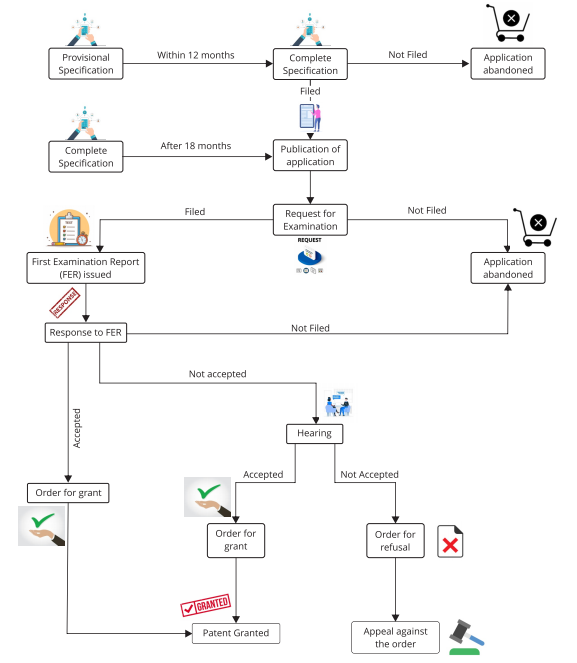 Sagacious IP's guide includes answers to common questions such as:
What is a Patent?
When and where should an application for a Patent be filed?
Who can apply for a Patent?
What is the criteria for obtaining a Patent in India?
What are the types of Patents that can be filed in India?
How to file Patent outside India?
What are the steps for filing a Patent in India?
What is the procedure for obtaining a Patent?
What is the provision and process of Expedited Examination in India?
What are the schemes available for MSME's and Start-ups?
*Besides answering the above questions, this guide also includes a Glossary for understanding the technical terms.
Download our guide to know more.
Submit your information below to download this exclusive guide:
Guide on Filing Patent Applications in India