How our Patent Portfolio Analysis Helped a Taiwanese MNC to Optimize its Resources & Increase Profit
Periodic evaluation of an organization's patent portfolio is indispensable for better utilization of its resources. It results in higher returns on investment and a reduction in operational cost, so that the success graph of the organization always shows an upward trajectory. Our latest case study showcases how Sagacious IP's patent portfolio management services contributed to an organization's better functioning and ensured its long-term success.
Our client is a multi-national giant headquartered in Taiwan with significant IP and market-share worldwide. The company designs and manufactures products pertaining to a wide range of semi-conductor technologies and has a sizable patent portfolio with lots of patent variety under its hood.
Opportunity Area
The client was in search of a patent management service provider who could streamline their patent portfolio as per the market needs for optimal financial utilization. It also involved reorganizing the portfolio based on competitors' products through market analysis.
Moreover, they wanted to do away with the underperforming assets in their patent inventory to reduce cost and improve resource mobilization.
Solution – A Detailed, Systematic, and Comprehensive Approach
Sagacious IP took the task with steadfast commitment to get the best possible solution for our client with a detailed, systematic, and comprehensive approach that involved four steps (see Figure 1 below).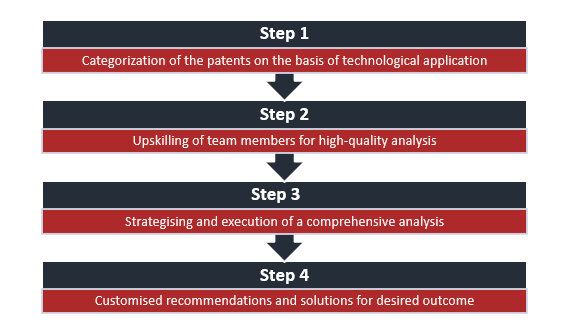 Step 1: We began with first reviewing the patents shared by the client. The action was to understand the technology covered by the patents and categorize them accordingly. It included categories such as image sensors, semiconductor packages, fin-field effect transistor(FinFET), metal-oxide-semiconductor field-effect transistor (MOSFET), Gate-All-Around FET(GAAFET), memory devices, lithography, Micro-electromechanical systems (MEMS), IC testing, semiconductor fabrication, solar cells, etc.
Step 2: Next, we focused on the upskilling of our team members in the related technological domain. The move readied their arsenal to conduct the requisite analysis with good quality and high efficiency. The upskilling also helped to better understand the coverage of the involved technology, through which we were capable of executing a thorough review of the IP under study.
Step 3: We devised a befitting strategy for a comprehensive analysis. It considered the current industrial uses of the patented technology and the availability of similar or alternate solutions offering the same advantage or solving the same problem as mentioned in the patent specifications.
Moreover, we also assessed the future possibilities of its usage based on the research trends in the domain. Furthermore, we reviewed public documentation such as blogs, datasheets, whitepapers, conference papers, research papers, etc., for a comprehensive analysis.
Step 4: Based on our comprehensive analysis, we provided our client with valuable insights and furnished vital recommendations:
We rated the patents to indicate how relevant the technology for industrial usage was. It helped the client rationalize and reform the patent portfolio and achieve the desired goal of higher revenue generation and cost reduction.
Furthermore, to make the portfolio robust, we identified elements for the claim chart. We also provided suggestions on patents requiring reverse engineering to ascertain all the key claim features.
Lastly, we singled out patents that can be discontinued or abandoned due to their low market relevance in the current times and the future.
Outcome – Enhanced Patent Portfolio for Licensing and Optimized Resource Mobilization
Through a committed and diligent approach, Sagacious IP helped the client identify its high-valued assets. As a result, it enhanced the client's patent portfolio for licensing deals and, thereby, opened up new avenues of opportunities and income.
Likewise, identifying assets with lower market relevance led to eliminating overvalued or non-performing patents resulting in better mobilization of resources, financial or otherwise.
As a result, Sagacious IP has become an indispensable partner for the client and continues to provide quality services for 1400+ patents for more than a year. It involves sharing the report every two months with two analysts and one project manager working on it at the monthly run-rate of around one hundred and ten patents per month.
Patent Portfolio Analysis at Sagacious IP
Sagacious IP is one of the leading IP service providers, and it offers world-class patent monitoring and management services for better market understanding. Its expertise in the IP industry results in apt solutions and recommendations required to take an organization to a whole new level of success. Visit our website to know more about our Patent monitoring services.
– Kushagra Magoon, Honey Mago (ICT Licensing) and the Editorial Team