Why Hire CAD Drafters for Preparing Invention Drawings
Computer-aided design (CAD) software facilitates the creation, modification, analysis, and optimization of designs. Their advent sparked a revolution in several areas, including engineering, manufacturing, and architecture. CAD tools have also made their way to the IP space, where they assist in preparing flawless invention drawings for patent applications. Now, while CAD drafters emerge as the ideal choice for creating patent drawings, many applicants still turn to regular illustrators. However, the submission of inaccurate technical drawings prepared using basic graphic designing software can easily lead to office action or even rejection of patent applications.
This article emphasizes why CAD drafters are a better choice than typical illustrators for preparing invention drawings.
Advantages of Working with a CAD Drafter
CAD is a technology that has long been extensively leveraged in the preparation of invention drawings for patent applications. There are many reasons for one to consider hiring a CAD drafter over an illustrator. The most significant of these are listed below:
Most CAD drafters have a technical background which helps them understand the technology better than regular illustrators. Moreover, CAD drafters typically have in-depth knowledge of engineering standards, which aids them in preparing relevant invention drawings. However, an illustrator is usually an artist with a non-engineering background who creates freehand drawings.
While CAD drafters can prepare artistic as well as technical drawings, illustrators can only prepare artistic drawings due to their limited technical background.
A CAD drafter can make 2D/3D drawings swiftly using advanced tools. Software used by illustrators is typically slower and unable to create high-quality 3D models.
CAD drafters understand the core principle of inventions and prepare accurate and technically sound invention drawings. On the other hand, illustrators – who mainly focus on freehand drawings or rough sketches – do not follow any standards in preparing drawings. All technical sketches are freehand drawings, but not all freehand drawings are technical sketches.
Patent applications often include invention drawings showcasing similar parts/structures of the innovation. CAD drafters can think logically to prepare synchronized illustrations for the patent draft. On the other hand, illustrators mainly focus on the appearance of the drawings.
A CAD drafter can leverage hand-drawn sketches with basic standards and dimensions to prepare suitable invention drawings in a timely fashion. Whereas illustrators can only make digital copies of these rough sketches, as they do not have a CAD background.
Here are two examples of hand-drawn inputs and final invention drawings prepared by a CAD drafter. One can see how different elements are clearly represented in the final drawings.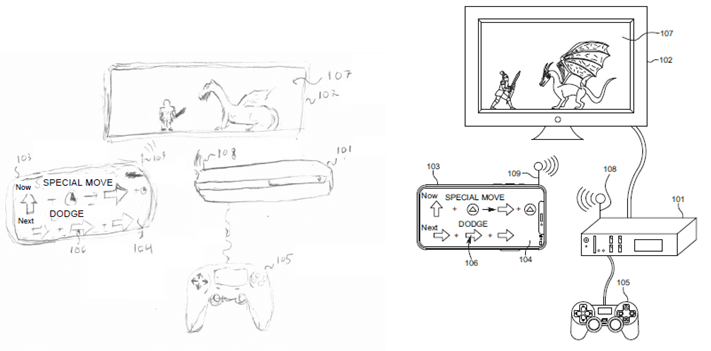 Conclusion
CAD tools have revolutionized invention drawings with their high efficiency and accuracy. As a result, CAD drafters can easily meet patent examiners' need for precise and detailed 2D and 3D invention drawings. This makes them a better choice than illustrators for the preparation of invention drawings.
Sagacious IP has a team of client-focused IP experts who use cutting-edge CAD tools to offer patent illustration services to clients. They can prepare utility and design patent drawings as per the guidelines of the concerned patent and trademark office. To know more about our experience and expertise, please visit our patent illustration service page. Sagacious IP also offers effective pricing for bulk search orders.
– Kunchala Mohan (Illustration) and the Editorial Team