Patent Intelligence for Identifying Technology Trends – Webinar
Key Points covered in this Webinar (3 Most Effective Ways to Spot Tech Trends Using Patent Intelligence) session:
Why it is important to identify future tech trends?​
Method and frameworks for identifying tech trends​
What data is critical for such an analysis?​
How patent information adds important intelligence for identifying tech trends?​
Interpretation of data to predict the key insights​
How can companies benefit from the intelligence drawn from the such trends in making strategic decisions?
Hosted By
Faiz Wahid​, Regional Head – Europe​, Sagacious IP
Dhananjay Das, Manager – ICT Licensing Sales, Sagacious IP
Submit Your Information to watch the Webinar Video:
More details about this webinar
Have you ever wondered how Nokia could have correctly predicted the future of Smartphones? OR How the LiDAR technology conceived in a defense system became crucial for automotive industries nowadays?
For every business, it is critical to predict future technology trends in order to remain competitive or ahead in their business. Also, with the advent of Industry 4.0, the integration of computer intelligence with diverse business verticals has significantly increased.
Webinar Transcript
3 Most Effective Ways to Spot Technology Trends Using Patent Intelligence
Faiz Wahid speaking: Quickly start by welcoming everyone. As I mentioned, my name is Faiz Wahid. I'm the Regional Head for Europe at Sagacious, signing in from Milan to welcome you all to our webinar today. The topic for the webinar is '3 Most Effective Ways to Spot Technology Trends Using Patent Intelligence'. Before I go on to introduce this topic and the esteemed speakers on our session today. I'm really delighted to share that we have participants signed up and are listening in to this webinar from 20 different countries.
These countries include US, Germany, UK, Spain and the list goes on. We have a participant even listening in from Egypt. So that's great. This is really a wonderful encouragement to the efforts and the attempt that we are making to raise awareness and spread knowledge that has been owned by Sagacious over several years of working with inventors, R&D organizations, IP departments, IP law practices.
We went through the questions logged in by participants during the webinar registration process. We saw that there was one question which really stood out and glaringly pointed towards the aim and objective of today's webinar topic. The question was, "In what way can IP departments join forces with business intelligence departments to strengthen the value of their conclusions"? I'm really quoting this question without even a word that is being altered. This actually is the webinar's attempt to address as we move forward. This is the question that we want to address.
Introduction
As we see most IP departments within corporate have increasing pressure to do more with less. They want to continue doing the work of protecting and enforcing IP, but also help with competitive intelligence. Additionally, they want to help with intelligence around new technologies that are going to affect the business in the future. They want to help with intelligence on where the next destruction will come from and intelligence around the gaps in the firm's own R&D when compared to its competitors and so on.
Most IP departments try to address this in one or more ways. Many tried monitor competitive filings; many monitor the new filings in a given tech area. They prepare landscapes searches or state-of-the-art studies when the business demands. They conduct White Space Analysis for identifying gaps in the R&D focus and so on. However, most of these efforts are piecemeal and not synchronized with the business dynamics and hence, conducted only when demanded.
Very few corporates, in at least our experience, have been able to master the use of all different IP data intelligence gathering methods and use them rightly along with the hype cycle of a technology. This is done so as to be able to gather and use the right signals at the right time. In most cases by the time the IP department is able to gather any conclusive intelligence for the business teams. By that time, the business teams are already noticing those market changes indicating the arrival of new technologies. In such cases, the new technology hits them so hard and they are unable to recover from the impact.
Aim of the Webinar
Today's webinar is aimed to address this very issue. We have leveraged the insights gained at Sagacious in creating inputs for your firm to stay ahead of the curve. This is done by leveraging the signals or what we call patent intelligence that can be drawn from patent data relevant to the technology and industry focus that your company has. The experts on board today's session were tasked with the objective to consolidate and share 3 most effective ways to spot the technology trends using patent intelligence.
The experts with me today are Dhananjay Das and Vaibhav Henry. Dhananjay is a consultant and strategist for patent intelligence at Sagacious. He has extensive experience in the field of Data Analytics, looking into patent intelligence and using dashboards for decision support. Henry on the other hand is the Executive Vice President in the Hi-tech team of Sagacious. He brings years of diverse IP experience in areas such as Litigation support and Licensing support as well as defining novel approaches for Patent Analytics, that provide actionable insights. Let me call them in this session for their initial remarks on the topic and then we shall move ahead with the presentation. Henry, are you there Henry?
Vaibhav Henry speaking: Yes, Faiz.
Faiz Wahid: Thanks for joining in. Henry, can you share your initial remarks on the question? This particular question "Can IP departments really join forces with BI departments to strengthen the value of their conclusions"? "Do you think that really patent intelligence plays a role in helping the IP departments to do so"?
2 Major Tech Areas
Vaibhav Henry speaking: Absolutely and I think you have already covered that fact and you have rightly pointed it out. If quickly talking about it deep – the BI guys are the market intelligence guys looking on these aspects. They usually understand the landscape and there are two major landscapes – one what we call the Tech Area and the other what we call the Market space called the user space and the Tech Space.
The tech space is what is what the IP creates and based on that technology is filtered through into the market. When you try to identify trends from the market, it's already late. It's already the technology that has seeped in which was present in the tech space and now has seeped into the market. So, you won't have the first mover's advantage. It's a very relevant question and we'll really come to each of the ways and we'll highlight how being diligent in the tech space enables you to be a market leader.
Faiz Wahid speaking: Thanks Henry for those initial remarks. DJ, what's your view for this particular question?
Dhananjay Das speaking: I think IP forces should join in the business forces and they combine in and find out the critical insights and information that can help to take the important critical decisions. This is so that they can make a more informed decision for their businesses. That will actually help them keeping their business ahead.
Faiz Wahid speaking: Great, let's probably go ahead and start with the main part of our webinar, the presentation. I request DJ to proceed with his presentation. Henry, I request you to step in as appropriate to add on with examples and elaborations from your past experience to enrich the session. Here we go, DJ.
How can IP Departments Provide Better Inputs to Their Business Departments?
Dhananjay Das speaking: Thank you. Thank you for the go-ahead. Faiz introduced the topic very well that specifically the business departments in the company do rigorous market research. They identify all the layers that are needed to take the decisions. In the age of Industry 4.0 or the recent technology development, the recent transformations are happening at a rapid pace. So, only relying on the market intelligence is not enough. That is the major objective of the area that we are addressing today.
To overcome these challenges many IP companies came up with patent landscape solution that they do and identify the technology trends of their competitors or their industries using patent intelligence. It is hard to capture the abrasions in the technology that are happening and the impact that they face in the later stage of their business. If the IP departments could provide such patent intelligence to the business departments and they can form a combined force, as you asked earlier, then probably they can take important decisions in favor of their business.
Coming to the next slide, it shows how IP department can provide better inputs to their business departments.
We have seen this hype cycle that explains Innovation Trigger of any technology and from there it takes to the market and the production happens. In the initial phase, when the Innovation Trigger happens in any industry, it is important to capture then and there. However, since our previous industrial revolution, we are specifically focusing on Industry 4.0.
Patents are the Earliest Indicators of Innovation Triggers
If we talk about previous industrial revolutions, they took years to unfold the technologies and the time to reach the plateau of productivity or time to reach the maturity of how technology in the market was huge. That time is now reduced because of the rapid transformation or the convergence of the technologies in the Industry 4.0. Hence in this technology era, we need to identify the innovations or we need to capture the disruptions in as early stage as possible during or even before the innovation phase.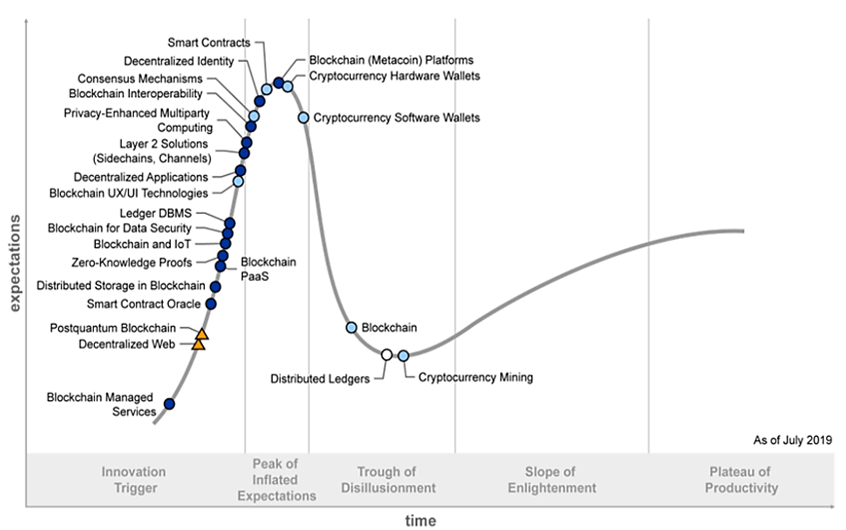 How that can be done? We always say and we believe generally from our experience that the patent intelligence forms the earliest indicators of Innovation Triggers. We have one high curve of Blockchain technology on the left and we have highlighted the 'Innovation Trigger Phase'.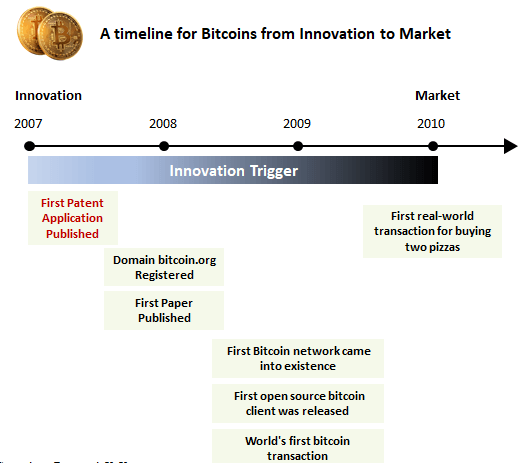 If we compare it with the incidents that happened in the industry of Bitcoin, Bitcoin is the market form of the Blockchain technology. It is the 'Innovation to Market Timeline'. The first patent application that we can see happened in 2007, but then the market activities started facing up.
Different activities, like first paper was published, the domain got registered the market activities or the market incidents start happening. The Innovation Trigger in the hype cycle captures the market activities or the market appearance of the technology. However, as the challenge is still there, we need to capture the disruptions or any happening around the innovation trigger before or during that phase.
How IP Departments Provide Better Inputs to their Business Departments?
As from the slide, it is proved that the patent applications or the patents can be the key indicators or the earliest indicators of innovation triggers. Hence, when we come back to the hype cycle, these are the spots generally when the frequency of market appearance increases. Then, the business strategy people generally take up their interest in those technologies. However, the time might have passed. It becomes important for the IP departments to contribute to the business through identification of such disruptions as early as possible during or even before the Innovation Trigger.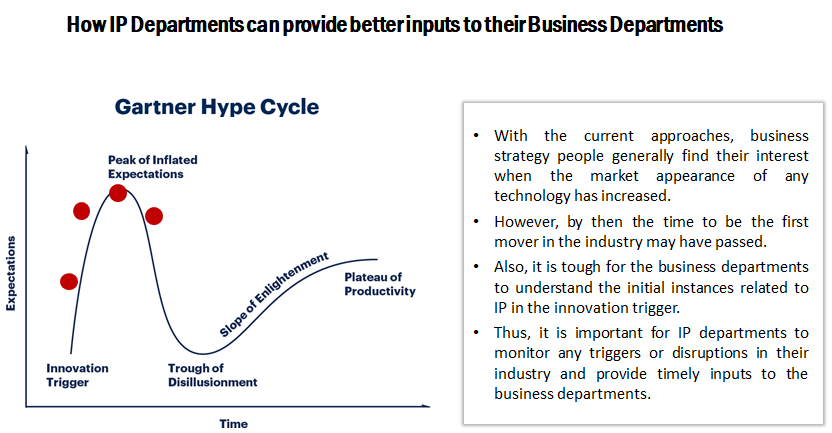 Vaibhav Henry speaking: For example in the last slide, we saw that we have to identify these points even before the Innovation Trigger. It is because this curve generally talks about how the market is moving and patent intelligence help us identify what actually happens in the market. However, the downside is, there could be a lot of false positives, before the Innovation Triggers. Every new patent filed looks like a new technology. It could be revolutionary. In the presentation, we will address that as well.
Avoid the False Positives
How you can actually shield yourself from such false positives. This is because from one side if you see predicting it early is risky and predicting the risk is less, but you don't get the first mover's advantage. It's like an investment decision. You're working with risky funds as well and you want to long-term returns as well. Hence, how the company makes a business decision – based on that is the call. However, our job right now is to be able to identify those points, be able to comment on how to actually identify those triggers and in doing that, trying to minimize the false positives.
Dhananjay Das speaking: We have proved that the patent intelligence forms the earliest indicators of conception of any technology. With the help of that and combining the market intelligence that we are proposing for IP departments and business departments to combine their efforts and take informed decisions. We did that for a couple of our clients, previously about what advantage we can get by combining the patent intelligence with the market research. How these combinations can identify critical insights for businesses?
3 Ways to Spot Future Tech Trends
Taking the research ahead with the help of big data, the analysis of large set of data, we were able to device the three most effective ways that we generally are proposing through this presentation. The first of way to spot the future tech trends would be to study the supply chain of your business and tracking the IP activities of each entity at different levels. The second point is studying the abrasions in the IP activities of your industry. The third point is understanding the disruptions in the technology space irrespective of your industry. We will talk up on these points in the subsequent slides.
Study Supply Chain of Your Business and Track IP Activities at Different Levels
We've found that knowing your supply chain will actually help you understand the impact that your business may see in the near future. If we are saying what Nokia could have done to be in the smartphone space? This is another example that we have taken up. We want to show the importance of supply chain through the figure in front of you. Let us consider the supply chain of smartphones. The basic OEMs and suppliers would be the circuit board suppliers, battery suppliers, antenna, display and operating systems.
Then, the original design manufacturer actually assembles or manufactures the smartphone. Then, the marketing and distribution and retailing happen. It is important why we are saying it is important. Nokia could have captured the disruption that happened in their supply chain. Nokia was a leader in the phone space. However, they couldn't get through those smartphones.
What generally happens is that the leader with their build quality was very cold. They had very good antenna, microphone, speakers and display. All these were the things they were better at but the disruption that happened during their era was the operating system. Hence, if they could have taken this or they could have identified this disruption at the early stages or they could have related it with the impact that or they could have evaluated the impact that may happen to their business, they would have saved or they could have maintained their position in the smartphone space.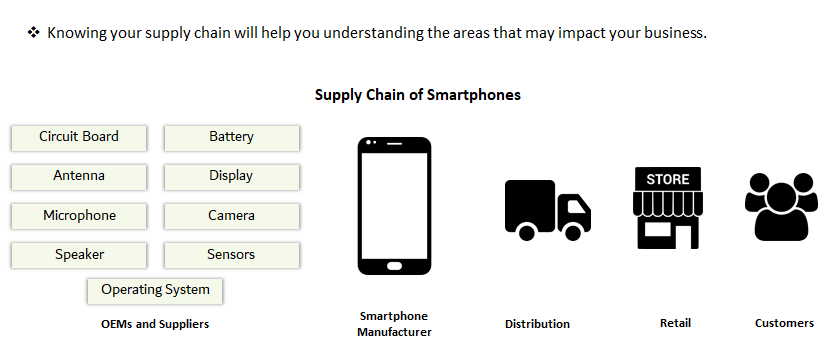 This can be done with the help of observing the IP activities in the space of how technology industry has the supply chain. That's how we are saying that currently the businesses are observing or monitoring their own industry. This is the smartphone manufacturing.
Nokia Supply Chain Market
If Nokia is a smartphone manufacturer, they might be strictly monitoring their own industry which is smartphone manufacturing and the players in that space. However, monitoring the supply chain is also important and can be shown here.
Vaibhav Henry speaking: If you see each of these components come from a technical standpoint and each of these components are important. If we talk about phones you'd say that the antenna is the most essential feature of the phone and Nokia had a lot of patents in that area. They have a different company operating at the back end as well. Most of their inventions were focused there and they were very arrogant about their operating system. They were happy with the Symbian OS and they didn't want to pivot to a new operating system which was an open platform. A company like Google which doesn't operate in the smartphone space – that helped other companies overcome Nokia's monopoly and this shows how important each of the aspects can be.
That was like a disrupter. It disrupted the monopoly of Nokia. After that we see and we take other examples in the smartphone industry.
Then even after once the smartphones were very relevant in people's lives then it was about the battery life as well. These smartphones didn't last a whole day. So, a lot of research went into battery. Also, as these smartphone manufacturers, they started asking for a good battery life from their OEMs and suppliers. Hence, wanted to be ahead in the race both in terms of being a market leader and in terms of foreseeing which technology heads supply chain. This is what we believe is a very important aspect to be monitored.
Fit in the Value Chain of Different Industries
So, that was the example of smartphones. We have many such examples based on which we have kind of generalized this assumption and we have seen and helped a lot of companies. Even if we talk about Automotive or the automotive sector, there are players who are the support of the automotive industry and this is driving the industry as well.
The basic idea here is not only monitor the core industry per say. For example, in this case the smartphone industry or the automotive industry. However, the supporting tech that enables the code because the inventions or the refinement which moves the market might come from the supporting tech. Also, sometimes the core also helps drive because you as a company or the people that are attending this webinar could be a part of a core industry or they could be a part of a supporting industry, which makes the battery or the display.
They actually do not make the smart phones per se. However, at the same time, they have to see how they fit in the value chain of the different core industries to be ahead in that sense. We recently did a project where we were analyzing the core industry was automotive. We were analyzing automation of cars and one of the support companies were monitoring. With our help, they started monitoring the parking space. How the parking of autonomous vehicles would be done.
AGV System
If we think about that it gets you into the space of automated guided vehicle parking. It's called the AGV system. If you start thinking about the AGV system, you see the chain related to infrastructure as well. Companies involved in infrastructure also come into the picture. Hence, for cities like San Francisco, which are very eager to adopt autonomous vehicles it's important that your parking has a space. You as a parking infrastructure company must have the space for these new technologies as well. Thus, that is how the supply chain links to each of the marketplace and the adoption of technology in once provides a kind of chain reaction. This is what you have to be aware to be a leader in terms of catering to the market.
Tesla
Dhananjay Das speaking: Right, thank you, Henry. Would you like to add the Tesla example that happened?
Vaibhav Henry speaking: We have a number of examples here. For example, the maps and navigation market also is now a mainstream market which earlier was a support to the automotive industry. We see that a lot of companies are right now moving towards processing everything in the cloud rather than processing things on the car itself. All of these support companies have now intersected with the automotive industry. The cloud space companies like Google are also making autonomous vehicles because if you see the example of Tesla, it tried to make the car autonomous based on LiDARs. It also included multiple cameras providing detection of multiple LiDAR.
However, eventually in real time, it crashed. A lot of these companies are evaluating data from multiple vehicles and doing it on the cloud. Then, based on the learned algorithm, they are sending it back to the vehicle. Those companies have been more successful. Those companies are getting into the autonomous vehicle industry. Hence, it shows how a different field can intersect a field – such as Cloud can actually compute the sensor data and intersect with something like automotive to create a new field like autonomous vehicles.
That's why the companies which are not into the automotive space keep cropping up in those areas. This is a very good indicator of how you leverage the relationships in the industry or the relationship in the supply chain per se, to see what's happening.
Dhananjay Das speaking: The key takeaway from this step is to also consider the companies who are not the competitors to your core industry. It becomes a key factor that can eradicate or take companies like Nokia away from their core business.
Studying Abrasions in the IP Activities of Your Industry
Moving ahead, the next way of spotting the future tech trends is studying the abrasions in the IP activities of your industry. In this, it is important that not only the company is moving in and out from your industry. Also, the movement of your industry as a whole is important.
Hence, the companies currently with the traditional business people are monitoring their industry or tech space and the competitors. However, it is important to monitor or consider the entire industry other than just monitoring the competitors. Thus, there are two scenarios that we are going to explain here. Cconsider this is your industry, the circle in the right is your industry and there

are different industries that are citing your industry's inventions or technology.
Scenario 1
It is explained as – if your industry is being cited by any other industry then they are taking technology difference from your industry. That means, they are developing something in their industry that has some technological reference from your industry.
This development in their industry with a technology reference of your industry may intersect down the line. In the coming future you may see some intersection of those technological developments in your industry. Therefore, these could be the abrasions that may come up in your industry and you can capture them in the early stage through monitoring the forward citation of your industries.
It is important to avoid the false positives. There can be false positives like there are citations and there are plumbing of the industry IPC's. In that case we suggest considering the total numbers. However, that should be with respect to or along with the cumulative weight of the citations. It should not only be the numbers – total number of citations. But also the cumulative weight of the individual industries that are being cited with respect to some timeline.
Scenario 2
If you're observing this trend for the five years, how many companies are citing your industry? This is one scenario. The other scenario is the reverse of it where your industry starts citing other industries. In that case, generally your industry is citing other industries. That means players in your industry started developing something within your industry. That can be done either by the known industry players or the new entrance that starts filing in your industry. Those are taking technological difference from other Industries. These are also the false positives that we consider. The total numbers and the cumulative rate should be considered.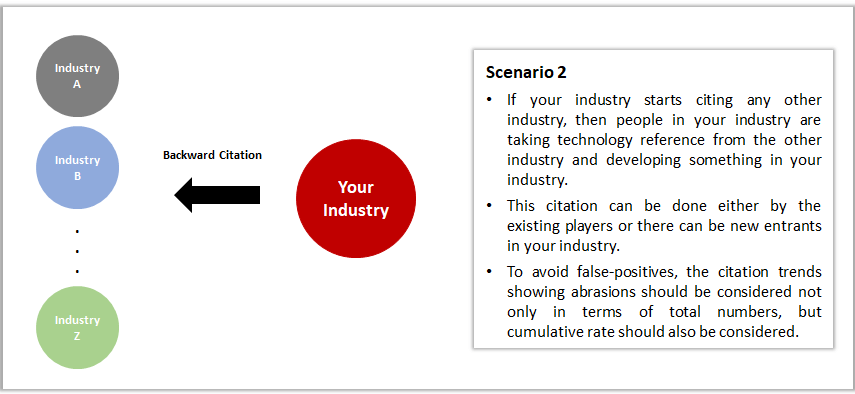 Vaibhav Henry speaking: The basic idea of this is by again taking the example of Automotive and Google. Or, a better example would be Google or Samsung getting into smart lenses. Lenses are optics. The IPC of lenses would be somewhere around physics and optics. If you combine that with smart you get smart lenses – data processing and all of those processes for computing. The actual subset is the traditional way of competition monitoring where you monitor specific players in the industry. However, we are trying to abstract or encapsulate that into monitoring the industry as a whole.
Hence, rather than seeing what specific players are doing, of course, that is a very good way of doing that. But, if a company like Bausch and Lomb was only monitoring on what it competitors were doing. Then, it wouldn't know about Google that is trying to get into the space of lenses. The purpose here is layer of abstract where we are monitoring IPC's.
Cases From IPC Industry
We had identified the cases of the IPC's. For example, if we are see the companies that are operating in the forward citation of the optics industry. You collect all the cases of the IPC industry. You collect all of these cases of smart and see whether there is a correlation between forward citations. That means the optics industry is moving towards smart. In a similar way you can do it the other way round. Hence, if I see it from Google's perspective, it would show Google trying to enter into the lenses industry.
You can capture the movement both ways. It could be either the industry that's moving into a new era industry. You can identify people who are trying to move in to your industry. If we start doing it at the level of company, this is what real people do. This is what they do in terms of tracking new players coming in their market. They see how their competitors are moving out of the market.
Dhananjay Das speaking: The key takeaway from this step is to consider the entire industry for monitoring the operations. It is also important to monitor the industry citations. Hence, first is to consider the entire industry. Then you monitor the abrasions in the citation analysis that are happening with respect to a time frame.
CAGR – Cumulative Annual Growth Rate
Faiz Wahid speaking: The other important aspect that we talked about was the cumulative rate. So, if hypothetically there are a lot of soft case in the market that provide grouping by technologies. There was another question that one of the attendees asked. They are seeing a lot of tools that group technologies by IPC classes and by technologies. But they didn't find it very useful.
Vaibhav Henry speaking: I'll give you a quick example of a false positive and how it can be eliminated. Let's talk about a technology that has already matured and tool observing all the patents for last five years. On one side there is a technology that has matured. It's is coming from four thousand patents per year down to 1 thousand patents per year. Then there is another technology which is an upcoming technology like automotive five generation or something very new.
The number of patent filings would go would be the opposite. It would go from 1000 to 2000 – the next year to 3000 – the next year. The growth rate in one case is positive and in the other case is negative. Whereas using any tool and entering data for five years, both technologies seem similar in terms of number of patents.
Hence, rather than just the number – other factors should be looked into. These include cumulative rate or the number of new players added per year. Or, it may include the number of big players moving out of a technology. Hence, these are some of the important aspects that you should manually take a look into.
Understanding Disruptions in Technology Space Irrespective of Your Industry
Dhananjay Das speaking: Thank you, Henry. Moving ahead with the third step, that is – understanding the disruptions in the technology space irrespective of your industry. We have done one example case here. We have monitored the rapid growth in the technology irrespective of industry that happened in India since 2012.
This particular IPC F24S related to mechanical engineering and solar heat system has a CAGR of 136%. This is the kind of indication we were talking about so far. These were the abrasions that we talked about in step 2 with respect to your industry. But, this is irrespective of your industry. Such kind of indications should be taken up seriously. They should get evaluated with the help of business people. This gives an idea about how these industries can actually impact or align with your business soon in the future.
IPC Classes with Highest Annual Growth in India
This is more like an industry agnostic approach. This focuses on identifying the industry. This helps in then getting the potential disruptions which can be evaluated by the business departments. Identifying the rapid growth in the IPC within the span of a few years, we have taken it since 2012. In the span of these many years, these are the IPCs that we have observed. We have noted down the first one, that is, solar heat systems. We can see that market appearances of these are in the Renewable Energy Systems. It has progressed a lot in India in recent times.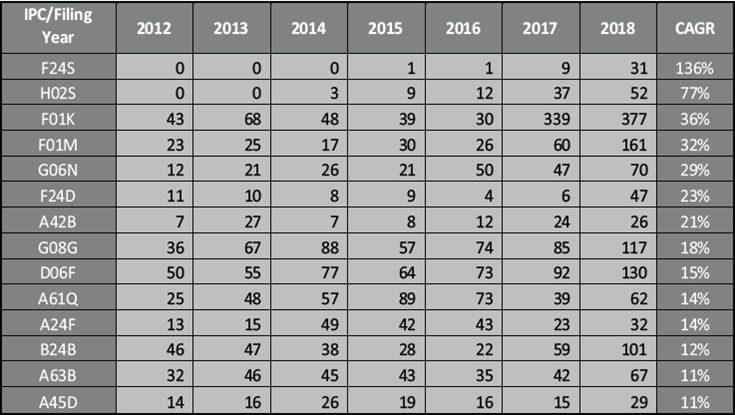 Vaibhav Henry speaking: This is something that we did for just the Indian market and this is industry agnostic. You can apply the same thing. This is a practical implementation of the discussion in the earlier slides about using the CAGR as a decisive factor. We have done this just for India, just for an industry agnostic. It's like using just four codes.
If we talk about the previous approach specific to your own industry, you'd use a similar approach shown here. Based on this, the second aspect talks about being industry specific. The third aspect talks about getting out of the industry. You see what are the areas of highest growth rate or highest CAGR, Cumulative Annual Growth Rate. You identify the areas that showed very high CAGR. Something similar happened around 2007-2008. There was a boom in the number of patents filed in AI. That was the time one should or may have evaluated how AI applies to their business.
Identify a Disruptive Technology Space in Terms of the Patents
The basic idea is to identify a disruptive technology space in terms of the patents. This is because it's not only the broad indicators. Among those broad indicators you are able to identify the specific patents that are enabling specific technology.
For example, in Bitcoin, the basic idea was the process of decentralization. If decentralization applies to your industry and vice-versa, then, it is a disruptive process in itself. Getting from patent intelligence, it's not only about identifying the broad classes. Once you have identified the broad classes, you get into the specific details of the patents. You identify the area and the specific technologies in the area that can either be disruptive business. Or, if you adopted early, it can help you grow in that space as a first mover.
Dhananjay Das speaking: The key takeaway from this step is to monitor the rapid growth. This growth is with respect to time and the number of individual players that are in a particular IPC. That can actually indicate the kind of disruptions that are happening in the industry irrespective of what your industry is. Hence, you must get these industries evaluated with your IP departments. You must see or force the alignment possibilities of these industries in the future with your business.
These are the three ways with which IP departments can actually contribute or identify the key disruptions in their industry. This is also done outside their industry and that may align with their industry in the future through patent intelligence. Hence, these are the ways with which IP departments can actually contribute to the business departments. They can get their business through the technological transformations using patent intelligence.
Set of Three Interesting Pointers – Summary
Faiz Wahid speaking: Thanks, DJ and Henry for spotting technology trends using patent intelligence. I think it's a lot covered and summarized in these three strategies. What I have understood is you're talking about tracking movements at three different levels using patent intelligence. One is at the level of the value chain. This is so that we understand where we are operating. It is to understand who are the suppliers and the users of the technology that we offer. We are not only tracking the movement of your competitors, but tracking the movement within your suppliers as well.
That's a very interesting point of view. The second movement of your industry as a whole is not only just what competitors are doing. It is about how my industry with respect to other industries is moving away from the practices. Those are the ones that we as an industry used to have earlier. That's an interesting second approach to spot tech trends using patent intelligence.
The third thing is that you shared about the movement of the entire technology spaces utilizing patent intelligence. How technologies are moving and specially the IPC class example that you shared was really interesting. I have a question in terms of what you shared as strategies. It's interesting.
Patent Mining and Patent Intelligence
However, when you actually have to execute it, it's all about gathering the right piece of data which you can use to analyze. Especially you mentioned about forward citations, reverse citations, you mentioned about the IPC class data etc. How easy or difficult it is to find and what are the good sources of this data? What do patent departments do to gather this kind of patent intelligence, which I would suppose will be called as Patent mining.
Dhananjay Das speaking: The companies like Sagacious, being a prominent leader in this industry,y has been evaluating the ways to do it easily. We have built the tool inside and we are doing these things very frequently. Having such a tool in-house for the IP departments may be an expensive way to do it. However, reaching out to companies like us – we can do it very easily as we do it for many people. Specifically the ways that we have mentioned needs a lot of data processing. As in one of the slides I have mentioned that we are using big data, we are actually in progress of doing this analysis and presenting a report probably next year.
Q/A Session: Spot Tech Trends Using Patent Intelligence
Faiz Wahid speaking: One of the questions that I have got here from one of the participants talks about the availability of citation data. How do you see the availability of citation data, especially when it comes to other kind of languages like, Chinese or so?
Vaibhav Henry speaking: In most cases, Faiz, databases which are already out there or databases that we use for example, Orbit for our analysis to extract the citation data. All of the databases and most of the IP departments should be aware about these databases which users input the patent numbers. Based on that they provide citing companies or which are the citing patents and cited patents.
When we talk about IPC classes as a whole, we use the classes for a given industry based on that we extract the patents. We see the forward citations for those patents while utilising patent intelligence skills.. Then again we extract the IPCs and analyze those IPCs. This is something that is readily available in the market. As DJ pointed out, it could be cumbersome in some cases. This is because if they're talking about identifying the forward citation of complete industry, it is cumbersome. We have internal macros for doing that but companies can do it piece by piece as well.
Dhananjay Das speaking: Faiz, the question that you asked for the regional/ foreign languages. The indication that we are trying to drive is mostly dependent on the citation analysis. The technological reference is a global classification system that we are talking about. Hence, I don't think any regional languages come here.
How to Combine Patent Intelligence and Market Intelligence?
Faiz Wahid speaking: I have another question from one of our participants and this is about – "Can you elaborate further on an example, where combining patent intelligence along with market intelligence has resulted into a significant business impact"? The exact question is can you give an example when you combined patent intelligence with market intelligence and presented a significant business implication. So how do you translate this information that you get from patent and market data into significant business case.
Vaibhav Henry speaking: Let me answer that Faiz. I think we have already taken some examples. The example of the Tesla case that we talked about where it is a Tesla failed in terms of real-time identification. That real-time identification on the car won't work. Companies which are map providers or are support providers do a lot of evaluation on the cloud. They provide that data to these cars and that is a better approach.
This in itself is an example of how one approach could be considered wrong. Then you have to buy it on a different approach. However, someone else might take that opportunity to do so, and take a patent over. Then, he's able to block you as well and then he's not even in that space, but he's able to generate revenue in that sense from that.
Smart Warehouses
Another hypothetical example, it's not actually entirely hypothetical. I would ask people to just Google or maybe, a lot of people might already know what Smart Warehouses are. Back in 2015 and 2016, Amazon adopted this technology of smart warehousing. It was able to cut down the time it took for organizing all its warehouses. Eventually it resulted in customer satisfaction in which they were able to promise one day delivery as well. Let's search Amazon smart warehouses on Google.
It wasn't a direct impact on the postal service or on the delivery service. Rather, it was a technology enabler. It was used and it was able to achieve its objective of customer satisfaction. Hence, it is another example and that happened because they were tracking how smart warehouses operate. Then, they started taking those things in a positive state. This might not always be successful.
Dhananjay Das speaking: Faiz, I would like to add from this slide itself that if solar heating systems are progressing in India, and this is the technology that came out following these steps and IP departments actually got this information – hence, if they present this to the business departments who actually have a better sense of their own business and the future forecasting with respect to market data, they can actually evaluate if the company is related to, water tanks and this data would be very useful for them.
They would be sure that this is the business that is evolving in the India and we have water tanks. Hence, if we combine these two and launch a product early in the market we can become a leader. That's how we are proposing the two departments to work together and IP departments to provide better inputs to the business departments.
IoT and Renewable Energy
Vaibhav Henry speaking: For example, this is the broader class of renewable energy. Even if we are talking about a newer technology or about IoT, we see this huge filing globally (this is just India specific, but if you see globally. It can be actually see if a company in IoT can actually manufacture that renewable energy, and can think of taking up how renewable energy applies to them.
For example, if it's IoT, then IoT sensors are very small devices. It is projected that there would be infinite number of such devices. They could actually implement solar energy for those IoT devices in which sensors are placed all around. Hence, through the day they keep charging and through the night they use their charge to keep transmitting this way.
Faiz Wahid speaking: I can remember of one case of a Chinese farm equipment manufacturer, which was trying to understand how they would get impacted with the advent of the IoT Technologies, That's the case which probably addresses this particular question in terms of what we actually have done. The company was unable to see how the farming equipment technology would evolve. Then by gathering patent intelligence and the market related intelligence around a patent is still being filed around an IoT was applied to farming equipment.
A business case was created to actually show the company that this is how the technology is going to impact your industry. I think that's a very pertinent example through which the company management was really able to make the right business decisions. They could move to financial investments from where they originally planned to a different plan. This would be able to address the evolution of the technology and it will impact their industry.
Departing Remarks by the Speakers
Vaibhav Henry speaking: Faiz we are from the ICT background, both me and DJ. Hence, our perspective from the pharma side and the life sciences side was missing. However, I would invite everyone in terms of posing their questions to our website or to us personally. We have a complete Life Sciences division and a complete Automotive division as well.
We can invite Productions and Manufacturing division and from Pharma and Life Sciences, Biotech. Thus,we will be able to answer the questions for sure.
Faiz Wahid speaking: I think our emails are being displayed on the screen right now. If anybody has any more questions, which they want to write back to us or over email they can they can write it to us on that email. I would like to thank everyone for joining in. Thanks to DJ and Henry for taking the time to prepare for this presentation and sharing these valuable insights.
I hope it has been valuable for the participants as well. We have received some very interesting questions. I hope we will be able to continue this series of webinars for the benefit of everyone by sharing our knowledge and engaging with everyone there. Do share at Sagacious.
Webinar Sessions of Your Interest
Vaibhav Henry speaking: I would like to elaborate that the other session that we are having is more about even if you miss the bus initially, how do you identify later on how do you catch the bus again at the next station. That's more of what the other session would be about. It is to identify the place in the markets that have entered, or the SMEs that have entered. The market first using patent data identifying that they are the strong players – even if they are SMEs, they are strong players.
One example, I would quote is an essence acquisition of ring which had only like 20 patent families but families were very strong. Eventually Amazon acquired that company. That's the other webinar that we have presented. How do you identify such case and what do you do about that and where do you get this data from.
Faiz Wahid speaking: Great, that sounds interesting, and I think we look forward to that. Thank you everyone for joining so five o'clock. Have a good evening and have a good day wherever you are. Thanks.
Submit Your Information to watch the Webinar Video: