Reasons to Hire an External Trademark Monitoring Services Partner
Unauthorized use of a registered trademark can result in severe financial losses for its rightful owner. Thus, companies must timely identify any signs of infringement and initiate action against infringer(s). Trademark monitoring can help identify newly filed/published marks that are identical or similar to your registered trademark. While some businesses monitor marks themselves to save costs, IP experts recommend hiring an external vendor offering reliable trademark monitoring services.
This article emphasizes the need for partnering with a trademark monitoring expert rather than performing the task yourself. Let us begin by discussing the perils of not conducting trademark monitoring internally or externally.
Risks of Not Monitoring Trademarks
Threats associated with the lack of trademark monitoring may arise at any time post registration. Listed below are some of the major risks of not monitoring your trademarks.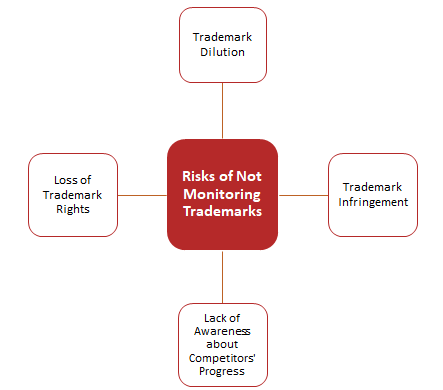 Trademark dilution: The use of multiple identical/similar marks for the same goods and services in a jurisdiction can result in trademark dilution. Therefore, trademark owners must identify newly filed and published trademarks that resemble their registered mark and initiate action swiftly.
Trademark infringement: Companies invest a lot of time, effort, and money in building a brand. However, rampant use of identical and similar brand names/logos in the market can diminish its reputation. Trademark monitoring services can play a crucial role in identifying and preventing such imitation.
Lack of awareness about competitors' progress: Trademarks are vital assets, and it is significant for every business to track its competitors' progress in the trademark space. Any business that fails to monitor the competition's trademarks risks losing a competitive edge in the market.
Loss of trademark rights: The absence of trademark monitoring can subsequently lead to the loss of IP rights. For instance, if you fail to act against third parties using logos or names similar to your registered trademark, the mark may lose its value. Eventually, the trademark will cease to be a source identifier in the market, and the owner will lose the right to its exclusive use.
Reasons to Onboard a Partner for Trademark Monitoring Services
While one may choose to monitor trademarks leveraging in-house resources, it is always recommended to onboard an external trademark monitoring service provider to perform the task. Here are the reasons why:
External trademark monitoring service providers have focused and dedicated professionals with specialized expertise in tracking marks.
Trademark monitoring companies provide comprehensive, regular, and detailed reports that help businesses make informed decisions regarding their trademarks.
These companies hire professionals solely to offer trademark monitoring services to their clients.
They assign the task to a dedicated group/individual with clearly defined project delivery timelines.
Trademark monitoring companies subscribe to paid databases that help perform trademark monitoring on regional and global scales.
They have trained professionals with experience in creating variations of words and translations, and formulating multiple database strategies to fetch optimum results.
Why Choose Sagacious IP for Trademark Monitoring Services?
One of the leading intellectual property solutions providers in the world, Sagacious IP helps businesses build, monetize, safeguard, and optimize their IP portfolios. We leverage our teams' technical capabilities and expertise to provide detailed trademark monitoring reports to our clients. Our trademark experts have vast experience in numerous paid and free trademark databases maintained by the World Intellectual Property Organization (WIPO), European Union Intellectual Property Office (EUIPO), United States Patent and Trademark Office (USPTO), etc.
Furthermore, our team follows the USPTO's standard search principles for all our trademark search and monitoring reports. These include:
Performing a comprehensive search.
Searching for all variations of the mark's distinctive elements.
Searching each distinctive component individually.
When appropriate, searching components of individual terms.
Searching for marks made up of two or more distinct terms to retrieve the two terms, whether they run together or separately.
Looking for pictorial equivalents of distinct terms and vice-verse, whenever appropriate.
Searching all phonetic equivalents.
Finding all the equivalents in the English language.
In addition, we utilize AI (Artificial Intelligence) tools to fetch the best trademark search and monitoring results for our clients. These AI search tools provide results based on the statistical analysis of over one million official cases of confusingly similar trademarks in the US and European Union (EU). Furthermore, our comprehensive monitoring search reports cover a range of search strategies, including: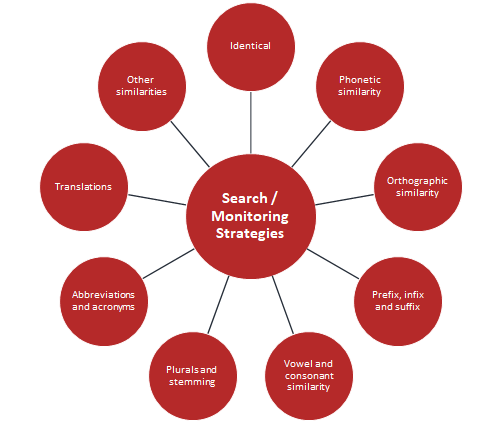 Our trademark monitoring reports also provide complete common law coverage, including:
Business names – We search state-wise databases for exact marks in all US states.
Domain names – Our team provides similar/identical results from EuroDNS and WHOIS websites, offering you a unique view of the domain name landscape surrounding your new mark.
Web – We manually match the trademark name with your most crucial keywords. This search eliminates all common search biases.
Images – A specific web search for images associated with the mark helps clear a mark from non-registered brands.
Social media – This includes exploring the use of your mark on some of the world's largest social media networks, including Facebook, LinkedIn, Twitter, Instagram, YouTube, Pinterest, etc.
We have a team of professionals boasting more than 35 years of combined experience in global and country-specific trademark search and monitoring services for all IP industry players, from small businesses, entrepreneurs, and startups to Fortune 500s.
Conclusion
Many businesses monitor trademarks internally to save costs. However, IP experts recommend availing trademark monitoring services from an adept third party. This is because the benefits of outsourcing outweigh the monetary savings from performing the task internally. You get the most outstanding monitoring results, and the internal team(s) have more time for other crucial tasks.
Sagacious IP's team of trademark experts delivers unparalleled IP solutions to its clients. We also use state-of-the-art tools to offer trademark monitoring services, ensuring the best results for our clientele. We have a range of cost-effective and result-driven trademark monitoring plans that suit all needs and budgets. Visit the trademark monitoring service page to learn more about our expertise.
– Nitesh Chouhan (Trademark) and the Editorial Team
Having Queries? Contact Us Now!