Leveraging Global Trademark Search for Usage & Protection of Marks
Launching a unique brand in the market is a resource intensive task. Thus, businesses must ensure that the name, mark, or logo they have chosen is available for use globally. This is where global trademark search finds relevance. As an essential service in the trademark industry, it determines whether your mark is available for use to launch infringement-free products and services in international markets. Before filing trademark applications, businesses must conduct due diligence and search international databases thoroughly to safely register a trademark globally.
Since a global trademark search is a necessary step before trademark filing, it is advisable to hire a reliable third-party IP service provider. These experts can ensure that your mark or name does not infringe on any existing trademark. Read on to understand why hiring an external vendor is the best option for most businesses.
Overview of Global Trademark Search
This search aids in avoiding the unauthorized use of trademarks belonging to third parties. Thus, it is a vital step to steer clear of future litigations. It helps trademark holders determine the probability of using a mark or name to protect their products and services. Global trademark search is also one of the most crucial and effective methods for any business to identify if others are using its brand name, logo, or slogan.
Registering with a global trademark system, such as the Madrid System, is critical as it protects trademark owners by preventing others from utilizing their brand name. Trademark registration with a global system applies to all countries that have signed the international agreement to protect intellectual property rights (IPRs). The primary goal of such systems is to preserve trademark owners' rights by allowing them to retain their marks in multiple jurisdictions and prohibit others from benefitting from them without permission. Trademarks with global registration are also known as "International" trademarks since they can be used anywhere in the world.
Significance of Global Trademark Search
A global trademark search is essential for identifying confusingly similar marks. It also acts as the foundation for making all critical decisions regarding trademark filing and legal action against infringers. The following are the major benefits of conducting a global trademark search.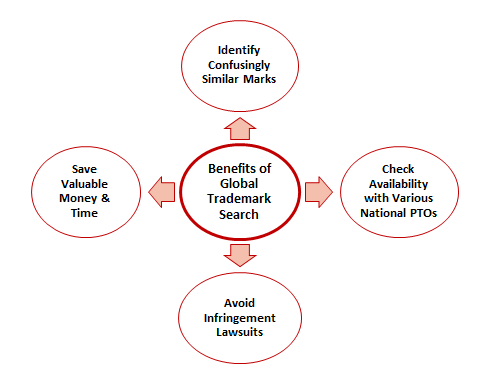 A. Helps in identifying confusingly similar marks
A comprehensive global trademark search helps in discovering confusingly similar marks. This similarity could stem from the mark's phonetic appearance or the relatedness of the classes of goods and services. One can locate confusingly identical marks and commence infringing actions against them by conducting a thorough global trademark search.
B. Assists with trademark registration with multiple national PTOs
One can also identify the regions where the mark has not yet been registered and the rights can be safeguarded. With this information, the applicant can start the appropriate filing process in such jurisdictions.
C. Protects against infringement lawsuits
A thorough global trademark search can help the applicant determine if an existing registered trademark is infringed upon. Furthermore, if a company intends to introduce a new product or service to the market and discovers possible infringement, it can quickly update/alter the mark, to save time and money from multiple infringement litigations.
D. Saves time & money on unregistrable marks
This search can help determine the likelihood of successful registration of a mark, thereby allowing applicants to abandon infringing marks and names early on and pursue the filing of registrable names and marks only.
Five Key Reasons for Conducting Global Trademark Search via External Vendors
The process of conducting a global trademark search is costly and perilous if not done right. For instance, a minor mistake in the search could lead to an office action or even the rejection of an application. We cover below the major reasons why businesses should opt for a third-party vendor rather than performing global trademark search in-house.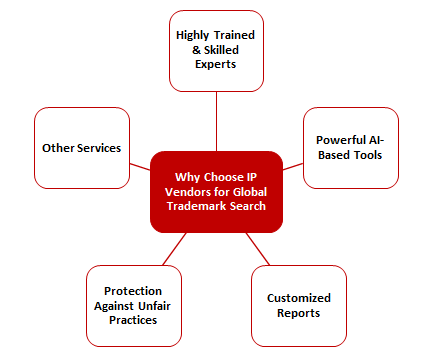 Highly trained and skilled experts: Reliable IP research and consultation companies bring to the table years of experience in performing trademark search in multiple jurisdictions. These qualified and experienced professionals may conduct examinations through various portals, including Markify, TM TKO, TM View, Global Brand Database, several national PTOs, and others.
Advanced AI-based tools: IP experts use different tools for performing a global trademark search. Several vendors use Global Brand Database and other strong databases for this purpose. Aside from this, IP experts also cross-check the data on numerous national and international patent and trademark offices (PTOs), including the USPTO, WIPO, and others. AI-based searching is one of the most critical searches these days. Most IP experts use AI-based searching to find contradictory marks that might be overlooked due to human error. With the help of AI-based tools,these third-party vendors can draft comprehensive search reports for their clients to support decision-making related to trademark filing and prosecution.
Customized reports: IP service providers draft global trademark search reports in accordance with the needs of their clients. These reports are customizable and can easily be modified or altered to match the client's needs. For instance, if a particular client requests a global trademark search report for a specific region, the report can be made for those countries of interest. And if a client seeks a global trademark search report for a certain competitor, then the same can be done as well.
Protection against unfair practices: IP experts can help identify unfair trade practices or piracy by preparing comprehensive search reports and discovering similar as well as exact names on Google, Yahoo, and various other search engines and social media platforms. Once unfair trade practices or piracy is spotted, warning letters can be issued under 'infringement of competition law'.
Additional services (filing, maintenance & responding to office actions, etc.): Besides the afore-mentioned services, trademark experts also offer administrative services, such as trademark filings in the target regions of the client, and filing renewals of existing trademarks. Moreover, third-party vendors can also help companies in drafting a response to office actions by national PTOs, and monitor trademarks.
Global trademark registration is a daunting task as a single mistake can lead to legal and other challenges. An IP expert partner for global trademark search can play an important role in optimizing patent protection and avoiding infringement lawsuits. Sagacious IP is a renowned name in the IP space, offering a range of trademark-related services.
Why Choose Sagacious IP for Global Trademark Search
Sagacious IP offers a range of trademark services that help businesses register and defend their marks. Our highly experienced and adept team of trademark experts provide unparalleled service to our clientele. We do not just believe in offering high-quality services, but also develop a relationship with our clients. Here's what sets us apart from other global trademark search service providers:
One of the leading and most renowned IP experts in the market.
Affordable pricing for global trademark search reports.
Team of experienced IP professionals with a strong knowledge of various paid databases and national PTOs, with a combined experience of more than 30 years.
AI-based search reports available at competitive prices.
Manually drafted search reports with two free iterations, and knockout searches.
Timely delivery of projects to ensure smooth business functioning.
Capacity to deliver search reports on an expedited basis.
Diverse range of clients and more than 200 active customers availing trademark search and watch services.
Commitment to solving the IP challenges for all players in the innovation ecosystem, from small startups to Fortune 500 companies.
Customizable and flexible reports based on specifications shared by clients, such as owner searches, regional searches that are restricted to a particular place, global searches, etc.
Conclusion
Global trademark search wards off chances of trademark infringement and is a key step before launching goods and services in foreign marketplaces. While various companies run their searches utilizing in-house resources or through common search tools, it is wise to leverage the services of a reputed third-party vendor. These service providers have advanced searching mechanisms and years of experience offering global trademark search servicein the field. It can lower the likelihood of an office action by the patent office examiner.
Sagacious IP's reliable and comprehensive trademark search service provides you information required before trademark filing. Our team of expert trademark analysts offers quick and affordable trademark search solutions to help businesses avoid issues regarding infringement and rejection. To learn more, click the link above.
– Inderpal Singh Chowdhari (Trademark) and the Editorial Team