Advanced Drawing Software To Create Error-Free Illustrations
Patent drawings and trademarks (logo designs) are visual representations that help in better explaining inventions and distinguishing brands, respectively. While in the past, such drawings and designs were created by hand, in current times, they are generated using drawing software. As computer-generated illustrations are regarded as flawless and easily editable, the popularity of such software is on the rise.
The following article sheds light on advanced drawing software and how such software is used to prepare quick and error-free illustrations to support patent and trademark applications.
Defining Drawing Software
Before we discuss the popular drawing software in detail, let us first define the term drawing software.
A drawing software is a computer program that enables illustrators to create diagrams, schematics, flowcharts, or other illustrations. In the intellectual property (IP) domain, applicants can use such software to create drawings to support their patent applications or logo designs for their trademark applications. Generally, a drawing or logo design created using a drawing software illustrates the following:
The invention's components and how they fit together
The invention's internal workings
Figures depicting every piece of the invention
Accurate and minute details of the proposed logo design
When Should Applicants Opt for Drawing Software?
Patent and trademark applicants, who have sound knowledge of computer programs but cannot create the necessary drawings or logo designs, can use drawing software. This is because such software not only allows them to create accurate and detailed illustrations, but also helps them fix their mistakes quickly. Besides this, these software packages also allow them to modify their views and perspectives to demonstrate their inventions further. Below, we have discussed some state-of-the-art drawing software that is being used in the IP domain:
1. AutoCAD
AutoCAD is a computer-aided design (CAD) software that is used by a variety of professionals to create precise 2D and 3D patent drawings related to electrical designs, mechanical engineering, etc. With AutoCAD, illustrators can easily create and modify designs, prepare a re-useable block library to replicate design parts, and create more accurate designs in all dimensions. Some of the tools, commands, and features of AutoCAD are listed below:
Drawing Tools
AutoCAD has a drawing toolbar that offers a variety of tools. Out of these, line, arc, circle, rectangle, ellipse, polyline, and polygon are the most widely used for creating everything from basic geometric shapes to complex 3D models.
Trim and Extend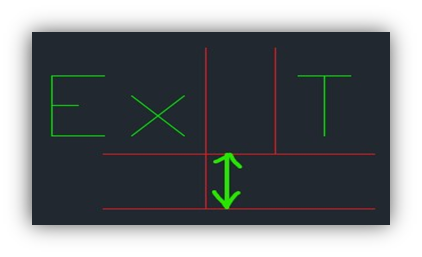 Group and Block
To use a part multiple times in a project, we can use a special feature – Group. Whereas to use the same part in a different project, we can use Block, which helps to save time and maintain consistency.
Command Alias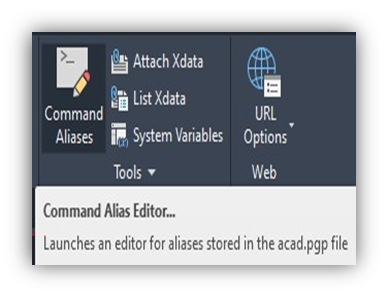 To use a command repetitively, we can assign a specific shortcut to it rather than writing its full command every time. For instance, if we are using the "Copy" command repeatedly, it is advisable to assign a shortcut "C" to save time.
Flatshot Command
Sometimes for faster delivery, we are given a 3D file; using flatshot, we can extract view from it and after that, we can analyze the requirement and forward the prepared drawings to the client, with error-free drawings.
The below image illustrates the above on Flatshot Command: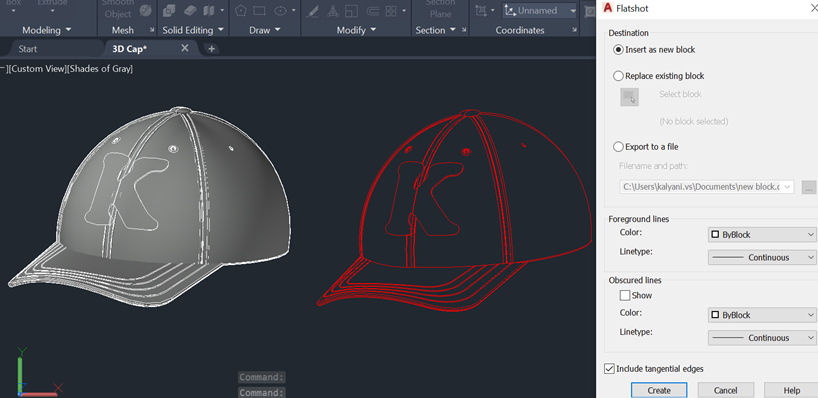 2. SOLIDWORKS
SOLIDWORKS is a solid modeling computer-aided design and computer-aided engineering program published by Dassault Systems. This software is widely used in planning, modeling, visual ideation, prototyping, feasibility assessment, and project management. It is also used for designing and building mechanical, electrical, and software elements. But most importantly, it is used to effortlessly convert a 3D part into various views in a 2D drawing.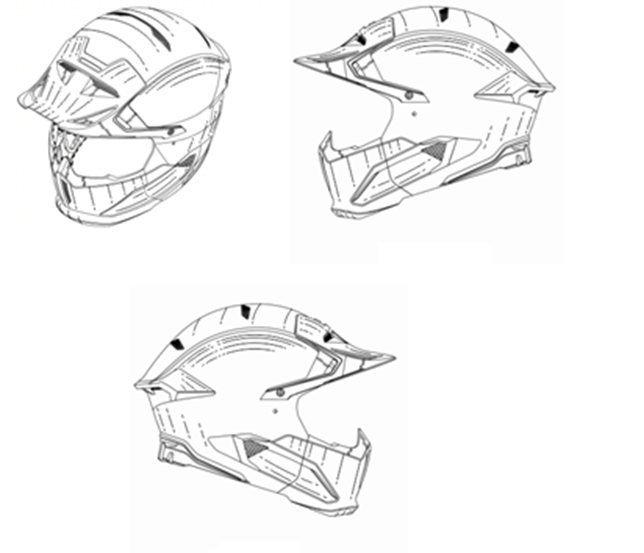 Fig1: Drawings created using SOLIDWORKS
3. CorelDRAW
CorelDRAW is a vector graphics editor developed by Corel Corporation that offers various tools to either create original images or edit them. Some of the programs in the CorelDraw Graphics Suite include Corel PHOTO-PAINT, Corel CAPTURE, Corel Font Manager, AfterShot 3 HDR, and CorelDRAW. This software is commonly used for designing magazines, flyers, brochures, newspapers, books, logos, signage, and calendars. Below are some of the popular CorelDRAW tools used in patent drawings or logo designs:
Blends and Contour Tools
The Blend tool is one of the most valuable features of CorelDRAW. The term blending objects means transforming one object into another, following a progression of colors and shapes.
For example: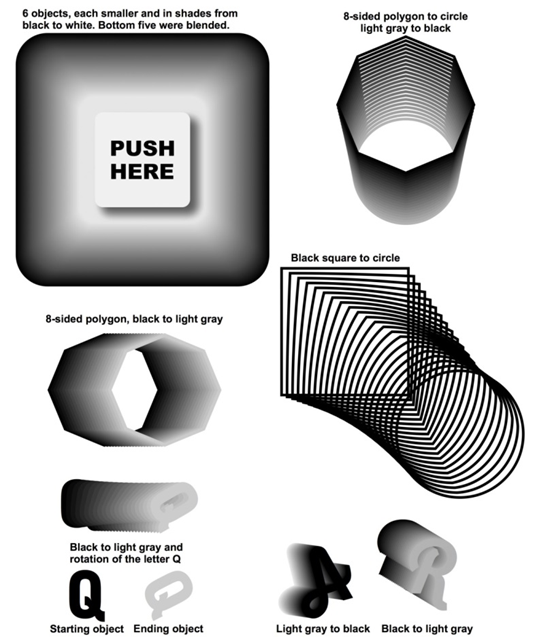 The contour tool and contour docker are simple yet powerful features that allow users to create interesting 3D effects and cuttable outlines for devices, including engraving machines, plotters, and vinyl cutters. Both blend and contour tools are extremely useful for creating logo designs. Some exciting effects can be created by applying a contour tool and transparencies on an object.
For example: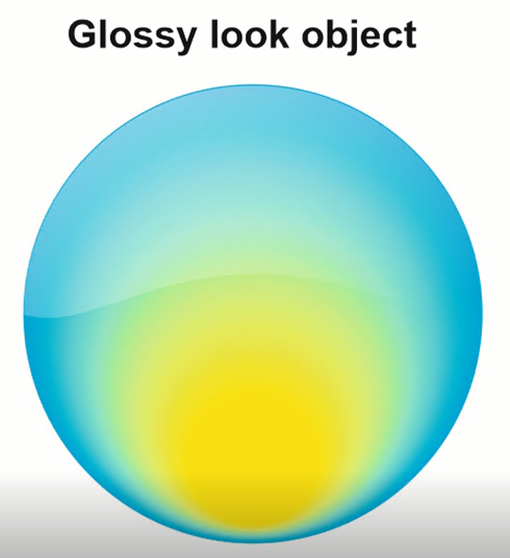 These Blend and Contour tools will play the main role in creating any 3D or Logo design, and it'll provide effective and eye-catchy work on your project.
In the IP sector, this would be more helpful to create a logo or I can say Trademark design.
Polygon Tool
This tool can be used to create a polygon shape. To make a polygon, all you need to do is click on the tool and drag the mouse on the drawing window till you get a polygon of the size you desire.
The best thing is that the original polygon continues to be dynamic throughout this process, which means that you can change the number of sides as many times as you want.
Every time you change the number of sides, you will create a new shape.
Artistic Media Tool
Using this tool, you can draw lines of varying shapes and thickness, calligraphic lines, or even paint with a sprayer or brush. It has five modes of drawing: Preset, Calligraphic, Brush, Pressure, and Sprayer. This tool is an easy hand to design a Layout for Brochures, Magazine; Business cards, all kinds of printing sectors and so on.
Create a library using a basic shape for regular need
Basic shapes are much easier to draw in the CorelDraw using default shapes, although we can create a library using our regular objects either it can be a default shape or any object. We can use this option by using the drag and drop option. Here we can import any vector images for our regular needs.
For example:

Converting image to object/Vector line drawing
Benefit from advanced image-optimization options that help to improve the quality of a bitmap as you trace it.
Here we have two conversion methods: Manual tracing or Automatic tracing:-
So, choosing manual tracing if you're working with old drawings and if you have enough time to dedicate to the project—it can be quite time-consuming after all! Alternatively, choose automatic tracing if you need a quick process—make sure you're using the right software to get accurate results.
For example: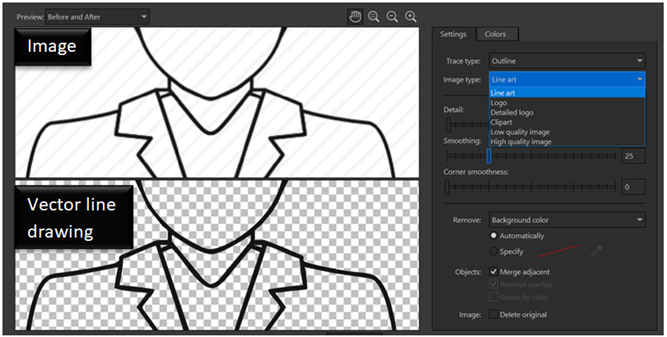 CorelDraw helps to share your designs with a variety of compatible market-leading files formats, such as: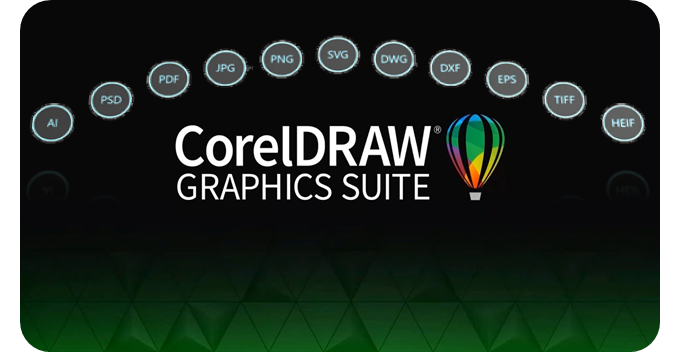 And finally here one most important point to share, using this application create editable MS VISIO format. Providing this format would be helpful for a client to edit/modify the drawings according to their requirement.
4. MS Visio
Microsoft (MS) Visio is a program for diagrams and vector graphics that comes under the Microsoft Office suite of products. The diagrams that can be created using this software include but are not limited to flowcharts, data flow diagrams, and 3D maps. It is a program similar to CorelDraw and AutoCAD. Based on the client requirements, it provides the drawing in vsd format that is completely editable. This format helps the clients to edit/modify the drawings according to the requirement. Most of the clients requests for .vsd format just like other formats, .dwg, .cdr, .png/.jpeg, etc.
5. Adobe Illustrator
Adobe Illustrator is used by graphic designers and other artists to create scalable vector artwork for web and print. This software can be used for producing clean visuals that can be scaled without compromising on their quality. Some of the visuals that can be created in patent drawing using illustrator include icons, complex shapes, and logo designs.
6. OmniGraffle
OmniGraffle is a comprehensive yet simple drawing application. In patent drawing its "Drag and Drop" feature allows users to make wireframes, flowcharts, user interface (UI) mockups, family trees, etc.
Working on advanced smart tools
There are hundreds of drawing tools available online but choosing the right diagrammatic tool to draw the figures in our argument is quite complicated. Besides, a single tool cannot be more effective for all kinds of diagrams. Artificial intelligence is impacting the future of virtually every industry and every human being.
We focus on how the techniques related to neural networks or machine-learning technologies—which are both AI—are at the basis of automation.
Automation is the future of design, with AI helping automate many of today's design tasks, such as shape creation. Customization and design automation in relation to engineering develop support tools and technology that drives design automation.
Our design experts help you to generate 2d drawings & 3d drawings more accurately. Our designers can save massive amounts of time by using a software solution, customizing it, and employing automation to produce error free patented drawings.
Conclusion
The advancement in technology has enabled patent and trademark applicants to produce patent drawings as well as logo designs using drawing software. Whether you are a novice or a seasoned professional, these software packages can quickly help you create precise drawings.
Using the right solution which meets the needs of both engineering and design teams, that can scale, and speeds up the production process, reducing costs and delivering assembly instructions with ease is imperative to growth.
If you are an inventor or a patent applicant looking for drawing services, Sagacious IP has got you covered. We offer Patent Drawing Services wherein our experts create drawings bearing in mind the patent drawing rules of the concerned office. To know more about advanced drawing software used in the IP sector, view the webinar here.
John Britto, Kalyani V S, Rahul Ahlawat (Illustration) and the Editorial Team