How to Conduct Trademark Search Easily
Trademark, a sign which distinguishes the goods/services of one company from those of other companies, is protected by intellectual property (IP) rights. Trademark protection can be obtained at national level or international level. At the national level, such protection can be attained through registration, by filing an application for registration with the national trademark offices along with the mandatory fees. At the international level, there are two popular options: (1) filing a trademark application with the trademark office of each country in which one is seeking protection, or (2) using WIPO's Madrid System.
Trademark Search: A Necessity
Before you apply for trademark protection, it is advisable to conduct a trademark search to ensure that the trademark (mark) is not already in use by another company in the target markets. In many countries, Trademark offices register the marks without prior comparison to active trademark registrations or applications received previously. However, competitors may still send a "notice of opposition" if the mark or application infringes on their right. Hence, getting a trademark registration in these countries does not guarantee that the mark will not infringe on the rights of others. Therefore, it is crucial to search national trademark databases before using a trademark for your operations.
Further, some clients believe that trademark searching is a needless expense. But performing an exhaustive availability search is one of the least expensive preventive measures for a business. The main reason to start such searches is to make sure that the proposed mark is not likely to infringe any prior third-party trademarks. Apart from this, one can gain other insights from a full availability search. For instance, the search offers valuable insights into the competitive landscape in case USPTO issues any refusals of registration. It can be a source of defense in case the trademark owner receives a "cease and desist" letter. Lastly, by conducting a full availability search beforehand, a trained trademark attorney can review the search results and advise clients on all the issues.
Trademark Search: The Process
Trademark searches may be conducted using online databases, trademark focused firms, or through the national trademark registry. While trademarks which are identical to the applicant's own mark can be easily detected, it is more difficult to detect similar trademarks which clash with the applicant's proposed trademark. Depending on the case, it may be advisable to use the services of a proficient trademark agent or attorney for a trademark search.
List of Popular Online Tools Available for Searching and Monitoring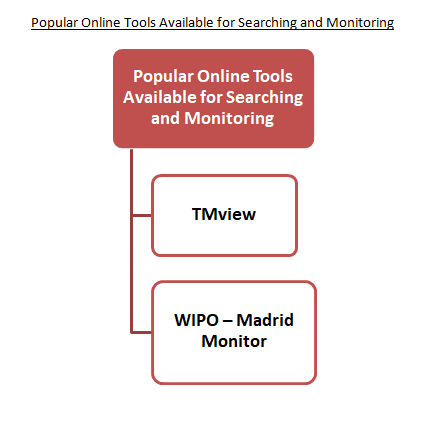 Madrid Monitor can be used to track the status of the international applications or registrations, access exhaustive information on all trademarks registered through the Madrid System, and keep tab on competitors' marks.
TMview is an online tool which enables the user to search trademarks of all trademark offices involved in the initiative, free of charge. It can be used to:
Conduct 24×7 trademark searches in 22 languages of the EU

Obtain daily updated trademark information from partaking offices' official register

Access millions of mark applications and registrations

Receive updates on selected trademarks for change of status, change of the applicant name and end of opposition period, etc.
Conclusion
One must remember that trademark search like any other search is not a foolproof process. Even though full availability searches are performed by experts from some of the leading vendors, errors are inevitable. Moreover, there is a lag in some of the popular search databases. Trademark search is additionally restricted to the mark and goods and/or services searched. However, it is in the best interest of the applicant to evaluate the risk beforehand to avoid infringement. Sagacious IP's extensive Trademark Search service offers insights to clients before they file for trademarks. Furthermore, product-driven companies across the spectrum now depend on trademark search prior to launch of their products or services in new markets. Click here to know more about this service. Also, To watch a webinar on the subject, click here.
-Prateek Mohunta (COO), Gopal Singh Rawat (Trademark) and the Editorial Team