5 Ways to Identify Which Technology or Process Can Help in Patent Research
If you are an entrepreneur, irrespective of the domain you operate in, there is always a possibility of your owning a patentable product. A product can refer to some unique technology and/or even a business process that can be used to generate revenue. The exponential growth of e-commerce has ushered in new business methods and models. Today, companies are of the opinion that their business models are their intellectual property (IP) and deserve to be legally protected by patent law. However, not every technology or process can be patented. The USPTO has strict guidelines and classifications in place for technology and the manner in which one can process patent applications. To start with, there are certain fundamental requirements that you need to keep in mind to determine if you have a patentable product in your hands. Here are 5 methods using which you can identify which technology or process you can patent.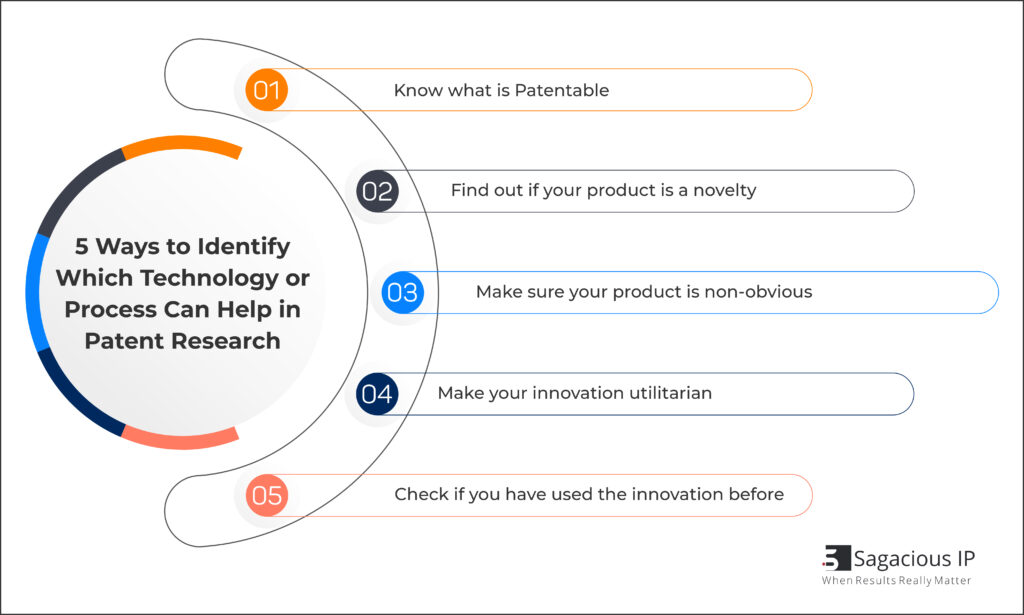 1. Know what is Patentable
The first and foremost step in the identification of a patentable technology or process is to be aware of what can be patented and what not. Let us review both:
What can be protected under patent law?
Any new and useful process.
Machine.
Article of manufacture.
Composition of matter.
Any new and useful improvement thereof.
What cannot be protected under patent law?
Any sort of artistic work (they can be copyrighted).
Abstract concepts.
Laws of nature.
Mathematical models.
Physical phenomena.
Go through this list and determine which category your invention belongs to.
2. Find out if your product is a novelty
Something that has already been made available in the public domain by another business cannot be patented. So, carry out a thorough search of all patent and non-patent documents (prior art) – not just in the US but also across the rest of the world. Whether your product is novel or not is tested as on the date of first filing of the patent application. So, it is advisable to carry out exhaustive prior art research before that date. Conducting prior art patent research is not easy. Patent search is a complex process that requires the skill set of patent experts and industry experts. In light of this, you can either hire the best of IP professionals available to help you with this or outsource the process as a whole. It is important to remember that most of the patent applications that get rejected suffer from non-comprehensive prior art patent research.
3. Make sure your product is non-obvious
If a skilled individual deems a technology or a process to be 'obvious', then it cannot be patented. The product has to be inventive and thus non-obvious. Now, what may seem to be obvious to a person, may appear non-obvious to someone else. So, you must bury this debate before filing the patent application by consulting with skilled experts who know their way around the patent process.
4. Make your innovation utilitarian
The product you want to get patented has serve utility such that it should be able to satisfy all the claims made in the patent application. A patent application requires you to reveal distinct, considerable, and valid details about the product that you want to bring under patent law.
5. Check if you have used the innovation before
If you have already been selling a software, using a process in managing your business, or have licensed the same, this instance of prior use precludes the product from being granted patent protection. So, the technology or process that you want to patent must be a product that you haven't revealed publicly yet.
Out of the thousands of patent applications filed annually in the US, 30-40% get rejected. This is primarily because of the lack of proper patent search and the lack of understanding of what is patentable and what is not. Billions of dollars are lost in this exercise that does not bear any fruit. So, you must identify the technology or process that can be patented and then go forward with the patent process.
-The Editorial Team