IDS Management Outsourcing: How IP Service Providers Can Help Save Costs
With the rise in patent filings, the workload of IP attorneys, law firms, and even solo practitioners has increased significantly. This is because patent applicants seek help from these entities for managing their IP work including Deadline Tracking, Information Disclosure Statement (IDS) and other administrative tasks. Amongst these, IDS management is an important and tedious task which needs review of incoming office actions of corresponding patents in different jurisdictions and accordingly updating IDS statements for a smooth prosecution. One way of reducing the burden of IDS management is by outsourcing some of the work to credible and seasoned IP service vendors.
The following article discusses the critical details about IDS management and how outsourcing this task can help in reducing costs. It also highlights how Sagacious IP helps clients in IDS management with their unique approach.
IDS and its Importance
Every applicant must reveal all prior-arts that may be relevant to his/her invention's patentability. To fulfill this duty, the applicant needs to file an IDS with the patent office. Failure to disclose the necessary prior-arts can be regarded as deceptive intent and cost the applicant his/her patent. Not only that, any patent that is later issued from the patent application may be declared unenforceable because of inequitable conduct. And while IDS filing might seem just a duty, it offers certain benefits to the applicants, such as: easier and cost-effective patent enforcement and prevention of patent oppositions.
Contents of an IDS
Every IDS contains prior-arts that can be categorized as follows:
1. U.S. patents and publications – The first type of prior-art that can be provided in an IDS includes issued U.S. patents and published patent applications.
2. Foreign patents and publications – The second type of prior-art includes patents issued in foreign countries, applications published in foreign countries, and published Patent Cooperation Treaty (PCT) international applications.
3. Non-Patent Literature (NPL) – The third type of prior-art consists of any publication other than the U.S. or foreign patent publication. It includes magazine articles, scientific journal articles, books, or any other published material that is relevant to the disclosed invention.
Note: The copies of foreign and NPL documents that are submitted must be legible and in the English language. If the copies are not in the English language, then the applicant must also submit an English translation or a summary of relevance in the English language to be considered by the examiner.
Overall IDS Preparation Process
IDS preparation is a multi-step process that includes:
Checking for IDS filing requirements – The first step is to check whether the applicant wants to file an initial IDS, supplemental IDS, or a Quick Path IDS (QPIDS). A supplemental IDS is filed within three months of availability of any information that is discovered after IDS transmittal. While the QPIDS program aims to reduce pendency and applicant costs when an IDS is filed after payment of the issue fees, this program allows consideration of an IDS after the payment of issue fees without reopening prosecution due to a request for continued examination (RCE).
Cross-Referencing & Duplicity Check – The second step is to check for already cited references in the U.S. application to avoid duplicity from any previously filed IDS. It also involves checking all the relevant prior-art references provided in the OA or foreign search reports.
IDS Preparation – The third step can be split into two parts:

Reference Entry – In this sub-step,theU.S., foreign, and NPL references are entered in the IDS form. Next, the details such as inventor's/applicant's name, date of the document, patent kind code, and translation are also entered for each reference.
Additional details – Once the reference entry is done, bibliographic details, fees & certification statement, and signature of the attorney are entered in the IDS form.
Filing of IDS – This is the last step and involvesfiling of the prepared IDS form along with a legible copy of foreign and NPL documents and fees (if applicable) at the USPTO.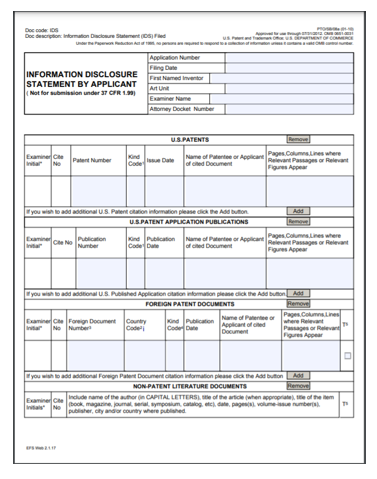 Determining When to Submit Fees with an IDS Form
Once the references are entered in the IDS form, the next step is to evaluate whether the IDS must be submitted with or without fees. To assess this, we need to parallelly look at the stage of the current U.S. application and the date of foreign OAs. The table below shows when applicants need to submit fees, certification statement (within the IDS form), or both.

IDS Management and Benefits of Outsourcing
IDS management refers to the management of the overall IDS process starting from IDS preparation, IDS filing to tracking updates related to it. Since IDS management can be an arduous task for IP/patent attorneys, law firms, or even solo practitioners, it is advisable to outsource IDS workload to seasoned and credible vendors. Below, we have discussed some of the key benefits of outsourcing IDS management:
1. Reference Entry – Outsourcing IDS helps patent attorneys, law firms, and solo practitioners to fetch references from co-pending applications (pending applications that have been filed by the same applicant) and get them cited in the IDS.
2. Adherence to Timeline – By keeping a strict watch on the patent office timelines, the chances of missing them are reduced significantly. This prevents payment of additional fees, especially when the current application has entered the examination stage.
3. Saves Time & Cost – Outsourcing IDS management also helps attorneys stay focused on other legal aspects and save additional costs such as payment of fees due to late IDS submission or rejections/oppositions.
4. Saves Efforts – By centralizing the citations, an outsourcing firm saves prior-art copies (for a particular portfolio) for future use. Thus, when child patent applications are filed, the cost and effort of buying or downloading the copies are saved.
How Sagacious IP Helps Clients in IDS Management
IDS management includes cross-referencing, reference management, preparation of IDS, and filing of IDS. Various law firms and companies have an extensive patent portfolio to manage, wherein they receive scores of communications, which can cause them to miss an IDS deadline and hence cause those RCE Fees or sometimes abandonment of the application. To save clients from such hassles, our paralegal team performs IDS management, keeping a record of the client's portfolio and watching upon the need for IDS. One can do it manually and through various IDS management/Docketing Software.
For example, one receives an ISR in the PCTXXX application, and somehow the applicant missed its reference in IDS. This can interrupt the prosecution and eventually make the prosecution process lengthy. When Sagacious IP performs IDS management, our IDS team keeps a tab on the ISR and files those references timely for the client, making the prosecution process short and easy.
Sagacious IP's Approach to IDS Management
Sagacious IP manages a client's patent portfolio, and the IDS team can fetch a PAIR Correspondence Report wherein the team can review the recent office actions received for different patent applications.
While there is no hard deadline to file an IDS, one should perform the task within three months of receiving an office action to avoid the fee/RCE. Along with preparing IDSs, the team also supports filing the IDS for the client. The overall process helps the clients save time as our team obtains the list of references to be cited, prepares IDS, and files and uploads the documents on PAIR.
Our IDS team streamlines the IDS management process to add to the convenience of our clients, helping clients focus on other legal requirements. Timely filing of IDS saves clients money by avoiding the USPTO Fees and RCE Fees on missing deadlines.
Conclusion
The increase in global patent filings has made managing IDS-related tasks difficult for IP/patent attorneys, law firms, and even solo practitioners. An effective way of reducing this burden is by outsourcing these tasks to seasoned IP service providers. Doing so saves the time and costs associated with in-house IDS management and shall help the attorneys and corporates to centrally manage the prior-arts in an optimized way.
If you are a business or an individual inventor looking for IDS-related services, getting expert guidance is crucial. Sagacious IP's Information Disclosure Statement Preparation service involves drafting IDS for submission to the patent office. This drafting can be triggered at any time, starting from Application Filing to Notice of Allowance issues. To know more about IDS management, visit our webinar here.
– Rashi Sethi, Chandani Sharma (IPMS) and the Editorial Team