Patent Information: What Every European SME Needs to Know
The European economy relies heavily on small & medium-sized enterprises (SMEs) that make up 99% of all businesses in the EU region. Therefore, it is essential to ensure the growth of these enterprises. One way of doing this is by using patent information that helps in tracking competitors' activities, identifying potential partners, and understanding the overall technology trends.
The following article discusses what every European SME must know about patent information.
SMEs and the IP World
As per a study by the European Patent Office (EPO), companies that hold patents or other intellectual property rights (IPRs) are more likely to witness high growth than those that do not. However, securing patents or other IPRs is not easy for most SMEs as they either do not have in-house IP departments or lack other resources. Furthermore, the absence of these departments also makes it difficult to find patent information that influences the growth and business decisions of SMEs.
Expert Advice from Heiko Wongel
Sagacious IP Global Advisory Council Member and Former Director of Patent Information at EPO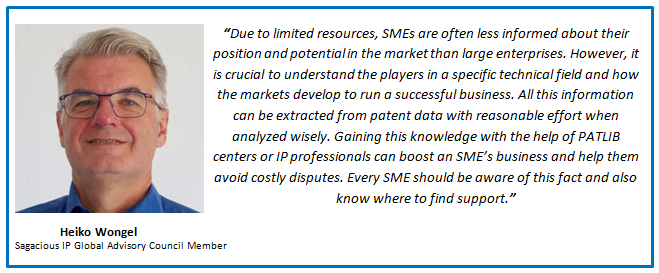 Patent Information and its Importance
Patent information refers to the technical details that are found in patent documents as well as the legal and business-relevant information about them. This can be used by SMEs as follows:
Technical Use – Patent information can be used to know about the inventions that are patented and products or services that are already available in the market. This helps to prevent reinventing the wheel that leads to wasteful R&D expenditure. Besides, this information can also be used to identify the already existing technologies and build on them.
Legal Use – SMEs can use patent information before launching their product or service to ensure that they do not infringe on another entity's patent rights. They can also use this information to identify the geographies where an invention is patent protected and where it is not.
Business Use – Details of research that is being carried out by competitors first appear in patents, i.e., even before a product launch. Therefore, tracking patent documents can help SMEs to keep an eye on their competitors' activities. Furthermore, looking at the global patenting activity can provide hints on the trends in a specific technology or market.
Where to Find Patent Information?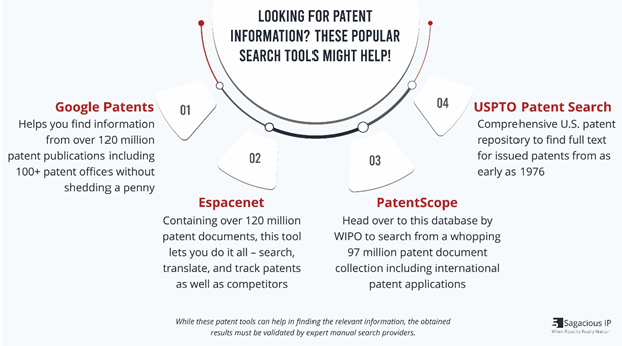 Fig.1: Some Popular Patent Searching Tools Available Today
The easiest way of obtaining patent information is by performing searches on various patent search tools and databases. Some of these are discussed below:
Google Patents is a free patent search database that was launched by Google in the early 2000s. It includes more than 120 million patent publications from over 100 patent offices around the globe. At present, it indexes full-text documents from patent offices in geographies such as the U.S., Europe, Japan, China, South Korea, and Germany. To search for relevant patents on this database, you just need to type in the exact patent name or specific keywords related to an invention.
Espacenet is one of the largest patent searching databases available today. It is updated daily and contains data on over 120 million patent documents from around the globe. Besides searching for patent publications, it can also be used for translating patent documents, monitoring the progress of emerging technologies, finding solutions to technical problems, and knowing what other companies or competitors are doing.
PatentScope is World Intellectual Property Organization (WIPO)'s free online patent searching database that can be used to search 97 million patent documents. This includes 4.1 million published international patent applications. For searching information on this database, you can enter keywords, applicant names, international patent classification, etc. in multiple languages.
The United States Patent and Trademark Office (USPTO) patent search database is one of the most advanced and user-friendly patent search databases in the world. If used wisely, it can yield crucial data that can enable SMEs to gain valuable insights for making informed business decisions. Patents can be searched here using resources such as USPTO Patent Full-Text and Image Database (PatFT), USPTO Patent Application Full-Text and Image Database (AppFT), Global Dossier, Patent Application Information Retrieval (PAIR), Public Search Facility, and Patent and Trademark Resource Centers (PTRCs).
Apart from finding relevant patent documents, these databases or tools can also be used to identify competitors or potential partners, know the legal status of competitors' patents, and learn about the technology and market trends.
Where to Find Support?
Since most SMEs do not have in-house IP departments, it can be difficult for them to perform the aforementioned tasks on their own. In such cases, however, they can seek professional assistance. For instance, the Technology and Innovation Support Centers (TISCs) can provide innovators easy access to high-quality and locally-based technology information and associated services. Besides, IP service providers and patent attorneys can also help SMEs by performing patent landscape analysis, filing applications with the patent offices, and even defending patent cases when needed.
Conclusion
European SMEs are the backbone of Europe's economy and hence it is crucial to ensure their growth. One easy way of doing this is by using patent information as a tool to monitor competitors, identify potential partners for business deals, and spot market and technology trends.
As obtaining patent information can be difficult for most small businesses, they can avail patent-related services from experts. Our Patent Information Searching service can be used to discover patent documents and find out the legal status as well as business-relevant information during the patent filing process. Click here to view the webinar on the topic.
Faiz Wahid (Sales Head – Europe) and the Editorial Team
Having Queries? Contact Us Now!